Vol. 1 Working to Change Water and Lives in Africa
Republic of Senegal - July 24, 2012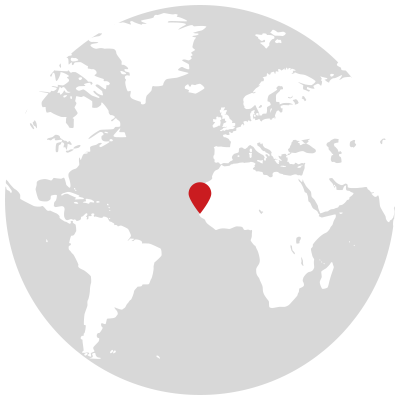 Republic of Senegal
This is an account about how a Yamaha water filtration system was set up in a small village in West Africa. When we visited the water drawing station that the villagers now manage and operate on their own, the sound of joyous laughter greets our ears.
About 200 km north from Senegal's capital of Dakar, on the outskirts of the town of St. Louis near the Mauritanian border, there is a small village of around 300 people. In this village where all the daily work relies on a single river nearby, a simple, compact "Yamaha Clean Water System" using natural filtration methods was completed in 2012. The system's distinctive sky-blue equipment and sanitary water drawing station were installed in the middle of the village. The villagers formed a committee to self-manage the water supply in an orderly way as a community, and have been able to secure a daily supply of fresh, potable water as a result.
This new life with a stable supply of clean water has changed the people's awareness of hygiene and caused the quality of life to improve. Yamaha had seen this before with similar systems that until now had been set up in sites around Southeast Asia on an experimental basis. Changes like how a mother feels as she feeds her baby, massive drops in sicknesses like skin disease and diarrhea, relief from the heavy labor of going to the larger towns to buy water for young women and children. In time, it was as if a blessing of rain had washed the village and its houses clean of such difficulties. Scenes like this will surely someday spread throughout the African landscape, with more smiles and the sound of laughter from people coming to draw fresh water for daily life.
Yamaha Clean Water System
A compact (LWH: 8x5x4 m) water purification system using the "slow sand filtration method." Applying this natural purification method allows for water from rivers and ponds to be purified into clean, potable water in around 24 hours. Development began in 1996 and it is a system that can be self-managed by residents without special chemicals, large amounts of electricity or a technical operator. Up until now, field tests have been run in nine villages in Indonesia, Vietnam, Cambodia, Laos, Myanmar, Sri Lanka and now, Senegal(As of 2012).