Facility Guide
Information on open hours, floor layout and more.
Calendar
| SUN | MON | TUE | WED | THU | FRI | SAT |
| --- | --- | --- | --- | --- | --- | --- |
| | | | | 1 | 2 | 3 |
| 4 | 5 | 6 | 7 | 8 | 9 | 10 |
| 11 | 12 | 13 | 14 | 15 | 16 | 17 |
| 18 | 19 | 20 | 21 | 22 | 23 | 24 |
| 25 | 26 | 27 | 28 | 29 | 30 | 31 |
| SUN | MON | TUE | WED | THU | FRI | SAT |
| --- | --- | --- | --- | --- | --- | --- |
| 1 | 2 | 3 | 4 | 5 | 6 | 7 |
| 8 | 9 | 10 | 11 | 12 | 13 | 14 |
| 15 | 16 | 17 | 18 | 19 | 20 | 21 |
| 22 | 23 | 24 | 25 | 26 | 27 | 28 |
| 29 | 30 | 31 | | | | |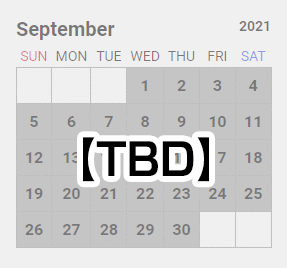 *Depending on the situation, the calendar may be changed without prior notice.
Open Day A 9:00–17:00
These Plaza open days are based on Yamaha Motor's working days.
Please be aware that parts of the facility and/or the Café may be closed as circumstances require.
Open Day B 10:00–17:00
The Plaza is open on the 2nd and 4th Saturdays and the following Sunday of each month. Please be aware that the opening time is different.
Use of the meeting room is possible by Yamaha Motor product user clubs for meeting purposes.
Closed
When visiting the facility
Entrance is free.
When visiting the Plaza with 11 or more people, a reservation is required. Please fill in and submit the reservation form at least one week in advance. See the Group Visit reservation page below.
Besides at the café space (3rd floor), beverages are allowed in the Plaza Lounge (2nd floor) as well.
There is a rest room available for use by visitors with babies.
Diaper changing seats can be found in the wheelchair-accessible restrooms (1st and 2nd floor).
Please contact the reception desk if you require a wheelchair.
No pets are allowed into the Communication Plaza.
Those who have consumed alcohol or are intoxicated cannot enter the Plaza.
The Communication Plaza is Yamaha Motor's corporate museum, but is not staffed to provide individual responses to specific inquiries by phone or at the reception desk.
These include questions concerning technical details about Yamaha models, where or how to purchase parts, current or older Yamaha models, and business negotiations.
We also do not relay such inquiries to other divisions at Yamaha.
We ask for your understanding and cooperation, and thank you for your interest in the Communication Plaza.
About group visits
When visiting the Plaza with 11 or more people, a reservation is required.
Please fill in and submit the reservation form at least one week in advance.
Access
Communication Plaza 2500 Shingai, Iwata-shi, Shizuoka, Japan
By Car:
Tomei Expressway: 5 km from Iwata Exit, 6.5 km from Fukuroi Exit
Shin-Tomei Expressway: 17.5 km from Mori-Kakegawa Exit, 19 km from Hamamatsu-Hamakita Exit
Iwata Bypass: 2 km from Iwai Exit
From Mikuriya Station on the JR Tokaido Line:
By taxi
- About 5 min. ride
By foot
- About 15 min. (1.2 km)
From Iwata Station on the JR Tokaido Line:
By bus
- Bus #25 at pole #1, get off at "Yamaha Hatsudouki" – 2 min. walk
- Bus #27 at pole #1, get off at "Nishikaizuka Kita" – 12 min. walk
By taxi
- About 10 min. ride (4.5 km)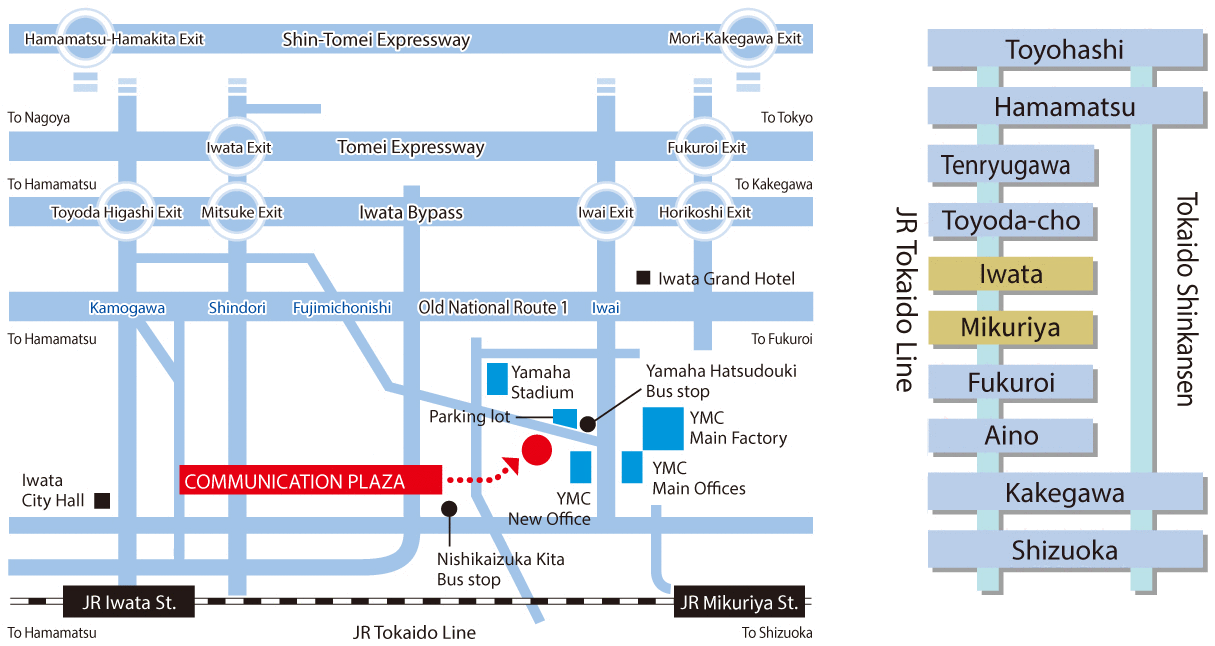 Floor Guide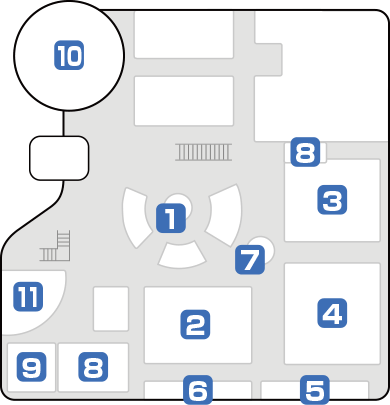 First floor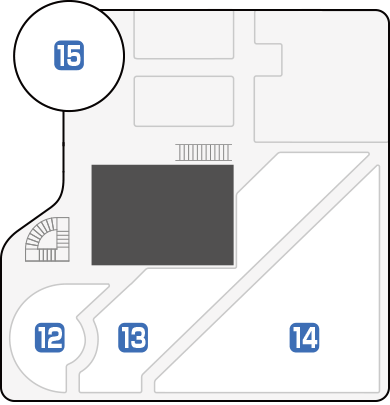 Second floor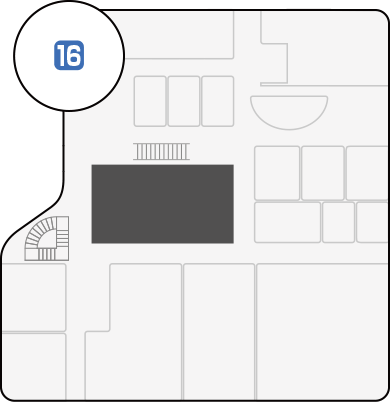 Third floor
1

Symbol Zone

Representative products from Yamaha Motor history and their modern equivalents are on display here, from motorcycles, marine products and recreational vehicles to electrically power-assisted bicycles and automobile engines.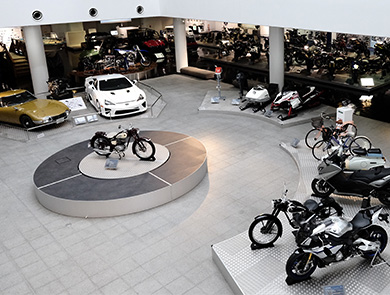 2/3/4

Product Display Space

Here, visitors can see models from the full range of Yamaha products, beginning with the motorcycles and scooters used and loved by people around the world. Also on display are boats, outboard motors, snowmobiles, ATVs, automobile engines, electrically power-assisted bicycles, electric wheelchairs, golf cars, an industrial-use unmanned helicopter, generators, industrial robots and more.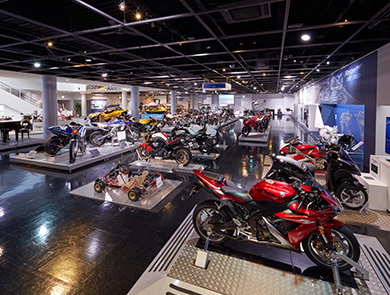 5

Technology Zone

Introduced here are Yamaha technologies and how they are used across our wide range of products, primarily with the motorcycles that represent our main line of business. Themed mini-exhibitions are held regularly in this area.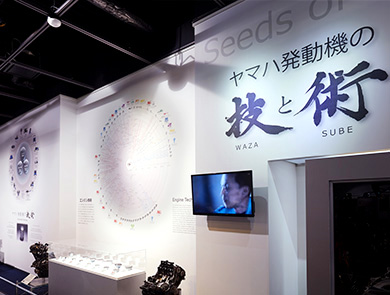 6

Design Zone

The designs of our products and concept models, and other Yamaha-led design activities and initiatives are introduced here along with information about the points that make them unique. Like the Technology Zone, themed mini-exhibitions are held regularly in this area.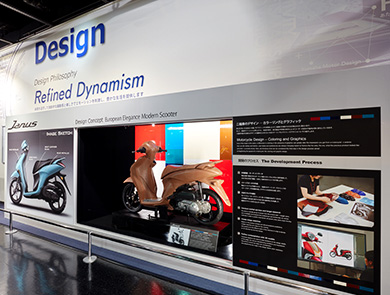 7

Exhibition Space

This area is where exhibitions highlighting products and how and where they are used, etc., are held.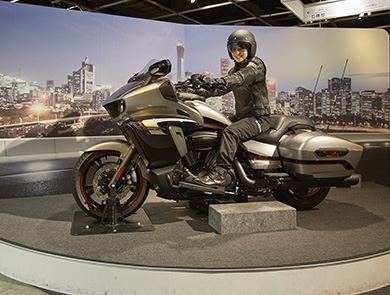 8

Simulators

A variety of simulators, models that visitors can sit on and video monitors can be found at various exhibit areas to offer visitors virtual experiences as they learn about our products.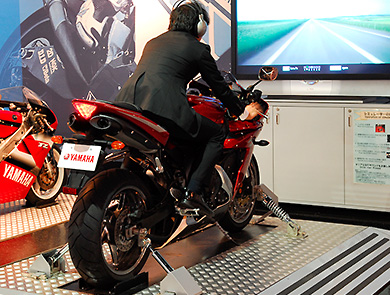 9

Hands-on Learning Corner

This space is for hands-on learning activities and other educational events for children.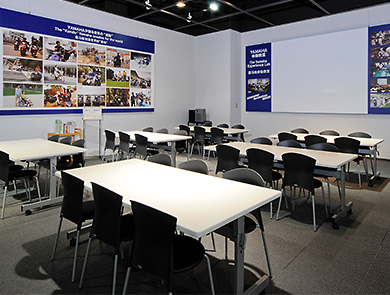 10

Presentation Room

This room is for giving presentations about the history and overview of Yamaha Motor to tour groups, etc.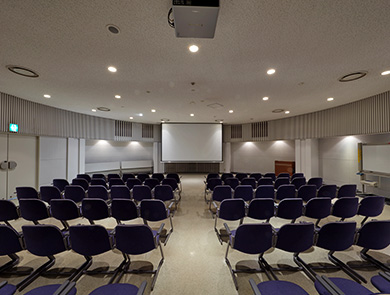 11

Plaza Shop

At this shop located to the right of the entrance area, a large selection of items is on sale, including original Yamaha goods that will make perfect souvenirs of your visit.
12

Corporate History Zone

Introduced here are Yamaha Motor's beginnings: learn about how the company was founded; the meaning behind the Tuning Fork Mark; Yamaha's first motorcycle; the challenge of racing that has been a part of Yamaha DNA since its founding; the spirit of the founder and first president that lives on today; the path taken to diversify and globalize, and more. In addition to the informative displays, you can view related footage in the historic film theater.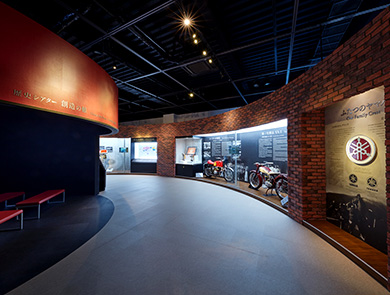 13

Racing History Zone

This area introduces Yamaha's history of challenge in the world of racing that began soon after the company was founded. Here you will find historic models and trophies from various racing categories, and a timeline of achievements spanning over 50 years of competition. There are also touchscreens to view commemorative publications, and race-related video footage is shown on the main screen.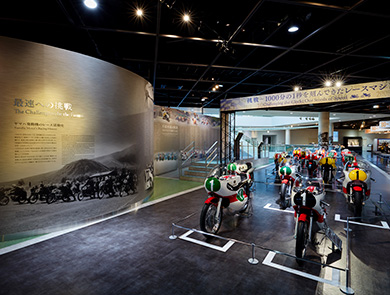 14

Product History Zone

This area displays historic Yamaha models and products from the company's beginnings up to today, including motorcycles, marine products like boats and outboard motors, recreational products like ATVs, generators and other power products, and automobile engines. Visitors can also browse various kinds of digital content here. As a policy, the models in the Plaza collection are kept in running condition.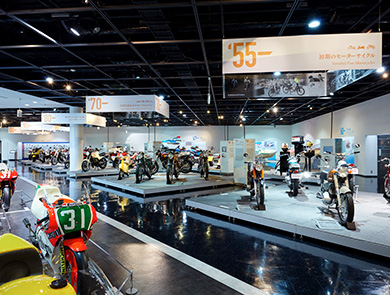 15

Plaza Lounge

In the Plaza Lounge you will find past product pamphlets and Yamaha publications (PDF format) and historic film footage accessible on touch-screen monitors. There are also magazines specialized in motorcycles and marine/boating products to view. There are outlets to charge your cell phone and you can enjoy beverage take-outs from the Café in the Lounge as well.