Events Guide
Information on events to be held at the Communication Plaza.
Father-Daughter Trumpet and Piano Duo
The father plays the trumpet while his daughter plays the piano. While both have played their respective instruments in performances with different volunteer music groups, they have long wanted to perform together, and this will be their first-ever concert as the newly formed duo, Popuri.
They will play a number of famous songs, ranging from those heard in Ghibli animated films to well-known hits from Japanese pop. We're sure you'll enjoy their special father-daughter harmony and how beautifully they play on beat with each other. Admission is free.
| | |
| --- | --- |
| Time | June 9 (Sat.) from 11:00 and 13:00 (approx. 30 min. each) |
| Content | Father-daughter trumpet and piano duo |
| Performers | Popuri |
| Venue | 1st Floor Product Display Space (grand piano area) |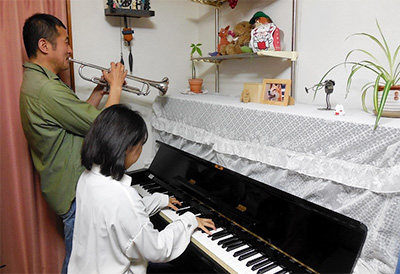 An Early Summer Breeze: Yamaha Electone Concert
Occhi is a Yamaha Electone performer who loves making people smile through his music and performances, and he has helped plan this small song and dance concert at the Plaza. This event invites guests to join in the fun, and sing and dance along to a broad range of music for all ages, from anime songs and Disney hits to Japanese and Western pop songs.
From 30 minutes prior up until the start of each concert, the first 40 children to arrive (elementary school age or under) will be given some cute egg-shaped maracas for free at the 1st floor reception desk to help bring more energy and fun to the concert. The warm breezes of early summer are here, so we hope you'll visit the Plaza with your family and friends for an afternoon of fun. Admission is free.
| | |
| --- | --- |
| Time | May 26 (Sat.) from 11:00 and 13:30 (approx. 30–40 min.) |
| Content | Music and dancing with songs performed by an Electone player |
| Performers | Occhi and event participants |
| Venue | Atrium |