Events Guide
Information on events to be held at the Communication Plaza.
A Weekend with Music in October: Two Days of Mini-concerts
It's time for music to enjoy in the cool days of autumn. We invite you to enjoy a weekend full of musical variety in two mini-concerts. Admission is free for both concerts. We hope you will come and invite your family and friends, too.
♬ October 13th (Sat.) Wind Quintet Concert
This will be a mini-concert by the quintet Fiati made up of five active and noted members of the Public Orchestra of Hamamatsu in Shizuoka Prefecture, a city well known for music and its musical instrument maker. This quintet of flute, oboe, clarinet, bassoon and horn players will perform a selection of famous classical pieces and music like Ghibli anime themes songs popular with people of all ages. You will surely enjoy the gentle warmth of the tonality unique to the wind instruments.
| | |
| --- | --- |
| Time | Oct. 13 (Sat.) from 11:00 and 14:00 (30 min. each) |
| Contents | Wind Quintet performing classic and Ghibli music, etc. |
| Performers | Fiati |
| Venue | 1st Floor, Atrium |
♬ October 14th (Sun.) Electric Guitar Live Concert
A mini-concert will be held by Bacchus, a band made up of volunteers that have all performed individually for many years fueled by a love of electric guitars and their sound.
The concert will feature classic pop hits and nostalgic vocals by artists like Takeshi Terauchi (Terry) & Blue Jeans and The Ventures, serving up an enjoyable demonstration of the unique and powerful sound of the electric guitar and the requisite skills needed to play one.
| | |
| --- | --- |
| Time | Oct. 14 (Sun.) from 11:00 and 13:30 (40 min. each) |
| Contents | Live band performance with electric guitars |
| Performers | Bacchus |
| Venue | 1st Floor, Presentation Room |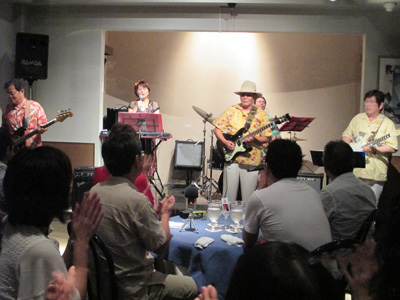 A Weekend with Music in September: Two Days of Mini-concerts
Despite the remaining heat of summer, September is the time when we feel the first hints of autumn. Please join us for weekend concerts with two different types of music to enjoy! Bring your family and friends with you. It's sure to be fun and admission is free for both concerts.
♬ September 22nd (Sat.) West Coast Rock and AOR Live Concert
Enjoy a mini-concert by the seven-person band The Coast to Coast that came together in 2010 with their love of American music from different parts of the country. They present American West Coast rock and AOR (adult-oriented rock) from the 1970s and '80s by stars like Boz Scaggs and the Eagles that is still loved by so many people today. It is sure to conjure up pleasant images of the blue sky, blue sea and fresh breezes of the West Coast.
| | |
| --- | --- |
| Time | Sept. 22 (Sat.) from 11:00 and 13:30 (about 30 minutes each) |
| Contents | West Coast rock and AOR from the 1970s and 80s |
| Performers | The Coast to Coast |
| Venue | 1st Floor, Atrium |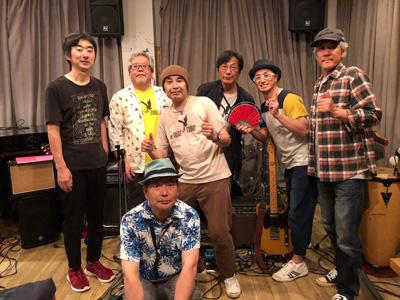 ♬ September 23rd (Sun.) Piano Mini-concert
This is the first mini-concert to be performed by the group 'etoile, four friends who all studied piano at school and have continued to perform on the piano around the country. They will perform Disney songs and songs from the Studio Ghibli anime movies that are so popular with children, as well as famous classic pieces that bring out the true beauty of the piano and Western pop songs known and loved by all.
| | |
| --- | --- |
| Time | Sept. 23 (Sun.) from 13:30 (about 30 minutes) |
| Contents | Disney, Studio Ghibli songs, classic, etc., piano pieces |
| Performers | 'etoile |
| Venue | 1st Floor, grand piano display corner |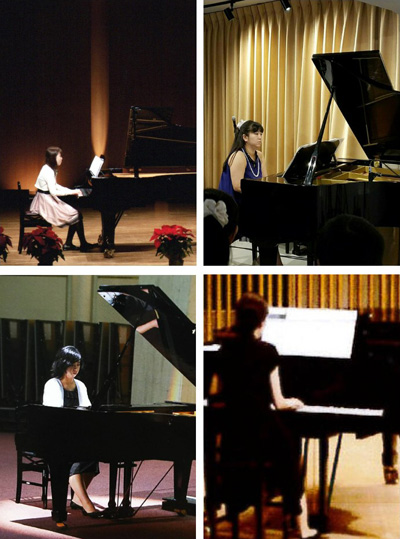 The New Plaza Lounge Opens as a Space for Visitors to Relax in Comfort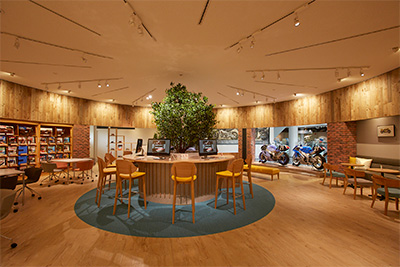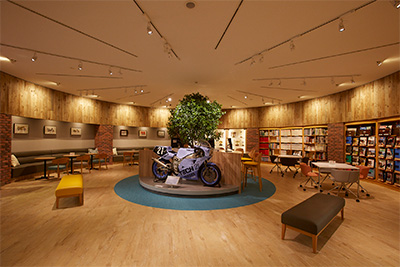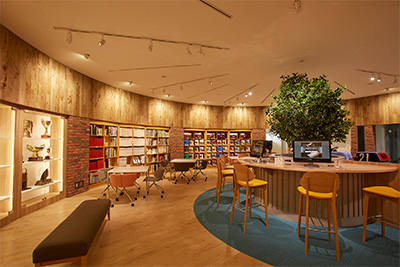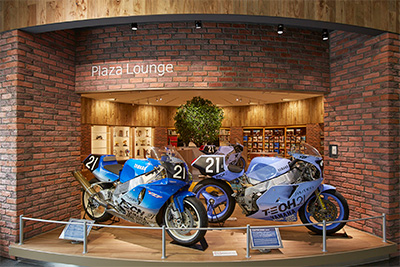 The Plaza's 2nd floor Library, housing a full collection of Yamaha Motor publications as well as historical film footage, an archive of digital contents, product-related books, magazines and more, has undergone renovations and re-furnishing and now reopens as a more comfortable "Plaza Lounge" for visitors to relax in and enjoy the library collection.
The interior and exterior walls adopt the same classic brick and wood style of the Corporate History Zone and a large show window has been added on the entrance wall that opens onto the central atrium to let in abundant natural light and give the lounge a more open and relaxing atmosphere. In the center of the lounge space stands a Japanese bayberry tree (imitation) that is a symbol of the company's history, and comfortable sofas and convenient tables fill out the furnishings. Besides the use of the library collection, visitors can bring beverages into the lounge and relax there as they please. We hope you will enjoy use of this lounge when you visit the Plaza.
2018 Historic Model Exhibition and Demo Run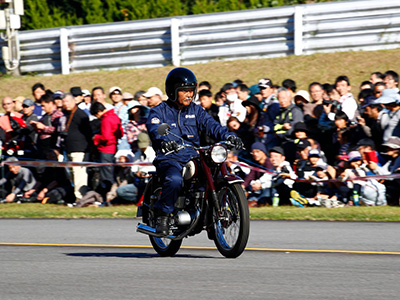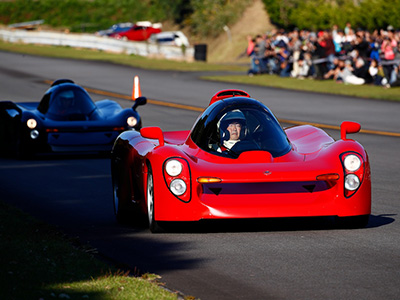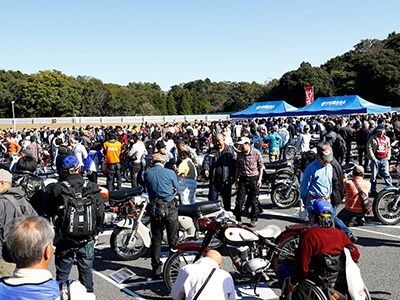 The Communication Plaza boasts a large collection of products that have shaped Yamaha's history across a wide variety of categories, and we regularly change the lineup of models on display to the public. As a rule, the appearance as well as actual performance of our historic motorcycles is maintained, and the models are regularly checked to confirm that they are in good running condition.
As a part of this effort, we will hold the Historic Model Exhibition and Demo Run at the Yamaha Fukuroi Test Course in Shizuoka Prefecture. This time, as a special celebration of the Communication Plaza's 20th anniversary, a total of 60 historic models will be on display and there will be demonstration runs of 31 production motorcycles like the YA-1, several racebikes as well as cars like the Toyota 2000GT and the Yamaha OX99-11 supercar prototype.
Reservations are required for entry and will be given to the first 1,500 applicants. If you wish to attend, please use the form below to apply. We will begin accepting reservations for the event at 12:00 p.m. on September 3.
Date/Time
November 3 (Sat.), 2018
Exhibition: 11:00–15:30
Demo runs: 13:30–15:10
Planned Demo Runs
Production motorcycles: 31 models, including YA-1, DX250, TX750 and RT-1
Racebikes: YZR700 and more
Automobiles: Toyota 2000GT, Lexus LFA, Yamaha OX99-11
Application

To apply, follow the procedure indicated on the application form (in Japanese only).
Reservations can be made for up to two people with one application. *Application Period Ended

Application Period

Begins on September 3 (Mon.) at 12:00 p.m.
Application limit of 1,500 people on a first-come, first-serve basis.

Venue
Yamaha Fukuroi Test Course
(No parking available for motorcycles or cars)
Getting to the venue

A shuttle bus will take you to the event venue from the #9 parking lot of Ogasayama Sports Park ECOPA beginning at 10:30 a.m.

Reference

Please refer to the PDFs below
Leaflet (Japanese)PDF Map (English)PDF

Event Fee

Adult: ¥1,000; Elementary school students and under: ¥500
Fees will be collected when boarding the shuttle bus.

Other/Notes

Event content and models appearing may change without notice.
The event will still be held in the case of light rain, but the schedule may change. Please contact the Communication Plaza at (+81) 538-33-2520 on the day of the event (Nov. 3) to confirm if everything will continue as planned.
Please refrain from eating while at the venue. Drinks will be available for purchase.
The Fukuroi Test Course is a special facility and leaving designated areas without authorization is strictly prohibited.
For your safety, please do not cross over the boundary line for viewing/photography while vehicles are in motion. Also, please be extra careful with children during the event.
All video filming is prohibited.
Photographs may only be taken of the models on display and the vehicles making demo runs. Please do not photograph any of the surrounding facilities or equipment.
Please take your trash with you when you leave the premises.