1995 JW-I
Collection items
(1995 / Wheelchair Electric Power Unit)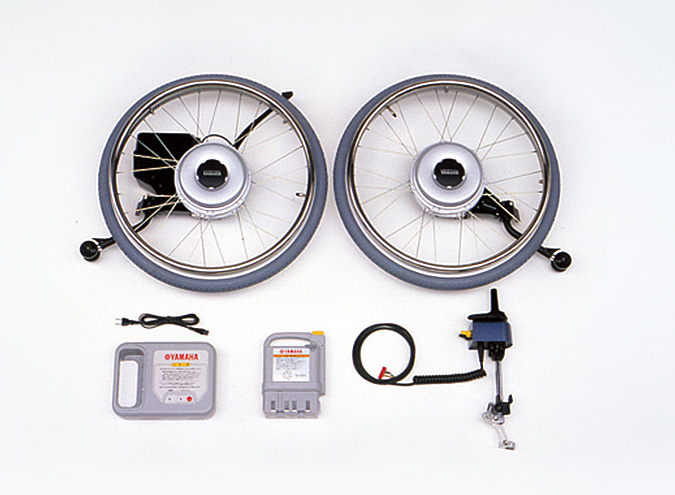 This electric power unit is mounted on existing manual wheelchairs to provide an electric drive function. With its two drive wheels with built-in electric motors, a user-operated controller and a battery (with specialized charger), the JW-I unit can be mounted on most JIS-standard wheelchairs. Also, its light weight of approximately 15 kg (including battery) allows the wheelchair to be folded up with the unit mounted so that it is easy to load into an automobile. It greatly contributed to expanding the mobility radius of wheelchair users.
*The wheelchair the JW-I unit is mounted on in this display is a production model not manufactured by Yamaha Motor.
Drive method: Direct rear-wheel drive
Weight: About 15kg (without battery)
Operation: User - joystick / Care-giver - manual
Motor: 24V 90W×2 (rated running time: 30 min.)
Forward speed: Low - 2.5 km/h, High - 4.5 km/h
Reverse speed: 2.0 km/h
Price: ¥230,000
*All figures, etc. in a model's description or specifications are from when the model was originally released.