1990 YZR500 (0WC1)
Collection items
(1990 / Racing Machine)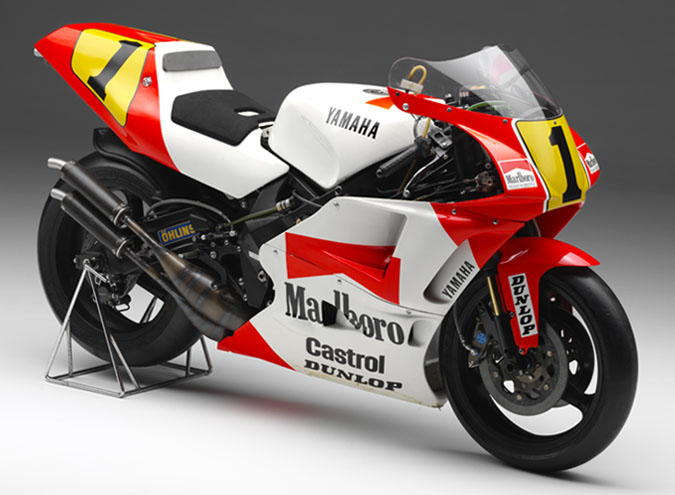 Wayne Rainey won his first world title on this GP500 factory machine. Handling stability was improved with dimension changes that included a head pipe position that was closer to the rider and a lower rake angle. The engine's power output was also increased from a previous 150 PS to 155 PS. To help bring a greater number of bikes to the grid in the GP500 class, the base machine was leased to privateer teams from 1991, and later, the engine alone was made available for purchase. The race number and stickers on this display model are from the 1991 season.
Engine type: Liquid-cooled, 2-stroke, V4, 499cm³
Crankcase reed intake valve
Transmission: 6-speed
Maximum power output: Over 114.0kW (155PS)
*All figures, etc. in a model's description or specifications are from when the model was originally released.
Notice: The coloring and logos on the models on display have been reproduced to match the actual appearance in their day, and in the case of tobacco maker logos, their reproduction is in no way intended as promotion of the products or brands involved. The Yamaha Motor group accepts no responsibility regarding the damaging effects of smoking on health, etc.