1986 YZR250 (0W82)
Collection items
(1986 / Racing Machine)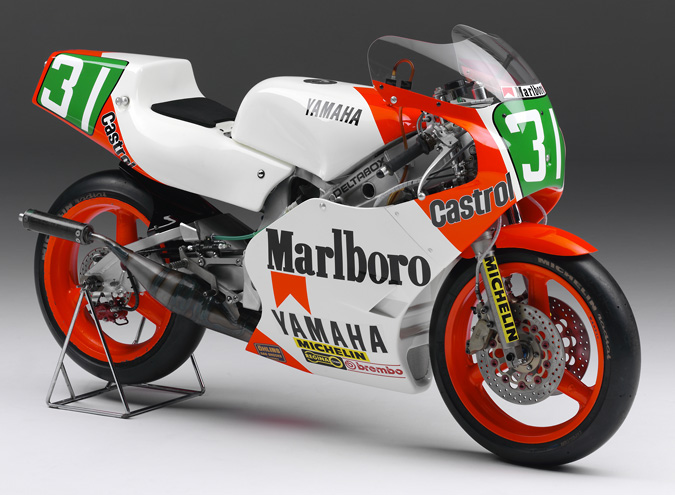 This was the first pure 250cc class factory machine since the 1973 YZR250 (0W17). Mounted in an aluminum Deltabox frame, the engine was an evolved version of the 2-axis crankshaft, 60° V-twin built as a prototype in the development process of the YZR500 (0W81). The simultaneous firing configuration adopted to reduce vibration resulted in superbly dynamic performance and agile handling that helped Carlos Lavado win his second World Championship in 1986. In the final round of the same year, Tadahiko Taira chalked up his first GP win at the San Marino GP.
Engine type: Liquid-cooled, 2-stroke, V-twin, 249cm³
Crankcase reed intake valve
Transmission: 6-speed
Maximum power output: Over 55.1kW (75PS)
*All figures, etc. in a model's description or specifications are from when the model was originally released.
Notice: The coloring and logos on the models on display have been reproduced to match the actual appearance in their day, and in the case of tobacco maker logos, their reproduction is in no way intended as promotion of the products or brands involved. The Yamaha Motor group accepts no responsibility regarding the damaging effects of smoking on health, etc.