2007 YZR-M1 (0WS4)
Collection items
(2007 / Racing Machine)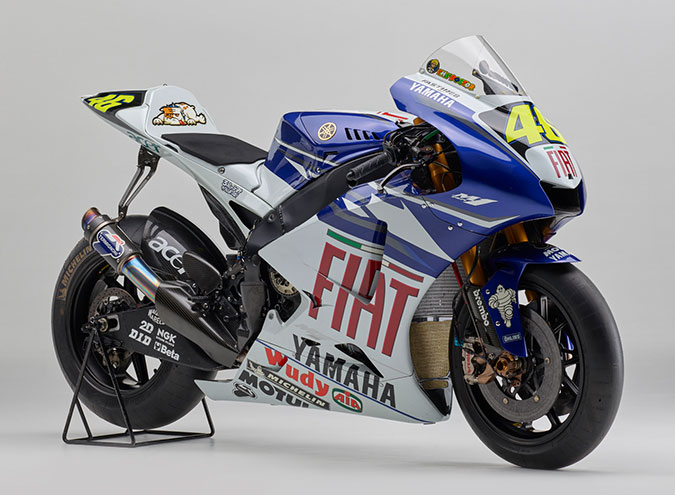 This was the MotoGP factory machine developed to accommodate the change in displacement regulation from 990cc to 800cc, and it was made much lighter and more compact. To further boost performance, measures were taken to optimize the engine management system that resulted in a 4% increase in power output, a 1,000rpm increase in revs and a 3% improvement in fuel economy by the latter half of the season. Revisions were also made in the frame's rigidity balance and effective new cowl designs were introduced during the season, and the combined effects eventually brought lap times down to the levels of the previous year's 990cc machine despite the decrease in displacement.
Engine type: Liquid-cooled, 4-stroke, DOHC 4-valve, in-line 4-cylinder, 800cm³
Transmission: 6-speed
Fuel supply: Fuel injection
Maximum power output: Approx. 147.1kW (200PS)
*All figures, etc. in a model's description or specifications are from when the model was originally released.
Notice: The coloring and logos on the models on display have been reproduced to match the actual appearance in their day, and in the case of tobacco maker logos, their reproduction is in no way intended as promotion of the products or brands involved. The Yamaha Motor group accepts no responsibility regarding the damaging effects of smoking on health, etc.