2002 YZR-M1 (0WM1)
Collection items
(2002 / Racing Machine)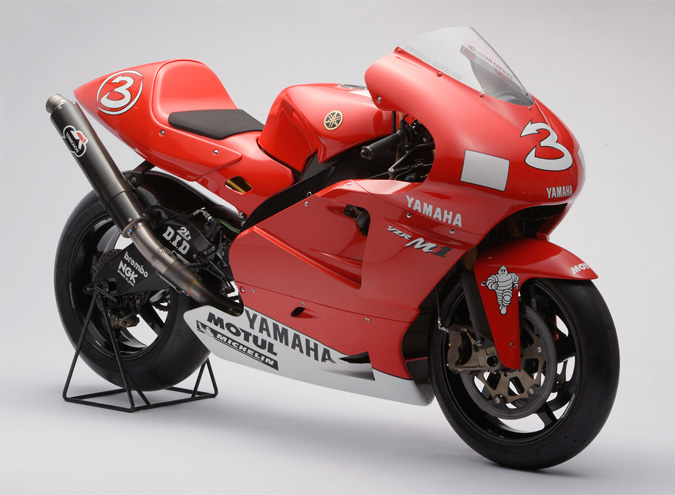 The year 2002 saw the pinnacle motorcycle grand prix class change its name to MotoGP, and a mix of 2-stroke and 4-stroke machines on the starting grid. This was Yamaha's first 4-stroke factory machine developed for the new class. Based on the key concept of a machine excelling in overall balance and drivability, this model mounted a light, compact in-line 4-cylinder engine with an engine-brake control system on a Deltabox frame. With various modifications to engine displacement and frame configuration made while the season was still in progress, Max Biaggi achieved two wins this year to take 2nd place in the season ranking.
Engine type: Liquid-cooled, 4-stroke, DOHC 5-valve, in-line 4-cylinder, 942 - 990cm³
Transmission: 6-speed
Maximum power output: Over 147.0kW (200PS)
Fuel supply: Carburetor
Weight: 145kg
*All figures, etc. in a model's description or specifications are from when the model was originally released.
Notice: The coloring and logos on the models on display have been reproduced to match the actual appearance in their day, and in the case of tobacco maker logos, their reproduction is in no way intended as promotion of the products or brands involved. The Yamaha Motor group accepts no responsibility regarding the damaging effects of smoking on health, etc.