1993 YZM250 (0WE4)
Collection items
(1993 / Racing Machine)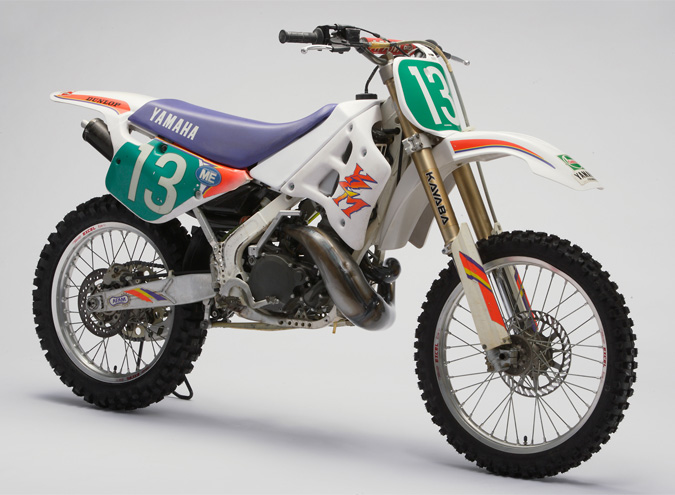 This was a 250cc class motocross factory machine. It featured an original rear suspension combining fiber reinforced plastic (FRP) leaf springs with a rotary damper. Notably, because of the lack of a shock absorber unit behind the engine, a straight intake passage could be adopted to improve engine efficiency. This machine was introduced in the 1992 All Japan Championship, and was ridden to victory in the final race by wild card rider Peter Johansson. The machine on display is the one that achieved victory in the opening round in 1993 ridden by Tomoyoshi Masuda and ranked 4th for the season.
Engine type: Liquid-cooled, 2-stroke, single-cylinder, 249cm³
Transmission: 5-speed
Maximum power output: Over 36.7kW (50PS)
FRP leaf spring-type rear suspension
*All figures, etc. in a model's description or specifications are from when the model was originally released.
Notice: The coloring and logos on the models on display have been reproduced to match the actual appearance in their day, and in the case of tobacco maker logos, their reproduction is in no way intended as promotion of the products or brands involved. The Yamaha Motor group accepts no responsibility regarding the damaging effects of smoking on health, etc.