1991 YZE750T Super Ténéré (0WC5)
Collection items
(1991 / Racing Machine)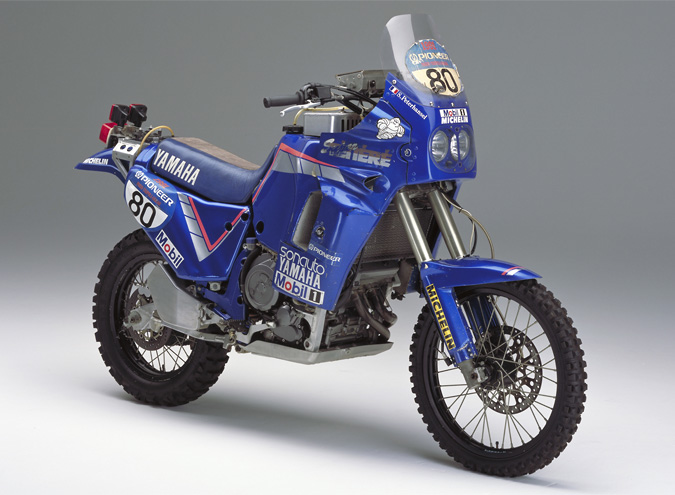 This was a further developed version of the 1990 YZE750T (0WB8) factory machine that was based on the XTZ750 production model. Its DOHC 10-valve, 2-cylinder engine featured further development of low- to mid-rpm performance and measures to accommodate the lower quality gasoline used in some areas. No less than five of these machines were entered in the Dakar Rally, one of them carrying Stéphane Peterhansel to his first victory and Yamaha's first since 1980. In this same race, Gilles Lalay and Thierry Magnaldi finished 2nd and 3rd respectively to prove the exceptional competitive potential of the machine.
Engine type: Liquid-cooled, 4-stroke, DOHC, 5-valve, in-line 2-cylinder, 802.5cm³
Transmission: 5-speed
Maximum power output: Over 55.2kW (75PS) / 7,000r/min
Fuel tank capacity: 38L+26L
Weight: 194kg
*All figures, etc. in a model's description or specifications are from when the model was originally released.
Notice: The coloring and logos on the models on display have been reproduced to match the actual appearance in their day, and in the case of tobacco maker logos, their reproduction is in no way intended as promotion of the products or brands involved. The Yamaha Motor group accepts no responsibility regarding the damaging effects of smoking on health, etc.