1989 YZE750 Ténéré (0W94)
Collection items
(1989 / Racing Machine)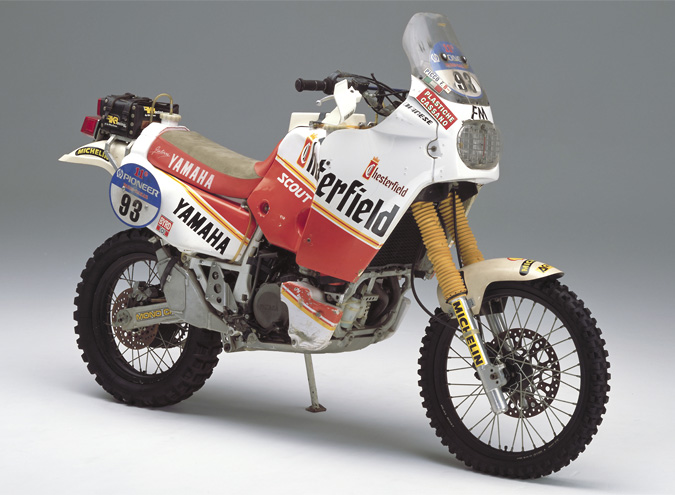 This was a further developed version of the 1988 factory machine YZE750 (0W93) developed after the race-specialized Motorsports Development Division took over development responsibilities. Further maturation was brought to continued features like the lightweight, compact DOHC, 5-valve, single-cylinder engine that placed emphasis more on overall balance than top speed, a 3-section fuel tank for reduced influence on handling resulting from changes in fuel level and a side stand that doubled as a tool compartment among others. Riding this model, Franco Picco just missed the win at Dakar after a long and fierce battle for the lead, finally placing 2nd.
Engine type: Liquid-cooled, 4-stroke, DOHC 5-valve, single-cylinder, 756.8cm³
Transmission: 5-speed
Fuel tank capacity: 33L+22L
Weight: 178kg
*All figures, etc. in a model's description or specifications are from when the model was originally released.
Notice: The coloring and logos on the models on display have been reproduced to match the actual appearance in their day, and in the case of tobacco maker logos, their reproduction is in no way intended as promotion of the products or brands involved. The Yamaha Motor group accepts no responsibility regarding the damaging effects of smoking on health, etc.