2001 YZ500FM
Collection items
(2001 / Racing Machine)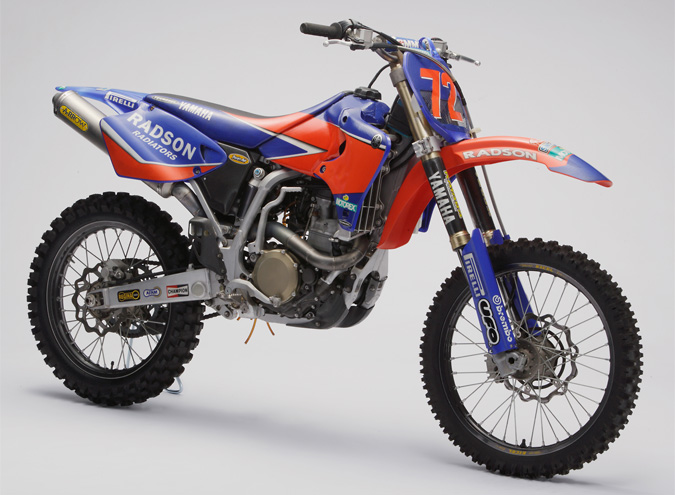 This factory machine was developed for the World Championship and based on the production YZ426F 4-stroke motocrosser. In order to compete with the over 600cc 4-stroke machines entered by other manufacturers, the engine displacement was further increased and mounted on a specially designed aluminum frame. Large-scale modifications were also made to the un-sprung components to boost overall performance in terms of lighter weight, greater compactness and boosted output. On it, Stefan Everts won his first 500cc championship and his 5th career title. It also brought a 3rd Manufacturer title for Yamaha.
Engine type: Liquid-cooled, 4-stroke, DOHC 5-valve, single-cylinder, 503cm³
Transmission: 4-speed
Maximum power output: Over 44.1kW (60PS)
Aluminum semi-double cradle frame
Weight: 102kg
*All figures, etc. in a model's description or specifications are from when the model was originally released.
Notice: The coloring and logos on the models on display have been reproduced to match the actual appearance in their day, and in the case of tobacco maker logos, their reproduction is in no way intended as promotion of the products or brands involved. The Yamaha Motor group accepts no responsibility regarding the damaging effects of smoking on health, etc.