1995 XTZ850R
Collection items
(1995 / Racing Machine)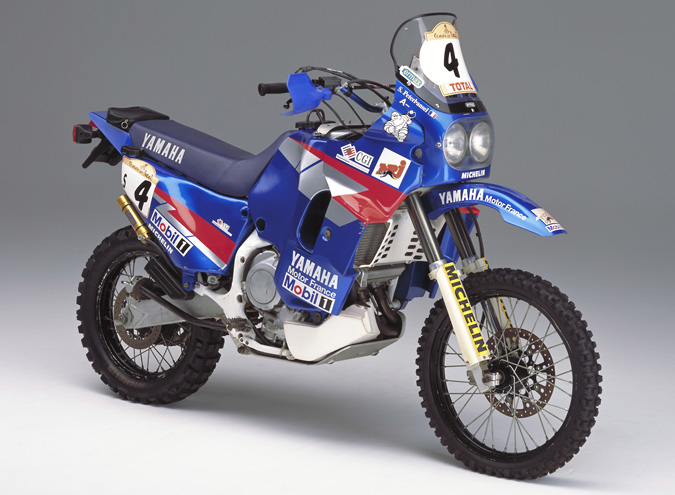 The XTZ850R was a rally motorcycle that was newly developed using the 2-cylinder engine from the TDM850 road sports motorcycle as its base power unit. With its excellent performance and equipment, the XTZ850R was capable of entering the Dakar Rally in stock form. In order to support privateers, it was sold for 140,000 francs (around three million yen at the exchange rate of the time) in order to satisfy the rule requiring 15 or more models be sold on the general market. The Yamaha factory team also modified and used this model, with Stéphane Peterhansel winning the Dakar Rally four times on it.
Engine type: Liquid-cooled, 4-stroke, DOHC 5-valve, in-line 2-cylinder, 849cm³
Fuel tank capacity: 38L+12L
Weight: 210kg
*All figures, etc. in a model's description or specifications are from when the model was originally released.
Notice: The coloring and logos on the models on display have been reproduced to match the actual appearance in their day, and in the case of tobacco maker logos, their reproduction is in no way intended as promotion of the products or brands involved. The Yamaha Motor group accepts no responsibility regarding the damaging effects of smoking on health, etc.