1994 TZ125
Collection items
(1994 / Racing Machine)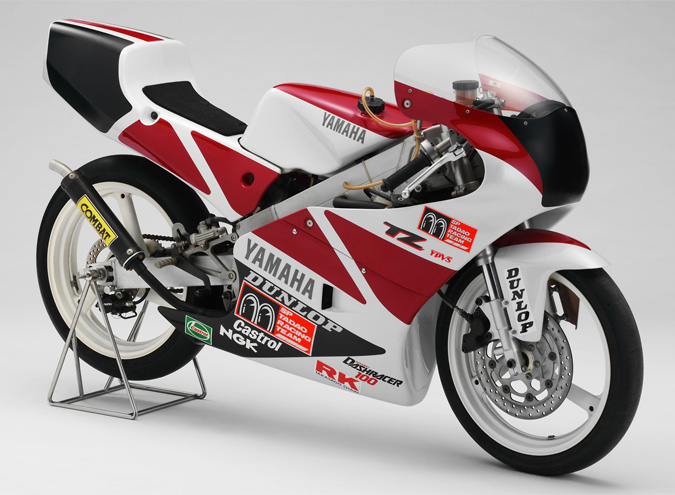 This was a 125cc production road racer aimed at a wide range of users, from beginners to World GP riders. The completely new single-cylinder engine design placed the crankshaft, main shaft, and drive shaft in a V-shaped configuration and helped optimized the balance of the chassis. And offering a single-axis balancer, YPVS, cassette-type transmission, and parts shared with the TZ250 resulted in excellent performance, ease of handling, and reliability. The display model has the exterior used on the model ridden by Yoshiaki Kato when he became All Japan 125 Champion in 1993.
Engine type: Liquid-cooled, 2-stroke, single-cylinder, 124cm³
Transmission: 6-speed
Maximum power output: 30.9kW (42PS)
Aluminum Deltabox frame
*Figures show production model specs
*All figures, etc. in a model's description or specifications are from when the model was originally released.
Notice: The coloring and logos on the models on display have been reproduced to match the actual appearance in their day, and in the case of tobacco maker logos, their reproduction is in no way intended as promotion of the products or brands involved. The Yamaha Motor group accepts no responsibility regarding the damaging effects of smoking on health, etc.