1965 RD56
Collection items
(1965 / Racing Machine)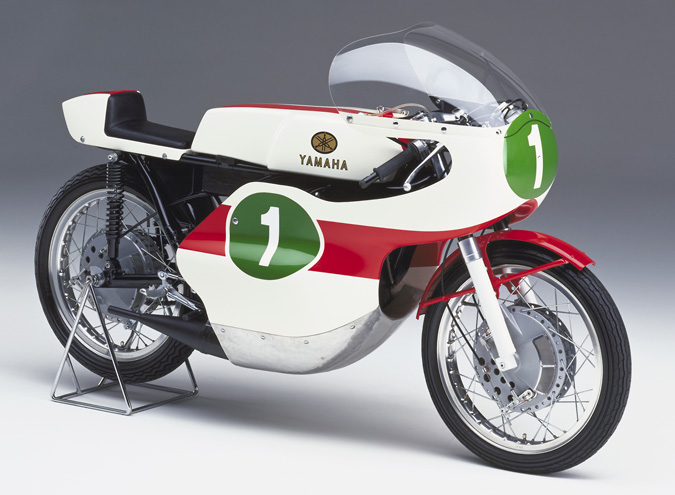 This machine evolved from the RD48 (1961), Yamaha's first 250cc GP bike. It mounted a powered-up 2-cylinder rotary disc valve type 2-stroke engine with a separate float chamber type carburetor and forced lubrication on a chrome-molybdenum pipe featherbed type double cradle frame. Its debut race was in the 1st All Japan Road Race Championship in 1962. The following year it began competing overseas and through yearly spec changes like the adoption of a 7-speed transmission, it won 15 GP races ('63–'65). In 1964 and 1965, Phil Read rode it to help bring Yamaha both the Rider and Constructor titles.
Engine type: Air-cooled, 2-stroke, in-line 2-cylinder, 249cm³
Transmission: 7-speed
Maximum power output: Over 36.8kW (50PS) / 11,000r/min
*All figures, etc. in a model's description or specifications are from when the model was originally released.
Notice: The coloring and logos on the models on display have been reproduced to match the actual appearance in their day, and in the case of tobacco maker logos, their reproduction is in no way intended as promotion of the products or brands involved. The Yamaha Motor group accepts no responsibility regarding the damaging effects of smoking on health, etc.