1966 RA97
Collection items
(1966 / Racing Machine)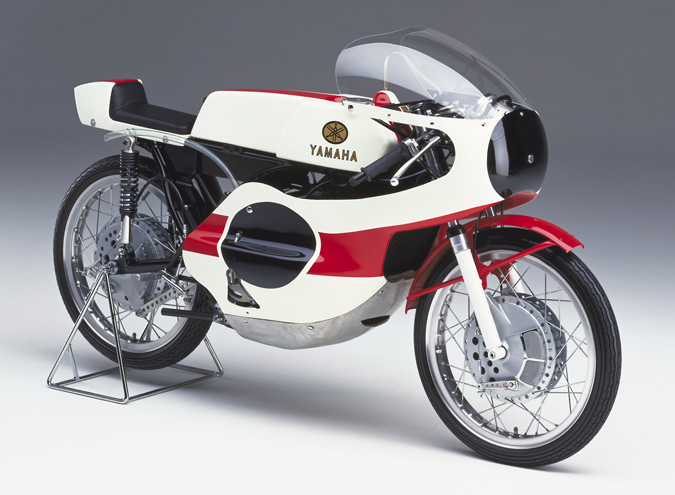 This was a 2-stroke, 2-cylinder 125cc GP factory machine. Within the general trend toward multiple-cylinder engines at the time, it was developed with the 250cc engine of the RD56 as a base power unit in order to achieve the added performance that could not be attained with the single-cylinder RA41 and RA75 machines. It debuted at the Dutch GP in 1964 with Phil Read riding and placed 2nd. In the latter half of 1965, the RA97 evolved further and mounted Yamaha's first liquid-cooled engine, and won the company its first Isle of Man TT with Read riding. By 1966 its power had been boosted to 32PS and Bill Ivy rode it in a hot competition for the GP title.
Engine type: Liquid-cooled, 2-stroke, in-line 2-cylinder, 124cm³
Transmission: 8-speed
Maximum power output: Over 23.5kW (32PS) / 14,000r/min
*All figures, etc. in a model's description or specifications are from when the model was originally released.
Notice: The coloring and logos on the models on display have been reproduced to match the actual appearance in their day, and in the case of tobacco maker logos, their reproduction is in no way intended as promotion of the products or brands involved. The Yamaha Motor group accepts no responsibility regarding the damaging effects of smoking on health, etc.