1985 FZR750 (0W74)
Collection items
(1985 / Racing Machine)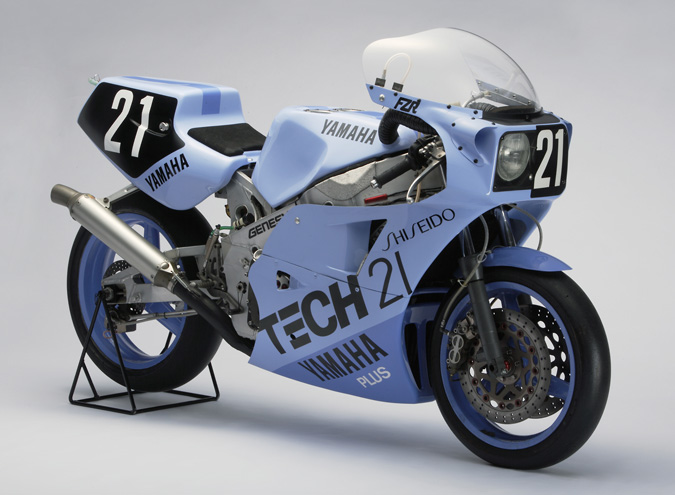 This was an endurance race spec TT-F1 factory machine based on the FZ750 production sports model. The DOHC 5-valve, in-line 4-cylinder engine featured a modified forward inclination of the cylinders from 45° to 35° to accommodate the shortening of the wheelbase and the adoption of the Fresh Air Intake (F.A.I.) system. It was mounted in a specially designed aluminum Deltabox frame. In the 1985 Suzuka 8 hours Endurance Race, despite having to retire because of mechanical trouble in the final phase of the race, an FZR750 raced by Kenny Roberts and Tadahiko Taira displayed outstanding performance that thrilled the crowd.
Engine type: Liquid-cooled, 4-stroke, DOHC, 5-valve, in-line 4-cylinder, 749cm³
Transmission: 6-speed
Maximum power output: Over 95.6kW (130PS)
Aluminum Deltabox frame
*All figures, etc. in a model's description or specifications are from when the model was originally released.
Notice: The coloring and logos on the models on display have been reproduced to match the actual appearance in their day, and in the case of tobacco maker logos, their reproduction is in no way intended as promotion of the products or brands involved. The Yamaha Motor group accepts no responsibility regarding the damaging effects of smoking on health, etc.