Column vol.22
View our column profiling Yamaha's 50 years of involvement in racing. Vol.22The Daytona 200 awakens a true champion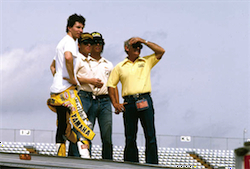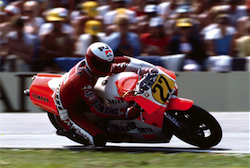 The 1983 World GP500. The fierce battle for the title continued through to the final round at Imola, where the contest was finally to be settled.
The top contender was Kenny Roberts on a Marlboro liveried YZR500. However, right behind him as if glued to his tail was Freddie Spencer on a Honda, and several seconds behind Spencer was Eddie Lawson, also on a red YZR. As long as this order did not change, Spencer would be champion. If Lawson could pass Spencer, Roberts would have his fourth title.
Roberts slowed while skillfully blocking Spencer and waited for Lawson to catch up. But Lawson didn't appear. Finally, as if giving up any lingering hopes, Roberts pulled away from Spencer and crossed the finish line in one last spurt of speed to win the race. Lawson, who finished in 3rd place, returned to the pit and murmured a quiet "Sorry."
Then in 1984, Lawson teamed with Roberts in the latter's final Daytona 200 before entering that year's World GP as Yamaha's new ace and winning his first GP500 title. With that he expunged the humiliation tasted a year before.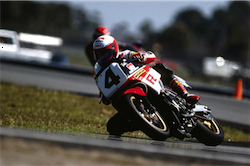 It was not all easy going for Lawson, however. That year, Spencer had been plagued by a string of accidents, including mechanical problems and a spill from his bike, robbing Lawson of the satisfaction that should have been his from winning on his own merits. Moreover, the resentment intensified the following year when he lost his title decisively to Spencer, with his seven victories.
Now, in his fourth year of GP racing, he had to believe in his own ability and fight to reclaim his position as world champion, whoever stood in his way. Having thus made up his mind, Lawson entered the Daytona 200 immediately before the 1986 GP season with renewed resolve.
The Daytona-spec machine entered by Yamaha in its effort to win the title it had lost two years before, was a five-valve, 4-cylinder DOHC 4-stroke FZ750. In 1985, when this model was launched, it missed its chance at factory racing as preparations were still incomplete. Nevertheless, 20 machines had been supplied to private racing teams. Despite generally having production specs rather than being race modified, seven of the machines finished high in points in several races. If Lawson could only get an FZ750 modified to factory specifications, he would surely become the strongest rival to Spencer (Honda), who had won the previous year. However, on the day of the race, Spencer pulled out because of a cold and never raced on the new VFR750. Although deprived of a direct confrontation, Lawson showed no discouragement or consternation. In the qualifying, he easily smashed the record held by Spencer to outrun riders like Honda's Wayne Rainey and Fred Merkel, and Suzuki's Kevin Schwantz. In the finals, too, Lawson gradually extended his lead after waging a white-hot battle against Schwantz and Rainey. When Rainey pulled out because of tire trouble, he had the race completely to himself and went on to win his first Daytona 200.
After his appearance on the podium, Lawson quietly explained: "I'm extremely satisfied that I managed a perfect race before the opening of the GP season. I just want to make the GP my own too. I'm confident that I can obtain the results I want."
And those words were proven true, even before the last round of the season.