Column vol.19
View our column profiling Yamaha's 50 years of involvement in racing. Vol.19Factory competition hastens progress in the GP250 Glory days for YZR250, successor to the TZ250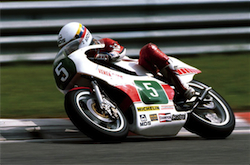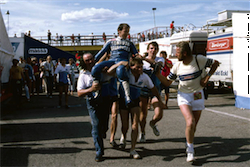 For Yamaha, the World GP250 held special significance. In 1963, Yamaha recorded its first win in that class and in 1964 took its first GP250 Manufacturer and Rider titles. Even after Yamaha ceased factory racing activities, the introduction of the TD-2 and TD-3 production racers, special parts and advanced development models ensured that Yamaha monopolized 250cc titles from 1970 to 1973.
However, after starting its factory campaign in the GP500 class in 1973, Yamaha gradually curtailed its activities in the 250 category, though it still marketed a new model TZ250 production racer. In Yamaha's place, Harley-Davidson, Morbidelli and Kawasaki factory teams re-established themselves in this class and began winning titles. The TZ riders who had previously been the majority on the starting grid were gradually seen less and less on the victory podium.
To compensate, Yamaha added a Monocross suspension and disc brakes to the 1976 TZ250. With the 1979 model, it tried to increase competitiveness by adopting a new frame and rear arm, and bringing in a new fuel tank shape suitable for the hang-off riding style. To create a higher revving, higher powered engine, the 1981 model TZ250 was given a shorter stroke that borrowed the same 54 x 54mm bore and stroke spec from the TD-3. Also featuring a specially designed crankcase and the Yamaha Power Valve System (YPVS) exhaust device introduced to eliminate torque dip, the TZ250 had taken a big step forward.
Then, in 1982, an up-and-coming rider from France, Jean-Louis Tournadre, put an end to Yamaha's long stagnation in the GP250 class. With a first-time victory in the opening round staged in his native France, Tournadre steadily piled on the points with four 2nd and three 3rd places. He then beat the 1980 and 1981 champion Anton Mang by a single point to ride the TZ250 to Yamaha's first World GP250 victory title in a decade.
Its fortunes restored, Yamaha went on to benefit from the efforts of star riders Carlos Lavado and Christian Sarron in 1983 and 1984 respectively. They brought Yamaha its second and third consecutive Rider and Manufacturer titles. Yamaha had regained the top spot in World GP racing, but Honda soon put a halt to this triumph. The following year (1985) Honda developed its RS250R 2-stroke, V-twin production racer and Freddie Spencer grabbed the World GP250 on a factory spec RS250RW. With this, Honda achieved mastery of two classes: 250cc and 500cc.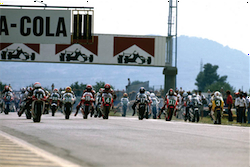 Yamaha fought back with a TZ250 equipped with a crankcase reed valve intake engine, aluminum Deltabox frame, rear exhaust system and 17-inch wheels with radial tires front and rear. Then in 1986, Yamaha introduced a YZR250 (0W82) factory machine with a twin crankshaft, V-twin simultaneous firing engine. This was the machine that Carlos Lavado used to secure his second world title, notching up six wins in 11 GP rounds. It was also the machine that Tadahiko Taira rode when he finally realized his long-held dream to be a full-time GP rider. That season, Taira rode to his first GP victory in the final round at San Marino.
The 250cc class subsequently developed into a three-way V-twin battle when Aprilia entered the fray. Yamaha upgraded its YZR250/TZ250 models with a 90属 V-twin engine equipped with a single crankshaft and coupled-force balancer to take on even fiercer competition that was to follow in the 1990's.