Column vol.16
View our column profiling Yamaha's 50 years of involvement in racing. Vol.16From No.1 in the AMA to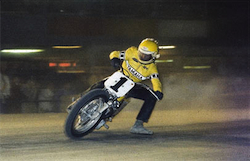 The first European race that American rider Kenny Roberts entered was the Imola 200 Miles, held in Italy in April 1974.
The previous year, after winning the US Grand National Championship as a result of his overall domination of the road circuit including oval track and dirt track races, Roberts had entered his first TZ750 (700cc) race, the Daytona 200.
After finishing a close 2nd to Giacomo Agostini in that race, "Kel" Carruthers, manager of the Yamaha International Corporation (YIC) Team, encouragement Roberts to race in the Imola 200, which was also part of the Formula 750.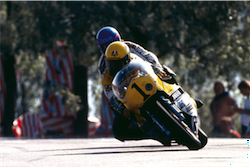 At that time Roberts was 23. Asked if he was thinking of participating in the World GP as well after his Imola victory, he replied disinterestedly: "It's the off-season in American racing now, and I've only come here because Yamaha wanted me to." In fact, Roberts went on to participate in the Dutch GP in June (250cc class), where he recorded the fastest lap and achieved a podium finish with 3rd place. Until then, no one had ever won an American Grand Championship and a European World GP Championship, and Roberts wanted to be the first to do it.
In 1978, the time had come to try to realize that dream. The machine was the YZR500 (0W35K), a piston valve, in-line four and the first to feature the new Yamaha Power Valve System (YPVS), a revolutionary variable exhaust valve system for obtaining optimal exhaust timing in relation to engine rpm.
The YPVS concept emerged originally from research for measures to reduce emissions governed by new exhaust gas regulations in 1974.
Once functional, it not only prevented the characteristic 2-stroke blow-by phenomenon but also improved performance because it was extremely effective in eliminating torque dip.
The device was adopted on the YZR500 based on the results achieved with it in motocross. Roberts rated it as follows: "This 500cc has a somewhat narrower powerband than the YZR750 (0W31) for the Daytona, but it's light and easy to handle, and can offer up the same top speed as a 750 as long as it's kept within the 10,000 to 12,000 rev range. I'm not concerned about being beaten by any team."
Roberts, whose racing colors had been a black "chain block line" graphic on a yellow background since his time with Yamaha Motor Corporation, U.S.A. (YMUS), used his small, 168cm frame aggressively, controlling his machine precisely with a technique of intentionally sliding the rear wheel. He weaved through the corners lightly and lightning-quick with a beautiful, flowing motion.
However, as virtually all of the courses on the World GP circuit were new to him, he would enter in the 250cc class before the 500cc class race so he could get to ride the course more. This thorough approach proved successful, and from the third (Australian) round of the GP500 series, he secured three victories in a row. He also won at the Silverstone British GP, and took the title in his stunning first year of GP racing.
Then, he faced the 1979 series, which he later called the most memorable season of his career.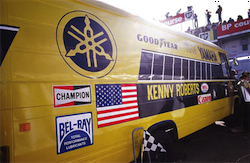 "To make my machine even better, I had many discussions with the Yamaha staff, and just before the season started I participated in the handling tests in Japan. However, at that time I unfortunately fell off and hurt my back. I spent four weeks in the hospital and had not recovered in time for the opening round. And, a Yamaha manager came and visited me and asked me to sign an agreement. He said they were all waiting for me. I will always remember, my whole life, how that made me feel. And the machine (0W45) they gave me for my comeback in Australia in April was finished beautifully. I resolved not to let myself be beaten in that race whatever happened. So of course I won! Every member of the Yamaha staff was extremely passionate and did his or her job professionally. But at the same time they also valued personal relationships extremely highly. Because they were that kind of team, I was able to carry on working with them for many years after that."
Roberts recovered from his injury to take his second consecutive title, winning five rounds that year, including three back-to-back wins, despite a siege of Suzukis that saw more than half the grid filled by Suzuki riders, including Barry Sheene and Virginio Ferrari.