Column vol.12
View our column profiling Yamaha's 50 years of involvement in racing. Vol.12Debut win in the GP500! Memories of Saarinen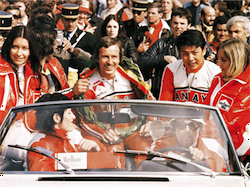 Born in December 1945 in Turku, Finland, Jarno Saarinen was a passionate race fan from an early age like many riders who make their names in racing. In his late teens, he was fanatical about ice racing, which has a special place in the hearts of Northern Europeans, and he became Finnish champion in that sport in 1965. Lewis Young, a GP rider of some years past, describes the young Saarinen this way.
"He would hang around riders and machines in the paddock and sometimes get in their way, but what I remember most about him was his passion."
After turning to road racing in 1967, the secret weapon Saarinen possessed was the impeccable machine control he had honed in ice racing. With a unique riding form characterized by the swivel action of his hips during turns and sticking out his elbows and knees, he ranked 4th in the 1970 World GP250 and was 3rd the following year. Then, in 1972, he succeeded in taking the title.
But, belying the aggressive riding style that earned him the name "The Flying Finn," his nature off the track was quiet and he was known as an upstanding young man with an intellectual bent. While participating in road racing, he attended a local university where he studied mechanical engineering and graduated with top marks. He was also highly proficient at languages; in addition to his native Finnish, he was a fluent speaker of English, French and German.
Even so, it was financially stressful to balance study with racing, so he made ends meet by borrowing £200 each from four banks. Just after graduating in 1971, he obtained the support of local Yamaha importer Ardwidson and Co. After that, his racing achievements were almost too numerous to recount. One particularly memorable one came in the 12th round of the 1972 GP series held in his native Finland. After a red-hot battle in the 250cc class for the title with Rodney Gould, also on a TD-3 (YZ635), and Renzo Pasolini (Aermacchi), Saarinen achieved victory. This was his first title and his fourth race win of the season.
At the opening round of the 1973 World GP held on the Paul Ricard Circuit on April 22, Saarinen lined his YZR500 (0W20) up on the 500cc class grid and quietly awaited the start signal. For Yamaha and Saarinen, this was to be their first World GP500 race. Their biggest rival was the 15-time champion maker MV Agusta vying for its seventh title in a row, with an imposing rider pair of Giacomo Agostini ― a giant of racing ― and Phil Read.
However, Saarinen also had a rival on the Yamaha team who was determined to win just one victory. This was Hideo Kanaya, who had raced in six rounds of the previous year's GP and made four podium appearances, including a win in the 250cc class and a 3rd place in the 350cc class in the opening round. Kanaya, who like Saarinen was born in 1945, had taken a tumble just the week before at the Imola 200 (winner: Saarinen). Despite an injured left knee, he recorded the top time of 2 minutes, 18.5 seconds in the preliminaries to take pole position here at Paul Ricard.
Saarinen, who had recorded a time of 2 minutes, 19.3 seconds, was in 2nd position on the front row, while Agostini and Read were 3rd and 4th on the starting grid. At the start, the first to sprint away was Saarinen. Kanaya, whose knee affected his push-start, began the race in 4th place behind Agostini and Read.
Read moved up to 2nd place and pursued Saarinen, but Saarinen gradually pulled ahead, burning up the track with the fastest lap of 2 minutes, 14.8 seconds. In the middle stages of the race, Kanaya, who had moved up to 3rd after Agostini fell off his machine, increased his pace and closed in on the leaders.
Finally, Saarinen, who had extended his lead to a full 16-second advantage, achieved his first GP victory. Kanaya finished in 3rd place two seconds behind Read. Yamaha had taken its first step in what would become a long period of racetrack glory.