Column vol.05
View our column profiling Yamaha's 50 years of involvement in racing. Vol.5 The American Dream - Daytona and the road to glory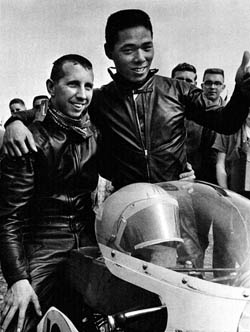 "I can't believe the size of this circuit!"
Those were the words of Yoshikazu Sunako when he and Fumio Ito first saw the huge Daytona International Speedway in February of 1961. What's more, the Daytona US GP held at this circuit was one of the most popular races in the USA, despite being an independent local event. Everything was on a much larger scale than the Japanese riders had ever expected.
This Daytona event would be Yamaha's first overseas race since the Catalina GP of 1958. Even though the new 250cc factory racer presently under development was not finished yet and they had come to Daytona with an interim machine mounting an engine based on that of the production model YDS-1, the Yamaha team knew that with their first World GP campaign planned just a few months ahead, they couldn't afford an embarrassing result here in Florida. The two riders raced for all they were worth, and when it was over Sunako had finished 5th and Ito 8th after suffering brake trouble.
On returning to Japan, the two riders admitted with regret that they had never experienced such a high-speed race before and that neither the engine power nor the suspension and brake performance had been sufficient, not to mention the durability of the tires and chain.
With new resolve and the log-awaited new race machines RD48 and RA41 (125cc) the two set off for the World GP campaign in Europe. There again, however, the team was unable to achieve the kind of results they had hoped for.
"For the Yamaha team there was only one goal. That was to win, no matter who the opponent was, even if it was the best racers in the world," said Sunako. So, although Ito managed to finish 9th in the ranking in the 250cc class, no one was satisfied with that result. That is why Yamaha forewent a World GP campaign the following year and concentrated on polishing their skills and building a machine that could win this time.
It is also important to note that, despite such determination, there had not even been a course in Japan where a race machine could be tested at over 200 km/h until the completion of the Suzuka Circuit in Mie Pref. in the autumn of 1962. At first, Yamaha's development staff and several riders had used empty public roads along the shore of Lake Yamanako at the base of Mt. Fuji for their high-speed tests. In later tests using a bus road in Fukushima Pref. and sections of the not yet completed Meishin Expressway, Sunako, Ito and Taneharu Noguch had joined in as riders to help in the development work.
When the 1st All Japan Championship Road Race was held on the newly completed Suzuka Circuit, Ito rode the new RD56 (250cc) to finish 3rd behind the current World Champion, Jim Redman, and Tommy Robb. With that solid result, Yamaha decided to return to Daytona in 1963 with two RD56 machines and Ito as rider. In a magazine interview Ito's related his feelings at the time.
"A race rider dreams of winning the big international races. I went to Catalina in 1958 and to Daytona in 1961, but I wasn't able to race as I wanted either time. Friends told me that I should ride a faster machine that could win, but I didn't listen to them. Instead I chose to keep working hard together with my [Yamaha] team. And now, I am finally able to ride the RD56 machine that we have worked so long and hard to build. When the other riders see what a fantastic machine this is they are amazed, and it takes their breath away. They beg me to let them ride it, but I tell them, 'Forget it.' I would never let someone who doesn't have a love for Yamaha like I do ride this machine just because they want to win!"
In that Daytona race run over 46 laps of the 1.6 mile circuit at speeds that demand unbroken concentration, Ito dominated the field, finishing two laps ahead of 2nd place even though he had to return to the pit once to replace a spark plug. There were tears in Ito's eyes after the race when he raised the silver trophy engraved with the words "Daytona International Speedway 250" high in the air on the victory stand.