How to Subscribe to the Podcast
Learn how to subscribe to the Yamaha Moto Column podcasts to receive special content in PDF format.



*To use podcasts, you must have iTunes installed. Click here to download iTunes.
Our 50th anniversary column is also available in PDF form via podcast.
Click the podcast banner at the bottom right of the Column page to automatically launch iTunes and download the first episode. If clicking the banner does not work, drag and drop the banner into iTunes to subscribe to the podcast.
You can also subscribe to the podcast by going to the "Advanced" menu in iTunes and selecting "Subscribe to Podcast" Simply copy and paste the podcast feed URL into the dialog box that appears and click "OK" to start downloading the latest episode.
Podcast FEED URL:http://www.yamaha-motor.co.jp/race/wgp-50th/column/podcast.xml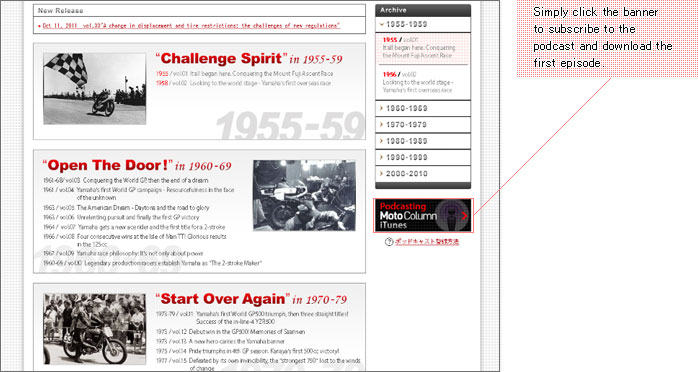 ---
Clicking the banner displays the podcast title under Podcasts in your iTunes library.
Clicking the triangle icon in front of the title displays a list of available columns.
Click the "GET" button next to the episodes you want to download.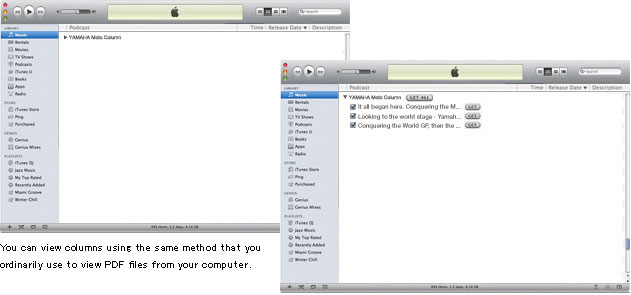 Subscribing to the podcast is convenient as iTunes regularly checks for updates so you can always read the latest episode.
Click here to subscribe to the Yamaha Moto Column podcast.


Launch iTunes on your iPhone and tap "Search"
Type "YAMAHA Moto Column" into the search box to display the column title.
Tap the title to display a list of available column episodes. When you tap the "FREE" button next to an episode you want to download, the button changes to "DOWNLOAD" Tap the "DOWNLOAD" button to download the episode.

---
Once the download has completed, launch the iBooks application and tap "PDFs" to check that the column episode is displayed on your bookshelf.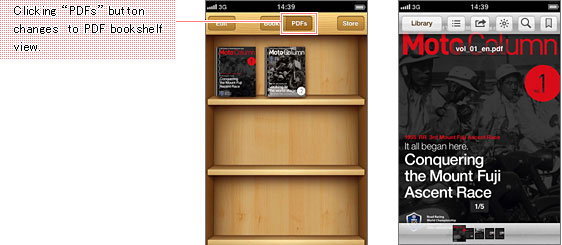 Now you can read Moto Column and have fun reorganizing your bookshelf.