Detail
Yamaha press releases on our motor sports racing activities
Ayumu Sasaki to Join Correos Prepago Yamaha VR46 Master Camp in 2024
September 30, 2023
September 30, 2023—Yamaha Motor Co., Ltd. and VR46 are delighted to announce that 2023 Moto3 World Championship title contender Ayumu Sasaki will be joining the Correos Prepago Yamaha VR46 Master Camp rider line-up in 2024.

Sasaki is well-known as one of the big names in the Moto3 World Championship. Including the 2023 season, he has seven years of experience as a regular rider in this class. In 2022 he scored his best result finishing fourth with 238 points. He stood on the podium nine times, including two wins in The Netherlands and Austria. The Japanese talent hopes to secure the trophy in 2023. This season he has scored seven podiums so far, including four second places and three third places and is holding third place in the standings, just one point from first.

The undeniable talent of the 22-year-old and his readiness to promote to the intermediate class made him a perfect candidate for joining the Correos Prepago Yamaha VR46 Master Camp squad. The team debuted in the Moto2 World Championship in 2022 as part of Yamaha's bLU cRU rider development programme. The project serves as a platform for young Yamaha talent to develop their skills at world championship level and accelerate the achievement of their goal of riding in MotoGP, the pinnacle of motorcycle racing.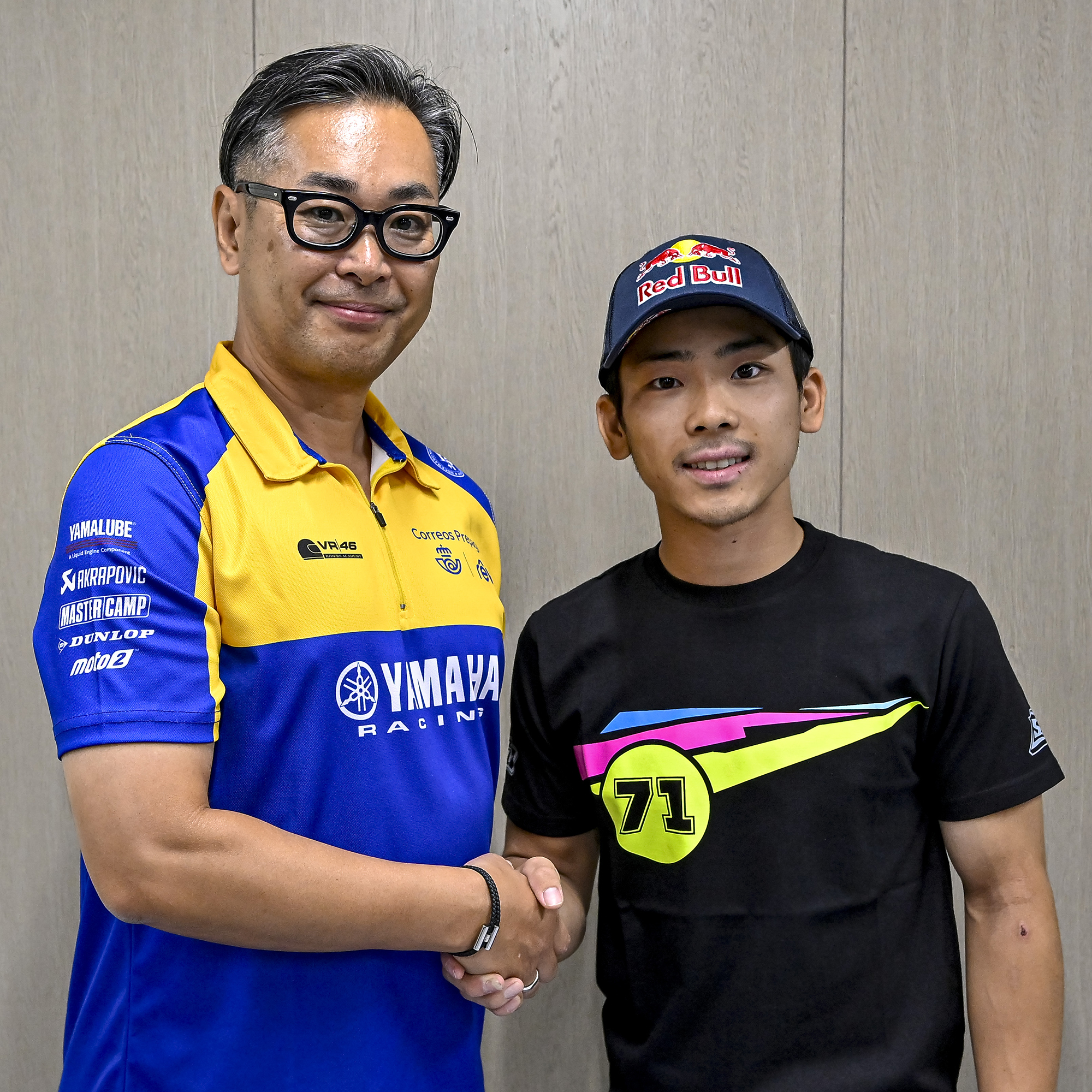 Ayumu Sasaki
"I'm very happy to become part of Yamaha. First, I really thank Yamaha for this opportunity. It's a big step for me, I wanted to move up to Moto2 for a long of time. I was searching to go up with a great team, and finally I found it. I'm very happy to announce I'll be riding for them. The goal is always trying to fight, I know it's gonna be a difficult year, my first year. I'll learn quick nd hopefully we can do a great job together."
Tetsu Ono: General Manager – Yamaha Motor Co., Ltd.'s Motorsports Strategy Division
"We are delighted to announce that Ayumu has signed with Correos Prepago Yamaha VR46 Master Camp for 2024. Sasaki is already a well-known name for many in motorsports. This is his seventh year in the Moto3 class, and his talent, experience, and consistent competitive level have signalled to us that he is ready to move up to the intermediate class. He has scored seven podiums so far this season and is right in the fight for this year's Moto3 World Championship trophy. We feel confident that next year we can provide him with the support and guidance to help him achieve equally good, if not better, results in Moto2. For now, we wish him all the best for his title chase, and we are greatly looking forward to working together with him after the end of this season."
| | |
| --- | --- |
| Date of birth | 04-10-2000 |
| Nationality | Japanese |
| Rider Number | 71 |
| Nickname | "CRAZY BOY" |
| Grand Prix Debut | 2012 Qatar GP |
| MotoGP Debut | 2017 Qatar GP |
| First GP Win | 2016 – Moto3 Grand Prix of Malaysia |
Ayumu Sasaki, Rider Biography
In 2016, he made his Moto3 debut at the Malaysian Grand Prix with the Gresini Racing team, as the replacement rider for the injured Enea Bastianini. One year later, he was signed up to race in the 2017 Moto3 World Championship for the Sepang Racing Team. Sasaki had an impressive rookie campaign, finishing in the points eight times, twice in the top ten (8th place in Mugello, and 7th at Phillip Island), and ended up winning Rookie of the Year, scoring 32 points and finishing 20th in the standings.

Staying with Sepang Racing Team for the 2018 Moto3 World Championship, Sasaki once again finished in the points eight times, with three top-10 results (7th place in Austria, and 8th place in Qatar, 9th in Motegi). He finished the season 20th in the standings, this time with 50 points.

In his final year with the Petronas Sepang Racing Team, he further improved, achieving five top-ten finishes (5th in Argentina, 6th in Britain, 7th in Australia, 8th in Barcelona, and 9th in Germany), 11 point-scoring finishes, and a pole position at the Sachsenring. He finished 20th in the standings with 62 points.

Sasaki rode for the Red Bull KTM Tech3 team in 2020 and 2021. In 2020, the youngster collected 49 points. He finished in the points seven times, in the top-10 three times, and scored his first career Moto3 podium at Aragón, seeing the chequered flag in 2nd place, just 0.051 seconds from first. Sasaki started the 2021 season well, with a 7th place in Doha, a 4th place in Portimão, a 5th place in Jerez, a 5th place in Le Mans, and a 4th place in Mugello. However, the Japanese rider was involved in a big on-track accident at the Catalan Grand Prix. Following the incident, Sasaki did not participate in the following two races. He returned for the Styrian Grand Prix, finishing in 5th place, before scoring his only podium of the season three races later in Aragón, finishing 3rd. Despite it being a somewhat disrupted season, he scored 120 points and finished 9th in the championship standings.

In 2022, Sasaki moved to the Sterilgarda Husqvarna Max team and had his best season to date. He stood on the podium nine times, including two wins in The Netherlands and Austria, to finish fourth in the final rankings with 238 points.

This year, he dons the Liqui Moly Husqvarna Intact GP colours as he battles for the Moto3 Championship. Thirteen GPs into the season, he has stood on the podium seven times (2nd in France, 3rd in Italy, 2nd in Germany, 2nd in The Netherlands, 2nd in Great Britain, 3rd in Austria, and 3rd in India). Before the Japanese GP, he is right in the title chase, holding third in the overall standings, just one point from the leading duo.