Detail
Yamaha press releases on our motor sports racing activities
Kenichi Kuroyama to Contest Trial2 on TY-E 2.1 Electric Trials Bike
May 18, 2023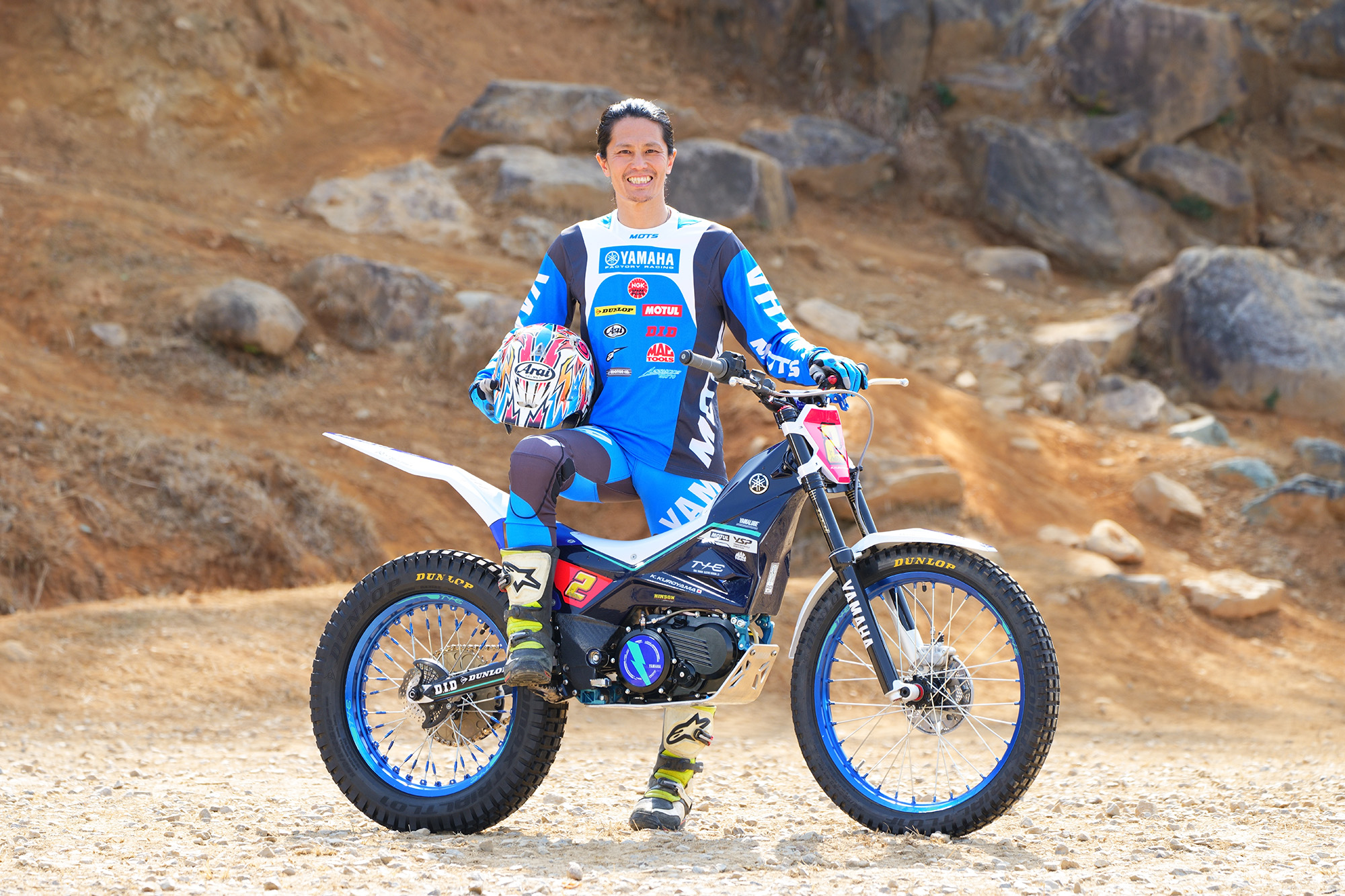 May 18, 2023—Yamaha Motor Co., Ltd. is pleased to announce that the Yamaha Factory Racing Team's Kenichi Kuroyama will compete in Round 3 of the 2023 Hertz FIM Trial World Championship, the Taisei Rotec TrialGP of Japan, riding the TY-E 2.1 electric trials bike in the Trial2 World Championship on May 20-21.

Yamaha is aiming to acquire technology toward developing an electric motorcycle that has performance and fun surpassing that of motorcycles with conventional internal combustion engines, and to achieve that Kuroyama is competing in the All Japan Trial Championship aboard the TY-E in the IA Super class. Entering this event in Trial2 is a major part of Yamaha's efforts toward developing the TY-E in the toughest environments possible.

Trial2 is a class situated one level below the world's premier TrialGP class. In it, riders on gasoline and electric machines compete against each other. The TY-E 2.0—the machine that the TY-E 2.1 is based on—was launched last year in 2022, and on the international stage last season Kuroyama only competed in Round 5, the TrialGP of France, where he finished 31st after suffering machine issue. At this event, he will make a second attempt at Trial2 riding the updated TY-E 2.1 electric trials bike, which has been improved to address the issues that occurred last time.

This season, Kuroyama and the TY-E 2.1 have competed in two rounds of the All Japan Trial Championship, and in the opening round in Okazaki City, Aichi Prefecture, he finished 5th in his first wet event on the TY-E. At Round 2 in Yamaga City, Kumamoto Prefecture, he finished 4th, which was his best finish yet in All Japan competition. At this year's TrialGP of Japan, his goal is to improve on his 31st place finish last year in France.
Kenichi Kuroyama
"Since 2018 we've been competing in the Trial-E Cup and in Trial2, not including during the COVID-19 pandemic of course, but in everything we've done up to now, we've been developing the bike solely for competitive use. This time our project is different, as now the focus is on development toward bringing the TY-E into mass production. That's why I have two main jobs, one is as a competitive rider where I need to achieve the best results possible, and the other is as a development rider where I need to provide as much data and feedback as possible to the development team. That being said, this year I'm out for revenge after what happened last year at the Japan round. This is also the TY-E's first entry to a Japan round of the world championship, so I want to get the best result I can to entertain the fans and show them how great the TY-E is. Keep an eye on us at the Japan GP!"