Detail
Yamaha press releases on our motor sports racing activities
Katsuyuki Nakasuga Secures 11th Career Title in JSB1000 Class
September 20, 2022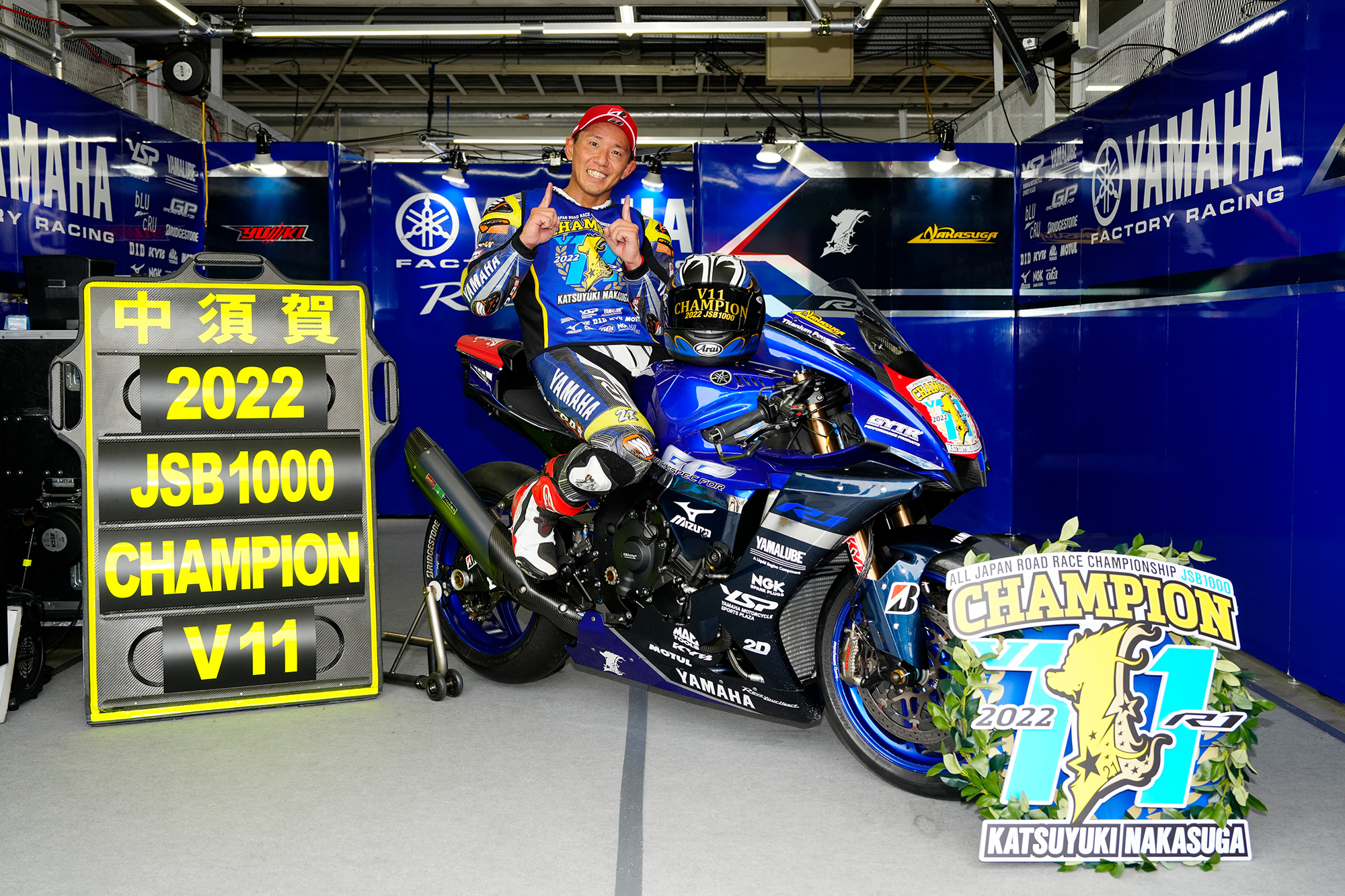 September 20, 2022—On Sunday, September 18, 2022, Round 7 of the All Japan Road Race Championship was held at Okayama International Circuit in Okayama Prefecture, Japan. There, the Yamaha Factory Racing Team's Katsuyuki Nakasuga scored his 10th consecutive win of the season in the premier JSB1000 class to be crowned champion for 2022.

Of the 55-seasons contested since the start of the All Japan Road Racing Championship in 1967, Katsuyuki Nakasuga has now won 11 of them, besting his own record of 10, while Yamaha Motor Co., Ltd. has now won five consecutive JSB1000 titles, with Nakasuga winning in 2018, 2019, 2021, and 2022, and Kohta Nozane winning in 2020.

Nakasuga got his start in JSB1000 in 2005 with the SP Tadao Racing Team before joining Yamaha's top team in the class, the YSP Racing Team sponsored by PRESTO Corporation, in 2006. He got his first win at Autopolis in Round 4 of the 2007 season, then took his first championship in 2008 before following it up with a back-to-back title in 2009.

After winning five consecutive titles between 2012 and 2016, Nakasuga finished 6th overall in 2017, but became champion for the eighth time in 2018. In 2019 he secured his 50th career victory and ninth career title by winning Race 1 of Round 7 at Autopolis.

In 2020, he finished 7th for the season due to a crash and subsequent injury in the opening round, but came back in 2021 to take his 10th title at Round 5, the 53rd MFJ Grand Prix, at the same time reaching a career total of 60 wins. He won every single race of the 2021 season; 10 in a row (excluding Race 1 of Round 3 in Sportsland SUGO, which was cancelled).

This year the team continued its winning streak right from the opening round, with Nakasuga going on to notch up nine consecutive victories to make it 70 career wins with his Race 1 victory at Round 4 in Sportsland SUGO. He set a new circuit record in qualifying and started from pole position before getting the holeshot and riding uncontested at the front to win his 10th consecutive race and clinch his 11th championship title in total.

Nakasuga is currently on a 20-race winning streak that began last season, and in the three races remaining this season, all of which will take place in the 54th MFJ Grand Prix at Suzuka Circuit between November 5 and 6, he will be aiming to extend that to 23 and a second perfect season of winning every race.

Katsuyuki Nakasuga
"First of all, I'm relieved that I won the title this season, and that we were able to do it with three races left. The reason we got such good results is that we prepared well for each and every race and fought hard. I'm very grateful to the whole team for putting together a machine that was competitive at every track. This season Yuki Okamoto joined the team as my teammate. Our team manager Yoshikawa asked me to be more involved in his development than I was in [former teammate] Nozane's. But in racing against Yuki I've been able to discover some new things, which has turned into new motivation for me to improve myself. I also had some added pressure to keep the streak going, and I knew I couldn't lose, but that helped me push myself in a really positive way. Once again, I want to thank the Yamaha staff and all of my team for getting me on track at every round, and my family for supporting my racing activities. It's a great feeling to be able to tell my fans and sponsors that I'm champion again this year."
Wataru Yoshikawa – Team Manager
"This is the YZF-R1's 8th year since its debut, and this year we tried a lot of things to further increase its on-track performance. It has been a process of trial and error, but we've made good progress in the right direction, and I feel that Nakasuga's contribution has been a major factor in that. He has also put a lot of effort into working with his teammate Yuki Okamoto. Of course, Okamoto is very talented on his own, but I think part of the reason he was on the podium several times this year was Nakasuga's influence. Nakasuga had the added pressure of developing a young rider, but he took it in a positive way and I think that added even more strength to the team, and it allowed him to make another step forward this season. All of our staff, who worked hard to send Nakasuga out on track at every race, were super reliable and have done a fantastic job this year. I'd like to extend my huge congratulations to Nakasuga, who has performed at a high level all season to win his 11th championship. I'm happy to be able to report another championship win this year to all of our fans who cheer us on, to our sponsors who are behind our racing activities, and to everyone involved. However, we still have three races left at Suzuka, so all of us, including Nakasuga, will be working to get some great results, so please keep cheering us on until the end of the season."
Katsuyuki Nakasuga's 2022 Season Results (as of September 20, 2022)

| Date | Round | Result |
| --- | --- | --- |
| April 2-3 | Round 1 Twin Ring Motegi (Tochigi Pref.) | 1st/1st |
| April 23-24 | Round 2 Suzuka Circuit (Mie Pref.) | 1st/1st |
| May 22-23 | Round 3 Autopolis (Oita Pref.) | 1st/1st |
| June 4-5 | Round 4 Sportsland SUGO (Miyagi Pref.) | 1st/1st |
| June 26 | Round 5 Tsukuba Circuit (Ibaraki Pref.) | No JSB1000 races |
| August 27-28 | Round 6 Autopolis (Oita Pref.) | 1st |
| September 17-18 | Round 7 Okayama (Okayama Pref.) | 1st |
| November 5-6 | Round 8 MFJGP Suzuka (Mie Pref.) | Yet to be held |