Detail
Yamaha press releases on our motor sports racing activities
Tomac Adds 2022 Motocross Title to Supercross Crown on YZ450F
September 5, 2022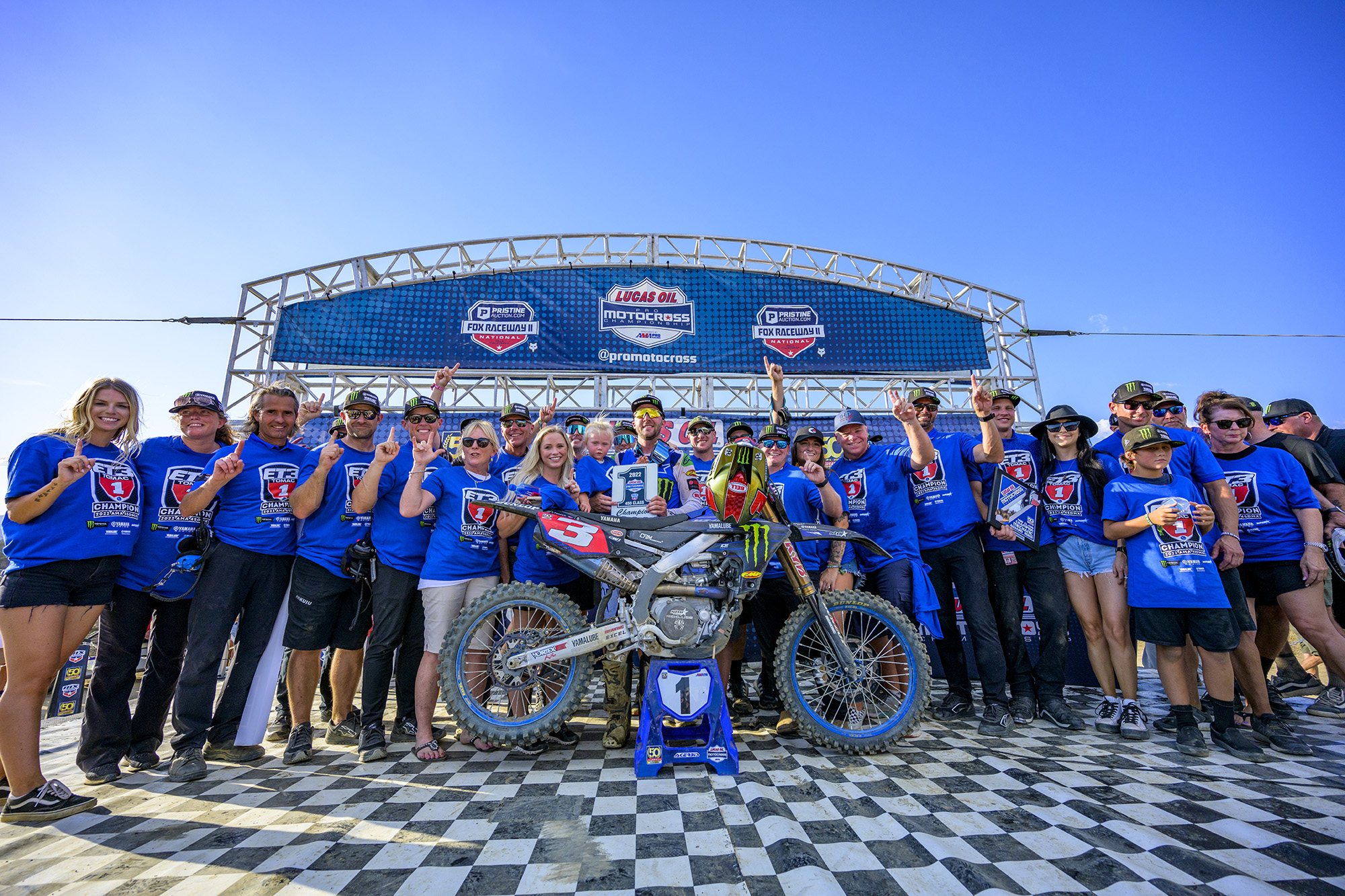 September 5, 2022—On Saturday, September 3, 2022 the FOX Raceway II National, Round 12 of the AMA Motocross Championship was held in Pala, California, where Eli Tomac, riding a YZ450F for the Monster Energy Star Yamaha Racing 450 Team, won both motos to take his fifth overall win of the season and secure the 2022 AMA Motocross 450MX title. He adds it to the AMA Supercross 450SX title he won in May of this year. This is the second year in a row that Yamaha has won the AMA Motocross title in the premier class, following Dylan Ferrandis's win in 2021.
In the opening round held on May 28, Tomac finished 7th in the first moto and 4th in the second to take 4th overall. In Round 2 he took his first moto win of the season on his way to 3rd overall, while in Round 3 he won the first moto for 2nd overall. In Round 4 he went 2-1 to take the overall win, bringing himself into 2nd in the title hunt, trailing Honda rider Chase Sexton by 14 points.
From that point Tomac went on a winning streak, taking victory in every moto in the next four rounds to vault himself to the top of the standings. What followed was a fierce battle with Sexton for the top spot, with Tomac losing the lead in Round 9, then taking it back again in Round 10 by a single point. Round 11 resulted in no changes to the standings, as Tomac remained ahead by 1 point coming into the final round.
In the final round, Tomac kept Sexton to 2nd in both motos to take the 1-1 for the overall victory. This season Tomac took 14 moto wins, five overall wins, five overall second places and one overall third place to clinch his first AMA Motocross 450MX title since 2019.
Yamaha has now won the AMA Motocross Championship title nine times in total. It began with Pierre Karsmakers's five back-to-back titles in the 500cc class from 1973 onward, followed by Doug Henry's 1998 title win after the class switched to 250cc machinery in 1994. Since 450cc machines became the norm in 2006, Grant Langston won in 2007 and Dylan Ferrandis in 2021, with Tomac's latest title bringing the total to nine.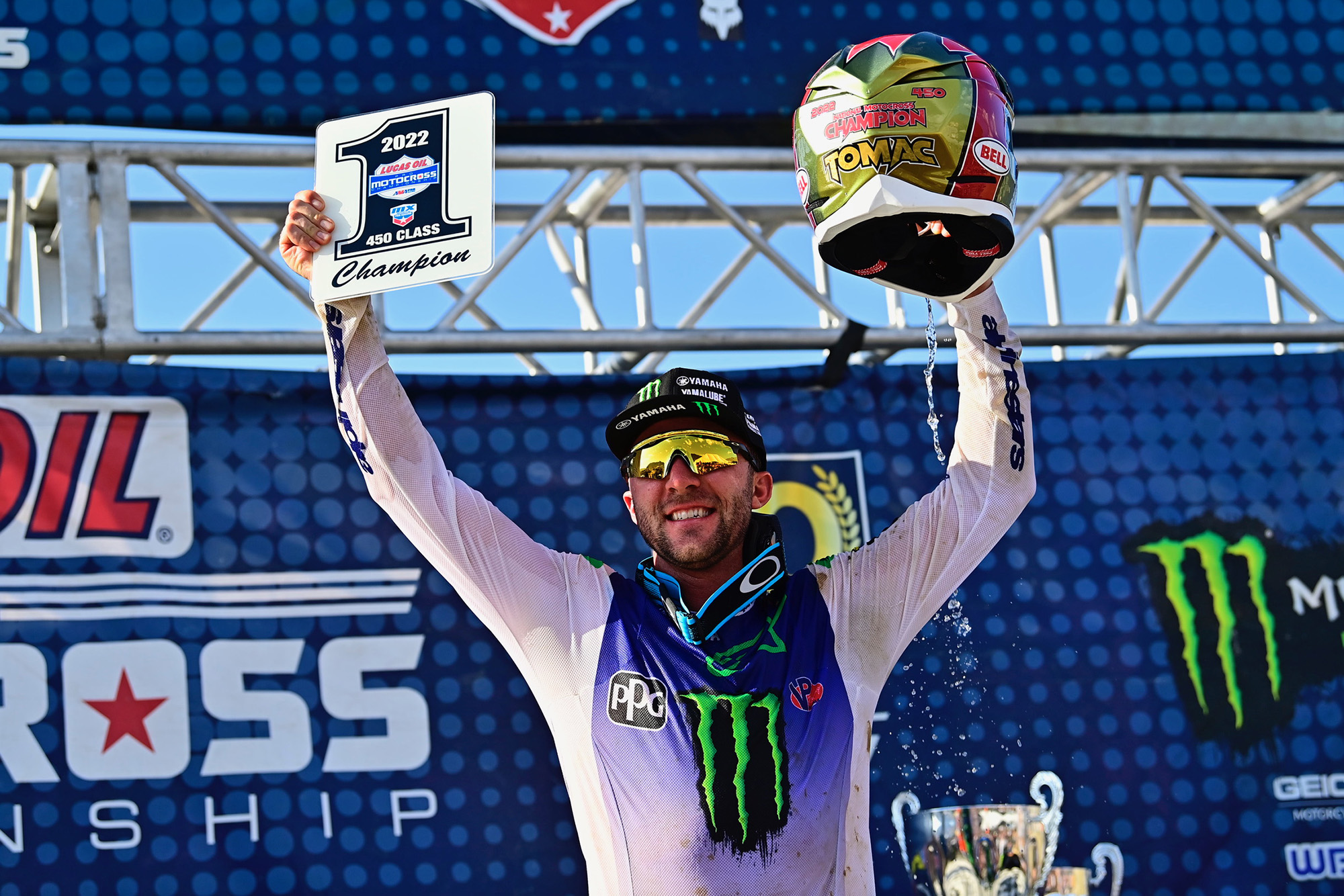 Eli Tomac – 2022 AMA 450MX Champion
"It was a perfect end of the season to go 1-1. My goal for the day was to execute the first moto and go for the win, and then deal with the second moto after that; I was able to accomplish that. For the second moto, it definitely didn't go down without a little drama. I was a little shuffled back on the start from where I wanted to be and had some fast guys in front of me, but Chase (Sexton) ended up making a mistake so that made things a little easier. It was still a fight to the front of that race and an awesome way to end the season. This was not an easy race to finish out on and was probably the most challenging of the season. It was an unbelievable year for me - to get both championships. It was the best year I've ever had."
Jeremy Coker – Team Manager
"What an awesome day to cap off the year like that! To go 1-1 to win the championship is pretty special. Eli had a phenomenal year, the whole team worked their butts off, and it shows with the championship. All in all, it was an amazing year and an amazing day; I couldn't be more proud of the team."