Detail
Yamaha press releases on our motor sports racing activities
Kuroyama Contests Trial2 Class with TY-E 2.0 to Finish 31st
August 29, 2022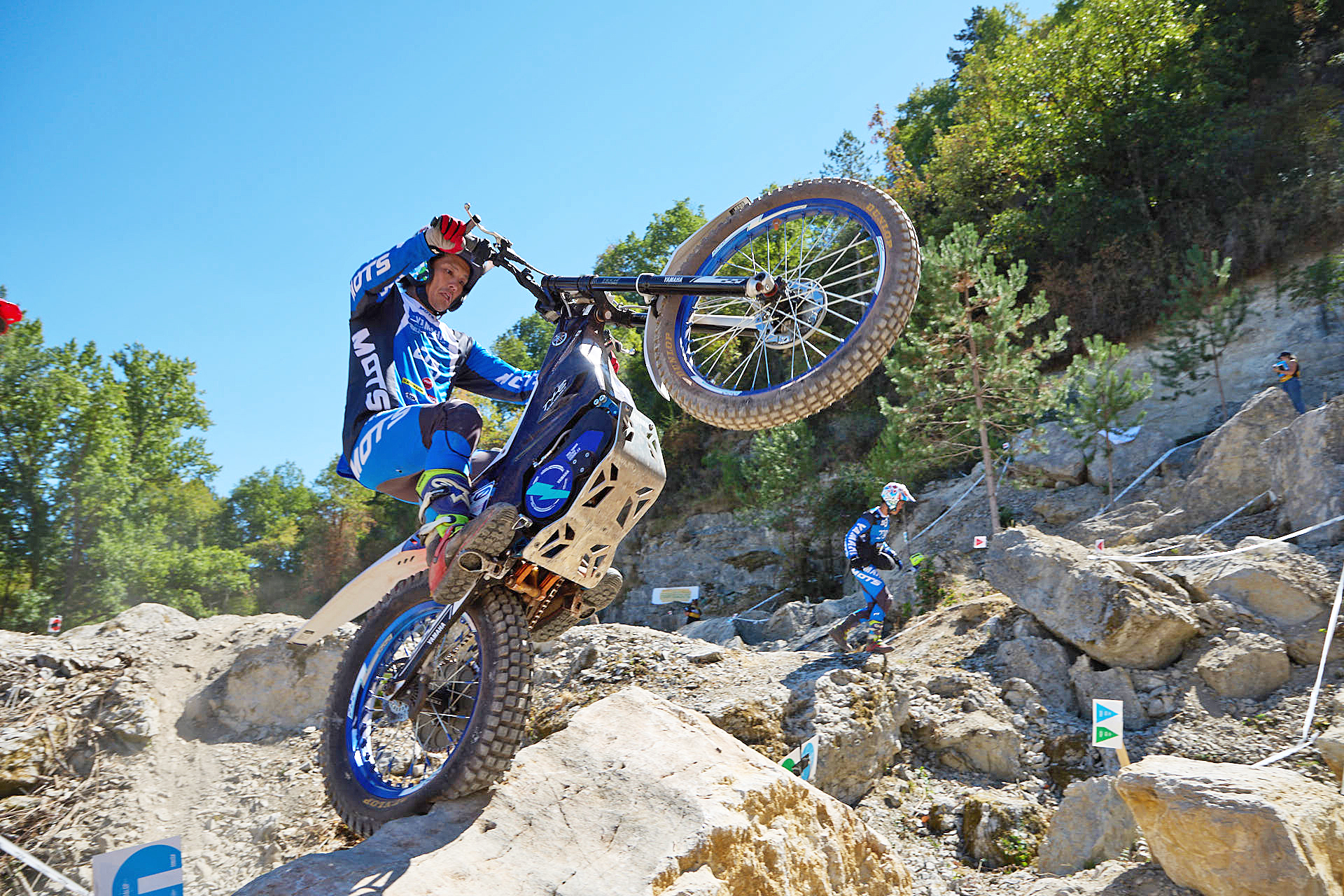 August 29, 2022– August 22, 2022—On August 27-28, 2022, the Yamaha Factory Racing Team's Kenichi Kuroyama competed in the Trial2 class at Round 5 of the FIM Trial World Championship held in the city of Cahors in southern France, riding the Yamaha Motor TY-E 2.0 electric trials bike. An unfortunate a machine issue midway through the second lap resulted in a 31st place finish for the team.
The TY-E 2.0 and its powerplant are designed to provide more fun than internal combustion engines by taking advantage of the traits unique to electric vehicles, such as powerful low-down torque and strong acceleration. By entering the Trial2 class—one step below the world's premier TrialGP class—Kuroyama and Yamaha's goal was to verify the TY-E 2.0's level of performance through competition, identifying potential issues and gathering data for further development. Up against the very internal combustion engine-powered machines Yamaha hopes to best with the TY-E 2.0, Kuroyama and the team battled through two laps of 12 sections each.
In the first two sections of Lap 1, Kuroyama dropped five marks, but after that he kept his marks low and maintained his position around 25th place. However, he dropped five marks in sections 11 and 12, and finished Lap 1 with a total of 41 marks.
On Lap 2 Kuroyama started with five marks, but completed his first clean section in section two, then another clean section in section four, but in section seven the machine had an issue. He returned to the pits to try for a fix, but that proved too difficult, forcing him to withdraw from the remaining sections to finish the race. This resulted in 47 marks for the second lap and a total of 88 marks. Kuroyama finished the event in 31st place out of 36 entries (with two electric bikes including the TY-E 2.0).
This event was an excellent way to confirm exactly where Yamaha's electric trials bike currently stands, to identify various issues and to collect valuable data. The data gathered here will be put to a wide range of uses in the future.
Kenichi Kuroyama (31st)
"In my first World Championship attempt in 3 years, it was great to compete against world-class riders head-to-head. I got the sense that Yamaha was a major point of focus for everyone at the event. It was a big challenge for me to take on some sections that were way more difficult than last time, and to do it with the TY-E 2.0. I was trying to finish even one position higher than before. But because it's been so long since my last World Championship ride, it was quite hard for me on the first lap. I finally composed myself for the second lap, but we had an issue in the seventh section and I was really disappointed not to be able to finish. Even so, we were able to point out some issues like clutch durability and to understand how to prevent machine issues. The motor had plenty of torque and power and it performed really well overall. Most of the areas we thought would be difficult were doable, so I think this is a bike we can compete with. We'll continue taking on new challenges, so keep an eye on us and the TY-E 2.0, outside the All-Japan events as well."
Team Manager Yoshiyuki Sato
"We were aiming for a top nine finish here, but there were many young riders in Trial2 aiming for the top TrialGP class, along with some very challenging sections. With Kuroyama having no experience riding TY-E 2.0 through this many sections, we were felt like we had a major hurdle to overcome. Midway through we had a machine issue that we couldn't repair, so we had to withdraw from the rest of the event, which was really frustrating. I'm very sorry to Kenichi and all the fans who were excited to see Yamaha compete. Our main goal though was to discover as many issues as we could to take back for development, and I think we've done that, which was a big gain for us. Also, we really felt that the fans, our rivals, and the organizers were very welcoming of Yamaha's return, and because we want to meet everyone's expectations, we plan to use this experience to push forward with the development of the bike. We'll continue our activities with a firm focus on the main issue of developing technology toward achieving carbon neutrality. We're counting on everyone's continued support."