Detail
Yamaha press releases on our motor sports racing activities
Christian Craig Wins Personal First and Yamaha's 5th Consecutive Title on YZ250F
May 10, 2022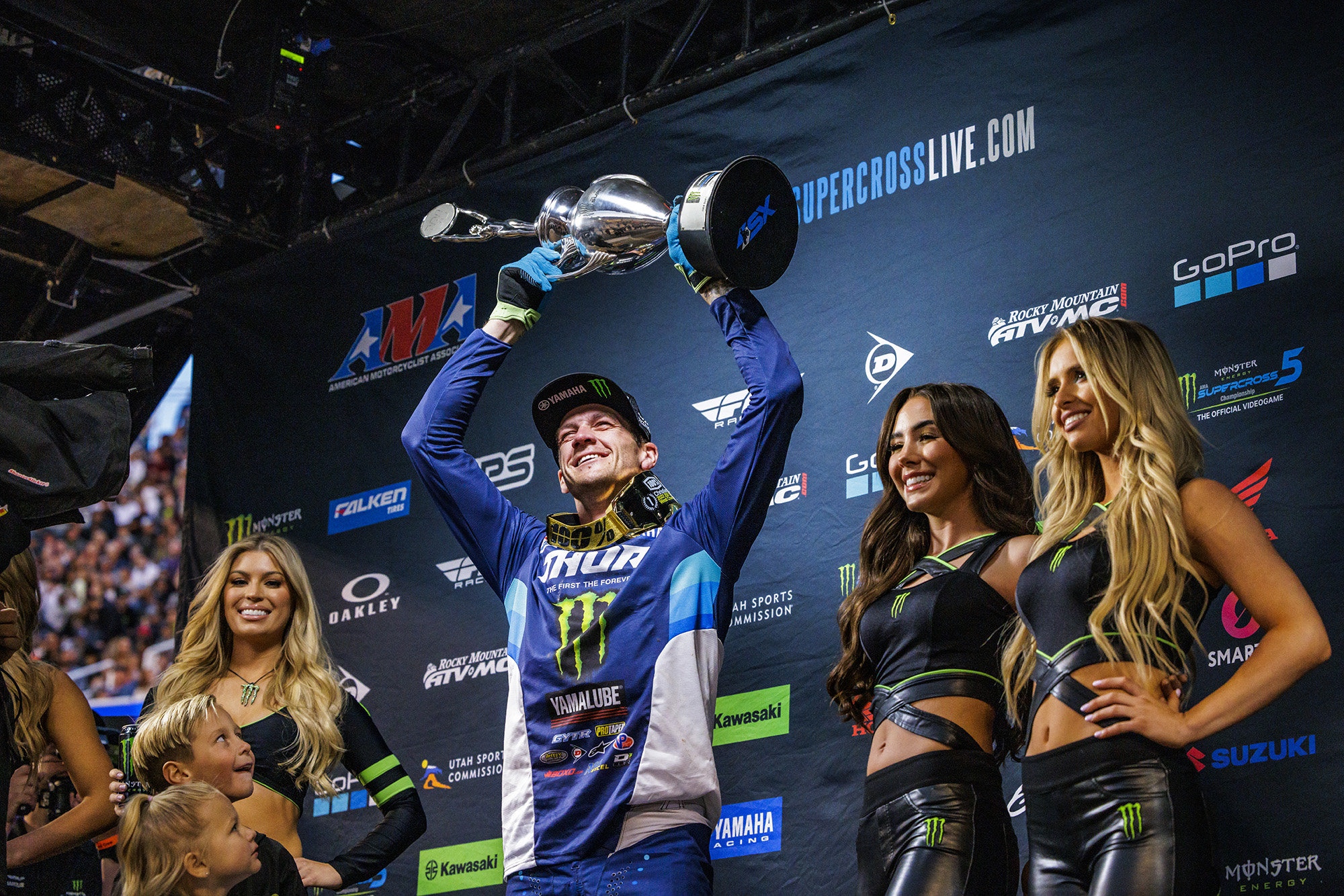 May 10, 2022—On Saturday, May 7, 2022, Round 10 of the 250SX West Supercross Championship (East West Showdown) was held alongside Round 17 of the AMA 450SX Supercross Championship in Salt Lake City. There, the Monster Energy Star Yamaha Racing 250 Team's Christian Craig rode his YZ250F to an 8th place finish, which was enough to win the 2022 250SX West title. The feat brought Yamaha its fifth consecutive 250SX West title, winning every year since 2018.

Last year, Craig finished 4th in the 250SX East class and moved across to enter 250SX West for the 2022 season. He was fast right from the opening round, winning it and the following race, before going on to win in Rounds 4 and 6 to open a healthy 28-point gap over his nearest rival and establish a strong bid for the title.

Although further race wins eluded him from that point onward, he continued his excellent run of form with podium finishes, eventually bringing himself into Round 10, the final round of the season, with an 18-point lead in the standings.

The final round featured the East West Showdown, which brings together riders from both the East and West classes who qualify and race in separate heats before facing off in the main event, making for an electric atmosphere and elevated level of competition. In the main event Craig was in the top three in the early laps before a crash dropped him down the order. He was then able to remount and take the checkers in 8th place to secure his first ever AMA Supercross title.

This was Yamaha's fifth consecutive title win in the 250SX West class, with Aaron Plessinger winning in 2018, Dylan Ferrandis in 2019 and 2020, Justin Cooper in 2021, and now Craig in 2022 to make five in a row.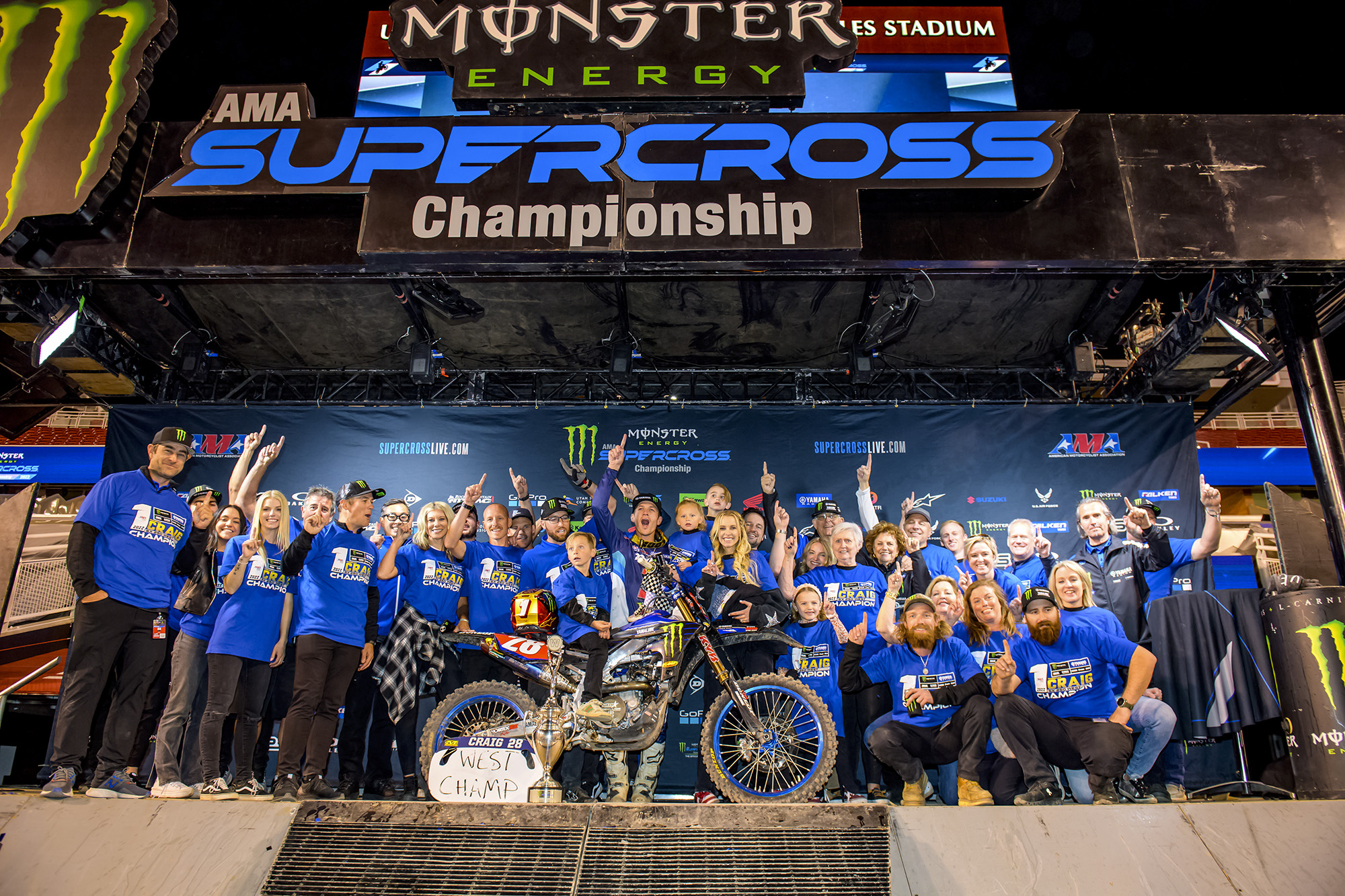 Christian Craig – 2022 AMA 250SX West Champion
"Obviously, there was a lot of pressure throughout the day with the championship on the line and being the last round, but I feel like I handled it all pretty well. I just took it practice by practice and enjoyed every moment. I was treating it like any other race, but at the same time, I also knew what could happen. In the main event, I was riding a little tight, knowing where I was and where I needed to be, and finished eighth to clinch this title. This is something I've dreamed of and worked for my whole life. I'm just going to sit here and enjoy it."   
Jensen Hendler – Team Managerr
"It was a great night and a great year. I'm just super happy to sew this thing up! Christian and everyone on the team did an amazing job. Yamaha has built us the best motorcycle in the world and we arguably have the fastest YZ250F on the planet and we continue to prove it.
"Nate Thrasher coming out with the win, was also an awesome way to finish the season. I've been telling him all year it was in there. I believed in him, and everybody believed in him. He's had the speed, and it just all lined up tonight. Leaving Salt Lake with Nate's win and clinching the 250SX West Championship with Christian was awesome. We now move on to the outdoors. I'm excited for what's to come in the future and I am just so happy for everybody. There's definitely going to be more of these, for sure."