Detail
Yamaha press releases on our motor sports racing activities
Tomac Clinches 450 Supercross Championship in Denver
May 10, 2022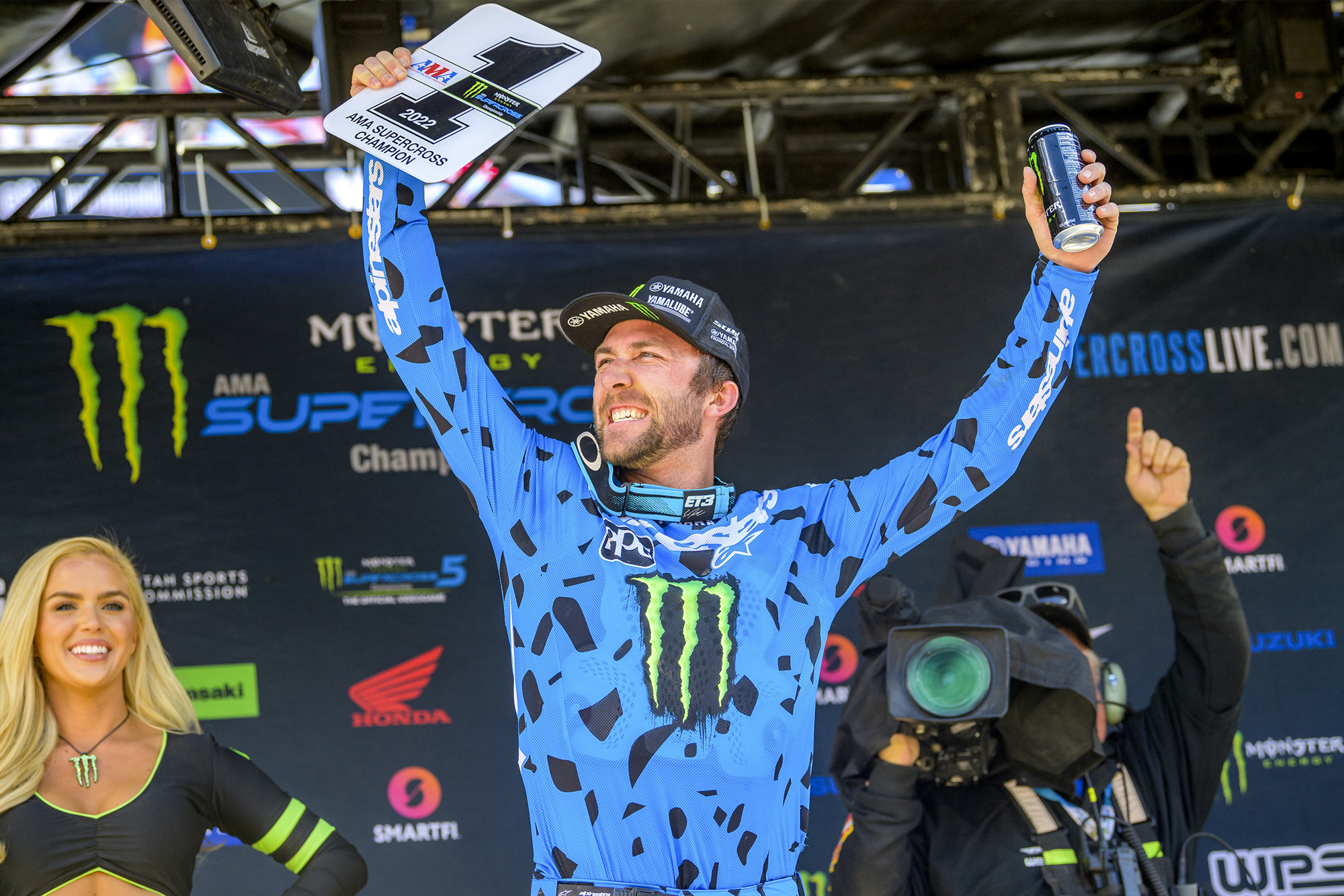 May 10, 2022—At Round 16 of the AMA Supercross Championship held in Denver on Saturday, April 30, 2022, Eli Tomac, riding for the Monster Energy Star Yamaha Racing 450 Team on a YZ450F, took a 5th place finish, clinching the 2022 AMA Supercross title. It was his second time to lift the crown, following a previous win in 2022.
This is Yamaha's first title in the 450 class in 13 years, since James Stewart performed the feat in 2009.

After finishing the 2021 season, Tomac made the switch to the Monster Energy Star Yamaha Racing 450 Team for 2022. He started the year off with a 6th place finish at the opening round in Anaheim on January 8. Race by race he began to gel with the YZ450F, and by Round 3 in San Diego he scored his first podium finish of the season with a 2nd, vaulting him to the top of the standings. At the next round, Anaheim 2, he took his first win of the season, then followed it up with another victory at the Glendale triple crown race, in which three races are held and the winner is decided by their overall results. Then from Rounds 8 through 12 he put on a dominating performance, scoring five consecutive victories and widening the gap to the riders trailing him in the title hunt.

In the final stages of the season, Tomac rode with the composure of a veteran of the sport, minimizing risks and controlling the points gap to his rivals. Although not winning races, he finished in positions that ensured he came into Round 16, his home round in Denver, with a 43-point lead over second-ranked Kawasaki rider Jason Anderson.

In the race he led early-on, but with knee pain being a factor, he decided to avoid unnecessary risks in the second half, taking a solid 5th place by the end. His main rival Anderson won the race, but the ample lead Tomac had built was enough to clinch the title.
Tomac did not take part in the final round of the season in Salt Lake City, instead electing to focus healing his knee in preparation for the AMA Motocross Championship season that gets underway at the end of May.

The AMA Supercross Championship began in 1974 and in the inaugural year of the 250cc class—precursor to the current 450SX class—Pierre Kallsmarker won the title for Yamaha. This was followed by Bob Hannah winning three consecutive championships starting in 1977, Mike Bell winning in 1980, and Jeremy McGrath winning three titles in a row between 1998 and 2000. Chad Reed won in 2004 and 2008, and James Stewart won in 2009. With Tomac's 2022 win, Yamaha has now won 12 Supercross titles in total.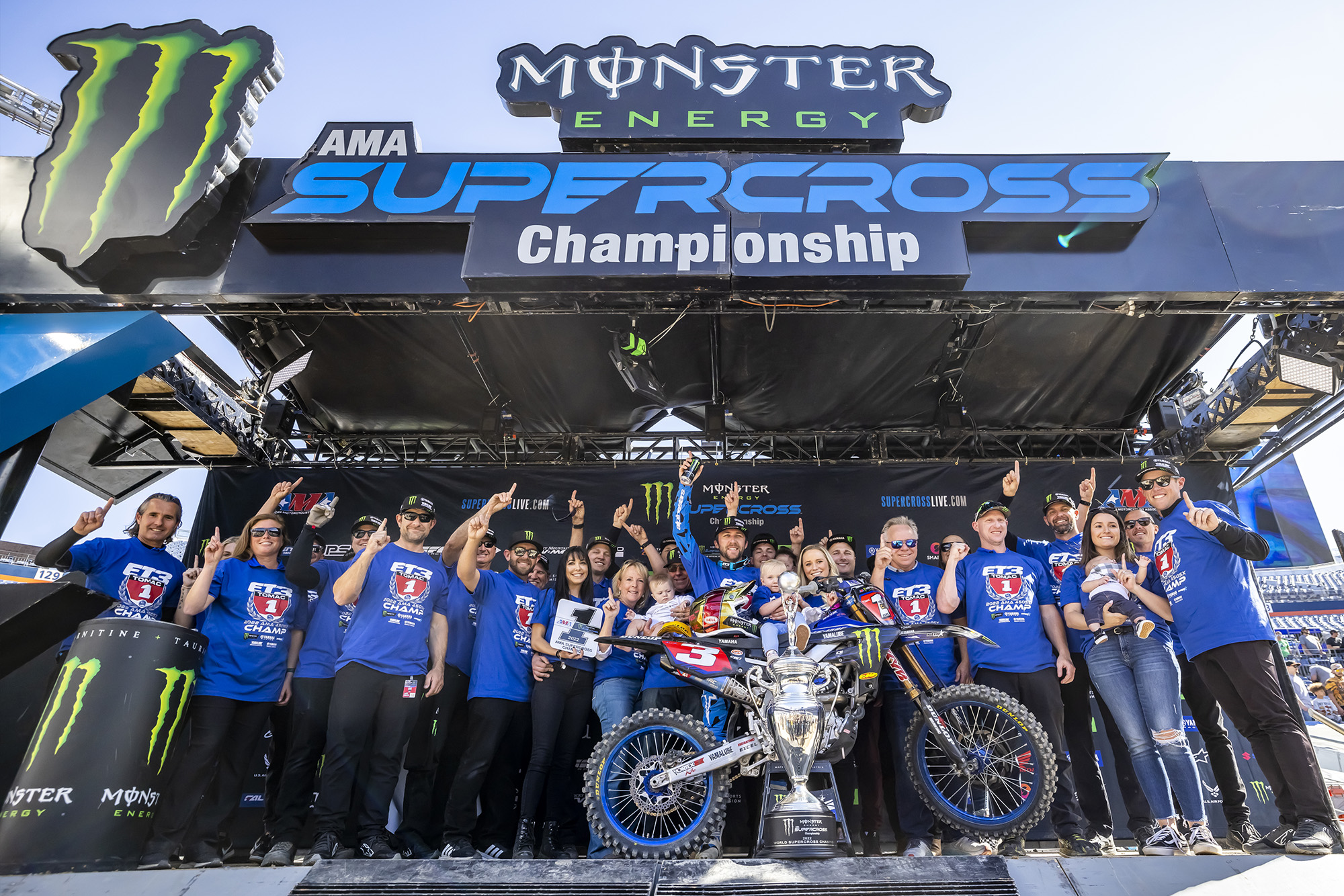 Eli Tomac – 2022 AMA 450SX Champion
"It was an unbelievable day and an unbelievable year. It was a season that I dreamed of happening, so for it to become a reality at my home race was super special. I'm just so proud of the whole team. All of the pre-season work that we did paid off and we has some great results in the middle of the season - at one point, we had five wins in a row. It's such a special year. This season was a revival year for me, so thank you, Yamaha, for making that happen."   
Jeremy Coker – Team Manager
"It wasn't just a special day; it's the year. Six months ago, this was just a dream of ours - to come in and win a supercross championship in the 450 class, and we did it. We hired the right guy to do it, and the whole team behind us was incredible. That's the most important thing - we did it as a team. We're very happy that we succeeded, but we're not done. We still have an outdoor title to win. We have many more supercross and outdoor titles to win, so we've got to keep it up."