Detail
Yamaha press releases on our motor sports racing activities
Introducing Yamaha's Factory and Supported Teams and Riders for 2022
February 8, 2022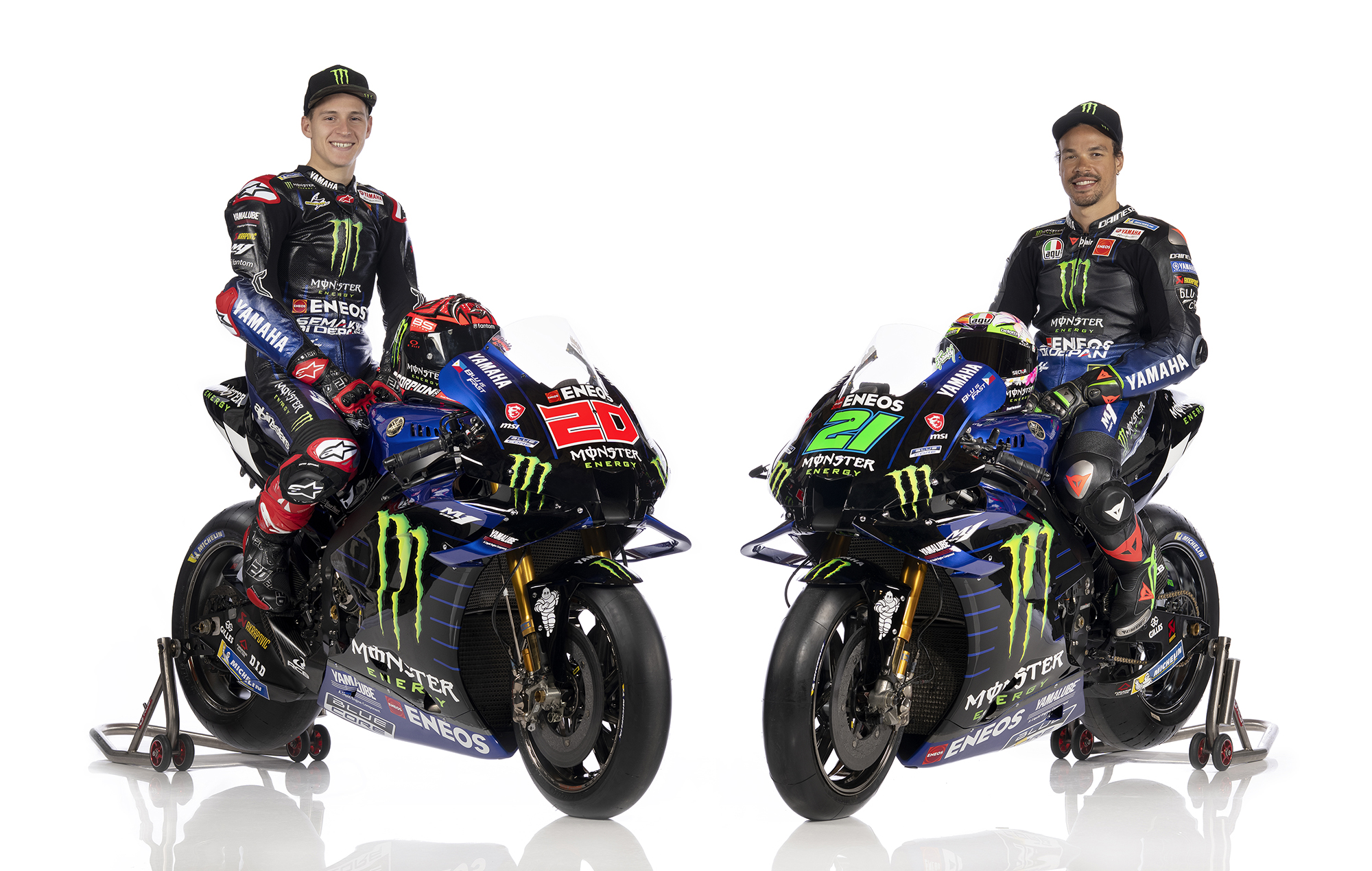 February 8, 2022 –Yamaha Motor Co., Ltd. engages in racing efforts around the world in road racing, motocross, trials and more, including the MotoGP World Championship, World Superbike Championship and the All Japan Road Race, Motocross and Trials championships. These efforts have three main goals: enhancing the value of the Yamaha brand, developing advanced technologies for our production machines, and promoting the healthy growth of motorcycle racing.

2021 marked Yamaha's 60th year of participating in international racing, a year in which factory Yamaha MotoGP rider Fabio Quartararo won Yamaha's first MotoGP title since 2015 and our 18th in the premier class. This was made possible thanks to the support of our teams, sponsors, suppliers and fans around the world.

In addition, Toprak Razgatlıoğlu won Yamaha's second ever World Superbike Championship title and our first since 2009, while Yamaha also took title wins in international championships like the Supersport World Championship and in national championships in Japan, the United States, Great Britain, France, and other countries. We also triumphed in various off-road championships around the world, including winning the Motocross World Championship MX2 title, AMA Motocross 450cc title, and both the AMA Supercross 250cc East and West titles.

In 2022, our aim is unchanged: to defend our titles in MotoGP and World Superbikes, and to win every other title we contest. We will once again devote all our efforts toward delivering Kando* as we challenge for the wins and titles that lie ahead in 2022.

With the goals of developing young riders and promoting the spread of racing, this year we will work to further strengthen our young rider development activities through the bLU cRU. Since 2016, Yamaha has partnered with the Valentino Rossi-led VR46 Riders Academy in holding the Yamaha VR46 Master Camp to train promising young riders in Italy.

To date the Master Camp has produced riders who have achieved excellent results in the Supersport 300 World Championship, R3 Cup, and Asia Road Racing Championship. In 2017 the Yamaha VR46 Master Camp Team was established to compete in the FIM CEV Moto3 and Moto2 championships with the aim of further improving the level of Master Camp graduates.

In 2022, the Yamaha VR46 Master Camp Team will switch from the FIM CEV Moto2 Championship to the Moto2 World Championship, positioning itself as a team for young riders poised to step up to the world's top categories like MotoGP and World Superbikes. Riding for the team will be young up-and-comers who have developed their skills through bLU cRU activities. As they race in Moto2, which can be considered the pinnacle of the sport for young riders, they will gain further experience and promote their growth toward competing at the highest levels.

As part of our effort to work with our locations in each country to develop strong personnel on a broad scale, this year two Master Camps are scheduled. The goals are to motivate young riders aiming for the world stage, and to discover and develop potential riders to compete for the Yamaha VR46 Master Camp Team in Moto2 in the future.

In terms of technology development through racing, we plan to focus on the All Japan Championships to carry out a wide range of development activities with the aim of achieving our three main principles while also acquiring advanced technologies that can contribute to achieving carbon neutrality. We will work toward feeding advanced technologies gained through racing back into production vehicles, and to develop technologies that contribute to the spread of racing.
For more information on the Yamaha VR46 Master Camp
https://race.yamaha-motor.co.jp/sp/vr46ra/
*Kando is a Japanese word for the simultaneous feelings of deep satisfaction and intense excitement that we experience when we encounter something of exceptional value.
Road Racing
In the MotoGP World Championship, the pinnacle of road racing, four Yamaha riders from two teams will compete on YZR-M1 machinery aiming to defend the 2021 Rider's title and win the MotoGP Triple Crown of Rider, Team and Constructor titles in 2022.

The factory Monster Energy Yamaha MotoGP team will feature Fabio Quartararo, who won the title with five victories, and teammate Franco Morbidelli who placed 17th in an injury-hampered season.

The WithU Yamaha RNF MotoGP Team, a satellite team with a new organization and new sponsor, will feature Andrea Dovizioso, who joined Yamaha in the middle of last season, and Darryn Binder, who makes the step up from Moto3.

The Yamaha VR46 Master Camp Team, which had previously competed in the FIM CEV Moto2 Championship, will switch to the Moto2 World Championship for 2022. Riding for the team are Keminth Kubo, who participated in the fifth "Yamaha VR46 Master Camp" in 2018 and has experience in the Asia Road Racing Championship and in the FIM CEV Moto2 Championship, alongside Manuel Gonzalez, who became the youngest ever World Supersport 300 champion in 2019 and finished 3rd in the World Supersport Championship in 2021.

In the World Superbike Championship, the Pata Yamaha with Brixx Official WorldSBK Team will feature defending champion Toprak Razgatlıoğlu, who won Yamaha's first title since 2009 with 13 victories and 29 podium finishes, and Andrea Locatelli, who finished 4th with four podium finishes in his rookie season.

Lining up for the GRT Yamaha WorldSBK Team are Garrett Gerloff, who finished a personal best of 7th overall last season, and Kohta Nozane, who finished 14th overall in his first full season of competition. All four YZF-R1 riders will be aiming to bring Yamaha the title for the second year in a row.

In the Supersport World Championship, held in conjunction with the Superbike World Championship, six riders from three teams, including last year's champion Dominique Aegerter, will compete on YZF-R6s. Just as in the Superbike class, the teams are aiming for two titles for Yamaha in two years.

The Yamalube YART Yamaha EWC Official Team will compete once again in the Endurance World Championship on the YZF-R1 after having finished 6th in 2021. The rider lineup remains unchanged with Niccolò Canepa, Karel Hanika, and Marvin Fritz riding for the team.

In the MotoAmerica AMA/FIM North American Road Racing Championship, the Fresh N' Lean Attack Performance Yamaha Racing team will contest the Superbike class on YZF-R1 machinery. The new lineup of riders includes Jake Gagne, who won his first title last year with 17 victories to make it four consecutive Yamaha titles in the class, and teammate Cameron Petersen, who finished third overall last season, both of whom will be aiming for a fifth consecutive Yamaha MotoAmerica Superbike title.

Only one race was held in the Asia Road Racing Championship in 2020 and all races were cancelled for 2021 due to COVID-19, but in 2022 the Yamaha Racing Team ASEAN will compete in the pinnacle ASB1000 class on the YZF-R1M. The team's riders include Yuki Ito, who finished 5th overall in ASB1000 in 2019 and Kasma Daniel Bin Kasmayudin, who finished 2nd in SS600 in the same year. The team's goal is to win Yamaha's first ever title in ASB1000.

In addition, teams managed by our locations in each country will participate in the ASB1000, SS600, and AP250 classes. We will continue to support them on various fronts as they aim to win each class, while also working to develop candidates for the Yamaha VR46 Master Camp and Yamaha VR46 Master Camp Team.
Motocross/Supercross
In the Motocross World Championship, the Monster Energy Yamaha Factory MXGP Team will compete in the pinnacle MXGP class with 2021 4th-place finisher Jeremy Seewer, 7th-place finisher Glenn Coldenhoff and class rookie Maxime Renaux, who won the MX2 title with 8 victories. These three riders will be riding the YZ450FM with the goal of taking Yamaha's first title since 2015.

In the MX2 class, the Monster Energy Yamaha Factory MX2 Team will contest on YZ250FM machinery ridden by Jago Geerts, who finished 2nd in last season's title race after a battle with Maxime Renaux for the title, and Thibault Benistant, who finished 8th in the championship, and both will be aiming for back-to-back Yamaha titles.

The Monster Energy Yamaha Star Racing Team is competing in the AMA Supercross Championship that kicked off on January 8 of this year. Riding the YZ450F for the team are Dylan Ferrandis, who stepped up to the 450SX class last year and finished 7th overall before going on to win the outdoor 450MX title with podium finishes in every round, and his teammate Eli Tomac, who won the Supercross 450SX title in 2020 and three AMA Motocross 450SX titles between 2017 and 2019. The team's goal is nothing less than lifting the trophy for Yamaha's first Supercross title since 2009.

In the 250SX classes, last year's 250SX West champion Justin Cooper, 250SX East champion Colt Nichols, along with two-time 250MX champion Jeremy Martin, Christian Craig, Nate Thrasher, and Levi Kitchen will compete. The riders will be riding the YZ250F and will be divided into East and West to compete in their respective championships.

In the AMA Motocross Championships' 450MX class, Ferrandis, Tomac and Craig will attempt to win titles for the second consecutive year aboard the YZ450F, while in the 250MX class, Cooper, Nichols, Martin, Thrasher and Kitchen will be riding the YZ250F.
Main Yamaha Race Teams for 2022 *as of February 8, 2022.
Road Racing
Rider(s)
Team(s)
Machine
MotoGP World Championship
#20 Fabio Quartararo
Monster Energy Yamaha MotoGP
YZR-M1
#21 Franco Morbidelli
#4 Andrea Dovizioso
WithU Yamaha RNF MotoGP Team
#40 Darryn Binder
Moto 2 World Championship
#81 Keminth Kubo
Yamaha VR46 Master Camp Team
Kalex
#18 Manuel Gonzalez
World Superbike Championship
#1 Toprak Razgatlıoğlu
Pata Yamaha with Brixx Official WorldSBK Team
YZF-R1
#55 Andrea Locatelli
#31 Garrett Gerloff
GRT Yamaha WorldSBK Team
#3 Kohta Nozane
World Supersport Championship
#77 Dominique Aegerter
Ten Kate Racing Yamaha WorldSSP Team
YZF-R6
#24 Leonardo Taccini
#7 Lorenzo Baldassarri
Evan Bros. Yamaha WorldSSP Supported Team
#56 Péter Sebestyén
#16 Jules Cluzel
GMT94 Yamaha WorldSSP Supported Team
#94 Andy Verdoïa
Endurance World Championship
#7 Niccolò Canepa
Yamalube YART Yamaha EWC Official Team
YZF-R1
#7 Karel Hanika
#7 Marvin Fritz
MotoAmerica AMA/FIM North American Road Racing Championship
#1 Jake Gagne
Fresh N' Lean Attack Performance Yamaha Racing
YZF-R1
#45 Cameron Petersen
Asia Road Racing Championship: ASB1000 Class
#76 Yuki Ito
Yamaha Racing Team ASEAN
YZF-R1M
#27 Kasma Daniel Bin Kasmayudin
#24 Apiwath Wongthananon
Yamaha Thailand Racing Team
YZF-R1
#500 Anupab Sarmoon
Asia Road Racing Championship: SS600 Class
#56 Ratthapong Wilairot
Yamaha Thailand Racing Team
YZF-R6
#55 Galang Hendra Pratama
YAMAHA Racing Indonesia
#36 Muhammad Faerozi Toreqottullah
Asia Road Racing Championship: AP250 Class
#96 Anggi Setiawan
YAMAHA Racing Indonesia
YZF-R25
#57 Aldi Satya Mahendra
Motocross/Supercross
Rider(s)
Team(s)
Machine
MXGP World Championship
#91 Jeremy Seewer
Monster Energy Yamaha Factory MXGP Team
YZ450FM
#259 Glenn Coldenhoff
#959 Maxime Renaux
MX2 World Championship
#93 Jago Geerts
Monster Energy Yamaha Factory MX2 Team
YZ250FM
#198 Thibault Benistant
AMA Supercross: 450cc Class
#14 Dylan Ferrandis
Monster Energy Yamaha Star Racing 450 Team
YZ450F
#3 Eli Tomac
AMA Supercross: 250cc Class
#32 Justin Cooper
Monster Energy Yamaha Star Racing 250 Team
YZ250F
#6 Jeremy Martin
#45 Colt Nichols
#28 Christian Craig
#49 Nate Thrasher
#59 Levi Kitchen
AMA Motocross: 450cc Class
#14 Dylan Ferrandis
Monster Energy Yamaha Star Racing 450 Team
YZ450F
#3 Eli Tomac
#28 Christian Craig
AMA Motocross: 250cc Class
#32 Justin Cooper
Monster Energy Yamaha Star Racing 250 Team
YZ250F
#6 Jeremy Martin
#45 Colt Nichols
#49 Nate Thrasher
#59 Levi Kitchen
2022 Rider Profiles
Road Racing
MotoGP World Championship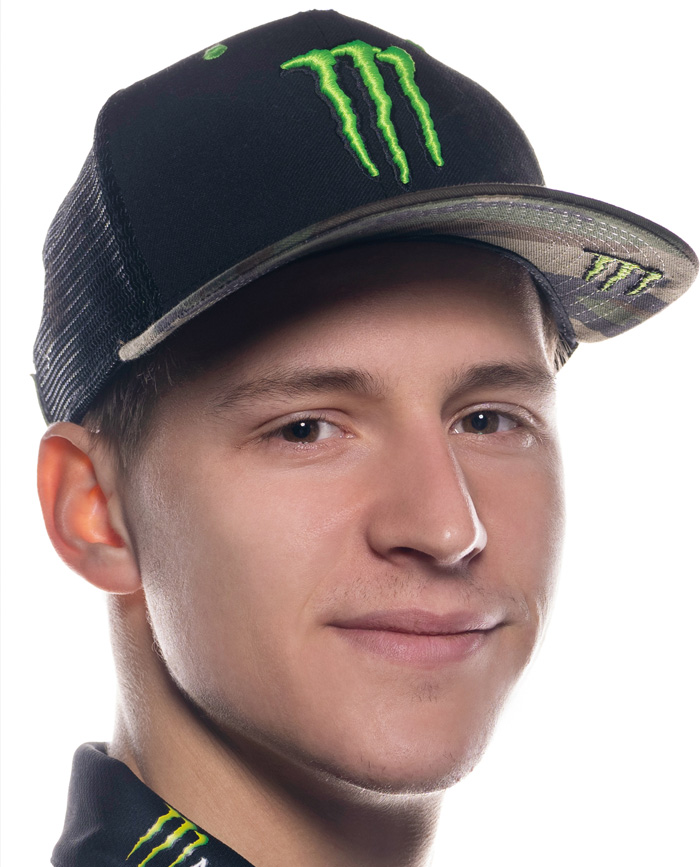 #20 Fabio Quartararo
| | |
| --- | --- |
| Nationality | French |
| Born | April 20, 1999 |
| Racing team | Monster Energy Yamaha MotoGP |
| | |
| --- | --- |
| 2015 | 10th in Moto3 World Championship |
| 2016 | 13th in Moto3 World Championship |
| 2017 | 13th in Moto2 World Championship |
| 2018 | 10th in Moto2 World Championship |
| 2019 | 5th in MotoGP World Championship |
| 2020 | 8th in MotoGP World Championship |
| 2021 | MotoGP World Champion |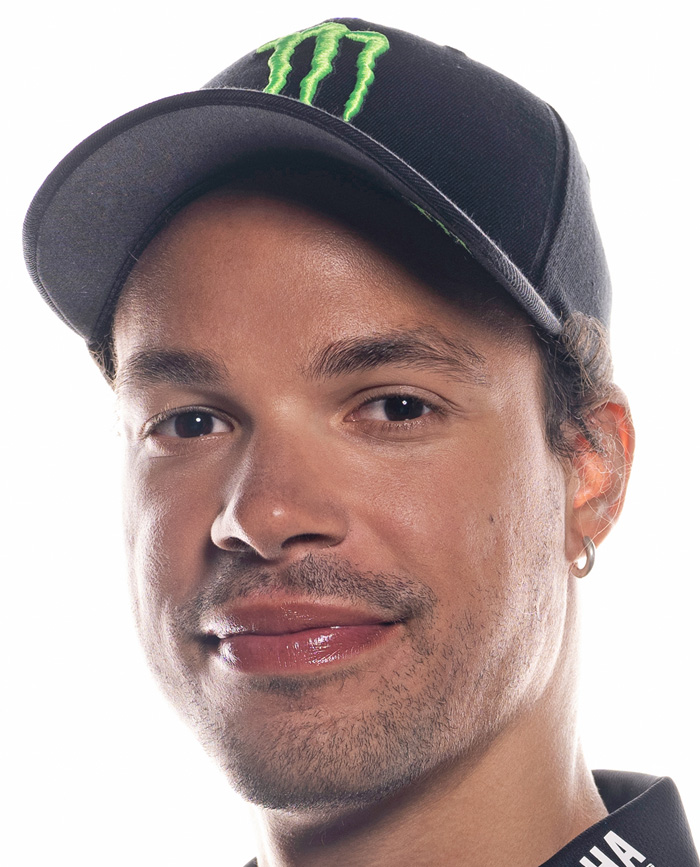 #21 Franco Morbidelli
| | |
| --- | --- |
| Nationality | Italian |
| Born | Dec. 4, 1994 |
| Racing team | Monster Energy Yamaha MotoGP |
| | |
| --- | --- |
| 2014 | 11th in Moto2 World Championship |
| 2015 | 10th in Moto2 World Championship |
| 2016 | 4th in Moto2 World Championship |
| 2017 | Moto2 World Champion |
| 2018 | 15th in MotoGP World Championship |
| 2019 | 10th in MotoGP World Championship |
| 2020 | 2nd in MotoGP World Championship |
| 2021 | 17th in MotoGP World Championship |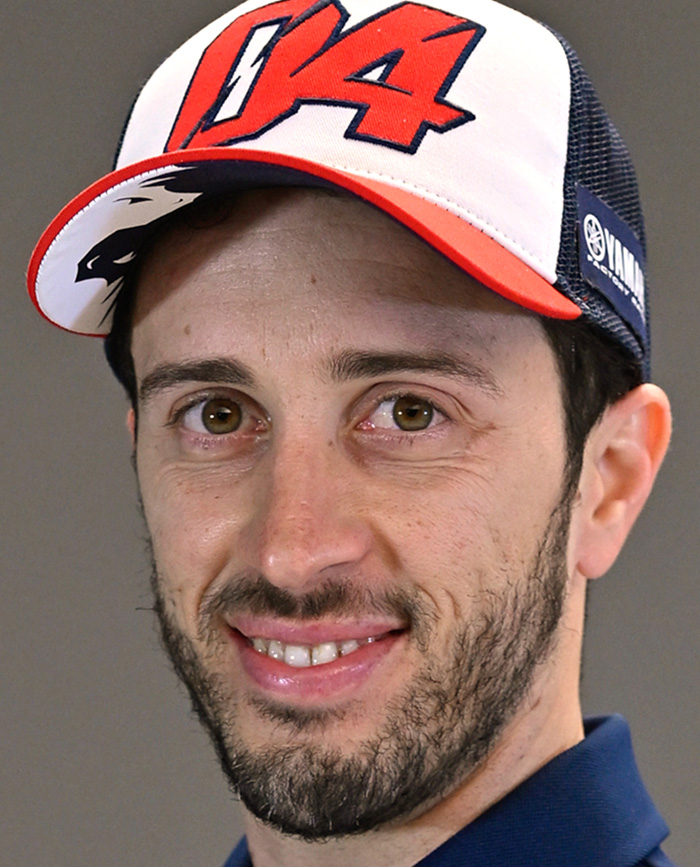 #4 Andrea Dovizioso
| | |
| --- | --- |
| Nationality | Italian |
| Born | Mar. 23, 1986 |
| Racing team | WithU Yamaha RNF MotoGP Team |
| | |
| --- | --- |
| 2002 | 16th in MotoGP World Championship 125cc class |
| 2003 | 5th in MotoGP World Championship 125cc class |
| 2004 | MotoGP World Championship 125cc Champion |
| 2005 | 3rd in MotoGP World Championship 250cc class |
| 2006 | 2nd in MotoGP World Championship 250cc class |
| 2007 | 2nd in MotoGP World Championship 250cc class |
| 2008 | 5th in MotoGP World Championship |
| 2009 | 6th in MotoGP World Championship |
| 2010 | 5th in MotoGP World Championship |
| 2011 | 3rd in MotoGP World Championship |
| 2012 | 4th in MotoGP World Championship |
| 2013 | 8th in MotoGP World Championship |
| 2014 | 5th in MotoGP World Championship |
| 2015 | 7th in MotoGP World Championship |
| 2016 | 5th in MotoGP World Championship |
| 2017 | 2nd in MotoGP World Championship |
| 2018 | 2nd in MotoGP World Championship |
| 2019 | 2nd in MotoGP World Championship |
| 2020 | 4th in MotoGP World Championship |
| 2021 | 24th in MotoGP World Championship |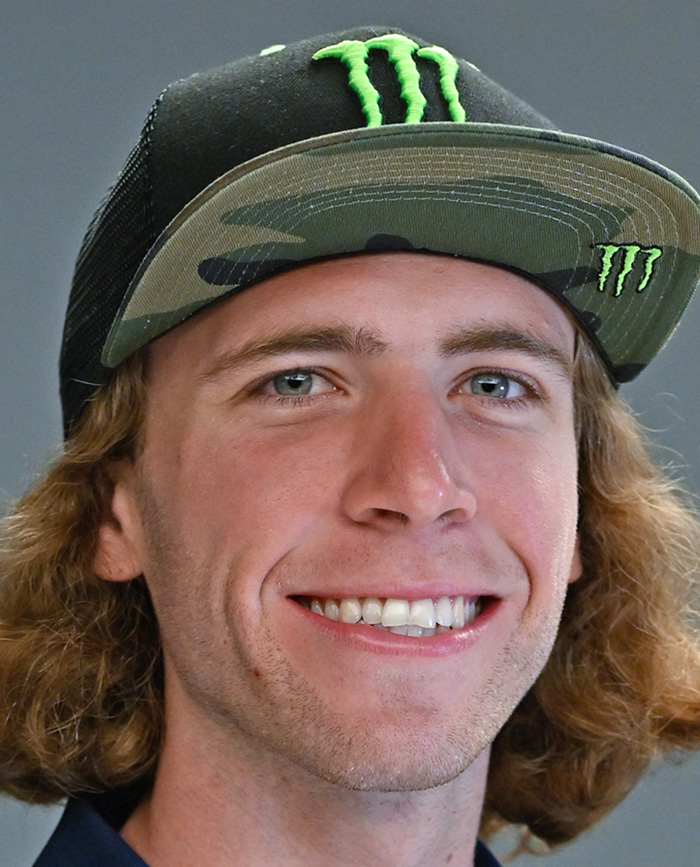 #40 Darryn Binder
| | |
| --- | --- |
| Nationality | South African |
| Born | Jan. 21, 1998 |
| Racing team | WithU Yamaha RNF MotoGP Team |
| | |
| --- | --- |
| 2016 | 25th in Moto3 World Championship |
| 2017 | 19th in Moto3 World Championship |
| 2018 | 17th in Moto3 World Championship |
| 2019 | 22nd in Moto3 World Championship |
| 2020 | 8th in Moto3 World Championship |
| 2021 | 7th in Moto3 World Championship |
World Superbike Championship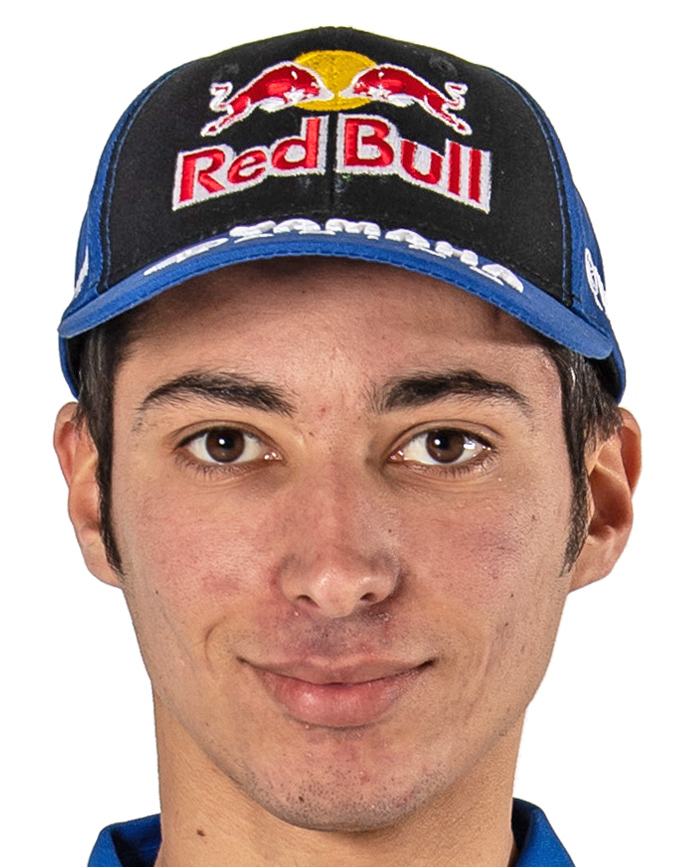 #1 Toprak Razgatlıoğlu
| | |
| --- | --- |
| Nationality | Turkish |
| Born | Oct. 16, 1996 |
| Racing team | Pata Yamaha with Brixx Official WorldSBK Team |
| | |
| --- | --- |
| 2014 | 13th in European Superstock 600 Championship |
| 2015 | European Superstock 600 Champion |
| 2016 | 5th in FIM Superstock 1000 Cup |
| 2017 | 2nd in FIM Superstock 1000 Cup |
| 2018 | 9th in World Superbike Championship |
| 2019 | 5th in World Superbike Championship |
| 2020 | 4th in World Superbike Championship |
| 2021 | World Superbike Champion |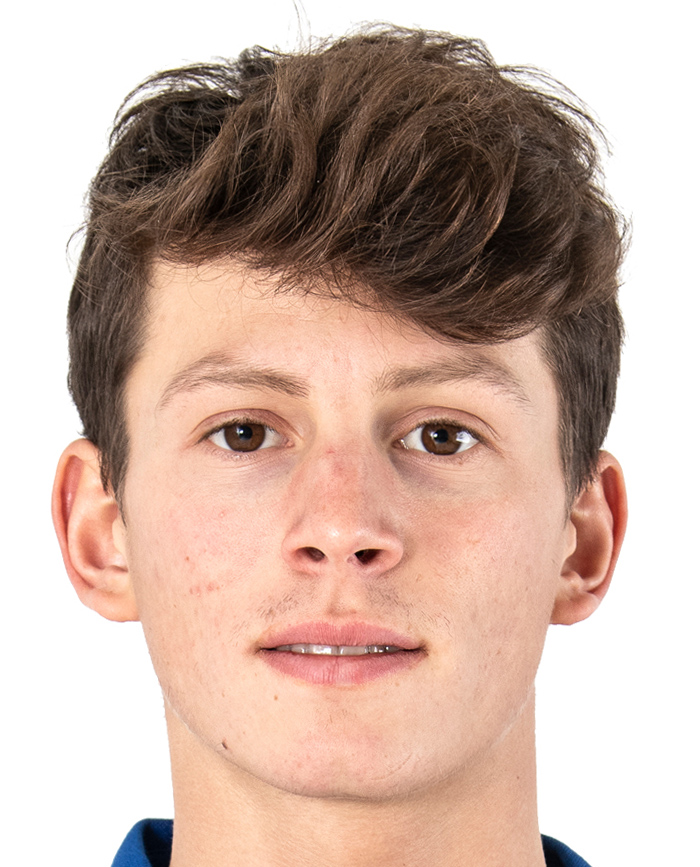 #55 Andrea Locatelli
| | |
| --- | --- |
| Nationality | Italian |
| Born | Oct. 16, 1996 |
| Racing team | Pata Yamaha with Brixx Official WorldSBK Team |
| | |
| --- | --- |
| 2014 | Contested Moto3 Championship |
| 2015 | 20th in Moto3 World Championship |
| 2016 | 9th in Moto3 World Championship |
| 2017 | 28th in Moto2 World Championship |
| 2018 | 15th in Moto2 World Championship |
| 2019 | 18th in Moto2 World Championship |
| 2020 | World Supersport Champion |
| 2021 | 4th in World Superbike Championship |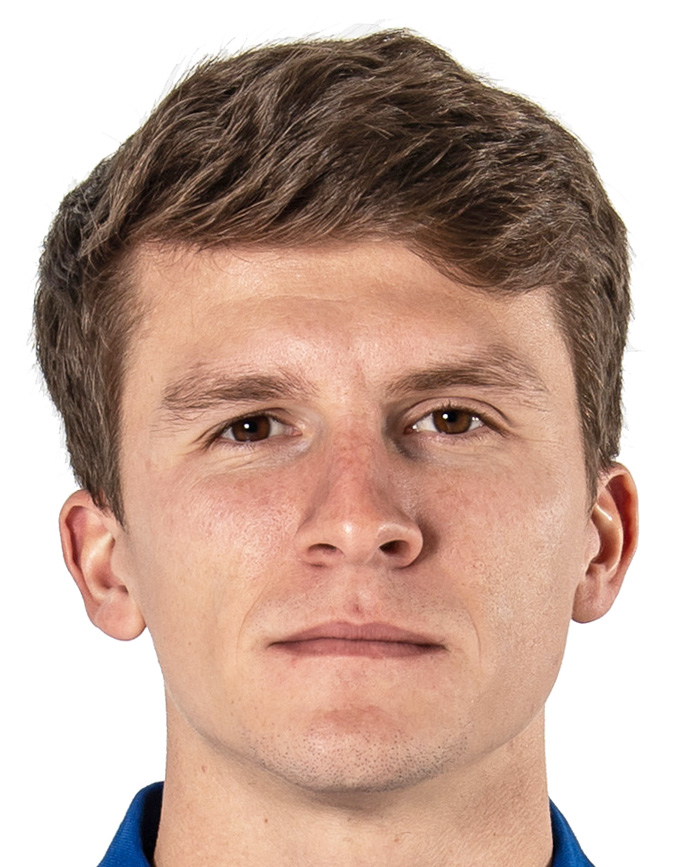 #31 Garrett Gerloff
| | |
| --- | --- |
| Nationality | American |
| Born | Aug. 1, 1995 |
| Racing team | GRT Yamaha WorldSBK Team |
| | |
| --- | --- |
| 2015 | 3rd in MotoAmerica Supersport Championship |
| 2016 | MotoAmerica Supersport Champion |
| 2017 | MotoAmerica Supersport Champion |
| 2018 | 5th in MotoAmerica Supersport Championship |
| 2019 | 3rd in MotoAmerica Supersport Championship |
| 2020 | 11th in World Superbike Championship |
| 2021 | 7th in World Superbike Championship |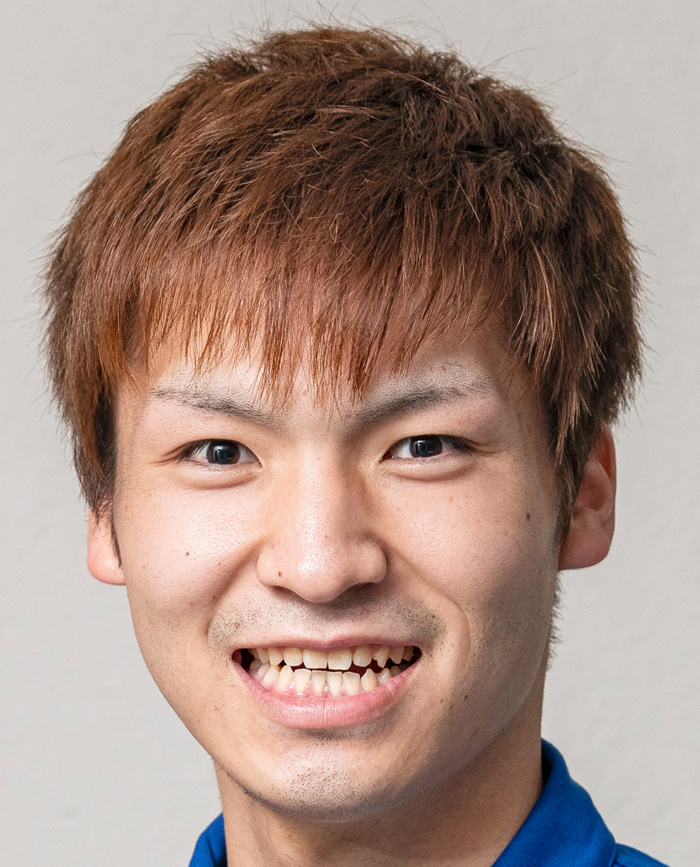 #3 Kohta Nozne
| | |
| --- | --- |
| Nationality | Japanese |
| Born | Oct. 29, 1995 |
| Racing team | GRT Yamaha WorldSBK Team |
| | |
| --- | --- |
| 2010 | 9th in All Japan Road Race Championship J-GP3 class |
| 2011 | 7th in All Japan Road Race Championship J-GP2 class |
| 2012 | 3rd in All Japan Road Race Championship J-GP2 class |
| 2013 | All Japan J-GP2 Champion |
| 2014 | 8th in All Japan Road Race Championship JSB1000 class |
| 2015 | 7th in All Japan Road Race Championship JSB1000 class |
| 2016 | 5th in All Japan Road Race Championship JSB1000 class |
| 2017 | 5th in All Japan Road Race Championship JSB1000 class |
| 2018 | 4th in All Japan Road Race Championship JSB1000 class |
| 2019 | 3rd in All Japan Road Race Championship JSB1000 class |
| 2020 | All Japan JSB1000 Champion |
| 2021 | 14th in World Superbike Championship |
MotoAmerica AMA/FIM North American Road Racing Championship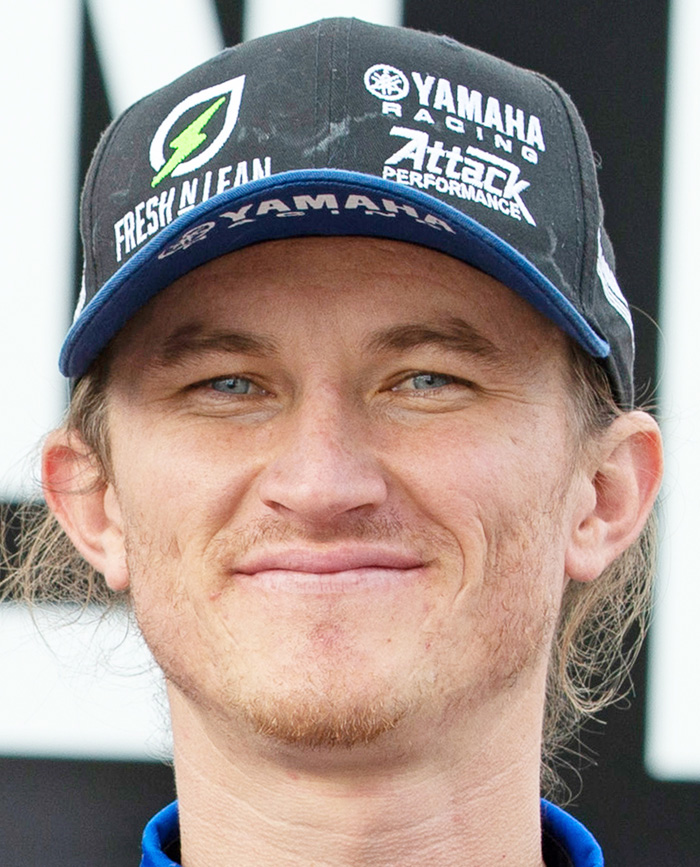 #1 Jake Gagne
| | |
| --- | --- |
| Nationality | American |
| Born | Aug. 27, 1993 |
| Racing team | Fresh N' Lean Attack Performance Yamaha Racing |
Racing career
2015
MotoAmerica Superstock 1000 Champion
2016
10th in MotoAmerica Superbike Championship
2017
24th in World Superbike Championship
11th in MotoAmerica Superbike
2018
17th in World Superbike Championship
2019
8th in MotoAmerica Superbike Championship
2020
2nd in MotoAmerica Superbike Championship
2021
MotoAmerica Superbike Champion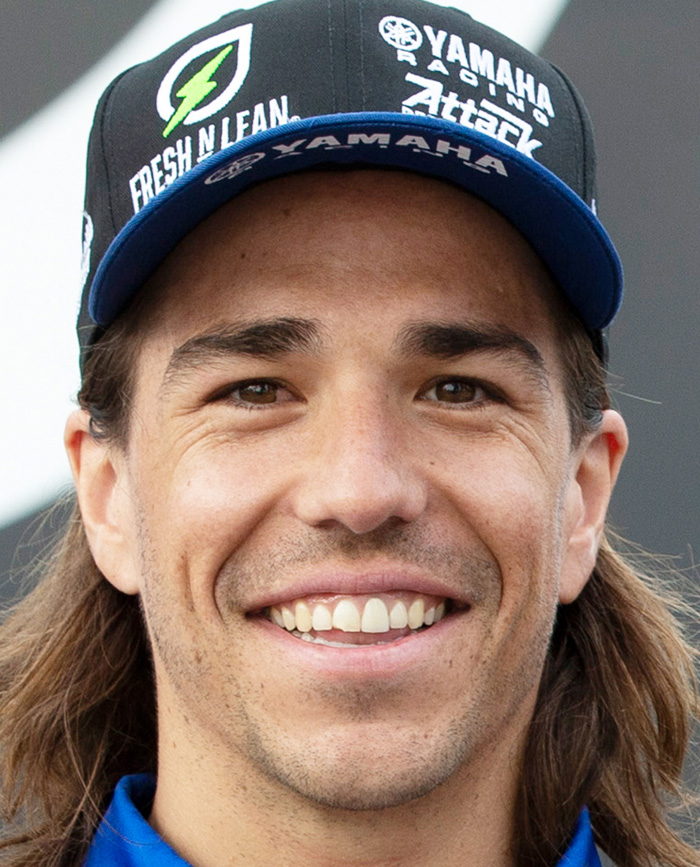 #45 Cameron Petersen
| | |
| --- | --- |
| Nationality | South African |
| Born | Dec. 2, 1994 |
| Racing team | Fresh N' Lean Attack Performance Yamaha Racing |
Racing career
2015
7th in MotoAmerica Supersport Championship
2016
4th in MotoAmerica Supersport Championship
2017
23rd in MotoAmerica Superstock 1000 Championship
24th in MotoAmerica Superbike Championship
2018
12th in MotoAmerica Superbike Championship
2019
9th in MotoAmerica Superbike Championship
2020
MotoAmerica Superstock 1000 Champion
2021
3rd in MotoAmerica Superbike Championship
Asia Road Racing Championship ASB1000
#76 Yuki Ito
| | |
| --- | --- |
| Nationality | Japanese |
| Born | Nov. 14, 1991 |
| Racing team | Yamaha Racing Team ASEAN |
Racing career
2006
19th in All Japan Road Race Championship 250cc class
2007
12th in All Japan Road Race Championship 250cc class
2008
9th in All Japan Road Race Championship 250cc class
2010
Entry in All Japan Road Race Championship ST600 class
2011
19th in All Japan Road Race Championship ST600 class
2012
5th in Asia Road Racing Championship SS600 class
10th in All Japan Road Race Championship ST600 class
2013
4th in Asia Road Racing Championship SS600 class
11th in All Japan Road Race Championship ST600 class
2014
2nd in Asia Road Racing Championship SS600 class
8th in All Japan Road Race Championship ST600 class
2015
4th in Asia Road Racing Championship SS600 class
16th in All Japan Road Race Championship JSB1000 class
2016
13th in Asia Road Racing Championship SS600 class
2017
4th in Asia Road Racing Championship SS600 class
2018
9th in Asia Road Racing Championship SS600 class
2019
5th in Asia Road Racing Championship ASB1000 class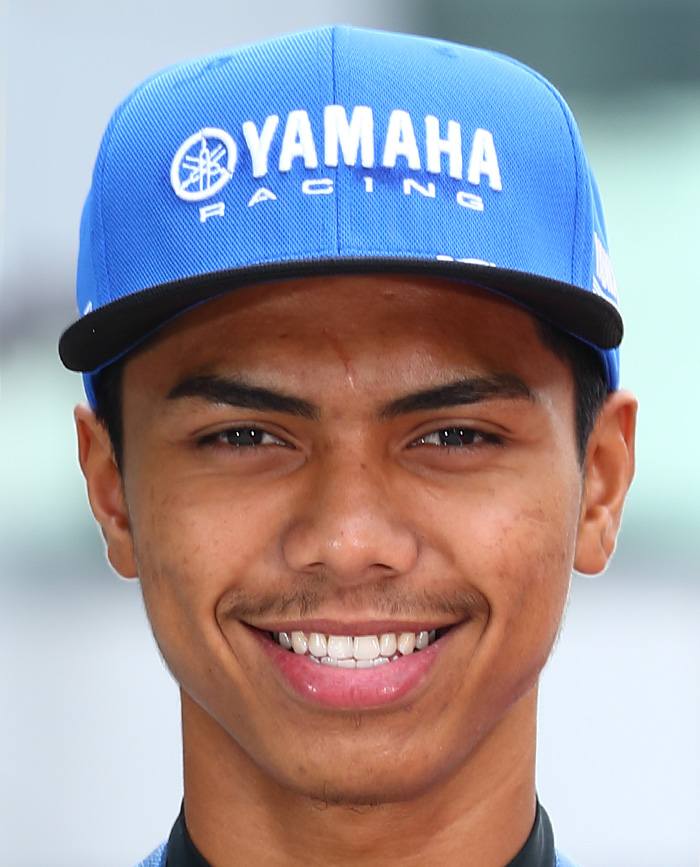 #27 Kasma Daniel Bin Kasmayudin
| | |
| --- | --- |
| Nationality | Malaysian |
| Born | Sept. 2, 2000 |
| Racing team | Yamaha Racing Team ASEAN |
Racing career
2016
12th in Asia Road Racing Championship AP250 class
2017
21st in Asia Road Racing Championship SS600 class
31st in FIM CEV Moto3 Championship
2018
14th in Asia Road Racing Championship SS600 class
2019
2nd in Asia Road Racing Championship SS600 class
10th in FIM CEV Moto2
Motocross/Supercross
MXGP World Championship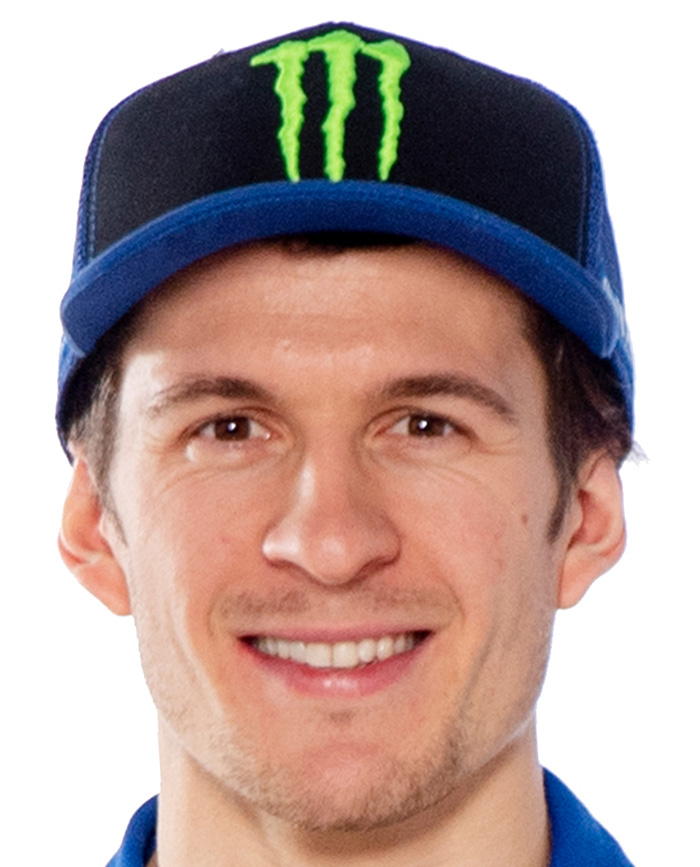 #91 Jeremy Seewer
| | |
| --- | --- |
| Nationality | Swiss |
| Born | July 18, 1994 |
| Racing team | Monster Energy Yamaha Factory MXGP Team |
| | |
| --- | --- |
| 2014 | 10th in MX2 World Championship |
| 2015 | 5th in MX2 World Championship |
| 2016 | 2nd in MX2 World Championship |
| 2017 | 2nd in MX2 World Championship |
| 2018 | 8th in MXGP World Championship |
| 2019 | 2nd in MXGP World Championship |
| 2020 | 2nd in MXGP World Championship |
| 2021 | 4th in MXGP World Championship |
#259 Glenn Coldenhoff
| | |
| --- | --- |
| Nationality | Dutch |
| Born | Feb. 13, 1991 |
| Racing team | Monster Energy Yamaha Factory MXGP Team |
| | |
| --- | --- |
| 2013 | 5th in MX2 World Championship |
| 2014 | 13th in MX2 World Championship |
| 2015 | 8th in MXGP World Championship |
| 2016 | 7th in MXGP World Championship |
| 2017 | 10th in MXGP World Championship |
| 2018 | 7th in MXGP World Championship |
| 2019 | 3rd in MXGP World Championship |
| 2020 | 8th in MXGP World Championship |
| 2021 | 7th in MXGP World Championship |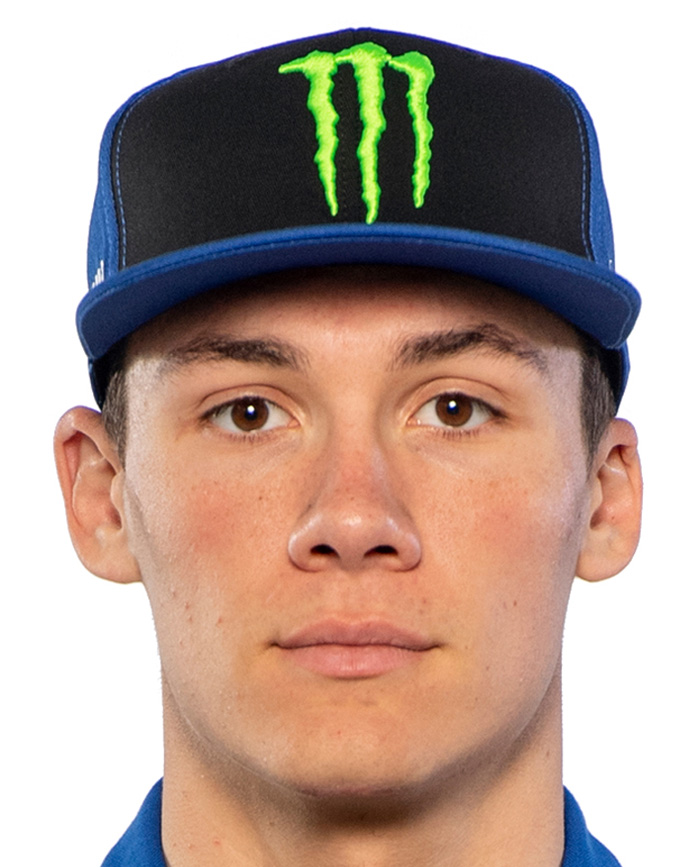 #959 Maxime Renaux
| | |
| --- | --- |
| Nationality | French |
| Born | May 17, 2000 |
| Racing team | Monster Energy Yamaha Factory MXGP Team |
| | |
| --- | --- |
| 2019 | 7th in MX2 World Championship |
| 2020 | 3rd in MX2 World Championship |
| 2021 | MX2 World Champion |
AMA Supercross/Motocross Championships: 450cc Class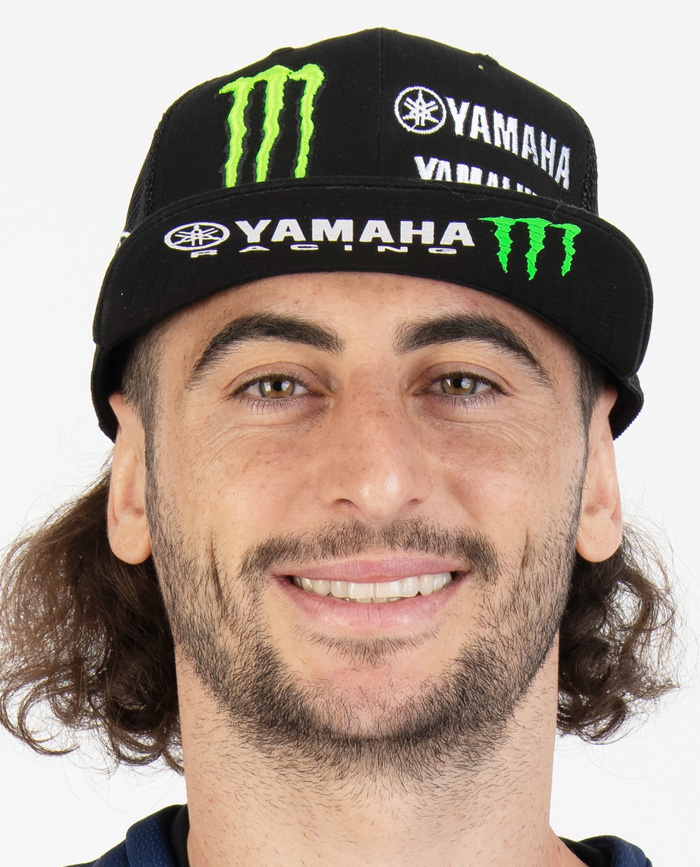 #14 Dylan Ferrandis
| | |
| --- | --- |
| Nationality | French |
| Born | May 31, 1994 |
| Racing team | Monster Energy Yamaha Star Racing 450 Team |
Racing career
2012
10th in MX2 World Championship
2013
9th in MX2 World Championship
2014
4th in MX2 World Championship
2015
15th in MX2 World Championship
2016
7th in MX2 World Championship
2017
5th in AMA Supercross 250cc West Division
6th in AMA Motocross 250cc class
2018
21st in AMA Supercross 250cc East Division
8th in AMA Motocross 250cc class
2019
AMA Supercross 250cc West Division Champion
2nd in AMA Motocross 250cc class
2020
AMA Supercross 250cc West Division Champion
AMA Motocross 250cc Champion
2021
7th in AMA Supercross 450cc class
AMA Motocross 450cc Champion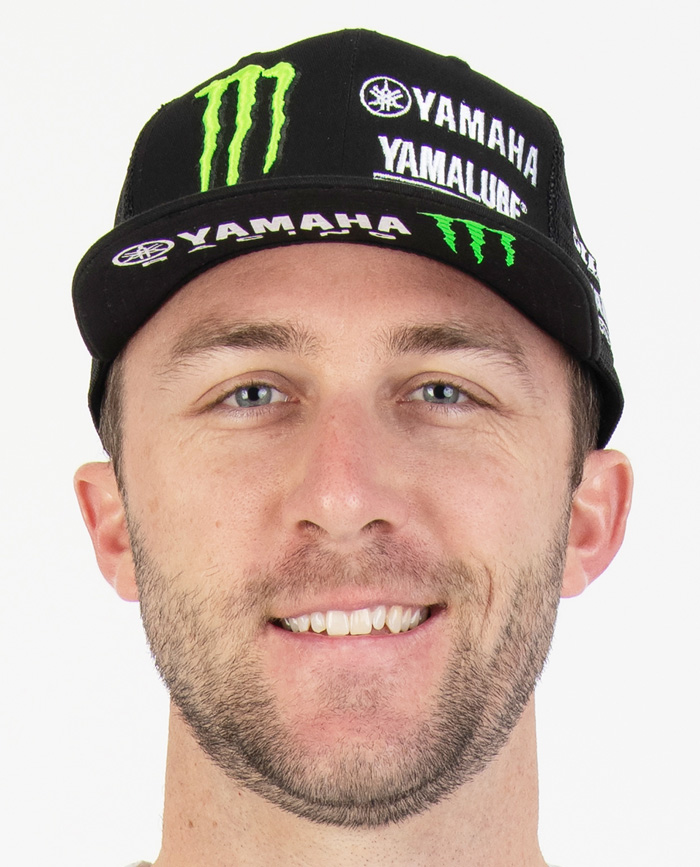 #3 Eli Tomac
| | |
| --- | --- |
| Nationality | American |
| Born | Nov. 14, 1992 |
| Racing team | Monster Energy Yamaha Star Racing 450 Team |
Racing career
2010
6th in AMA Motocross 250cc class
2011
2nd in AMA 250SX Lites West
4th in AMA Motocross 250cc class
2012
AMA 250SX Lites West Champion
3rd in AMA Motocross 250cc class
2013
2nd in AMA Supercross 250cc West Division
AMA Motocross 250cc Champion
2014
13th in AMA Supercross 250cc West Divisio
5th in AMA Motocross 450cc class
2015
2nd in AMA Supercross 450cc class
14th in AMA Motocross 450cc class
2016
4th in AMA Supercross 450cc class
2nd in AMA Motocross 450cc class
2017
2nd in AMA Supercross 450cc class
AMA Motocross 450cc Champion
2018
3rd in AMA Supercross 450cc class
AMA Motocross 450cc Champion
2019
2nd in AMA Supercross 450cc class
AMA Motocross 450cc Champion
2020
AMA Supercross 450cc Champion
3rd in AMA Motocross 450cc class
2021
3rd in AMA Supercross 450cc class
2nd in AMA Motocross 450cc class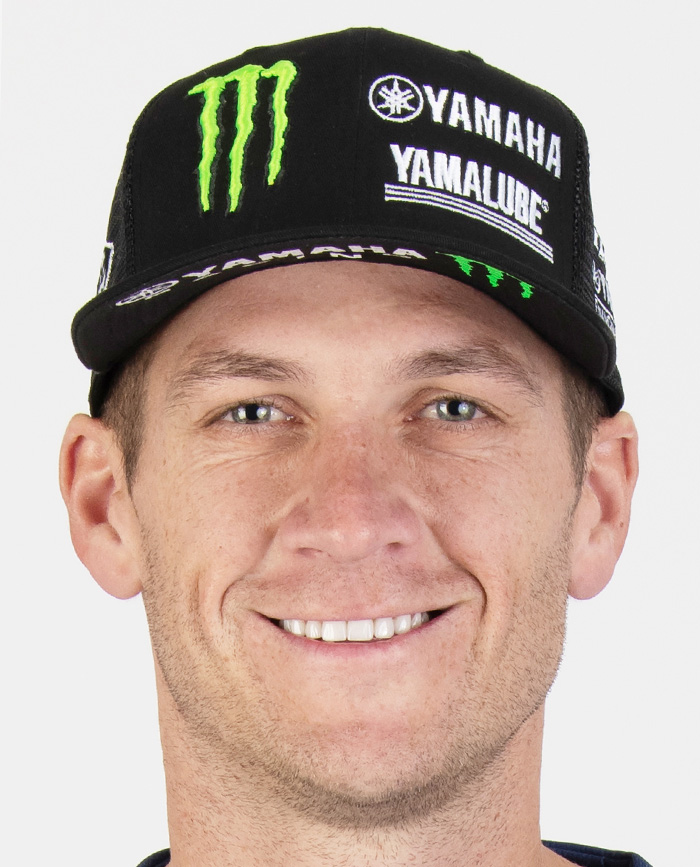 #28 Christian Craig *450MX only
| | |
| --- | --- |
| Nationality | American |
| Born | July 19, 1991 |
| Racing team | Monster Energy Yamaha Star Racing 450 Team |
Racing career
2011
34th in AMA 250SX Lites West
15th in AMA Motocross 450cc class
2012
43rd in AMA 250SX Lites West Division
17th in AMA Motocross 450cc class
2013
11th in AMA Supercross 250cc West Division
2014
20th in AMA Motocross 450cc class
2015
12th in AMA Motocross 250cc class
2016
3rd in AMA Supercross 250cc West Division
30th in AMA Motocross 250cc class
2017
6th in AMA Supercross 250cc East Division
11th in AMA Motocross 450cc class
2018
9th in AMA Supercross 250cc West Division
31st in AMA Motocross 450cc class
2019
34th in AMA Supercross 250cc East Division
21st in AMA Motocross 250cc class
2020
15th in AMA Supercross 250cc West Division
6th in AMA Motocross 450cc class
2021
4th in AMA Supercross 250cc East Division
6th in AMA Motocross 450cc class