Detail
Yamaha press releases on our motor sports racing activities
New for 2022: WithU Yamaha RNF MotoGP Team is born
October 25, 2021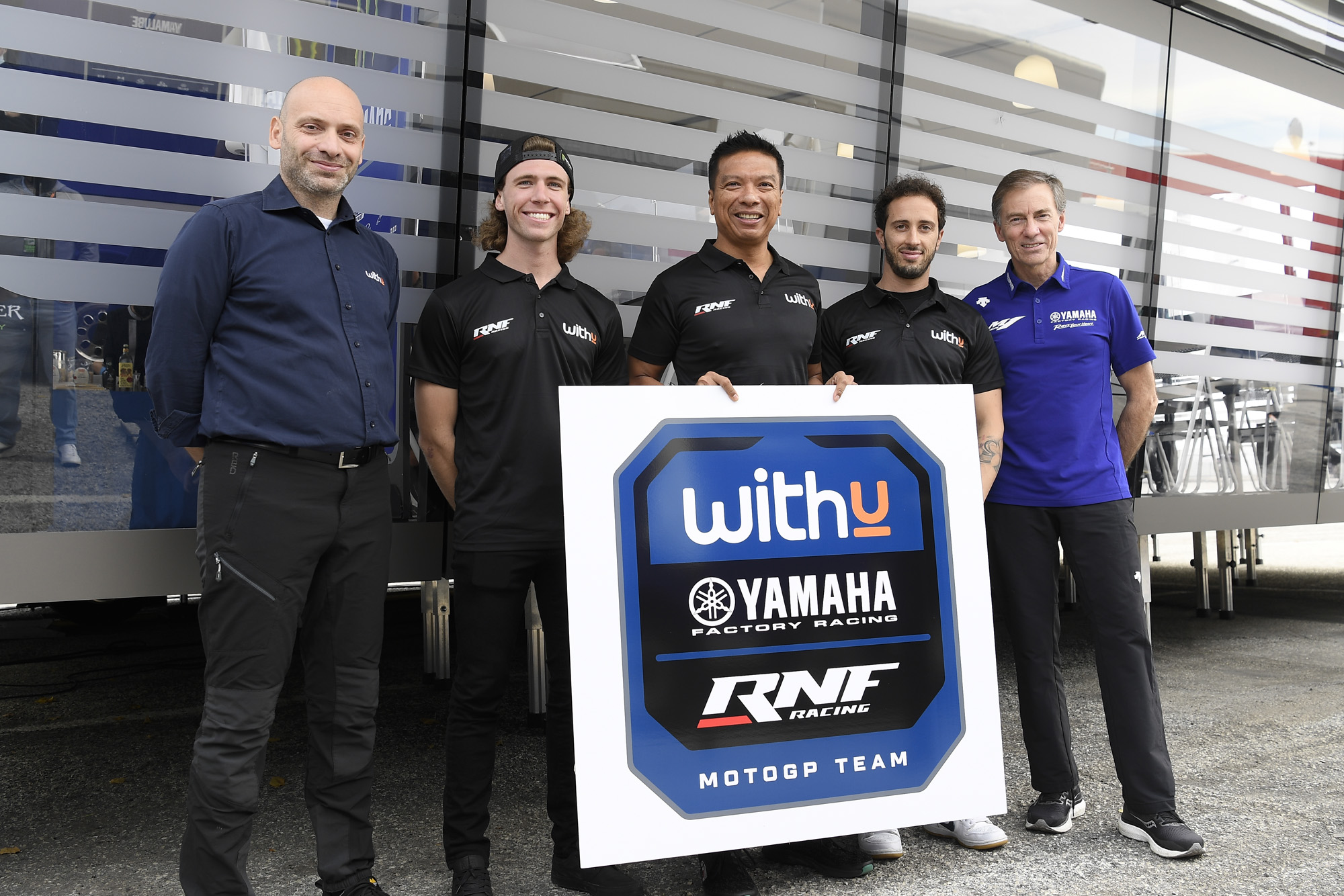 October 25, 2021―RNF Racing presents WithU as title partner and Yamaha backing for the MotoGP satellite team with riders Andrea Dovizioso and Darryn Binder.
RNF Racing is pleased to confirm that for the 2022 season it will be joined by title partner WithU, and with Yamaha support, will be present in the MotoGP World Championship premier class as WithU Yamaha RNF MotoGP Team.

WithU was one of the first two partners to give its support to the Sepang Racing Team project in 2018 and since then has achieved huge awareness and growth in an international context. The Italian brand, which has signed up to be title partner for three years, is behind a true revolution in the world of services for families and businesses, allowing both private and business customers to sign up for electricity, gas, mobile phone and fibre internet from a single supplier with a single invoice for all services.

Following the announcement with Yamaha Motor Company, WithU Yamaha RNF MotoGP Team has penned a deal as the satellite team for the coming season. The equipment provided by Yamaha will enable the team to be competitive in the world championship.

Spearheaded by Founder and Team Principal Razlan Razali with Wilco Zeelenberg as the Team Manager, the squad will continue the blueprint of pairing an experienced rider with developing young rider talent. A solid line-up has been confirmed with former MotoGP Vice Champion and multiple race winner Andrea Dovizioso joined by the impressive Moto3 rider Darryn Binder. The choice of the two riders was the result of careful analysis shared between the team management, Yamaha and the new title sponsor, WithU.
Razlan Razali – Founder & Team Principal, RNF Racing
"We have today reached a historical milestone for the new WithU Yamaha RNF MotoGP Team. Europe Energy was one of our first two sponsors for the current PETRONAS Sepang Racing Team team back in 2018 and we are thrilled with their continued support and commitment to step up as the title partner with the new team from 2022. Despite the changes the team have faced this year, I thank Matteo Ballarin, President of Europe Energy Group and Lin Jarvis of YAMAHA for their confidence and trust in me and the team to continue this incredible journey that we are on. We have achieved so much together in the first three years of our partnership with wins, podiums, pole positions and awards. Matteo and his team are ambitious, enthusiastic and passionate. We share the same aspirations, to dream big and be competitive to perform at our very best in the World Championship. With the rider line-up now fixed, with Andrea Dovizioso and Darryn Binder, we are set to start the 2022 season on renewed motivation and confidence."
Lin Jarvis – Managing Director, Yamaha Motor Racing
"We are delighted to extend our partnership with the now rebranded WithU Yamaha RNF MotoGP Team. When Razlan Razali and the Sepang Racing Team embarked on their MotoGP adventure at the end of 2018 and the start of 2019, nobody could have expected how they would take the premier class by storm. The impressive 2019 season and exceptional 2020 season results underline the professionalism and quality of this team, that will soon be renamed WithU Yamaha RNF MotoGP Team.
"The core DNA of this team remains, so we are confident to continue with them as our official supported satellite team. Moreover, Yamaha has always been clear that it wants to continue to have four bikes in total on the MotoGP grid: two bikes in the Factory Team and two bikes in the Independent team.
"We expect that the current one-year deal will be extended in the middle of 2022 for 2023 and will continue into 2024. We will do our best to support the newly founded RNF Racing Ltd. to achieve their goals and to provide the steppingstone for future talents to enter into the world of Yamaha in MotoGP."
Matteo Ballarin – President of Europe Energy Group
"The MotoGP World Championship is an exclusive and international showcase. It is a special universe where the starting grid is a stage for heroes in which WithU has found its space by sharing its values and objectives. Five years after our first entry into the world of MotoGP, today we are more enthusiastic and motivated than ever. For WithU, this new title sponsor experience represents not only a milestone but also a new beginning and a strong incentive. We look to 2022 with optimism and confidence, as we are organising a team led by trained, serious and experienced managers. The support and trust of Yamaha are and will be fundamental to face the next season and the choice of the two riders confirms the seriousness of the project and the desire to play a leading role in the prestigious international MotoGP arena. This is a dream that will now become reality and that we will share with customers and passionate guests who will be involved to discover new experiences and exclusive emotions."
Andrea Dovizioso
"I'm really happy that finally the new WithU Yamaha RNF MotoGP team is official. It's a team made up of three really professional parties and I'm really looking forward to start working with them for 2022. I'm so happy to have WithU as the title partner of the team because Matteo is a really passionate person and it's always nice to have this kind of motivation in a team. I'm really happy about that and to have Darryn Binder as my team-mate is something quite unique – not many riders have gone directly from Moto3 to MotoGP! I think the team have seen something interesting in him so I'm really interested too to see him on the MotoGP bike."
Darryn Binder
"I am extremely grateful for this opportunity, as it has been a lifelong dream to race in the MotoGP category. I definitely didn't expect to make the jump straight from Moto3 to the highest class, but I do believe I am up for the challenge and I'm ready to put in all the hard work for 2022. My target at the beginning will be just to find my feet in the big class and learn as much as possible to get stronger and stronger throughout my rookie season. I would like to say a really big thank you to Yamaha and WithU Yamaha RNF MotoGP team for everything they have done to make this possible, as well as everyone who has been involved in getting me to this point. I'm also really happy to keep having WithU supporting the team because from the first day I entered the team I could see how enthusiastic they were in this project. I'm now just looking forward to riding the Yamaha YZR-M1 for the first time at the end of the season."