Detail
Yamaha press releases on our motor sports racing activities
Dylan Ferrandis Wins His First 450MX Title and Yamaha's First Since 2007
September 6, 2021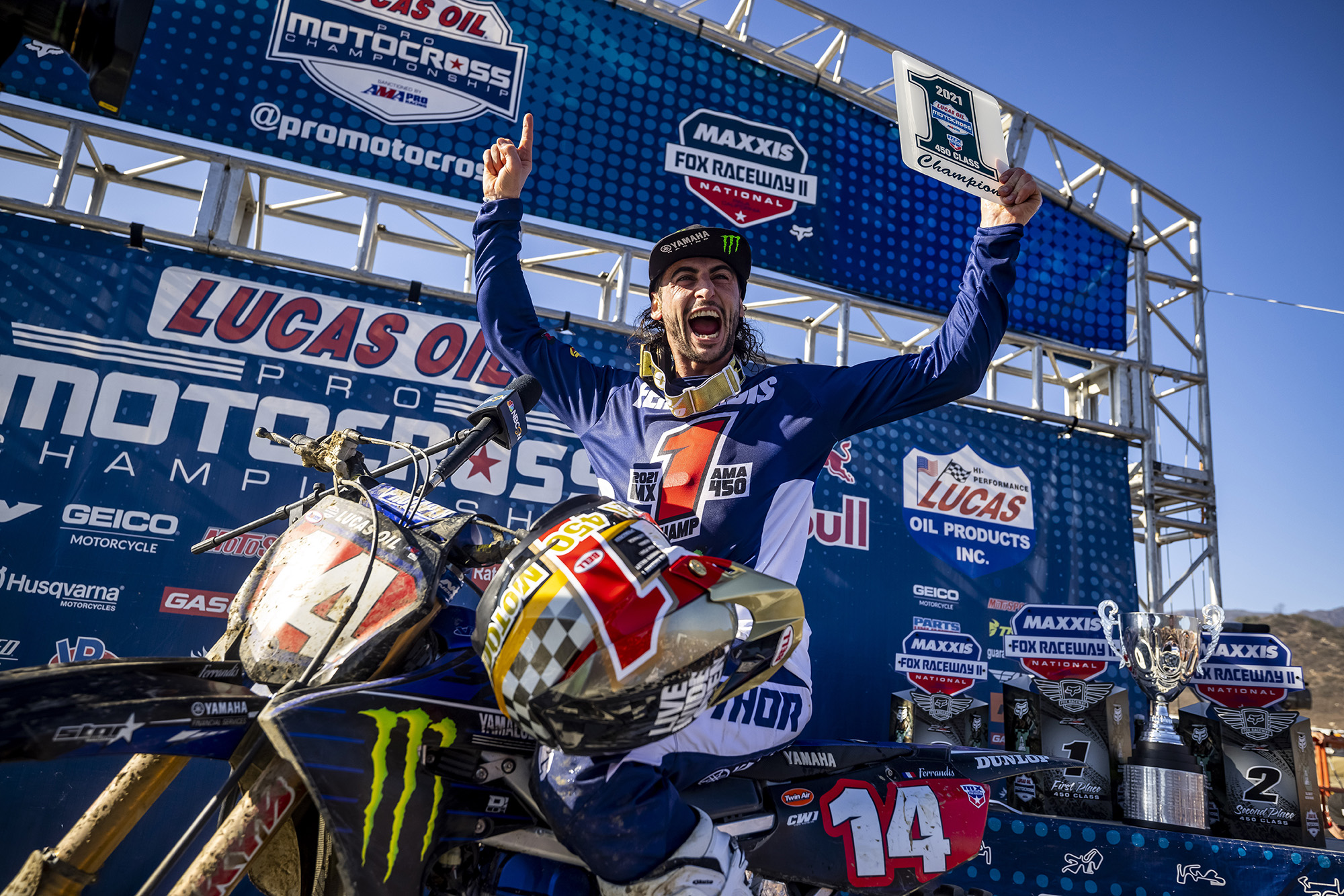 September 6, 2021—On September 4, 2021, Dylan Ferrandis of the Monster Energy Star Yamaha Racing 450 Team finished 2nd overall to win his first championship in the premier 450MX class on his YZ450F at the Fox Raceway II National, the 11th round of the AMA Motocross Championship. This marks Yamaha's first title in in the class in 14 years, since Grant Langston won in 2007.

In 2020, Ferrandis won both the AMA Supercross 250SX West and AMA Motocross 250MX titles. He moved up to the 450cc class for 2021 and started with the Supercross season in January, finishing 7th in the rankings. He then got off to a strong start in motocross in May, winning the first moto of the opening round and then finishing on the podium again in the second moto with 3rd to take his first overall win despite being a rookie.

Of the 20 motos leading up to Round 10, he won six of them, placed 2nd nine times, and 3rd three times. He also finished on the podium for 10 consecutive rounds, taking the overall win five times. Despite competing in the pinnacle 450MX class against strong rivals, he showed outstanding consistency and came into Round 11 with a 50-point lead over second place.

For the Fox Raceway II National, Ferrandis displayed incredible consistency again, winning the first moto for his 7th win of the season, and taking his tenth 2nd place finish in the second moto, allowing him to win his first premier-class AMA title in his rookie year with a with a 64-point advantage and one round still left on the calendar.

The AMA Motocross Championship began in 1972 with 500cc bikes representing the top class. Yamaha won this title a total of five times, beginning with Pierre Karsmakers in 1973. From 1994 when the premier class was changed to 250cc machinery, Yamaha took the title again with Doug Henry in 1998. In 2006 when 4-stroke 450cc motorcycles became the standard, Grant Langston won the championship in 2007. With Ferrandis' 2021 win, this brings Yamaha's title haul to eight in the premier class.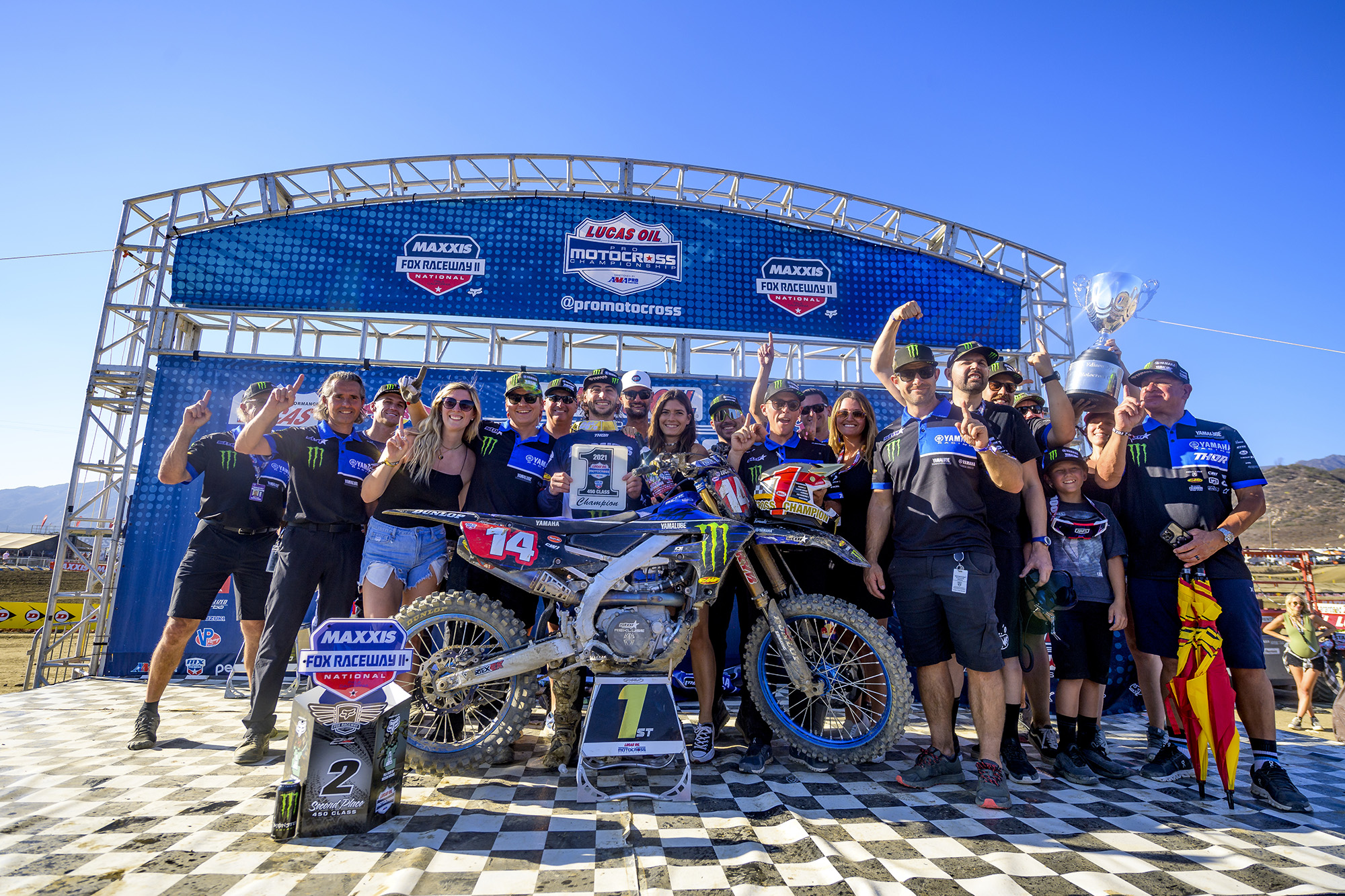 Dylan Ferrandis – 2021 AMA 450MX Champion
"It was another tough day, and I had to dig really deep to get this result. The weather was really hard on us, hard on the body, but I had this championship in mind, and I really wanted it. I tried the best that I could, and it looked like it was enough to grab it. It's just unreal to be the champion in my first year on the 450. When I was young, I dreamed of being a 250 champion, but I never really dreamed of being a 450 champion. So, it's not even a dream come true; it's more than that. It's just the best thing that I have ever done in my life. Today I'm really out of emotions. It was just such an awesome year for me, and it's so awesome to win with this Yamaha bike and with this team. I'm really happy for everybody involved in winning this championship."
Jeremy Coker – Team Manager
"Today was a day I'll never forget in my life. Even though I've been involved in a lot of championships on the 250 side as an engine builder and crew chief, this is really special. To do this as the team manager on this team and to orchestrate things from this side; it brings tears to my eyes. The crew was incredible! There was not one person on this team that didn't have the same goal, and we all worked hard to achieve it. It's something none of us will ever forget. I'm proud of what Dylan did today. He rode amazing. It was a really tough day and very hot outside, but he pulled off the championship a weekend early. We've still got one more to go, and we'll be out there to win at Hangtown."