Detail
Yamaha press releases on our motor sports racing activities
Double 250SX Championship Wins for Nichols and Cooper
May 10, 2021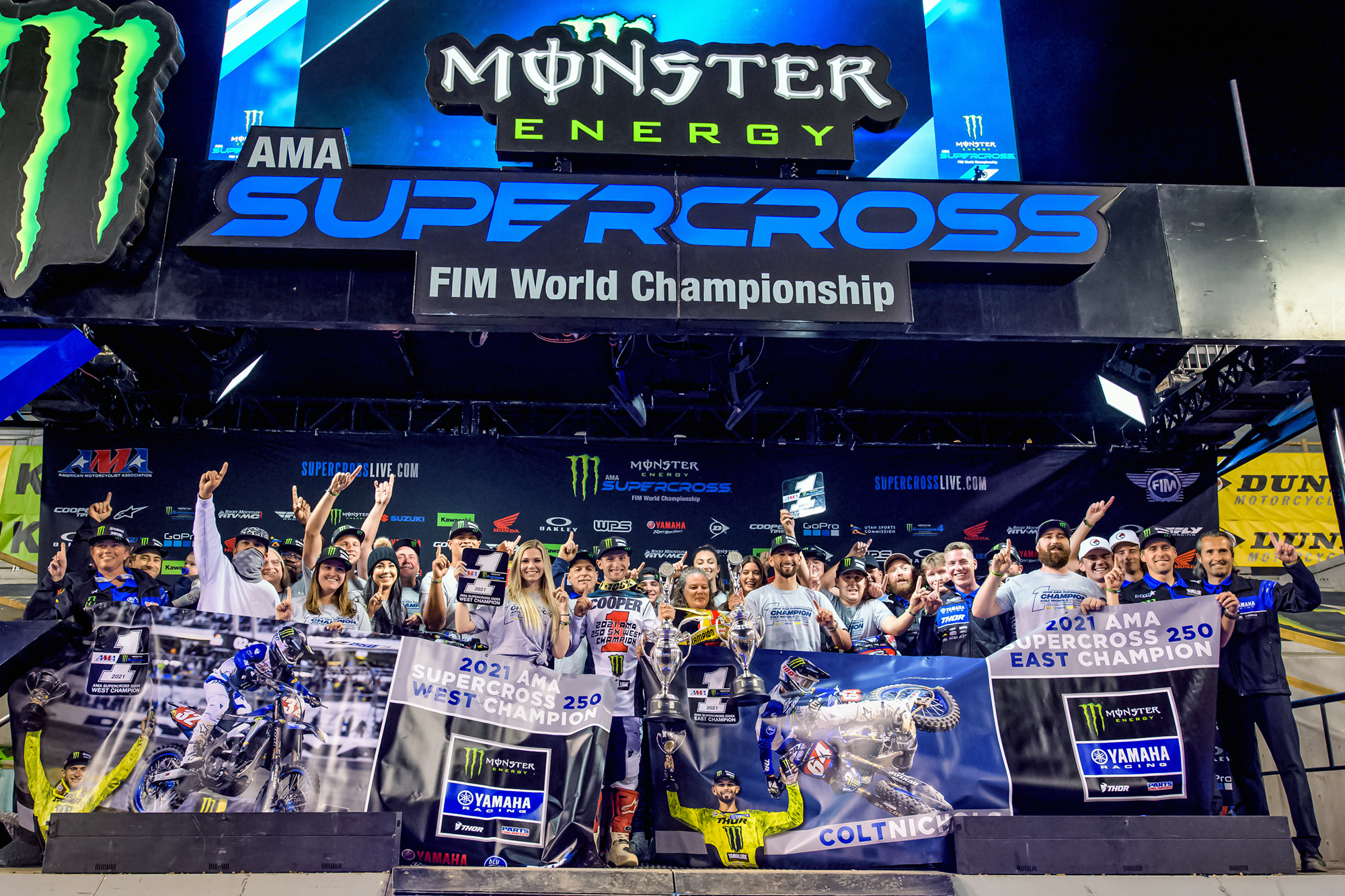 May 10, 2021—The 2021 AMA Supercross Championship closed out the season in the 250SX class with the Dave Coombs Sr. 250SX East/West Showdown in Salt Lake City, Utah, USA. Monster Energy Star Yamaha Racing 250 Team riders Colt Nichols in the East division and Justin Cooper in the West division were both able to secure their first-ever championship wins on the YZ250F.

This is the first time a Yamaha team has won both the East and West titles in a single season and it also marks four straight championship titles for Yamaha in the 250SX West division, following Aaron Plessinger in 2018 and Dylan Ferrandis in 2019 and 2020.

The 2021 AMA Supercross Championship season kicked off on January 16 with the 250SX East class where Nichols was entered. The Oklahoma man finished 2nd to teammate Christian Craig at the season-opener and took 3rd in the following round, but then went on to win three in a row. His consistency continued and he never finished off the podium, bringing him into the final round with a comfortable 23-point lead over the nearest challenger.

Meanwhile, the 250SX West division got underway on February 20 and Justin Cooper got off to a strong start with a win, but fell just short of the podium with 4th at the second and third rounds. However, he retook the points lead with another win at Round 5 in Indianapolis and was on the podium again in the next three races, including a third win at Round 7 in Orlando. This run of results stretched his lead in the title hunt to 20 points over his chief rival heading into the last race of the season.

In the East/West Showdown finale, Nichols made a strong start to get into an early lead before eventually finishing 2nd and securing his title in dominating style with a podium at every race. Cooper got caught up in the pack but rode a careful race to finish 9th and lock in his title as well. It was the first time since 2012 that a team had won both East and West titles and the first ever for a Yamaha team to accomplish the feat.

In the hands of newly crowned champions Nichols and Cooper, the 2021 season once again demonstrated the incredible performance of the YZ250F, notching up five wins in each division for 10 in total. The Monster Energy Star Yamaha Racing 250 Team will be back in action for the AMA Motocross Championship that starts on May 29, where they aim to add another title win to their 2021 tally.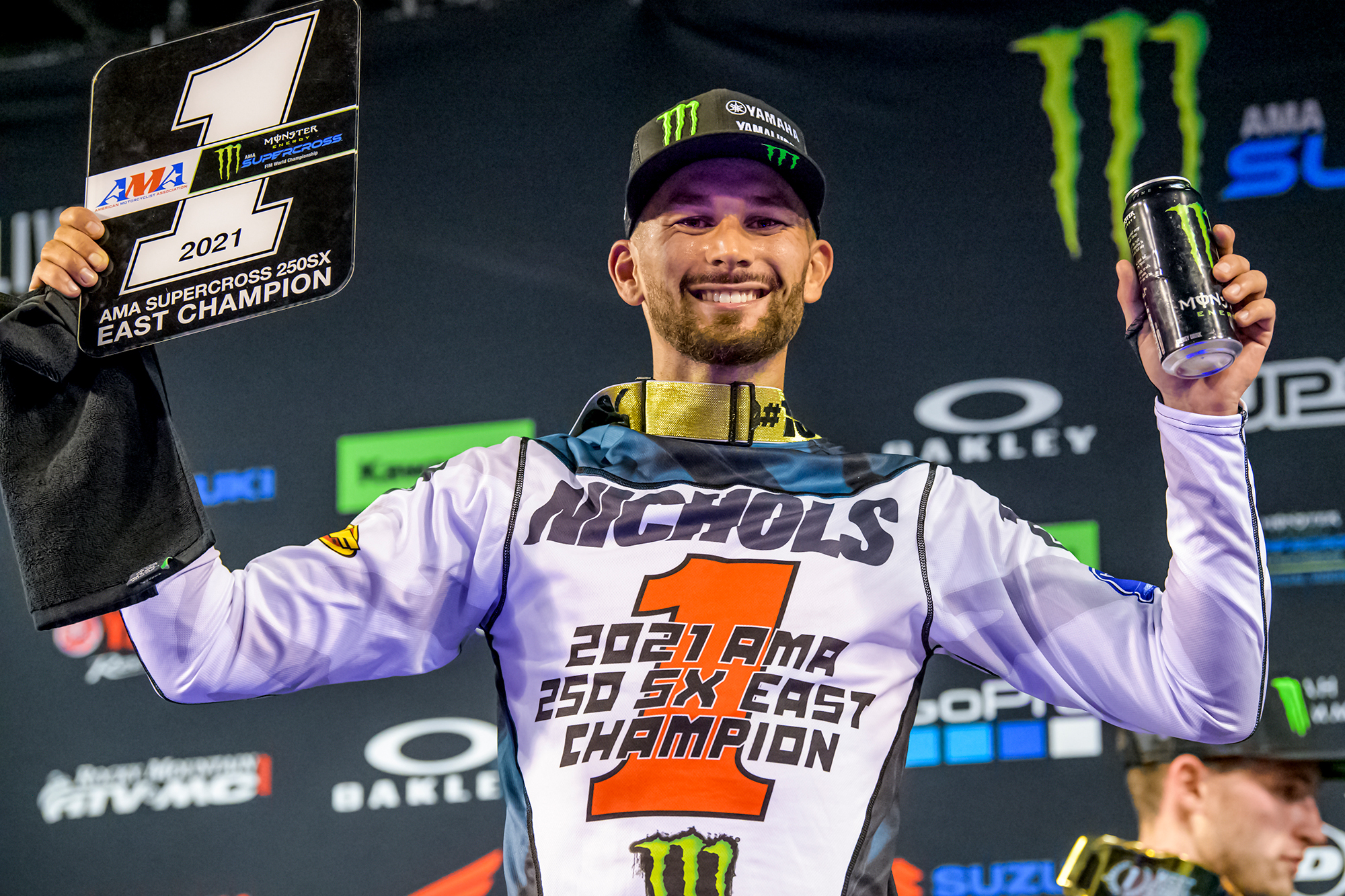 Colt Nichols – 2021 AMA 250SX East Champion
"I'm pretty pumped about the way I ended this season even though I had a very difficult day. It was the most difficult day of my life. There was so much emotion today after having to win the LCQ. I've never had to race an LCQ in my four years of Supercross and to have to come through today with the championship on the line, that was tough. I secured my championship in the Main to get back-to-back 250SX West titles. It is more than a dream come true. Thanks to my team, my wife and my trainer David Vuillemin. I'm so happy!"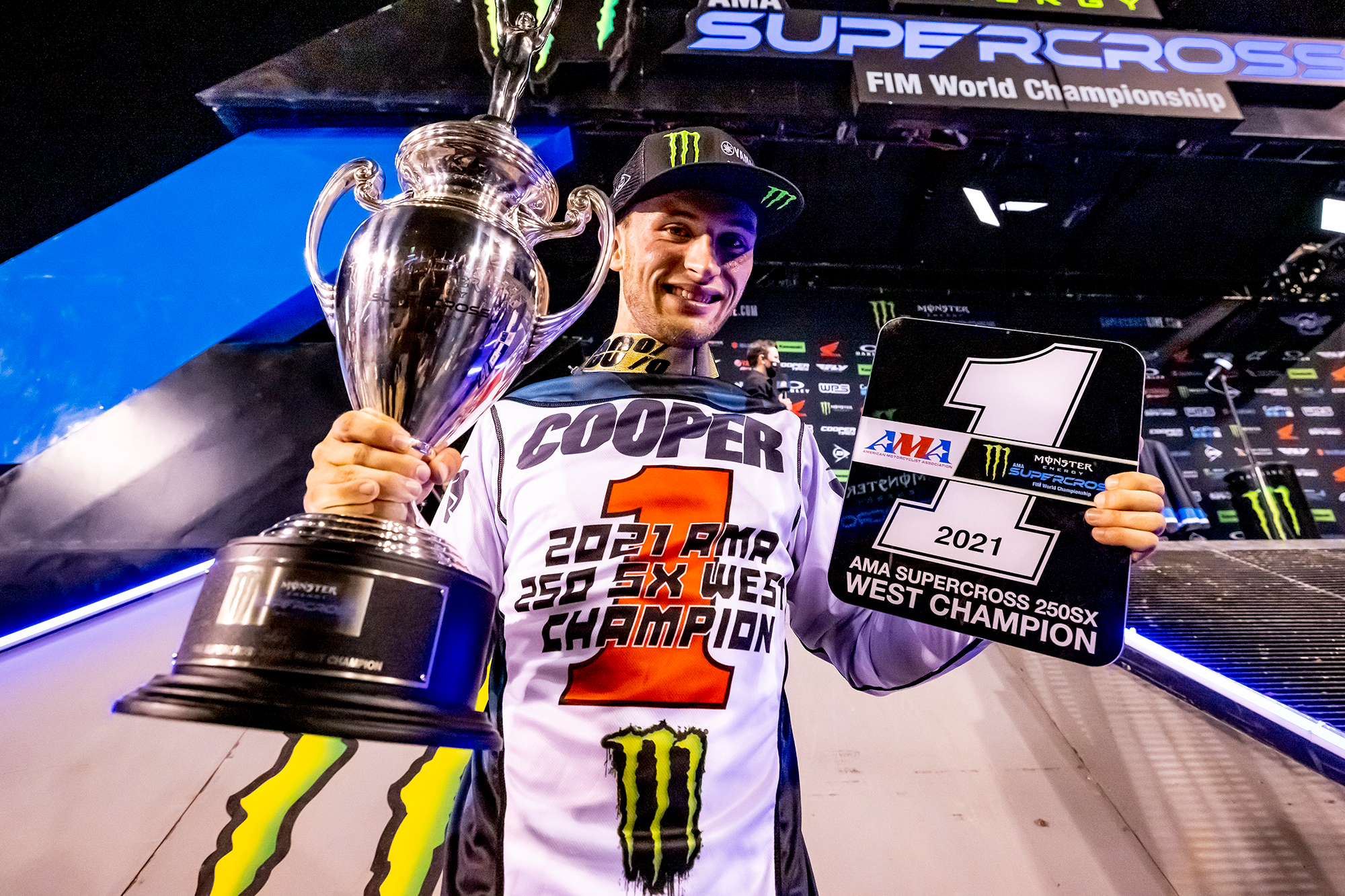 Justin Cooper – 2021 AMA 250SX West Champion
"It honestly didn't go that well tonight and the night show felt a little like a disaster. I just stayed mid-pack and knew what I had to do to bring it home. It was a long 15 minutes. I knew where I was. I had won races, but it felt so different. I didn't really know what to feel. It's going to sink in over the next few days and I know it will be good."
Wil Hahn – Monster Energy Star Yamaha Racing 250 Team Manager
"What a year. It's really hard to put it into words right now. It's been quite a while since both championships have gone to one team. I am so proud of our entire team. I can't even mention everyone because there are so many people that work so hard."