Detail
Yamaha press releases on our motor sports racing activities
Introducing Yamaha's Factory and Supported Teams and Riders for 2020
February 7, 2020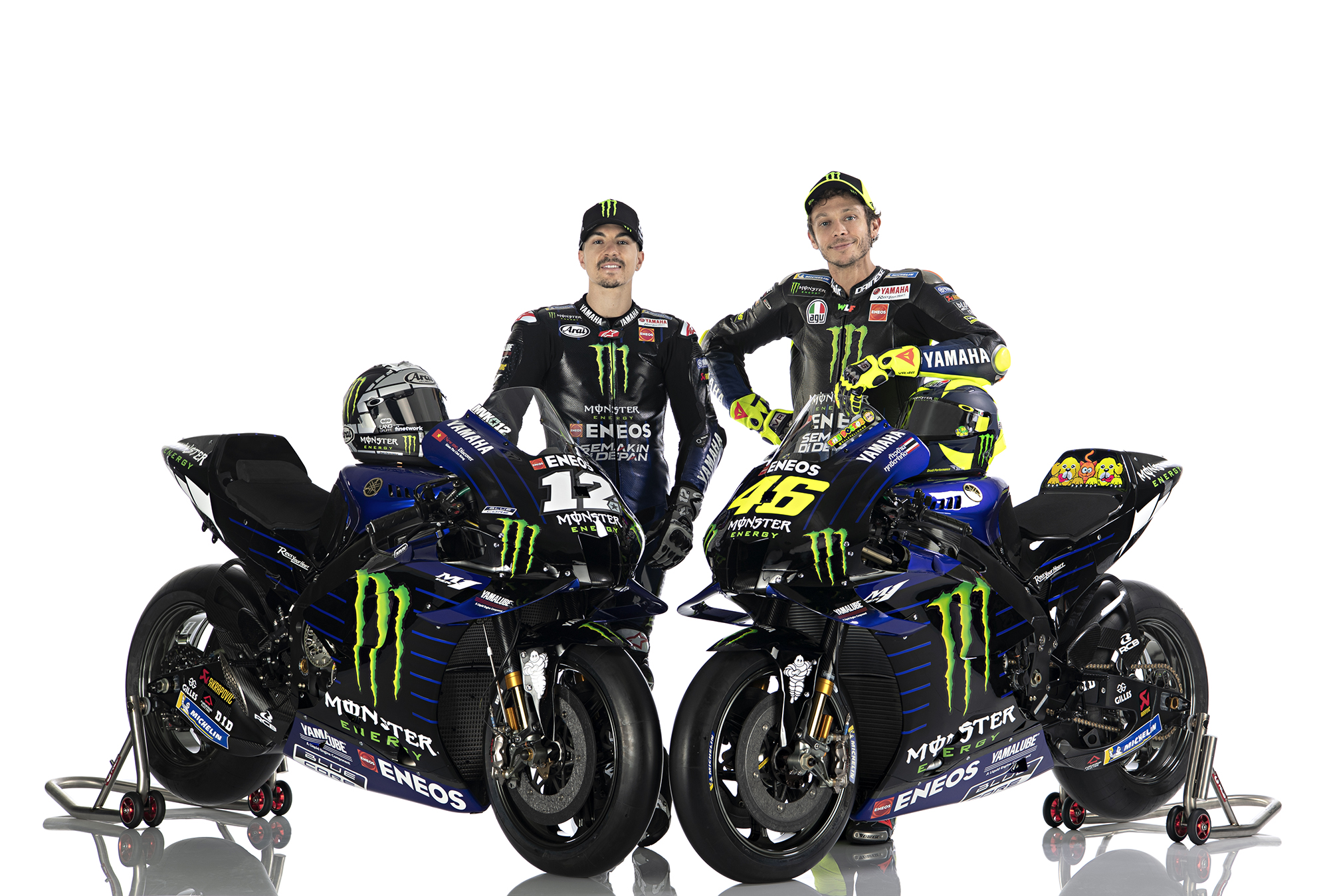 February 7, 2020 –Yamaha Motor Co., Ltd. (Tokyo: 7272) is actively engaged in racing efforts all over the world under its three main principles of raising the value of the Yamaha brand, incorporating technologies and feedback from racing into our products, and promoting the healthy spread of motorcycle racing.

The results of those efforts in 2019 included Maverick Viñales placing 3rd overall in the MotoGP World Championship while teammate Valentino Rossi placed 7th. Added to this were title wins in the premier classes of the All Japan Road Race Championship and MotoAmerica Superbike Championship, the AMA Supercross Championship's 250SX West series, and the Asia Road Racing Championship's SuperSports 600 (SS600) and Underbone 150 (UB150) classes. Each of these wins helped us bring Kando* to people around the world.

Further, Yamaha's work since 2015 to develop riding talent primarily around road racing has borne fruit, with young racers from Southeast Asia and Europe showing growth in key racing series in Europe and beginning to take their next steps upward. This demonstrates that our work in this space is showing steady results.

In 2020, we will once again continue to contest and aim for victory in the world's principal racing series while nurturing the next generation of racers, promoting motorsports culture, and communicating our "Revs your Heart" brand slogan.
*Kando is a Japanese word for the simultaneous feelings of deep satisfaction and intense excitement that we experience when we encounter something of exceptional value.
Road Racing
For the 2020 MotoGP World Championship, the Monster Energy Yamaha MotoGP factory team will feature Maverick Viñales, who took to the podium seven times—including two race wins—last year to finish 3rd overall, and Valentino Rossi, who finished on the podium twice to place 7th for the year.

The PETRONAS Yamaha Sepang Racing Team took the accolade of top Independent Team in 2019 and their rider line-up remains unchanged for 2020 with Fabio Quartararo, who secured Rookie of the Year honours and 5th in the standings with seven podium finishes, and Franco Morbidelli, who finished a personal-best 10th overall last season.

With these four riders on the YZR-M1, Yamaha will seek to clinch the MotoGP Triple Crown of Rider, Team and Constructor titles.


The Pata Yamaha WorldSBK Official Team will again compete in the World Superbike Championship with Michael van der Mark, who—including Superpole races—took one win, four 2nd places and three 3rd places for 4th overall. Newly joining him this season is Toprak Razgatlioğlu, who showed strong form in the latter half of 2019 as he took his first-ever win and finished 5th overall.

The GRT Yamaha WorldSBK Junior Team has an all-new line-up as they are set to field 2019 World Supersport Championship runner-up Federico Caricasulo and series newcomer Garrett Gerloff, who took 3rd last season in the MotoAmerica Superbike Championship.

These four riders will strive to take Yamaha's first championship victory in the class since 2009 aboard the new-and-improved 2020 YZF-R1 featuring next-generation R-Series design and more.


The YART Yamaha Official EWC Team placed 4th in the 2018–2019 Endurance World Championship (EWC) season and is already contesting the 2019–2020 EWC season aboard the endurance-spec YZF-R1. Riders Niccolò Canepa, Marvin Fritz and Karel Hanika form the team's new line-up for this season. Two races were run in 2019 in which the team was forced to retire from the 24-hour Bol d'Or season-opener, but then went on to win the first-ever Sepang 8 Hours that followed. This leaves them in 4th overall with three rounds to go, so they will be looking to come back strong to lift the title.


In the MotoAmerica AMA/FIM North American Road Racing Championship, the Monster Energy/Attack Performance/Yamaha Racing team will compete in the premier Superbike class on 2020 YZF-R1s. The team's line-up retains reigning champion Cameron Beaubier, who clinched his fourth career title last year after wins in 2015, 2016 and 2018, and the California native will be looking to make it a hat-trick of national titles in 2020. He will be joined by 2015 MotoAmerica Superstock 1000 Champion and fellow Californian Jake Gagne, who has raced in both the MotoAmerica and World Superbike championships in recent years.

In the Asia Road Racing Championship (ARRC), the Team title-winning Yamaha Racing Team ASEAN will once again race in the premier Asia Superbike 1000 (ASB1000) class, using 2020 YZF-R1M machinery. Taking three race wins and finishing as the 2019 title runner-up, Broc Parkes will again line up alongside teammate Yuki Ito, who took six podium finishes on his way to 5th overall last year.

Teams owned and run by Yamaha group companies will also be competing in the ASB1000, SuperSports 600 (SS600), Asia Production 250 (AP250) and Underbone 150 (UB150) classes. Last season Yamaha won titles in the SS600 and UB150 classes, but in order to further boost our presence in Southeast Asia where enthusiasm for motorsports is on the rise, Yamaha will continue providing support to its affiliated teams and aiming for titles in every class.


In cooperation with Valentino Rossi's VR46 Riders Academy, the Yamaha VR46 Master Camp rider development programme has been held since 2016 to train and develop young talent. To date, 41 riders from 15 countries—mainly from Southeast Asia and Europe—have attended the Master Camp.

Several Master Camp graduates have made steady steps up to higher categories of racing, including 2019 ARRC SS600 Champion Peerapong Boonlert and fellow Thai rider Keminth Kubo, who is set to race again in the CEV Moto2 European Championship. Indonesian racer Galang Hendra Pratama and Andy Verdoia from France will also be making the jump from competing full-time in World Supersport 300 to the World Supersport Championship as they continue striving to grow as riders.

With two Yamaha VR46 Master Camps scheduled to be held in this hallmark fifth year, Yamaha will continue to work closely with its local partners and subsidiaries to discover and develop riders ready and capable of battling at the world level.
For more information on the Yamaha VR46 Master Camp
https://race.yamaha-motor.co.jp/sp/vr46ra/
Motocross/Supercross
In the Motocross World Championship's top class of MXGP, the Monster Energy Yamaha Factory MXGP team will aim for the title aboard the 2020 YZ450F. The team will field three riders: last season's vice champion Jeremy Seewer, 4th ranked Gautier Paulin and 5th ranked Arnaud Tonus. All three will be aiming to clinch Yamaha's first MXGP title since 2015.

In the MX2 class, the Monster Energy Yamaha Factory MX2 team will keep the same roster with Jago Geerts and Ben Watson, who finished last season in 3rd and 10th, respectively. They will be riding the latest 2020 YZ250F machines.


In the AMA Supercross Championship that got underway on January 4, 2020, the Monster Energy/Yamaha Factory Racing Team's line-up for the premier 450cc class remains unchanged with Justin Barcia, who finished 2019 in 13th, and 16th ranked Aaron Plessinger. Both will be campaigning on the 2020 YZ450F.

The Monster Energy/Star/Yamaha Racing is participating in both the East and West Division championships of 250cc Supercross on the 2020 YZ250F, with reigning champion Dylan Ferrandis and Justin Cooper competing in the West Division and Shane McElrath and Colt Nichols in the East Division.


For the AMA Motocross Championship that begins in May, the Monster Energy/Yamaha Factory Racing Team will compete aboard the 2020 YZ450F in the pinnacle 450cc class with the same rider line-up of Barcia and Plessinger for the outdoors title challenge. In the 250cc class, the Monster Energy/Star/Yamaha Racing will campaign on the 2020 YZ250F with the same rider line-up of Ferrandis, Cooper, McElrath and Nichols, but also joined by Ty Masterpool for a five-rider roster for the outdoors season.
Main Yamaha Race Teams for 2020
Road Racing
Rider(s)
Team(s)
Machine
MotoGP World Championship
#12 Maverick Viñales
Monster Energy Yamaha MotoGP
YZR-M1
#46 Valentino Rossi
#20 Fabio Quartararo
PETRONAS Yamaha Sepang Racing Team
#21 Franco Morbidelli
World Superbike Championship
#60 Michael van der Mark
Pata Yamaha WorldSBK Official Team
YZF-R1
#54 Toprak Razgatlıoğlu
#64 Federico Caricasulo
GRT Yamaha WorldSBK Junior Team
#31 Garrett Gerloff
Endurance World Championship
#7 Niccolò Canepa
YART Yamaha Official EWC Team
YZF-R1
#7 Karel Hanika
#7 Marvin Fritza
MotoAmerica AMA/FIM North American Road Race Championship
#1 Cameron Beaubier
Monster Energy/Attack Performance/Yamaha Racing
YZF-R1
#32 Jake Gagne
Asia Road Racing Championship: ASB1000 Class
#23 Broc Parkes
Yamaha Racing Team ASEAN
YZF-R1M
#76 Yuki Ito
Asia Road Racing Championship: SS600 Class
#36 M Faerozi
YAMAHA Racing Indonesia
YZF-R6
#123 Mckinley Kyle Paz
TBC
Asia Road Racing Championship: AP250 Class
#96 Anggi Setiawan
YAMAHA Racing Indonesia
YZF-R25
#89 Wahyu Nugroho
Asia Road Racing Championship: UB150 Class
#570 Aldi Satya Mahendra
YAMAHA Racing Indonesia
MX KING
#17 Masato Fernando
UMA Racing Yamaha Philippines Team
Sniper150
#99 Kerwin Chang
Motocross/Supercross
Rider(s)
Team(s)
Machine
MXGP World Championship
#91 Jeremy Seewer
Monster Energy Yamaha Factory MXGP
YZ450F
#21 Gautier Paulin
#4 Arnaud Tonus
MX2 World Championship
#193 Jago Geerts
Monster Energy Yamaha Factory MX2
YZ250F
#919 Ben Watson
AMA Supercross: 450cc Class
#51 Justin Barcia
Monster Energy/Yamaha Factory Racing Team
YZ450F
#7 Aaron Plessinger
AMA Supercross: 250cc Class
#1 Dylan Ferrandis
Monster Energy/Star/Yamaha Racing
YZ250F
#32 Justin Cooper
#12 Shane McElrath
#13 Colt Nichols
AMA Motocross: 450cc Class
#51 Justin Barcia
Monster Energy/Yamaha Factory Racing Team
YZ450F
#7 Aaron Plessinger
AMA Motocross: 250cc Class
#1 Dylan Ferrandis
Monster Energy/Star/Yamaha Racing
YZ250F
#32 Justin Cooper
#12 Shane McElrath
#13 Colt Nichols
#41 Ty Masterpool
2020 Rider Profiles
Road Racing
MotoGP World Championship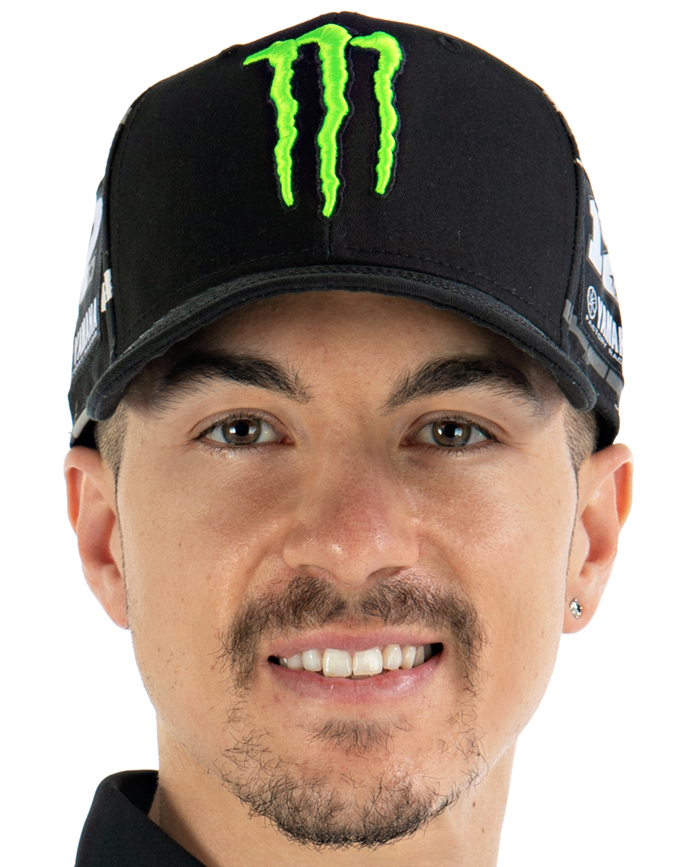 #12 Maverick Viñales
| | |
| --- | --- |
| Nationality | Spanish |
| Born | Jan. 12, 1995 |
| Racing team | Monster Energy Yamaha MotoGP |
| | |
| --- | --- |
| 2011 | 3rd in MotoGP World Championship 125cc class |
| 2012 | 3rd in Moto3 World Championship |
| 2013 | Moto3 World Champion |
| 2014 | 3rd in Moto2 World Championship |
| 2015 | 12th in MotoGP World Championship |
| 2016 | 4th in MotoGP World Championship |
| 2017 | 3rd in MotoGP World Championship |
| 2018 | 4th in MotoGP World Championship |
| 2019 | 3rd in MotoGP World Championship |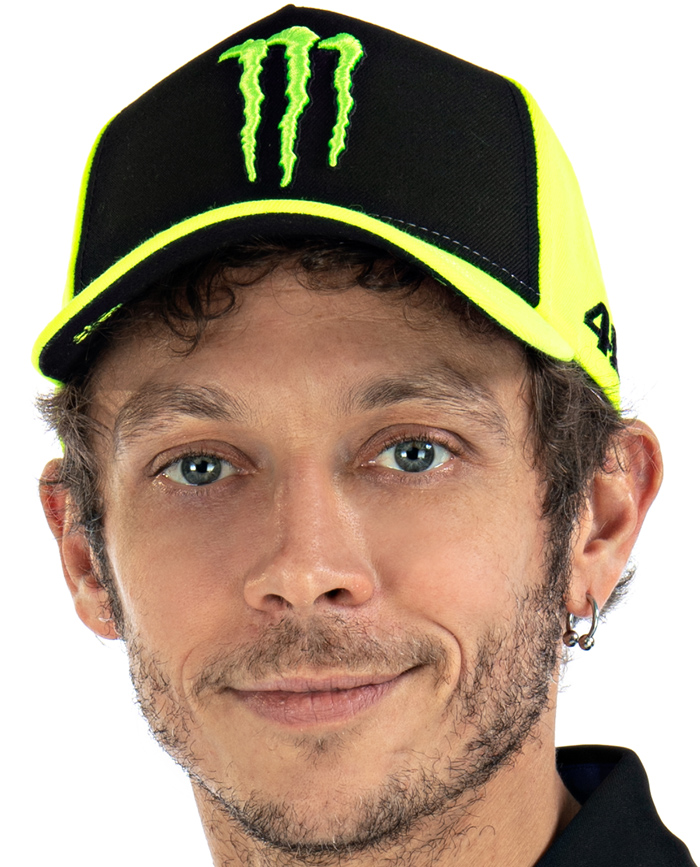 #46 Valentino Rossi
| | |
| --- | --- |
| Nationality | Italian |
| Born | Feb. 16, 1979 |
| Racing team | Monster Energy Yamaha MotoGP |
| | |
| --- | --- |
| 1996 | 9th in MotoGP World Championship 125cc class |
| 1997 | MotoGP World Champion, 125cc class |
| 1998 | 2nd in MotoGP World Championship 250cc class |
| 1999 | MotoGP World Champion, 250cc class |
| 2000 | 2nd in MotoGP World Championship 500cc class |
| 2001 | MotoGP World Champion, 500cc class |
| 2002 | MotoGP World Champion |
| 2003 | MotoGP World Champion |
| 2004 | MotoGP World Champion |
| 2005 | MotoGP World Champion |
| 2006 | 2nd in MotoGP World Championship |
| 2007 | 3rd in MotoGP World Championship |
| 2008 | MotoGP World Champion |
| 2009 | MotoGP World Champion |
| 2010 | 3rd in MotoGP World Championship |
| 2011 | 7th in MotoGP World Championship |
| 2012 | 6th in MotoGP World Championship |
| 2013 | 4th in MotoGP World Championship |
| 2014 | 2nd in MotoGP World Championship |
| 2015 | 2nd in MotoGP World Championship |
| 2016 | 2nd in MotoGP World Championship |
| 2017 | 5th in MotoGP World Championship |
| 2018 | 3rd in MotoGP World Championship |
| 2019 | 7th in MotoGP World Championship |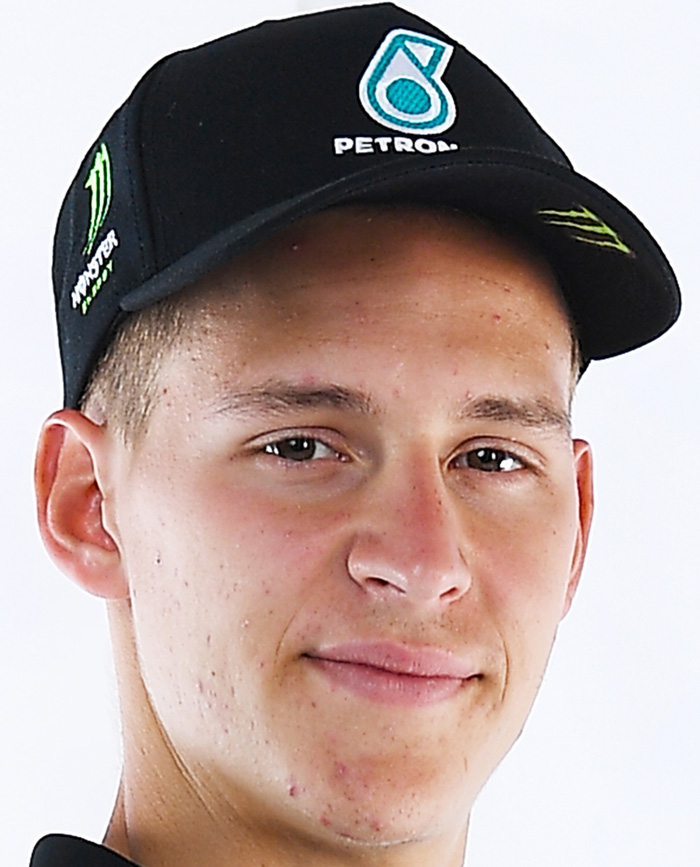 #20 Fabio Quartararo
| | |
| --- | --- |
| Nationality | French |
| Born | April 20, 1999 |
| Racing team | PETRONAS Yamaha Sepang Racing Team |
| | |
| --- | --- |
| 2015 | 10th in Moto3 World Championship |
| 2016 | 13th in Moto3 World Championship |
| 2017 | 13th in Moto2 World Championship |
| 2018 | 10th in Moto2 World Championship |
| 2019 | 5th in MotoGP World Championship |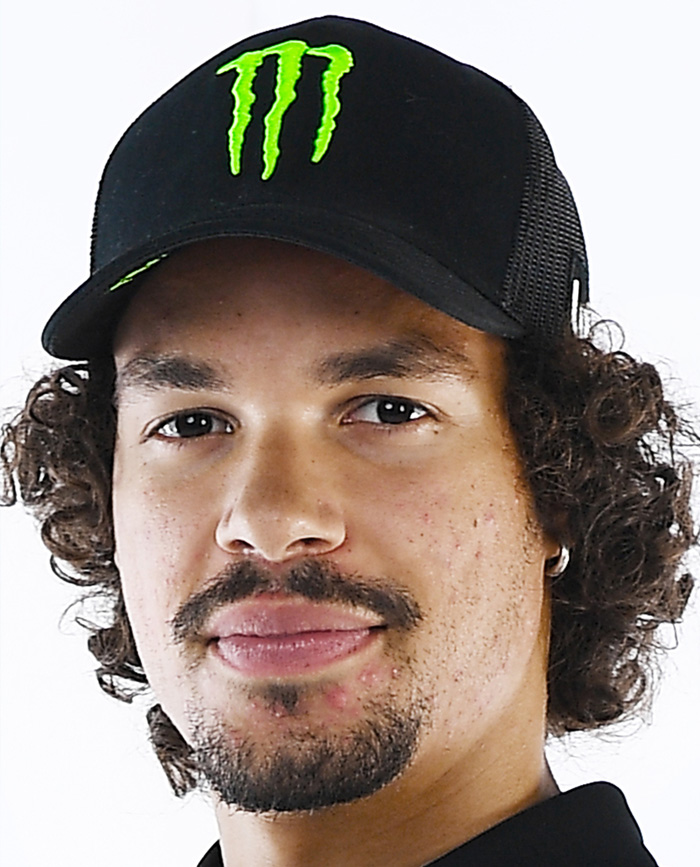 #21 Franco Morbidelli
| | |
| --- | --- |
| Nationality | Italian |
| Born | Dec. 4, 1994 |
| Racing team | PETRONAS Yamaha Sepang Racing Team |
| | |
| --- | --- |
| 2014 | 11th in Moto2 World Championship |
| 2015 | 10th in Moto2 World Championship |
| 2016 | 4th in Moto2 World Championship |
| 2017 | Moto2 World Champion |
| 2018 | 15th in MotoGP World Championship |
| 2019 | 10th in MotoGP World Championship |
World Superbike Championship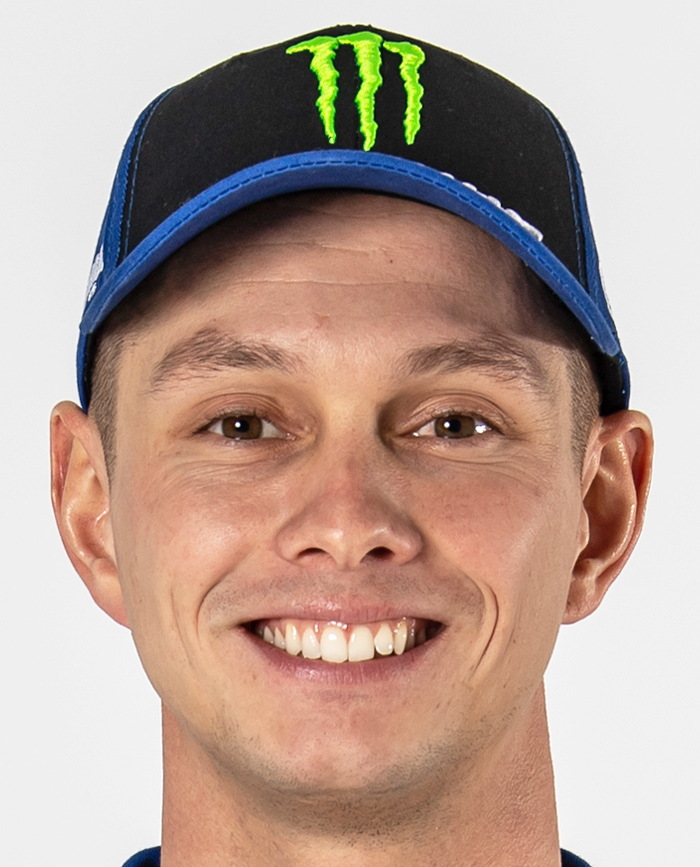 #60 Michael van der Mark
| | |
| --- | --- |
| Nationality | Dutch |
| Born | Oct. 26, 1992 |
| Racing team | Pata Yamaha WorldSBK Official Team |
| | |
| --- | --- |
| 2010 | 30th in European Superstock 600 Championship |
| 2011 | 3rd in European Superstock 600 Championship |
| 2012 | European Superstock 600 Champion |
| 2013 | 4th in World Supersport Championship |
| 2014 | World Supersport Champion |
| 2015 | 7th in World Superbike Championship |
| 2016 | 4th in World Superbike Championship |
| 2017 | 6th in World Superbike Championship |
| 2018 | 3rd in World Superbike Championship |
| 2019 | 4th in World Superbike Championship |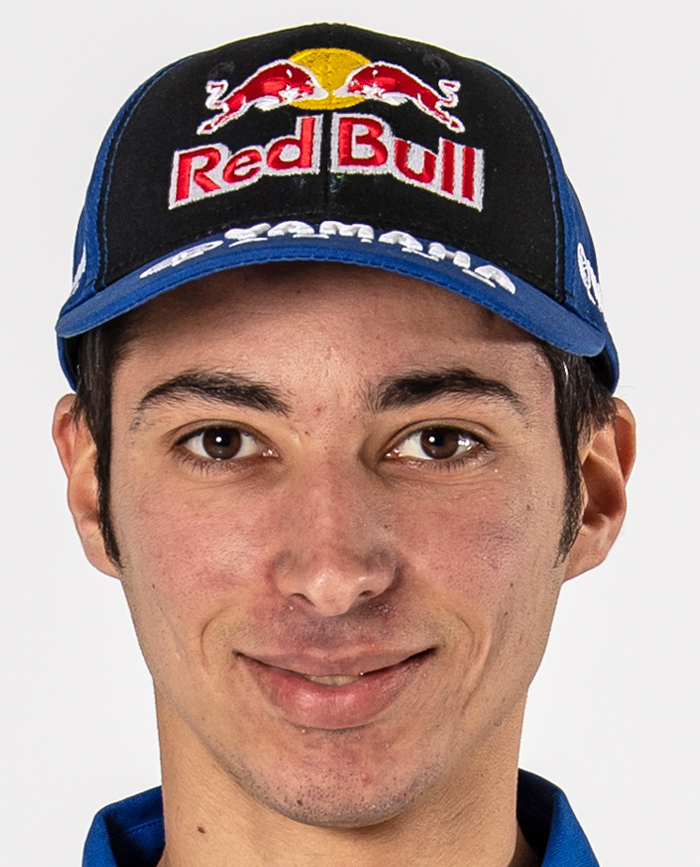 #54 Toprak Razgatlıoğlu
| | |
| --- | --- |
| Nationality | Turkish |
| Born | Oct. 16, 1996 |
| Racing team | Pata Yamaha WorldSBK Official Team |
| | |
| --- | --- |
| 2014 | 13th in European Superstock 600 Championship |
| 2015 | European Superstock 600 Champion |
| 2016 | 5th in FIM Superstock 1000 Cup |
| 2017 | 2nd in FIM Superstock 1000 Cup |
| 2018 | 9th in World Superbike Championship |
| 2019 | 5th in World Superbike Championship |
MotoAmerica AMA/FIM North American Road Race Championship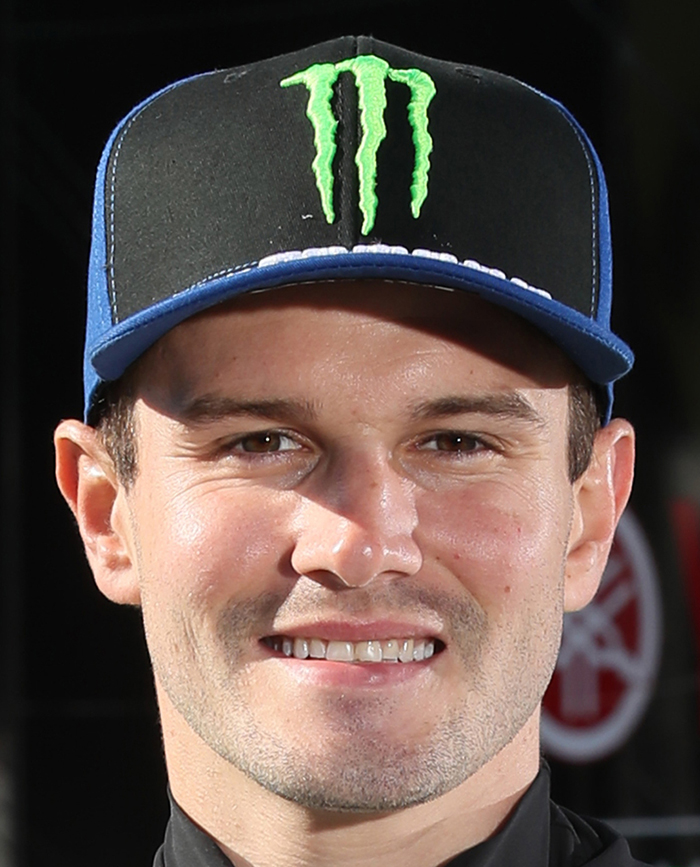 #1 Cameron Beaubier
| | |
| --- | --- |
| Nationality | American |
| Born | Dec. 6, 1992 |
| Racing team | Monster Energy/Attack Performance/Yamaha Racing |
| | |
| --- | --- |
| 2015 | MotoAmerica Superbike Champion |
| 2016 | MotoAmerica Superbike Champion |
| 2017 | 3rd in MotoAmerica Superbike |
| 2018 | MotoAmerica Superbike Champion |
| 2019 | MotoAmerica Superbike Champion |
| | |
| --- | --- |
| Nationality | American |
| Born | Aug. 27, 1993 |
| Racing team | Monster Energy/Attack Performance/Yamaha Racing |
Racing career
2015
MotoAmerica Superstock 1000 Champion
2016
10th in MotoAmerica Superbike
2017
24th in World Superbike Championship
11th in MotoAmerica Superbike
2018
17th in World Superbike Championship
2019
8th in MotoAmerica Superbike
Asia Road Racing Championship: ASB1000 Class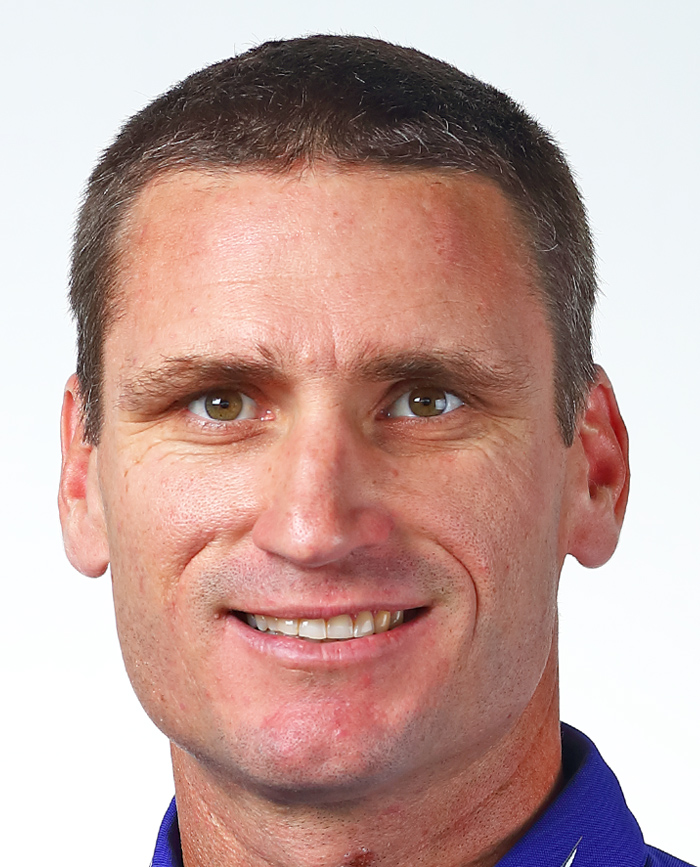 #23 Broc Parkes
| | |
| --- | --- |
| Nationality | Australian |
| Born | Dec. 24, 1981 |
| Racing team | Yamaha Racing Team ASEAN |
Racing career
2001
16th in World Superbike Championship
2002
11th in World Superbike Championship
2003
13th in World Supersport Championship
2004
2nd in World Supersport Championship
2005
6th in World Supersport Championship
2006
4th in World Supersport Championship
2007
2nd in World Supersport Championship
2008
4th in World Supersport Championship
2009
18th in World Superbike Championship
2010
15th in World Supersport Championship
2011
4th in World Supersport Championship
2012
5th in World Supersport Championship
2013
Australian FX Superbike Champion
2014
23rd in MotoGP World Championship
2015
10th in Endurance World Championship
2016
6th in Endurance World Championship
2017
3rd in Endurance World Championship
2018
16th in Endurance World Championship
2019
2nd in Asia Road Racing Championship ASB1000 class
4th in Endurance World Championship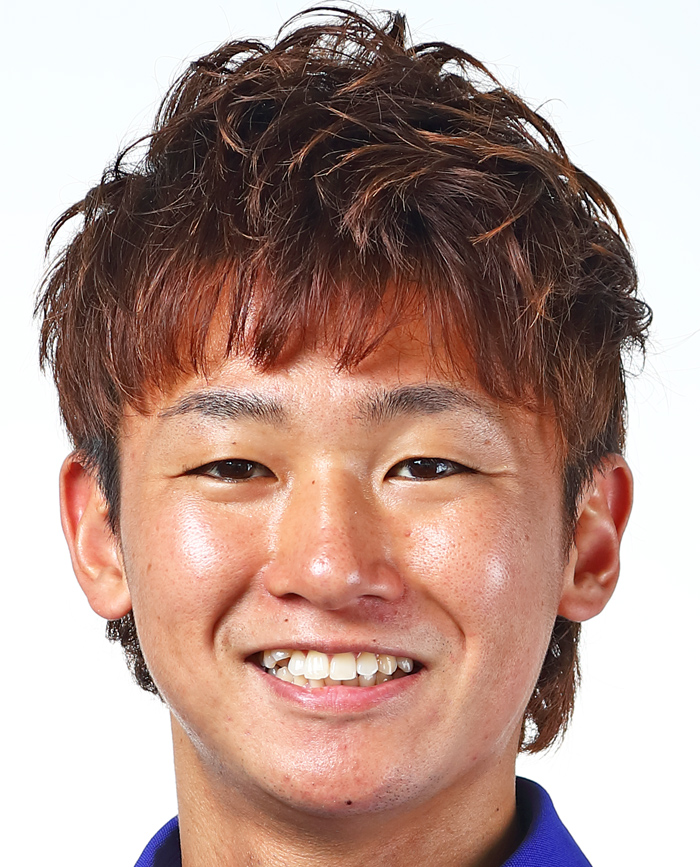 #76 Yuki Ito
| | |
| --- | --- |
| Nationality | Japanese |
| Born | Nov. 14, 1991 |
| Racing team | Yamaha Racing Team ASEAN |
Racing career
2006
19th in All Japan Road Race Championship 250cc class
2007
12th in All Japan Road Race Championship 250cc class
2008
9th in All Japan Road Race Championship 250cc class
2010
Entry in All Japan Road Race Championship ST600 class
2011
19th in All Japan Road Race Championship ST600 class
2012
5th in Asia Road Racing Championship SS600 class
10th in All Japan Road Race Championship ST600 class
2013
4th in Asia Road Racing Championship SS600 class
11th in All Japan Road Race Championship ST600 class
2014
2nd in Asia Road Racing Championship SS600 class
8th in All Japan Road Race Championship ST600 class
2015
4th in Asia Road Racing Championship SS600 class
16th in All Japan Road Race Championship JSB1000 class
2016
13th in Asia Road Racing Championship SS600 class
2017
4th in Asia Road Racing Championship SS600 class
2018
9th in Asia Road Racing Championship SS600 class
2019
5th in Asia Road Racing Championship ASB1000 class
Motocross/Supercross
MXGP World Championship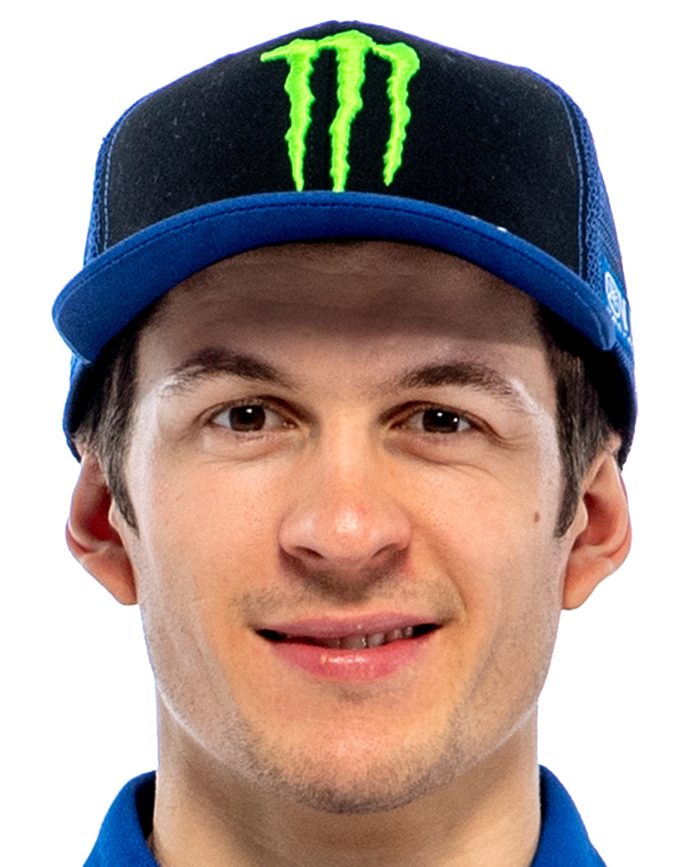 #91 Jeremy Seewer
| | |
| --- | --- |
| Nationality | Swiss |
| Born | July 18, 1994 |
| Racing team | Monster Energy Yamaha Factory MXGP |
| | |
| --- | --- |
| 2014 | 10th in MX2 World Championship |
| 2015 | 5th in MX2 World Championship |
| 2016 | 2nd in MX2 World Championship |
| 2017 | 2nd in MX2 World Championship |
| 2018 | 8th in MXGP World Championship |
| 2019 | 2nd in MXGP World Championship |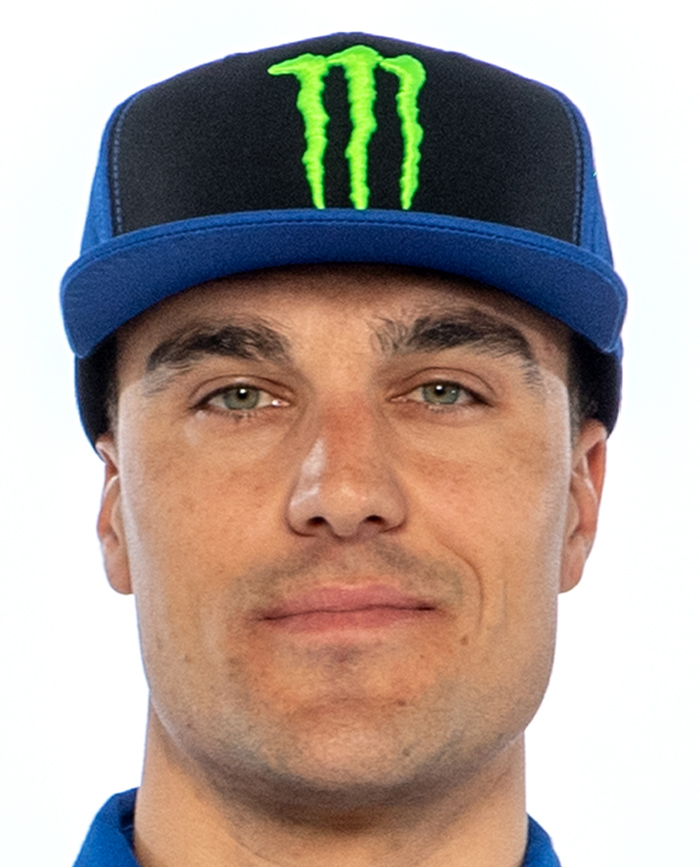 #21 Gautier Paulin
| | |
| --- | --- |
| Nationality | French |
| Born | Mar. 26, 1990 |
| Racing team | Monster Energy Yamaha Factory MXGP |
| | |
| --- | --- |
| 2007 | 28th in MX2 World Championship |
| 2008 | 21st in MX2 World Championship |
| 2009 | 3rd in MX2 World Championship |
| 2010 | 10th in MX2 World Championship |
| 2011 | 24th in MX1 World Championship |
| 2012 | 3rd in MX1 World Championship |
| 2013 | 5th in MX1 World Championship |
| 2014 | 8th in MXGP World Championship |
| 2015 | 2nd in MXGP World Championship |
| 2016 | 13th in MXGP World Championship |
| 2017 | 3rd in MXGP World Championship |
| 2018 | 5th in MXGP World Championship |
| 2019 | 4th in MXGP World Championship |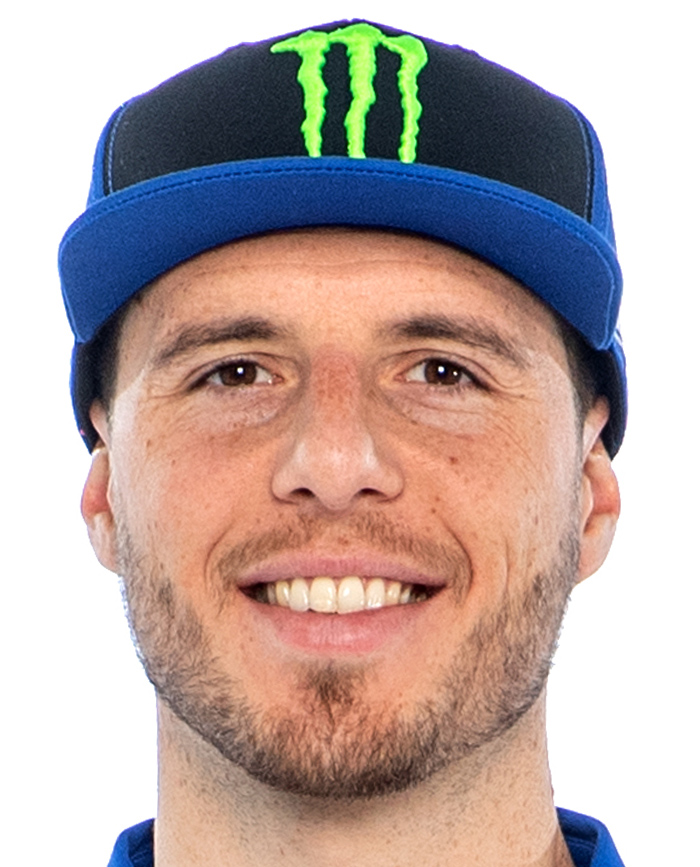 #4 Arnaud Tonus
| | |
| --- | --- |
| Nationality | Swiss |
| Born | June 17, 1991 |
| Racing team | Monster Energy Yamaha Factory MXGP |
| | |
| --- | --- |
| 2009 | 16th in MX2 World Championship |
| 2010 | 7th in MX2 World Championship |
| 2011 | 5th in MX2 World Championship |
| 2012 | 12rd in MX2 World Championship |
| 2013 | 29th in MX2 World Championship |
| 2014 | 6th in MX2 World Championship |
| 2016 | 32nd in MXGP World Championship |
| 2017 | 12th in MXGP World Championship |
| 2019 | 5th in MXGP World Championship |
AMA Supercross/Motocross Championships: 450cc Class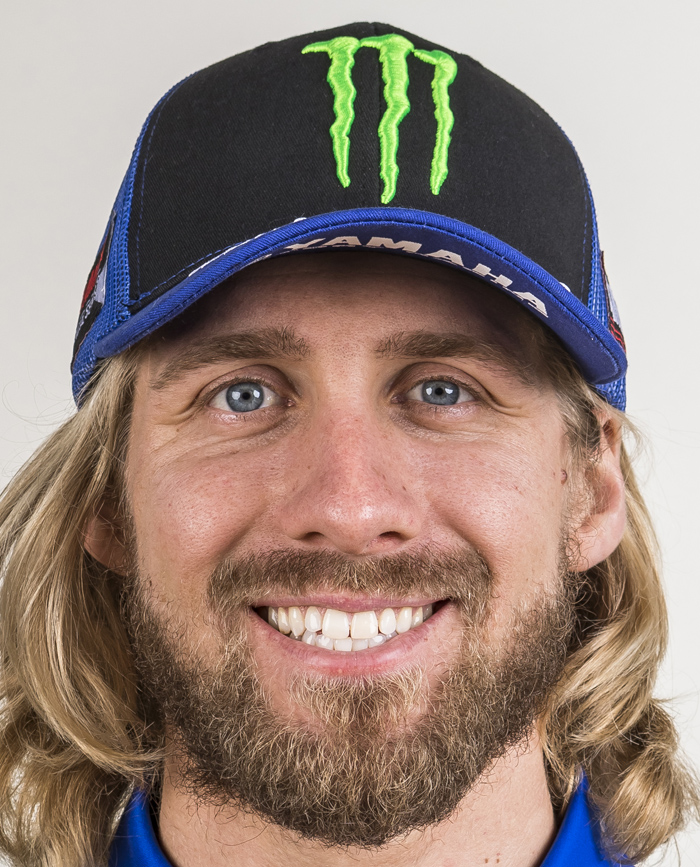 #51 Justin Barcia
| | |
| --- | --- |
| Nationality | American |
| Born | Mar. 25, 1992 |
| Racing team | Monster Energy/Yamaha Factory Racing Team |
Racing career
2009
5th in AMA Motocross 250cc class
2010
2nd in AMA Supercross Lites East Division
5th in AMA Motocross 250cc class
2011
AMA Supercross Lites East Division Champion
12th in AMA Motocross 250cc class
2012
AMA Supercross Lites East Division Champion
2nd in AMA Motocross 250cc class
2013
4th in AMA Supercross 450cc class
3rd in AMA Motocross 450cc class
2014
5th in AMA Supercross 450cc class
22nd in AMA Motocross 450cc class
2015
15th in AMA Supercross 450cc class
3rd in AMA Motocross 450cc class
2016
21st in AMA Supercross 450cc class
4th in AMA Motocross 450cc class
2017
17th in AMA Supercross 450cc class
13th in AMA Motocross 450cc class
2018
10th in AMA Supercross 450cc class
4th in AMA Motocross 450cc class
2019
13th in AMA Supercross 450cc class
7th in AMA Motocross 450cc class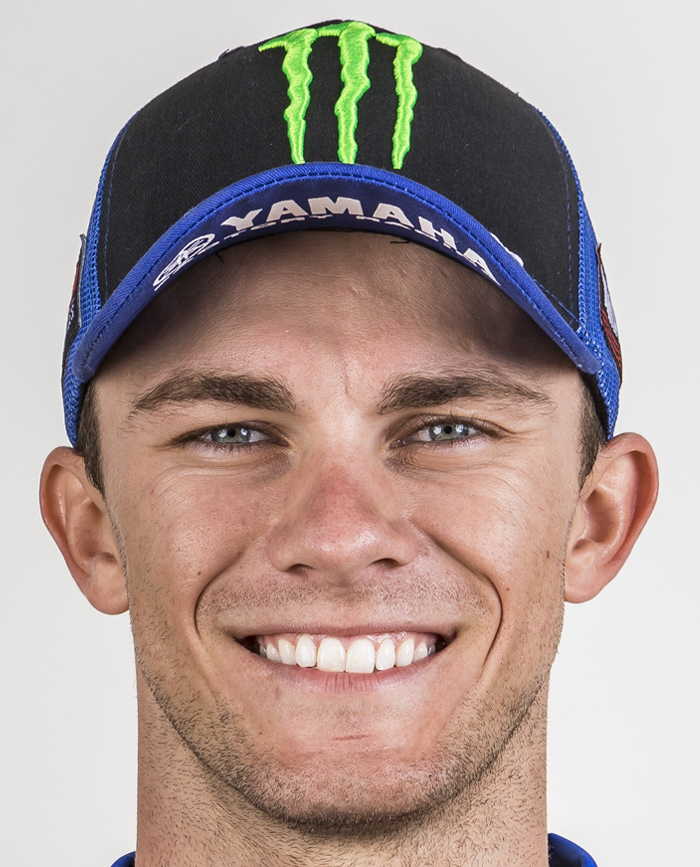 #7 Aaron Plessinger
| | |
| --- | --- |
| Nationality | American |
| Born | Jan. 25, 1996 |
| Racing team | Monster Energy/Yamaha Factory Racing Team |
Racing career
2015
5th in AMA Supercross 250cc West Division
6th in AMA Motocross 250cc class
2016
2nd in AMA Supercross 250cc East Division
5th in AMA Motocross 250cc class
2017
3rd in AMA Supercross 250cc West Division
4th in AMA Motocross 250cc class
2018
AMA Supercross 250cc West Division Champion
AMA Motocross 250cc Champion
2019
16th in AMA Supercross 450cc class
21st in AMA Motocross 450cc class