Detail
Yamaha press releases on our motor sports racing activities
Katsuyuki Nakasuga Defends Title with 9th All Japan JSB1000 Championship Win
November 5, 2019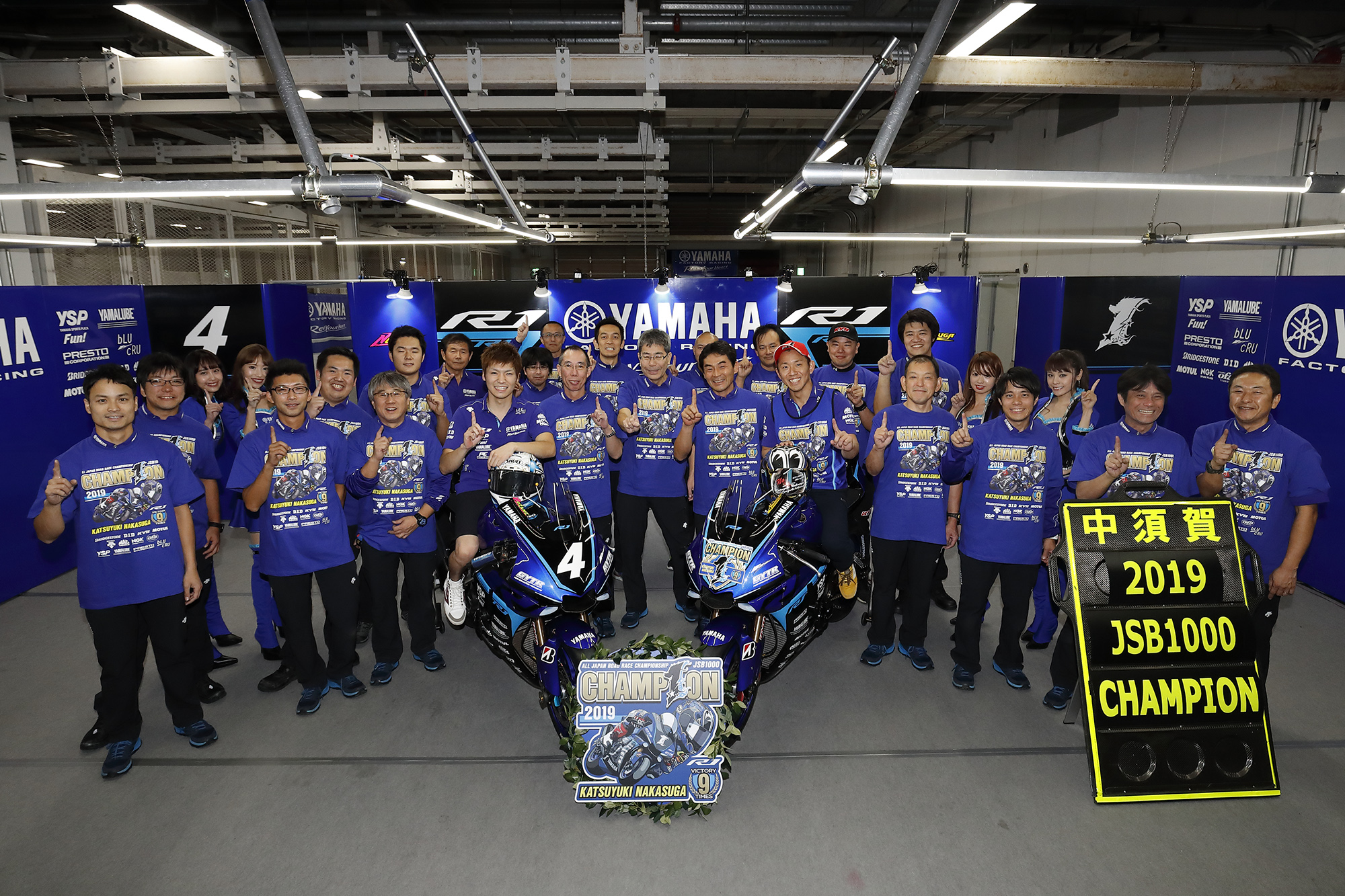 November 5, 2019—The final round of the All Japan Road Race Championship was held at Suzuka Circuit in Mie Prefecture on November 3, 2019 as the 51st Motorcycle Federation of Japan Grand Prix (MFJGP). In the premier JSB1000 class, the Yamaha Factory Racing Team's Katsuyuki Nakasuga rode his YZF-R1 to victory in Race 1 and finished 2nd in Race 2 to seal a second consecutive title win and bring his career total up to nine.

The JSB1000 class kicked off its season on April 6 and 7 at Twin Ring Motegi, and Nakasuga won both races for a great start to his 2019 campaign. However, the next round at Suzuka Circuit was not as positive. Though Nakasuga finished 2nd in Race 2, he crashed out of Race 1 while Honda's Takumi Takahashi took the win, creating a sizable gap in the points. Then at Round 3 in Sportsland Sugo, points leader Takahashi won both races while Nakasuga finished 2nd in both, further widening the gap between the two to 25 points.

However, Nakasuga fought back, taking a win at Round 5 at Twin Ring Motegi held shortly after the Suzuka 8 Hours, marking his first win since his double at the season opener. With the sporadic weather that hit Round 6 at Okayama International Circuit, Nakasuga struggled to find the right setup for the conditions and finished 3rd, but then won both races at the following round at the Autopolis, taking his 50th career JSB1000 win in Race 1 in the process. With Nakasuga's 211 points to Takahashi's 222, he had managed to narrow the gap to just 11 points heading into the final round of the season.

In Race 1, while Takahashi crashed and remounted to finish 16th, Nakasuga took his sixth win—the most of the season—and overtook the Honda rider in the points for the first time since the opening round, sitting 9 points now in the lead. In Race 2, Takahashi ran uncontested at the front to win the race as Nakasuga fought a fierce battle against his teammate, Kohta Nozane. Making a last lap pass on Nozane, Nakasuga took 2nd at the line to clinch a back-to-back championship win and mark the ninth title of his career. Nozane stood on the podium for the 11th time—including one win—to finish a personal-best of 3rd overall for the 2019 season.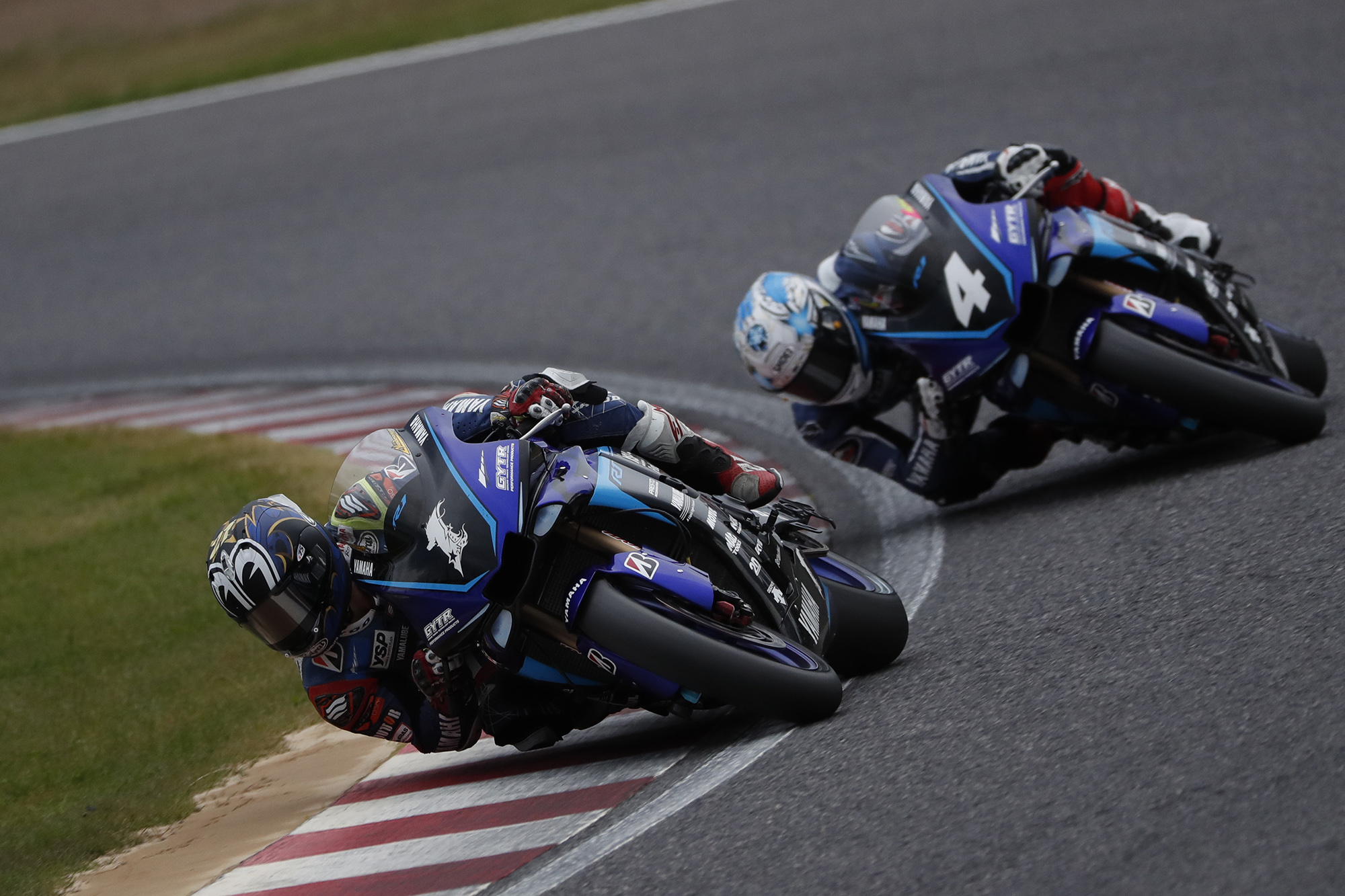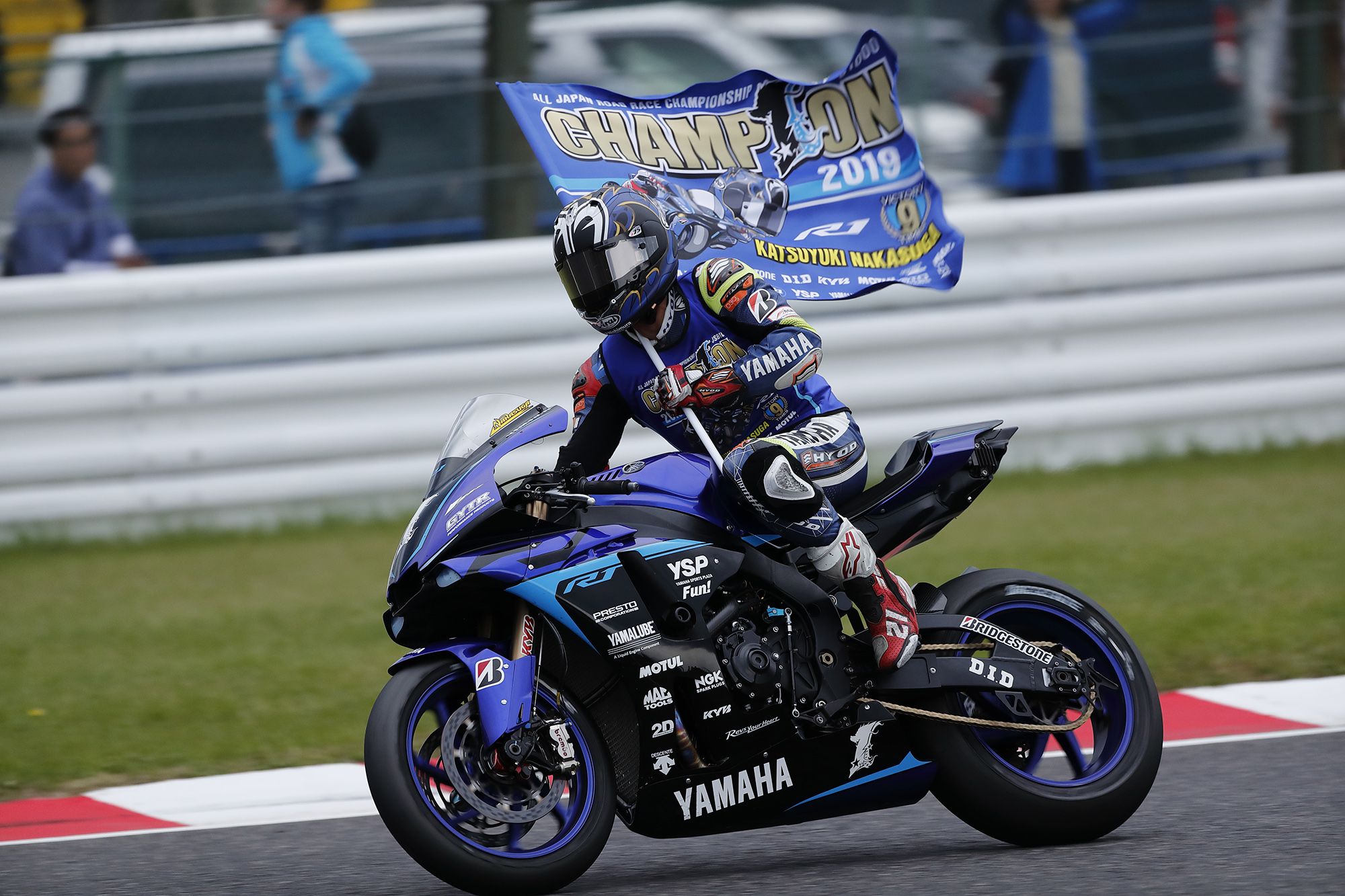 Katsuyuki Nakasuga
"My rivals were really strong this year, so when I crashed in Race 1 at Suzuka, I felt it would be really tough to win the title again. But the team kept improving the bike's potential every race, and I felt more and more that I didn't want to let things end that way. The fact that our rivals were stronger meant that we had to get stronger too. But I still thought overcoming an 11-point gap would be really hard, so for the last round my goal was actually to take the most wins of the season, but then Takahashi crashed in Race 1. I've won many titles in my career, but the more titles you win, the greater the weight of the expectations you shoulder, and I was really feeling a lot of pressure in Race 2. But in the end, I was able to finish 2nd and win the title. I'm very happy to be able to tell all the sponsors and fans that supported me through the year that we won, and I'm so happy to see all the smiling faces of the team and everyone involved who got us here. Thank you all so much."
Team Manager Wataru Yoshikawa
"As Nakasuga said, we had some really tough rivals this year and it was a constant process of trial and error to figure out how to beat them. As we carried that out, the entire team did a fantastic job at every race while Nakasuga never gave up and kept performing at his best. It's the same with the 8 Hours, but Nakasuga raises up the team while the team spur Nakasuga on to perform even better. This really strong bond and our teamwork were a big part of what led us to this come-from-behind title victory. This is his ninth title, but he's still growing as a rider, so as a team manager, that's both surprising and reassuring. I'm deeply grateful to the fans, sponsors and all those involved that got us another championship win this year. Thank you!"
Katsuyuki Nakasuga's 2019 Season Results

| Date | Round | Result |
| --- | --- | --- |
| April 6–7 | Round 1 Motegi (Tochigi Pref.) | 1st/1st |
| April 20–21 | Round 2 Suzuka (Mie Pref.) | DNF/2nd |
| May 25–26 | Round 3 Sugo (Miyagi Pref.) | 2nd/2nd |
| August 18 | Round 5 Motegi (Tochigi Pref.) | 1st |
| September 1 | Round 6 Okayama (Okayama Pref.) | 3rd |
| October 5–6 | Round 7 Autopolis (Oita Pref.) | 1st/1st |
| November 3 | Round 8 MFJGP Suzuka (Mie Pref.) | 1st/2nd |
*No JSB1000 races were scheduled for Round 4.