Detail
Yamaha press releases on our motor sports racing activities
Kenichi Kuroyama Finishes as Vice-Champion at FIM Trial-E Cup
July 1, 2019
July 1, 2019 – The final round of the FIM Trial-E Cup took place from June 29 to 30 alongside the TrialGP Belgium, Round 4 of the FIM Trial World Championship in Comblain-au-Pont, Belgium. The Yamaha Factory Racing Team's Kenichi Kuroyama rode the TY-E electric trials bike to 2nd place as he had in the first round in the Netherlands to finish the Cup as vice-champion for the second consecutive year.

Kuroyama is a full-time competitor in the All Japan Trial Championship on the TYS250Fi factory machine, and also competed in the TrialGP class at the TrialGP Japan, Round 2 of the World Championship, held on June 8 and 9. Following that, he switched to the TY-E electric trials bike to begin his second attempt to win the Trial-E Cup.

At the first round of this year's competition at Zelhem in the Netherlands, held in conjunction with Round 3 of the FIM Trial World Championship, the Japanese rider took to completing the two-lap course of 15 sections, but the relatively easy layout meant that mistakes (marks) had to be held to an absolute minimum. Kuroyama rose to the mentally trying task, taking a strong score of 4 marks and 27 cleans, but just barely missed the win to finish a close 2nd.

For the second and final round of the Cup held at the TrialGP Belgium, the sections were laid out with a high degree of difficulty, and Kuroyama ran up a number of marks on the TY-E early on in his first lap. However, he went all-clean in the second half of the lap to take 2nd with a total of 15 marks and 10 cleans. On the second lap, Kuroyama took another 10 cleans but increased his marks to 19, ending with 34 marks and 20 cleans overall. His clean total was the same as his closest rival but his marks relegated him again to 2nd place in his second FIM Trial-E Cup attempt.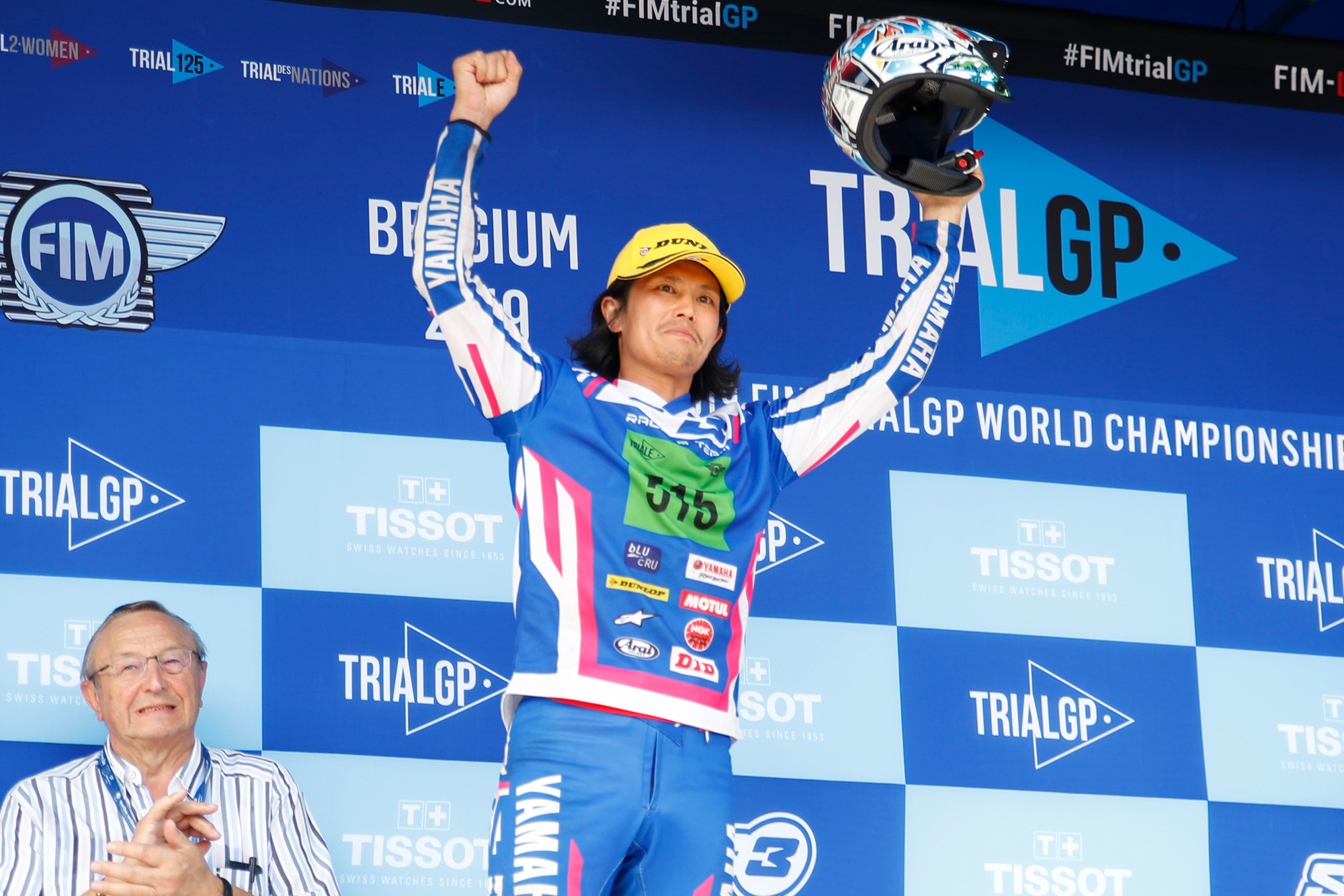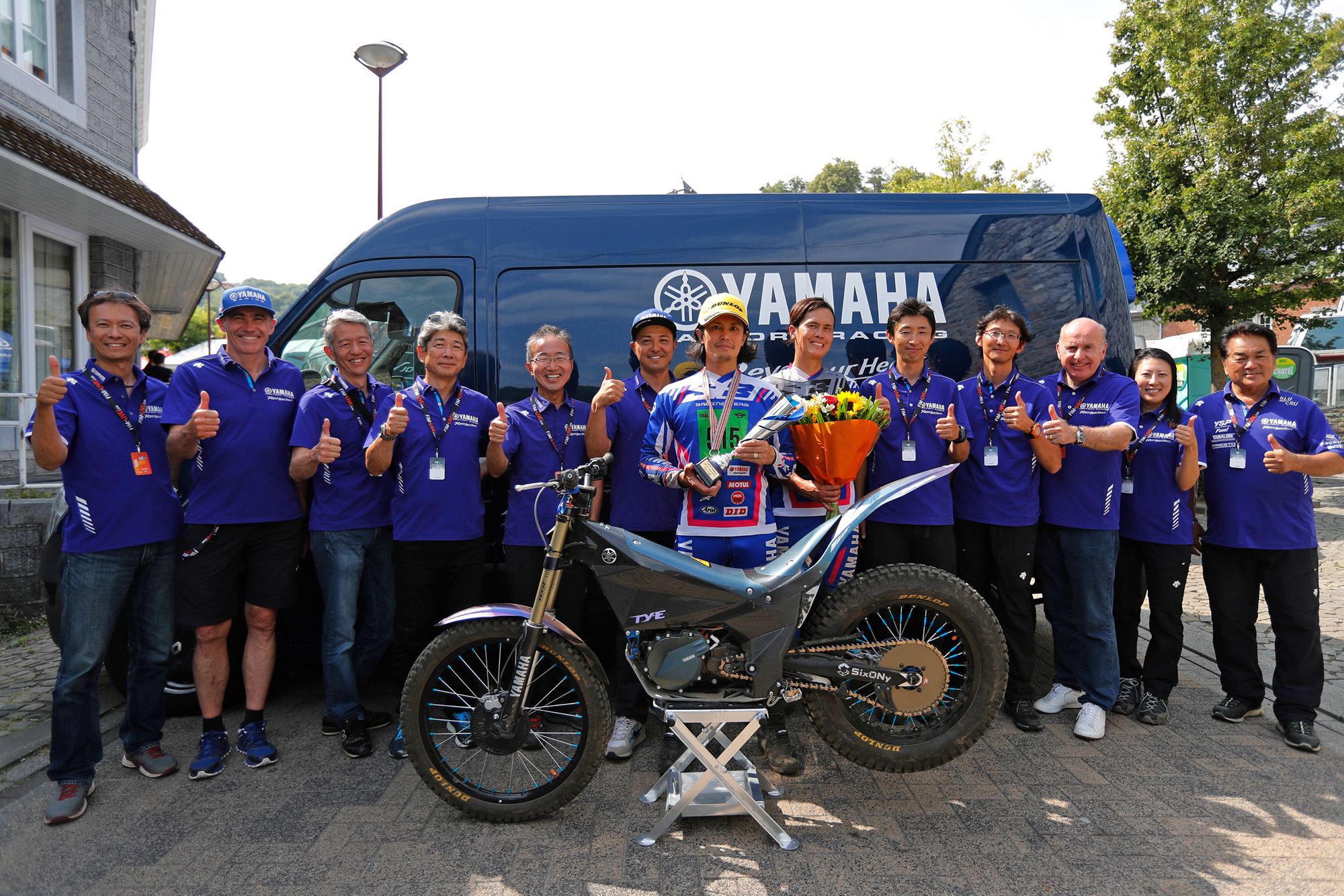 FIM Trial-E Cup TrialGP Belgium Results

| Rank | Rider | Nationality | Manufacturer | Marks/Clean |
| --- | --- | --- | --- | --- |
| 1 | Albert Cabestany | ESP | Gas Gas | 12/20 |
| 2 | Kenichi Kuroyama | JPN | Yamaha | 34/20 |
| 3 | Gianluca Tournour | ITA | Gas Gas | 66/10 |
| 4 | Joan Cordon Ropero | ESP | Mecatecno | 74/8 |
| 5 | Dany Crosset | BEL | Gas Gas | 114/3 |
FIM Trial-E Cup Final Points Standings

| Rank | Rider | Nationality | Manufacturer | Points |
| --- | --- | --- | --- | --- |
| 1 | Albert Cabestany | ESP | Gas Gas | 40 |
| 2 | Kenichi Kuroyama | JPN | Yamaha | 34 |
| 3 | Gianluca Tournour | ITA | Gas Gas | 30 |
| 4 | Joan Cordon Ropero | ESP | Mecatecno | 26 |
| 5 | Dany Crosset | BEL | Gas Gas | 22 |
Kenichi Kuroyama (2nd)
"I was looking for a victory here today to win the Trial-E Cup, so I'm feeling disappointed and sad that I didn't succeed. I was feeling very positive coming into this competition and was focused solely on the challenge to win the Cup this time. I really tried my hardest, but there were some areas our bike was lacking in and there's also the gap between me and Cabestany. Being used to the World Championship atmosphere and things like the no-stop rule, he has some skills and experience that I don't. But seeing the world's top competitors here re-awoke some things in me that I was beginning to forget, like riding at the world level and the mentality it requires. The TY-E needs some more progress in certain areas, but we were also able to prove that it's up there with the world's best. From here I need to switch gears and turn my focus back to the All Japan Trial Championship. The next round will be in Hokkaido and I hope everyone will continue to cheer for me when I get back."

Haruo Kimura, Yamaha Factory Racing Team Manager
"In the first round, Kuroyama was behind in 2nd place by just a few points, so that meant whoever won today would be champion. Knowing that, Kuroyama as well as everyone on the team did everything we could this past week to give our best performance. Kuroyama tried for cleans to take the win, and the TY-E provided him the means to do so. But in motorsport, a hair's breadth is often the difference between winning and not. Sometimes things go your way and sometimes they don't. Our team this time was again led by some of our young engineers, and I think we've found some things to work on in developing the bike that might be what's needed to make a big step forward."
Yoshiyuki Sato, Group Manager, Motor Sports Section, Motor Sports Strategy Division
"After our second entry in the Trial-E Cup was decided, we did a review of last year's effort and addressed all the things we thought were lacking before coming here for this year's attempt. But in the first round, we came up against a strong rival for the win and finished 2nd. So to prepare for this final round, Kuroyama and everyone on the team remembered that we are challengers and went on offence, going into every section determined to run it clean. Unfortunately, in the end we fell short, taking 2nd for the round and the runner-up spot again. I feel experience may have been the deciding factor, but as we had the same number of cleans as our chief rival, I believe that Kuroyama's second challenge to ride here and the TY-E's potential has certainly impressed a lot of people. Finally, I want to express my heartfelt appreciation to Kuroyama for taking on this difficult task a second time and to our team and all the fans who gave us their support."