Detail
Yamaha press releases on our motor sports racing activities
Spirits High at 2018 Yamaha Suzuka Special Exhibition R1evolution Event for Fourth Consecutive 8 Hours Win and EWC Title Defence
July 25, 2018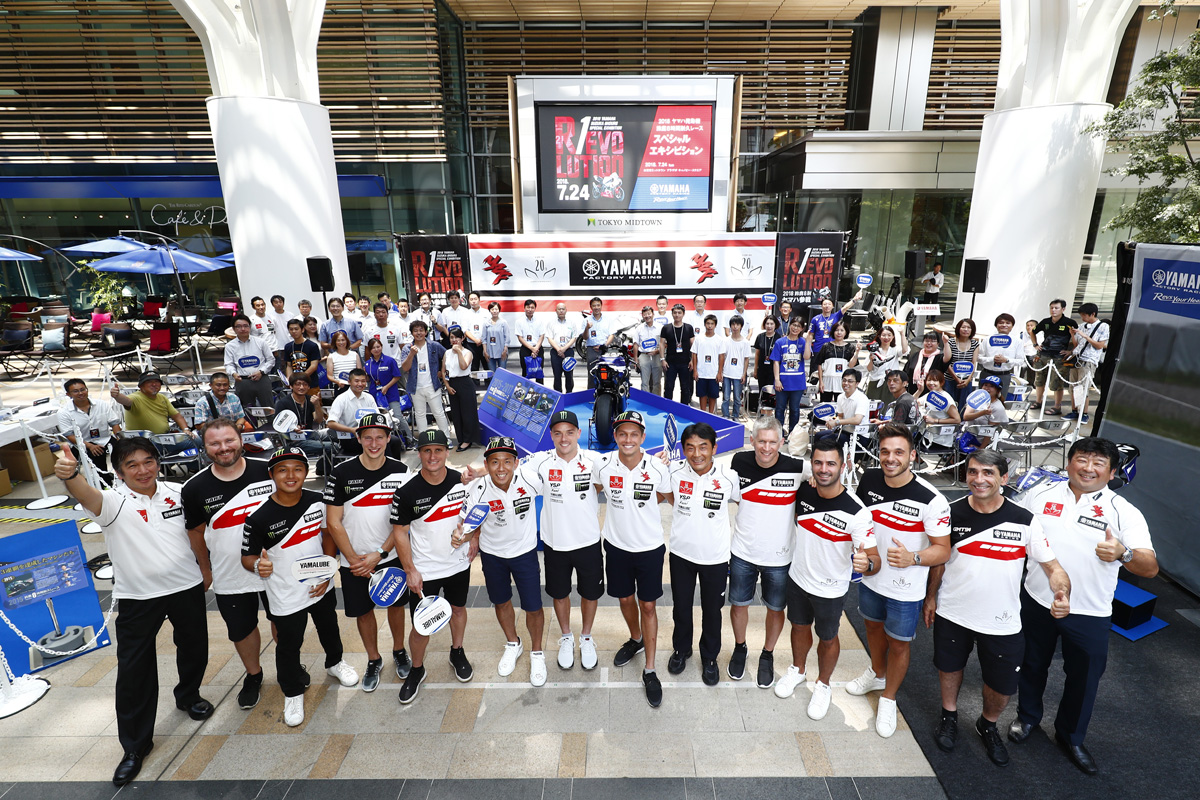 July 25, 2018 –Yamaha Motor Co., Ltd. held the 2018 Yamaha Suzuka Special Exhibition R1evolution event at the Tokyo Midtown complex on July 24, 2018 in Roppongi, Tokyo to connect with and entertain fans of Yamaha and the Suzuka 8 Hours.

Attending the event were the team managers and riders of the Yamaha Factory Racing Team, the GMT94 Yamaha Official EWC Team and the YART Yamaha Official EWC Team, all of whom will compete in the 41st "Coca-Cola" Suzuka 8 Hours set to kick off in two days' time. The event featured a talk show and other activities aimed at thanking fans for their support and showing Yamaha's determination to secure a fourth straight win and the EWC title at this year's race.

Set up for the entire duration of the event were exhibits to allow people not familiar with motorsports to also enjoy the event, including a photo booth, where fans could have their picture taken on one of the winning YZF-R1s from the past three 8 Hours, and a virtual reality experience of riding at Suzuka Circuit. Also, the YZF-R1 for this year's 8 Hours was on display in its special red and white 20th anniversary livery—an homage to the first-generation model—and the event as a whole vividly illustrated the appeal of motorsports to a wide audience.

Following the event, the three teams left Tokyo and headed for Suzuka Circuit, where they will contest this year's race set to begin on July 26 (Thu.).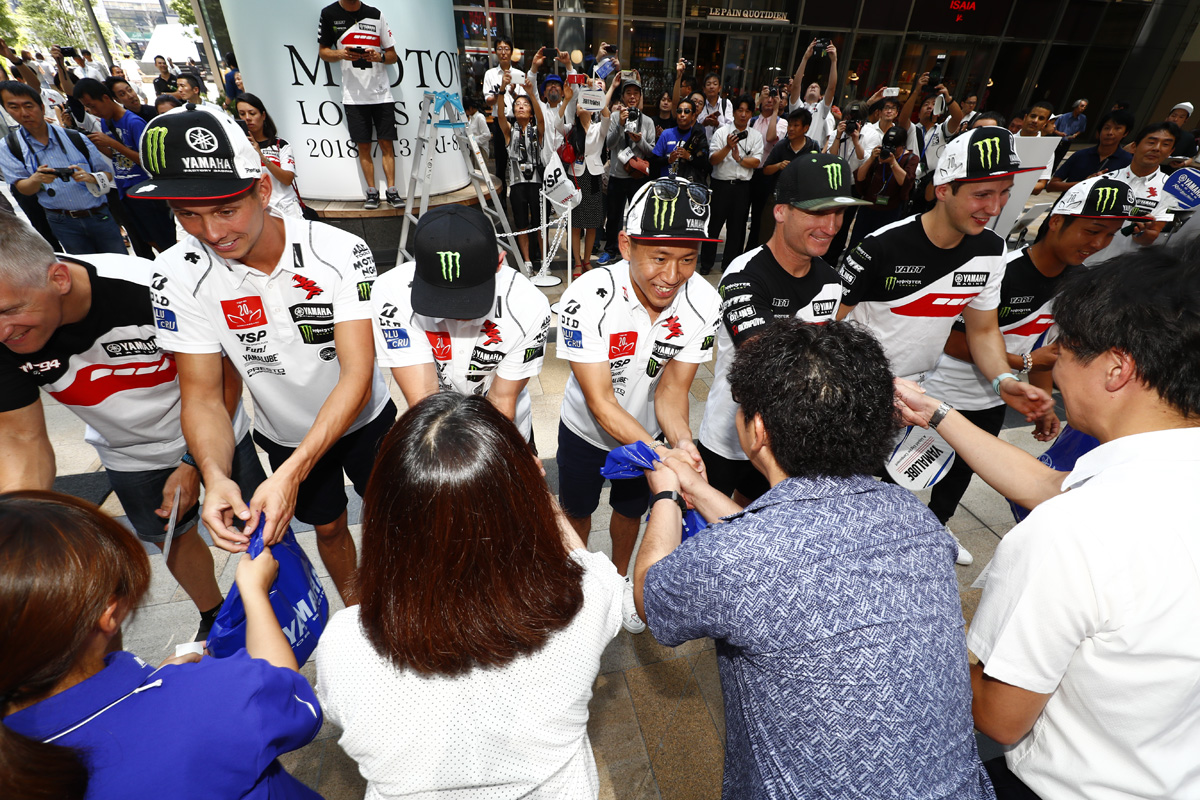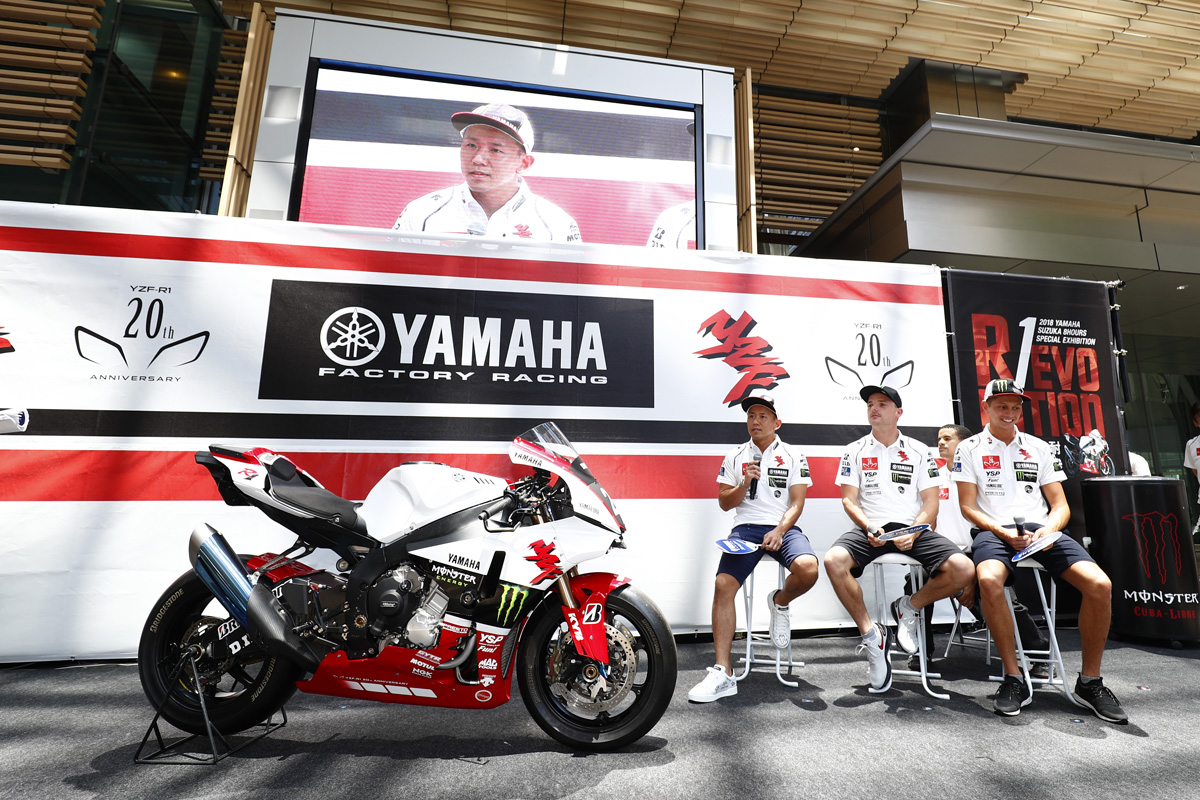 Kouichi Tsuji, Senior General Manager of Motor Sports Section and General Manager of Motor Sports Development Division
"I'd like to thank all the fans for coming today. Just as our 'R1evolution' slogan suggests, we at Yamaha want the evolution of the YZF-R1 to spark a revolution as we aim for a fourth consecutive 8 Hours win and a second straight EWC title. I hope the fans will join us at the race in person or on TV as we strive to achieve these goals and also help us make Japan's biggest motorsports event the best one yet."
Keitaro Horikoshi, General Manager of Motor Sports Strategy Division
"This year marks the 20th anniversary of the YZF-R1 and we want to celebrate that with a victory at the 8 Hours. We've been preparing all year to make that happen and we'll finally be taking to the stage for the showdown this weekend. The R1 has constantly been pushing forward in terms of speed, racing prowess and riding enjoyment. At this year's 8 Hours, our R1s will have a red and white colour scheme hailing back to the original R1 as they challenge for our fourth win in a row and for this season's EWC championship. We hope you'll lend us your support."
Yamaha Factory Racing Team Manager Wataru Yoshikawa
"In the three wins we've taken so far, our rivals have had machine issues or accidents that have forced them to fall back. But this year, they're coming well prepared by reviving their own factory teams or inviting the current world champion into their line-up. With that being the case, I think we also need to be prepared to break the record for number of laps in this year's race. But before that, it's important for us to first best ourselves by putting on an even better performance than last year. We'll work together as a team to do our best to take that fourth straight win, so we hope the fans will cheer for us."
GMT94 Yamaha Official EWC Team Manager Christophe Guyot
"The Yamaha Factory Racing Team is definitely in the running to win again this year and YART is always a strong team. So for us, we'll do our utmost to not lose out to either of them, and I think it would be great if we could have three Yamahas on the podium at the end of the race. We're also trying to win the EWC championship again this weekend, so we're counting on big support from the fans."
YART Yamaha Official EWC Team Manager Mandy Kainz
"This will be the 15th Suzuka 8 Hours for our team. We've finished as high as 4th here in the past, but this year we're in very good shape to battle in the race and I feel like we have the speed to finish on the podium. We'll be doing our absolute best to make that happen, so please keep your eyes on us during the race."