Detail
Yamaha press releases on our motor sports racing activities
Kenichi Kuroyama Finishes FIM Trial-E Cup as Runner-up with TY-E Electric Trials Bike
July 23, 2018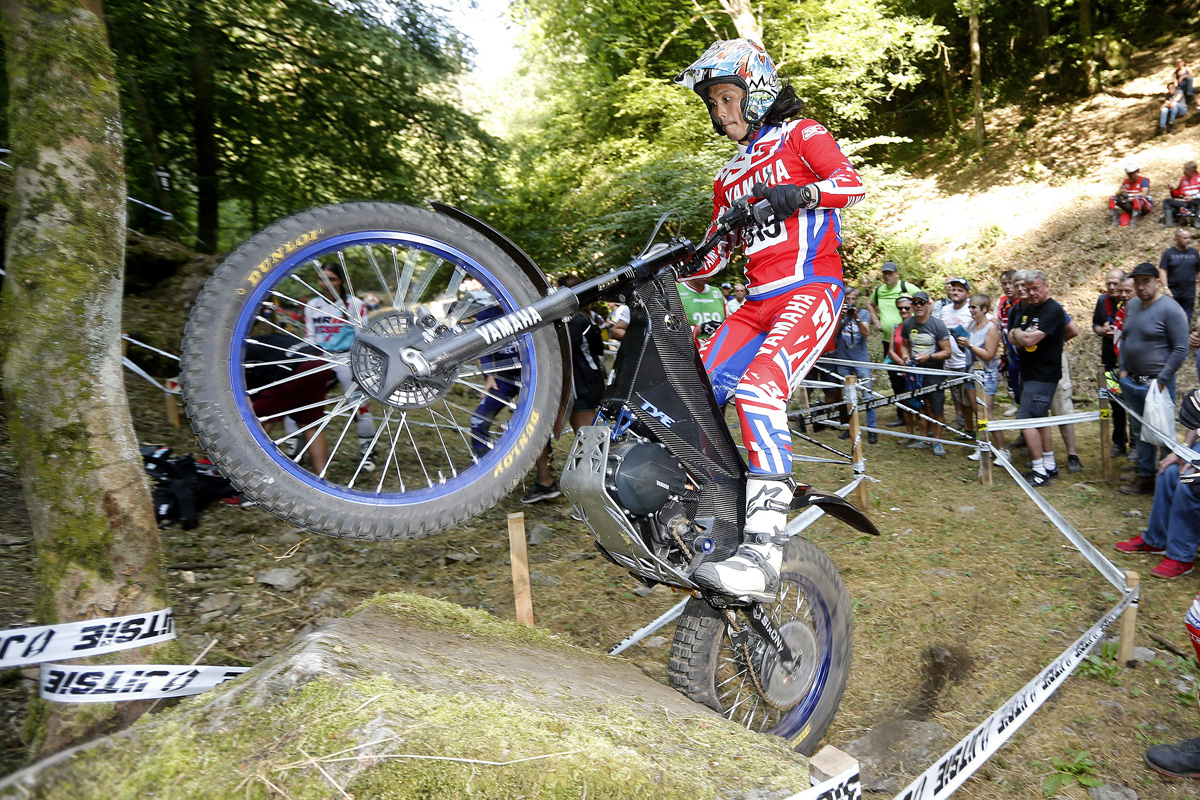 July 23, 2018 – The second and final round of the FIM Trial-E Cup took place from July 21 to 22 alongside the TrialGP Belgium, Round 6 of the FIM Trial World Championship in Comblain-au-Pont, Belgium. The Yamaha Factory Racing Team's Kenichi Kuroyama rode the all-new TY-E electric trials bike to 2nd place in Belgium.

Kuroyama, a regular competitor in the All Japan Trial Championship, was tipped to ride the TY-E in the Trial-E Cup in March earlier this year. Putting his knowledge and skills as a top contender in the series toward the TY-E's development, the project moved forward with the goal of claiming the Trial-E Cup title. At the first round in France held on July 14 and 15, Kuroyama rode the TY-E to just two marks over his two laps of the 15 sections, clinching a brilliant win on his and the bike's competition debut.

Going into the final round in Belgium, Kuroyama was ranked 1st but only by three points, so winning the title would require the Japanese rider to win the race as well. Kuroyama got off to a good start and navigated the course well, but his 13 marks over the two laps put him in 2nd at the end of the round by just three points. While this tied him on points with his main title rival, the series regulations place priority on the results recorded in the final round, thus Kuroyama and the TY-E finished their Trial-E Cup debut campaign as the runner-up.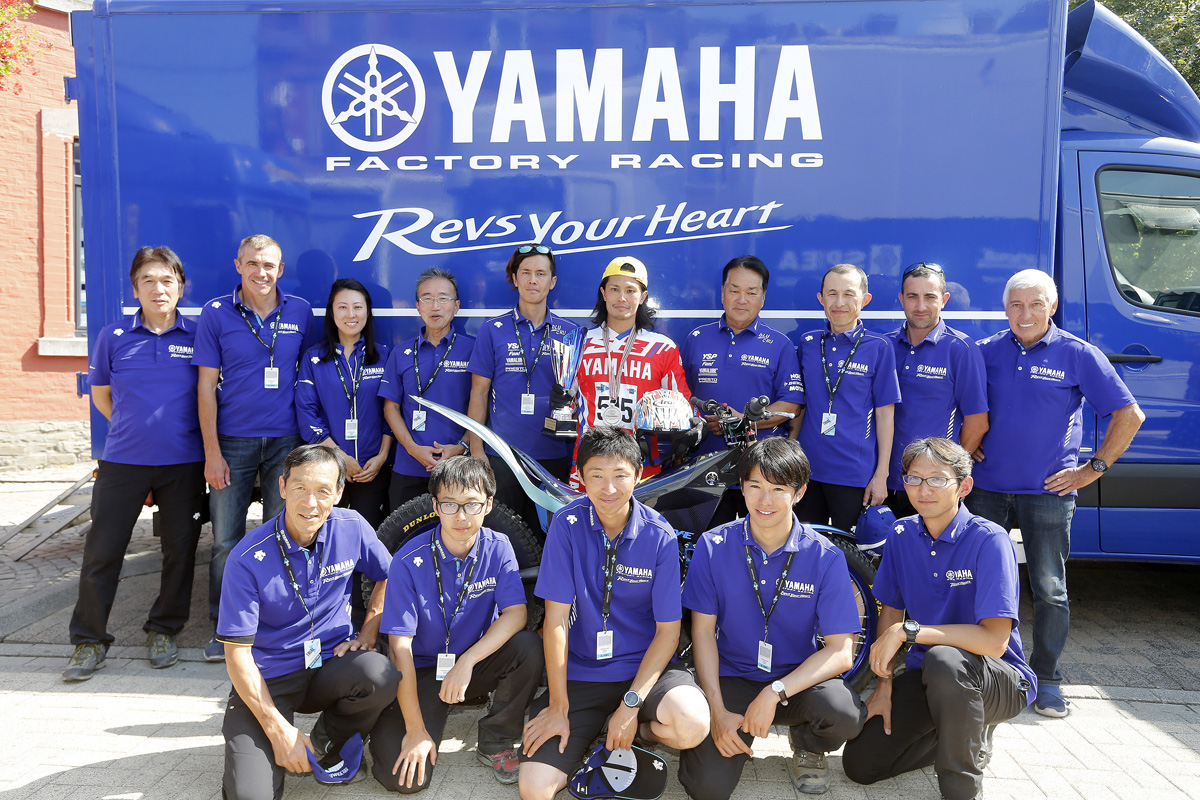 FIM Trial-E Cup TrialGP Belgium Results

| Rank | Rider | Nationality | Matufacture | Marks/Cleans |
| --- | --- | --- | --- | --- |
| 1 | Loris Gubian | FRA | Gas Gas | 10/24 |
| 2 | Kenichi Kuroyama | JPN | Yamaha | 13/25 |
| 4 | Christophe Bruand | FRA | Electric Motion | 37/16 |
| 5 | Takumi Narita | JPN | Electric Motion | 49/10 |
| 6 | David Oliver Blasco  | ESP  | ON Racing Trial-E | 82/8 |
| 7 | Bastien Hieyte | FRA/td> | Electric Motion | 83/4 |
| 8 | Jerome Delair | FRA | Electric Motion | 98/5 |
FIM Trial-E Cup Final Points Standings

| Rank | Rider | Nationality | Matufacture | Point |
| --- | --- | --- | --- | --- |
| 1 | Loris Gubian  | FRA | Gas Gas | 37 |
| 2 | Kenichi Kuroyama | JPN | Yamaha | 37 |
| 3 | Christophe Bruand | FRA | Electric Motion | 28 |
| 4 | Joan Cordon | ESP | Mecatecno | 24 |
| 5 | Bastien Hieyte | FRA | Electric Motion | 22 |
Kenichi Kuroyama (Rank: 2nd)
"We got off to a good start at the first round in France by taking the win, but unfortunately we came in 2nd here in Belgium. While I had no problems physically, it was mentally tiring and that led to me making some mistakes and losing the title. The sections here were not so technical for us, but adjusting to the non-stop rule was challenging for me because in Japan, we can stop in the sections.
"This unique challenge with the TY-E electric trials bike has been a positive motivator for my trials career going forward, and it's been an incredible experience. The TY-E is a very different kind of trials bike, a very special bike. With the limited training and testing we had on the bike, I'm very happy with my performances, both in France and here in Belgium. I really hope to stay involved in this project, and with more training and testing, I believe we can be even more competitive. A big thank you to the team and Yamaha France and Yamaha Europe for their support."
Haruo Kimura, Yamaha Factory Racing Team Manager
"Our young engineers have done a fantastic job, as has our rider Kenichi Kuroyama. I want to say a huge congratulatioZns to all of them for the hard work they have put in. Of course we hoped to win the FIM Trial-E Cup, but to complete these two competitions in France and Belgium with no technical issues is fantastic. I hope we will come back to compete in the Trial-E Cup again in the future. Despite missing a little good luck everything has gone extremely well. Also, I would like to express a huge thanks to Yamaha France and Yamaha Europe for their support of this project."
Yoshiyuki Sato, Group Manager, Motor Sports Section, Motor Sports Strategy Division
"The development of the TY-E has served to show Yamaha's approach and desire to deliver Kando to our customers, especially as we move closer to a society with more electric vehicles. While we weren't able to reach our goal of winning the Trial-E Cup title, I believe finishing as the runner-up in our first attempt in the top class for electric trials clearly demonstrated the advancements we have made with electric powertrains. Finally, I want to thank Kuroyama for agreeing to join this new challenge and giving it his very best as well as extend my heartfelt thanks to everyone involved in the TY-E project."