Detail
Yamaha press releases on our motor sports racing activities
2018 Yamaha Motorsports Media Conference Held, New value and Kando powering us to our next win and ever-greater challenges
February 15, 2018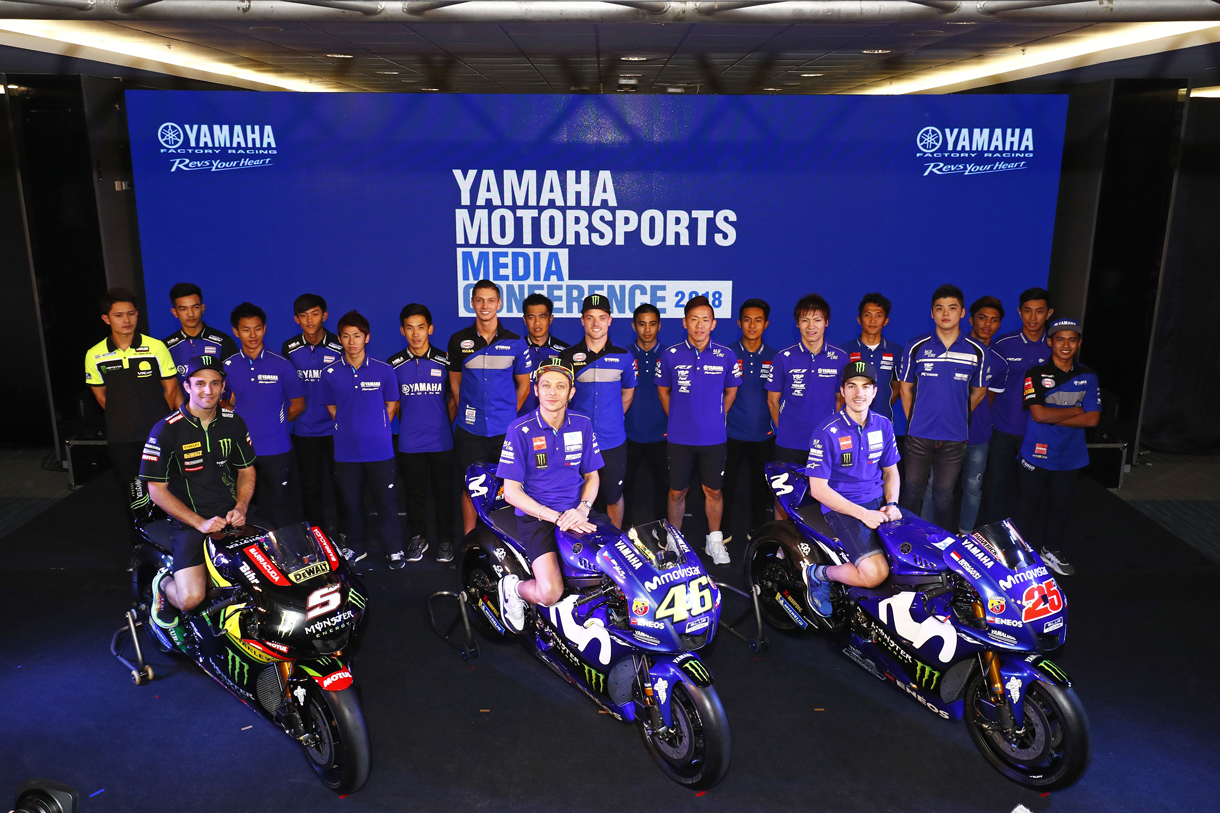 February 15, 2018— Yamaha Motor Co., Ltd. (Tokyo: 7272) held the 2018 Yamaha Motorsports Media Conference at the Chang International Circuit in Buriram, Thailand today. With members of the press and Thai government in attendance, Yamaha announced its motorsports strategy for the season and introduced its riders and teams for major racing series around the world.

Yasutaka Suzuki, Executive General Manager of the 2nd Business Unit of Motorcycle Business Operations at Yamaha Motor, delivered the opening speech: "The 2018 MotoGP calendar has the Thai Grand Prix set to be held for the first time here. This is clear proof of the growing passion for motorsport in [the region.] ... The fact that [we are holding] this conference here ... is evidence of our determination to make Yamaha the leader in fuelling enthusiasm for MotoGP here in Thailand and across the ASEAN region as a whole."

Yamaha Motor President and CEO Yoshihiro Hidaka also delivered a message to the audience via video: "Our goals in motorsports are threefold: enhancing the value of the Yamaha brand, acquiring advanced technologies and promoting the sport to generate a healthy rise in interest in motorcycle racing. ... In the same manner as our business, we will continue striving [in racing] to always be a company offering new value that inspires customers to look to us for new Kando.* The energy we direct toward meeting those expectations will power us to our next win and ever-greater challenges."

Following this, Yamaha introduced its riders and teams for racing series around the world, its strategy for MotoGP and the 2018 YZR-M1. MotoGP stars Maverick Viñales and Valentino Rossi took to the stage together with riders contesting the World Superbike Championship, All Japan Road Race Championship, Asia Road Racing Championship and more, each sharing their thoughts and goals for the 2018 season ahead.


* Kando is a Japanese word for the simultaneous feeling of deep satisfaction and intense excitement that people experience when they encounter something of exceptional value.
Yamaha Motorsports Media Conference 2018 Video Summary