Detail
Yamaha press releases on our motor sports racing activities
GMT94 Official EWC Team Clinches
Third Endurance World Championship Title
July 31, 2017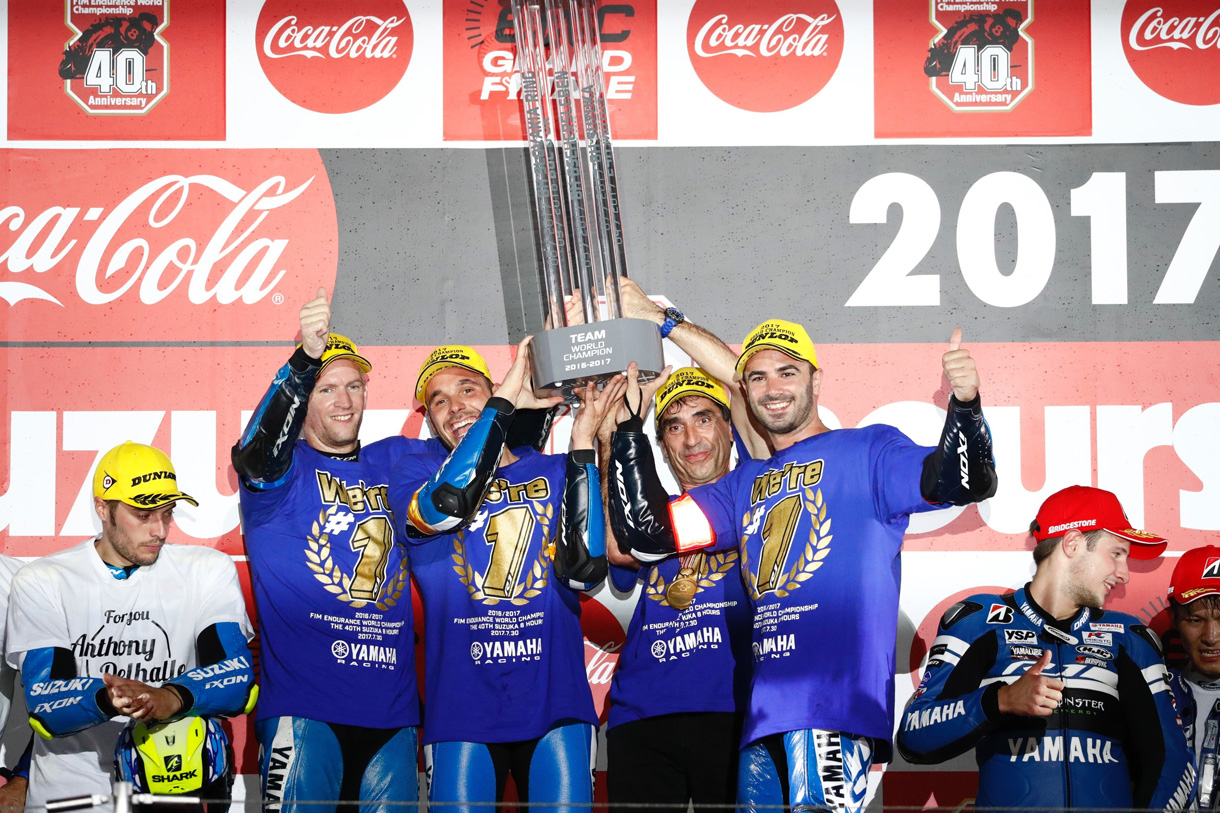 July 31, 2017 ― At the 40th Coca-Cola Suzuka 8 Hours Endurance Road Race held on July 30, 2017 at the iconic Suzuka Circuit in Mie Prefecture, Japan, the GMT94 Yamaha Official EWC Team ran a controlled and mature race to finish in 11th and successfully add a third Endurance World Championship title to their crowns from 2004 and 2014.

The French team of endurance specialists didn't have the easiest start to the season, coming in 9th place at the season-opening 24 Hours of Bol d'Or held in September last year. But from there, GMT94 went on an incredible three-win streak and closed the gap to the Suzuki Endurance Racing Team at the top of the standings to just a single point as they headed to Japan for the Suzuka 8 Hours, the last round of the season. The race would be a straight shootout: whoever got the checkered flag first would win the EWC title.

The GMT94 team started the eight-hour race from 15th on the grid with Niccolò Canepa lining up for the Le Mans dash to the #94 YZF-R1. The Italian started climbing through the order just 30 minutes into the race despite the less-than-ideal conditions with intermittent rain falling in sections of Suzuka Circuit's west course. He then came in for the first pit stop, passing the bike to his veteran teammate David Checa, who kept up the pace set in the first hour.

As the hours wound down, the French team were able to reel off consistent laps in the 2'10s as they focused not on winning the race, but on controlling the point difference to their championship title rivals.

Third team rider Mike Di Meglio made a strong impression on his Suzuka debut in the Endurance World Championship, bringing the team as high as 8th before a 30-second stop-and-go penalty relegated them back to 11th. This was still well ahead of their main title rivals, however, and the team carried on with their strategy and focused on maintaining their pace. As evening fell on the track, Checa went out for the final stint, coming in for a brief pit stop before taking the checkered flag and clinching the Endurance World Championship title, the third one to the team's name.

The YART Yamaha Official EWC Team also competing full-time in the Endurance World Championship ran consistent laps for the entirety of the race and was never far from the front. Despite a small technical issue with the bike late in the race, they overcame the time deficit to take back 5th at the checkers and 3rd in the series ranking.
#94 GMT94 Yamaha Official EWC Team
Race result: 11th (8:02'24.705, 214 laps)
David Checa
"First of all, I want to say thank you to my teammates and the whole team because endurance is all about sharing, and when you get to share in victory, it is perfect! We did a really good job together and the result is the championship. We didn't believe that we could win after the Bol D'or because we were 47 points behind, so to win three races in a row is a dream! Winning the championship here at the Suzuka and getting to stand on the podium with all the fans here is an incredible atmosphere. I was lucky to be on the podium before here and that was great, but getting to stand here today as World Champions is much better!"
Niccolò Canepa
"It is unbelievable! Last year was my first season in the EWC and we lost out on the championship by just one point. This season we won the championship and we won three races in a row! My teammates are amazing and the bike is, honestly, incredible! The team did such an amazing job, it is fantastic and something I will never forget. To celebrate here in Suzuka like this in front of, I don't know how many people, is really something that I will never forget. I want to say thanks to everybody, from the team, to Dunlop, Yamaha, and to my teammates. They did an amazing job all season, we didn't make a mistake and this is something that doesn't happen all the time! I hope to do the same next year!"
Mike Di Meglio
"It has been an amazing season! This is my first year in the EWC, and we won three races and are World Champions! The race here was a fantastic race for us as we had trouble with the electronics, we didn't have traction control or anti-wheelie and yet we were still fast! It was fantastic! I am very happy; I want to say thanks to Yamaha and GMT94 for giving me this opportunity. Now, we need to continue like this. We are already thinking of the Bol D'or and next season. We want more victories and world titles!"
Team Manager Christophe Guyot
"This result is absolutely fantastic, we are so happy. Of course first of all congratulations to the #21 team who were in another world today. Then I'm very proud because the level of the championship is very high; today it was not possible to battle with our permanent rivals because the title was too important. The only focus was to check on them so we did a safe race. We had some little problems with the electronics but that is racing and we are lucky because we didn't have any problems before today, apart from a little stop and go penalty! We have the World Championship title in our pocket and after three consecutive race wins I think we did well. All the Yamaha bikes did an amazing race, but the most amazing has to be the number 21!"