Detail
Yamaha press releases on our motor sports racing activities
Yamaha Riders Restate Victory as the Goal at Yamaha Suzuka 8 Hours Fan Meeting 2017
July 26, 2017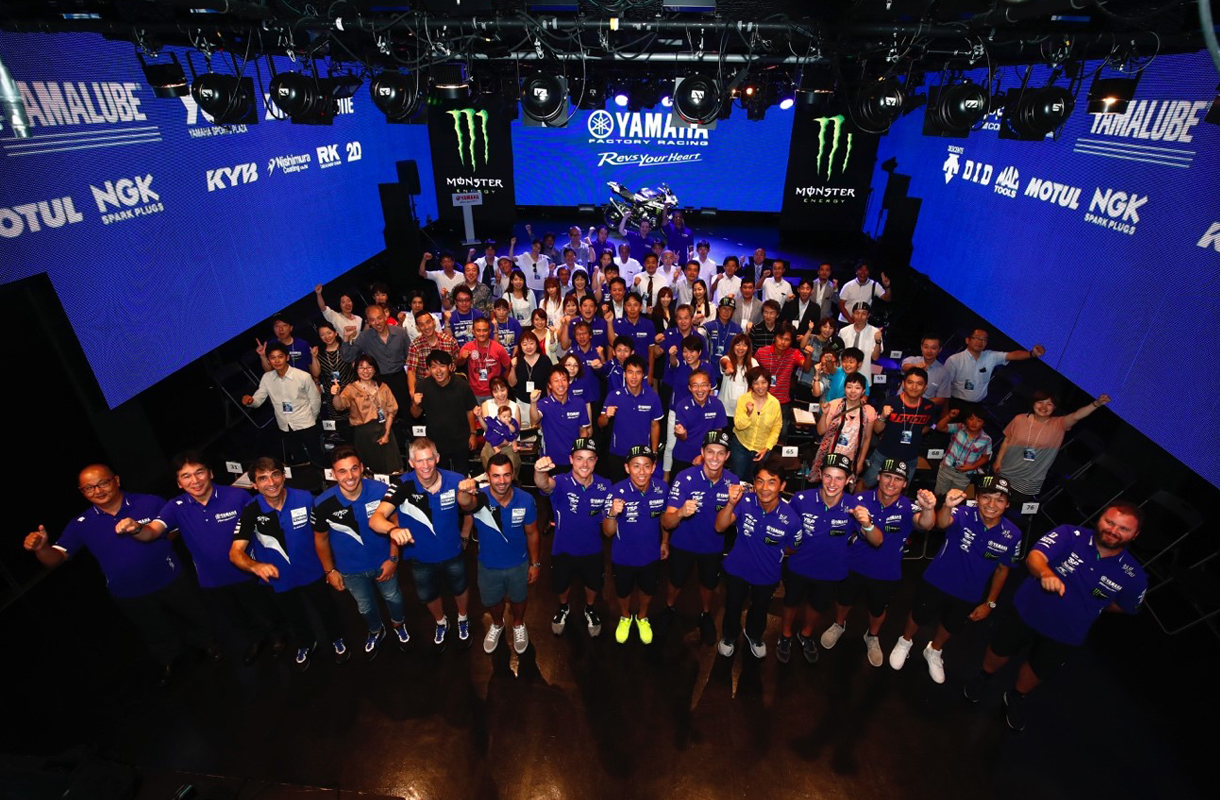 Yamaha Motor Co., Ltd. held the Yamaha Suzuka 8 Hours Fan Meeting 2017 on July 25, 2017 at the nicofarre event hall in Roppongi, Tokyo for Yamaha fans specially invited by factory team sponsors, motorcycle media and other attendees.

Taking the stage were the riders and team managers of the Yamaha Factory Racing Team, YART Yamaha Official EWC Team and GMT94 Yamaha Official EWC Team, who in just a few days time will contest the final round of this season's Endurance World Championship, the 40th Coca-Cola Suzuka 8 Hours Endurance Race. The riders interacted with around 100 fans through activities like a talkshow, group photos and the like, expressed their thanks to the team sponsors and suppliers, and spoke of their determination to do their best in taking a third consecutive victory and the EWC title for Yamaha at the upcoming race.

The three teams will now make their way to Suzuka Circuit and get some rest before the 8 Hours gets under way on Thursday, July 27.
Kouichi Tsuji (General Manager, Motor Sport Development Division)
"As the 'Kando Creating Company,' we at Yamaha Motor work every day toward creating new Kando and delivering a more fulfilling lifestyle for our customers. Our racing efforts are a part of that, and the 8 Hours in particular is a fantastic chance to bring Kando to people not only in Japan, but all over the world as we share in the experience. Also, this year's race is very important as it is the 40th anniversary of the 8 Hours, and we have the chance to take a third consecutive win as well as clinch the EWC title. We would love for our fans to come to Suzuka and experience the thrill of motorcycle racing live and in person, and to cheer on these three teams as they go about achieving their respective goals in this year's race."
Team Manager Wataru Yoshikawa (Yamaha Factory Racing Team)
"This year we've got the three strongest R1 riders in the world. They make an excellent combination, and as we're getting excited for the main event, I think our team is in great shape. Our goal is to beat the 218 laps we rode last year with 219 and to take a third consective victory. We'll work together as a team and give it our best, so we're counting on your cheers and support!"
Team Manager Mandy Kainz (YART Yamaha Official EWC Team)
"I hope everybody enjoyed the meeting. Cross your fingers for us for the Suzuka 8 Hours. We will give our best and give you a race you can enjoy. We'll aim for the podium and hopefully in the end, Yamaha will stand at the top."
Team Manager Christophe Guyot (GMT94 Yamaha Official EWC Team)
"As everybody can see, we're a family at Yamaha. Of course, we want to do well at the 8 Hours, but the other two Yamaha teams also want to do well at Suzuka, so I hope for the best for Yamaha and I hope you will enjoy the race."