Detail
Yamaha press releases on our motor sports racing activities
Kenichi Kuroyama Goes 11-10 at TrialGP Japan with the New TYS250Fi
June 1, 2017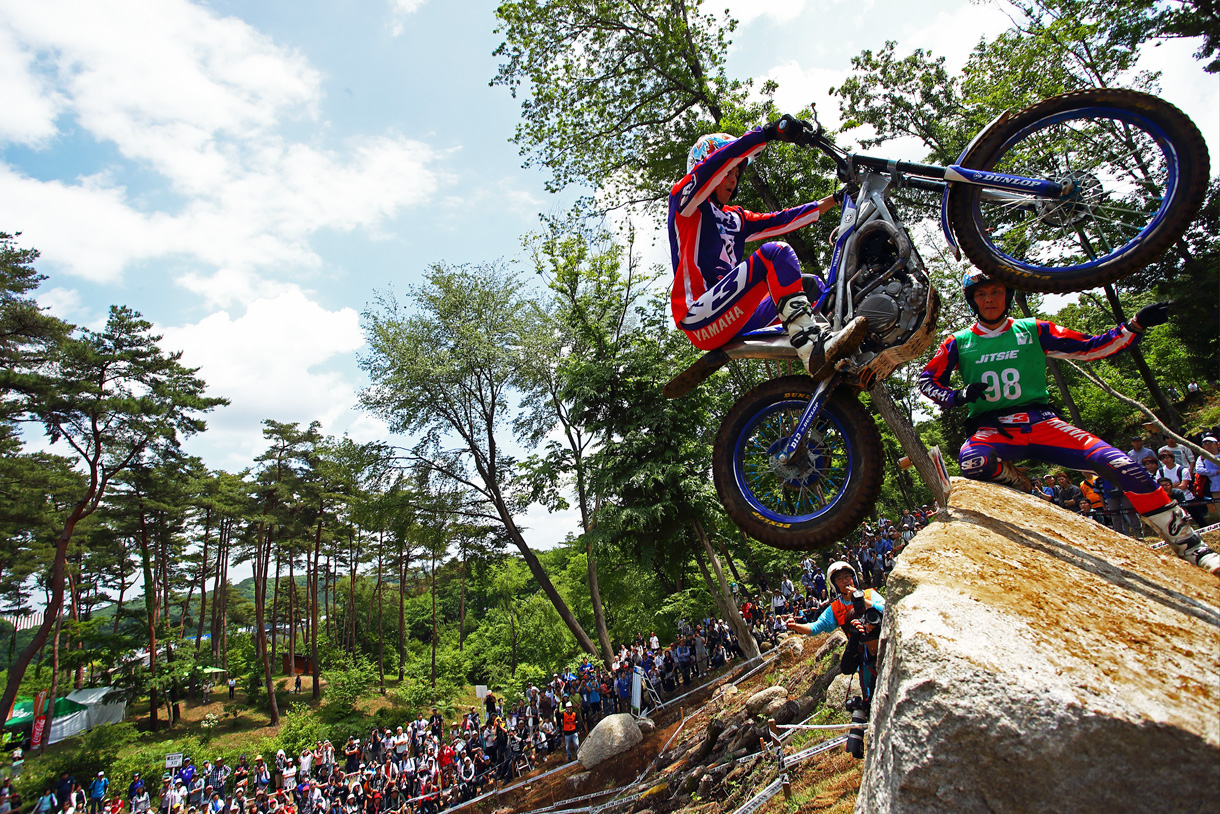 The TYS250Fi: Entered to Make a Comeback from Struggle
In 2012, Kenichi Kuroyama achieved something that had never been done before. In an astounding display of skill, he won all seven rounds of the All Japan Trial Championship to take an eleventh career title. His feat set a new record for title wins not only for trials, but for titles across all categories sanctioned by the Motorcycle Federation of Japan (MFJ), including the All Japan Road Race and All Japan Motocross championships.

Then in the opening round of the 2013 season (Round 1 was cancelled, so Round 2 became the season opener), Kuroyama once again dominated, but would later end up in a fierce back-and-forth championship battle with Honda's Tomoyuki Ogawa. The title fight came down to the final section of the final round of the season, but Ogawa managed to hold on and claim the championship win. With three wins and three losses each, Kuroyama and Ogawa were tied on points, but according to the rules, Ogawa won the final round and was thus crowned champion.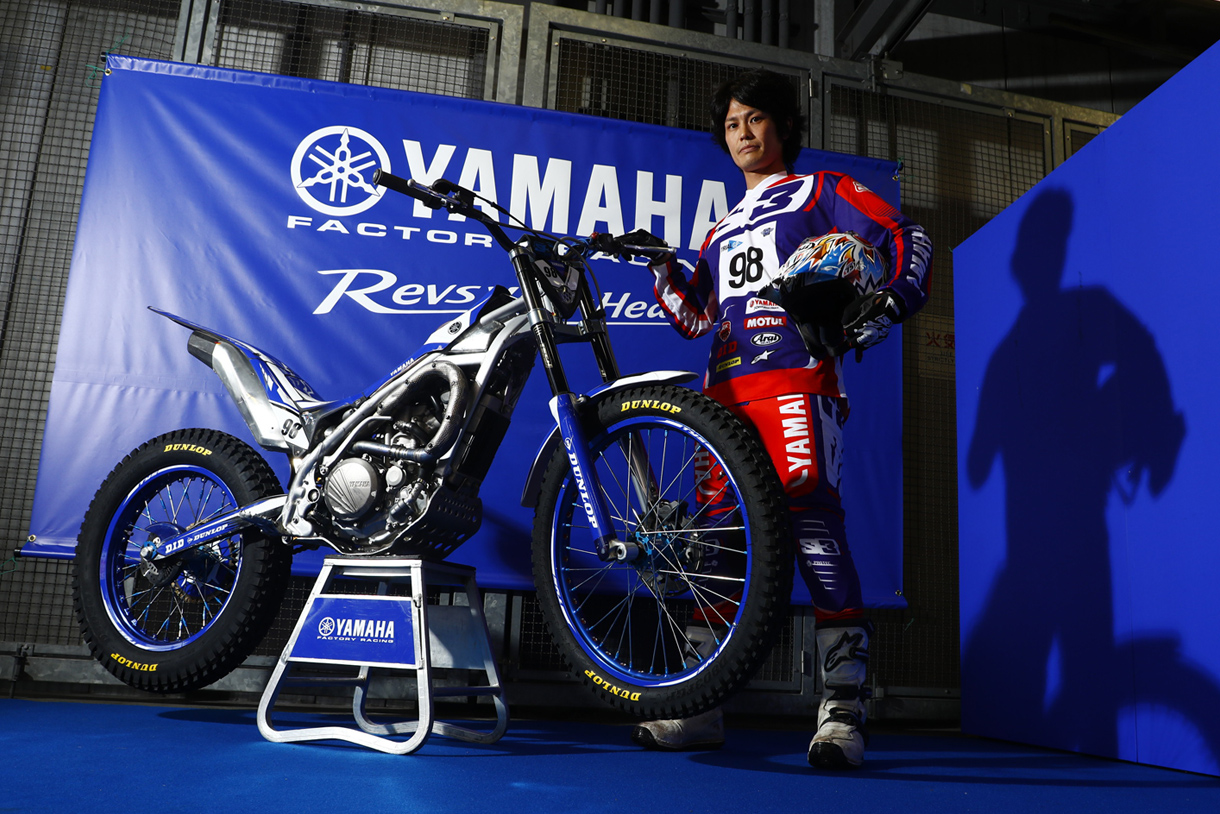 From that season to 2016, Ogawa went on to win three more titles, making it four in a row. But during the 2016 season's penultimate event at Round 6 in Chubu, Yamaha's new factory trials machine, the TYS250Fi, made its long-awaited appearance. Though the machine was seeing its first real-world competition, the ability to make quick, precise setting changes thanks to its fuel injection system allowed Kuroyama to take a debut win on the bike. After the event, Kuroyama said, "Even though the bike is still under development, we were able to collect good data right from the start and end up with a fantastic result. I still haven't totally mastered the bike, so I'd like to get it to the level that it can win a championship. I'll be looking to take my third win of the season at the final round."

Kuroyama did exactly as he said he would and took a second straight win at final round on the TYS250Fi. With his wins at Round 3 and Round 6, that gave him three wins for the season, but Kuroyama was still not satisfied. "I felt like I won through luck rather than through ability. I still need to reflect on my mistakes and practice more on the bike, and while I'm disappointed to miss out on the championship, I think I did well in the last few rounds. Riding the new bike is so much fun, so I want to put my skills to work and bring the title back to Yamaha in 2017."

Team Manager Haruo Kimura has supervised and supported Kuroyama over his many years of hard work, success and struggles in trials, and spoke positively about the 2017 season to come. "The neck-and-neck end to 2016 definitely wasn't good for my heart, but honestly I'm just as excited as Kuroyama. We got a result that will put us in good stead for 2017. I'm really thankful to all the fans. The win didn't come from one of our rivals making a mistake, but from Kuroyama's own determination. The new bike is helping out his riding; I think it's turning into a great machine. We'll work even harder to get ready for next season," he finished with a smile.



This is the Year
With that, 2017 began and Kuroyama's steady progress continued unabated. He won the opening round as well as the next one, taking back-to-back victories at the start of the season for the first time since five years earlier when he won every round in 2012. With four straight victories, the TYS250Fi had gone unbeaten since its debut in Round 6 the year before. Round 3 saw the machine and Kuroyama's win streak come to an end with a 2nd place, but even so he retained 1st position overall in the standings with a three-point gap to Ogawa in 2nd.

Round 4 in the Chugoku region gets underway on June 11th at HIRO Sports Park in Tottori Prefecture. But before that, Kuroyama challenged himself as well as the new machine at Round 2 of the FIM Trial World Championship that was held between May 26th and 28th in Japan at Twin Ring Motegi in Tochigi Prefecture.

Kuroyama laid out his ambitions for the event: "At Round 3 we had so many chances to win, so I thought we could keep our winning form going, but in the end we couldn't so the result is frustrating. The win streak with the new machine is over, but my riding and physical condition aren't bad, so at the GP I'd like to finish around 6th or 7th. The new machine's first outing in a Trial World Championship event for me is half enjoyment and half pressure. Either way, I plan to mount a challenge."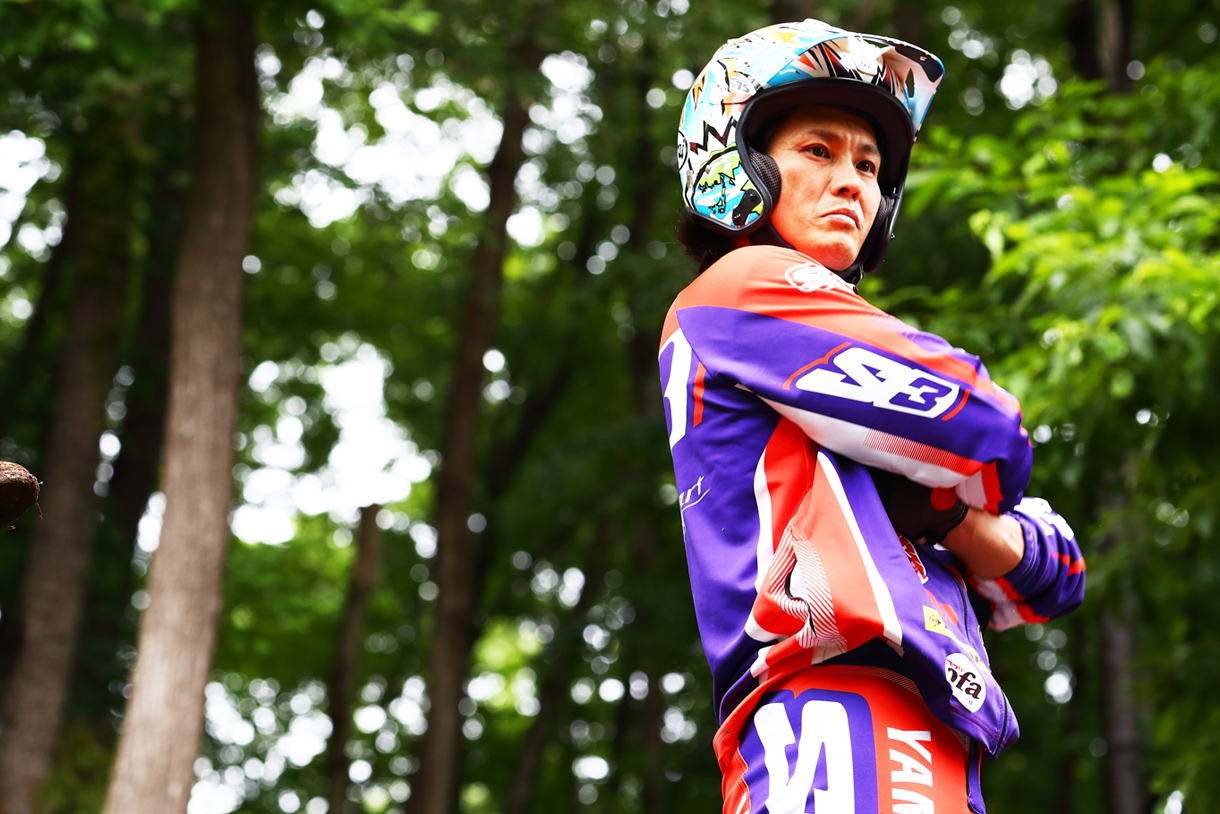 Team Manager Kimura had a few words of his own about competing at the world level: "Round 3 was disappointing, but the Trial World Championship round is a really exciting prospect. We can take on the world's best with the new bike, and Kuroyama is in great form. So I want him to go in with pride as a top rider and give it all he's got so he can bring that into his All Japan season."

In Japan's Trial World Championship rounds in the past, Kuroyama has shown his abilities, just missing out on the podium in 2011 with a 5th/4th result, along with finishes of 8th/10th in 2015 and 10th/12th in 2016.



Qualifying: Keeping the World's Best at Bay to Take 5th
At last, it was time for TrialGP Japan. The event would take place over the two days of May 27th and 28th, with separate results tallied for each day and counting towards the round's overall ranking. Before that though, the starting order was decided by a new type of qualifying system put in place this year. On top of that, the event last year was organized into 3 laps of 12 sections for a total of 36, but this was changed to 2 laps of 15 sections for a total of 30. With six fewer sections in total, mistakes would carry much more weight and make for a very difficult contest. The 15 new sections had also been renovated to be even more difficult, so how to best overcome each obstacle became paramount and a highlight of the event.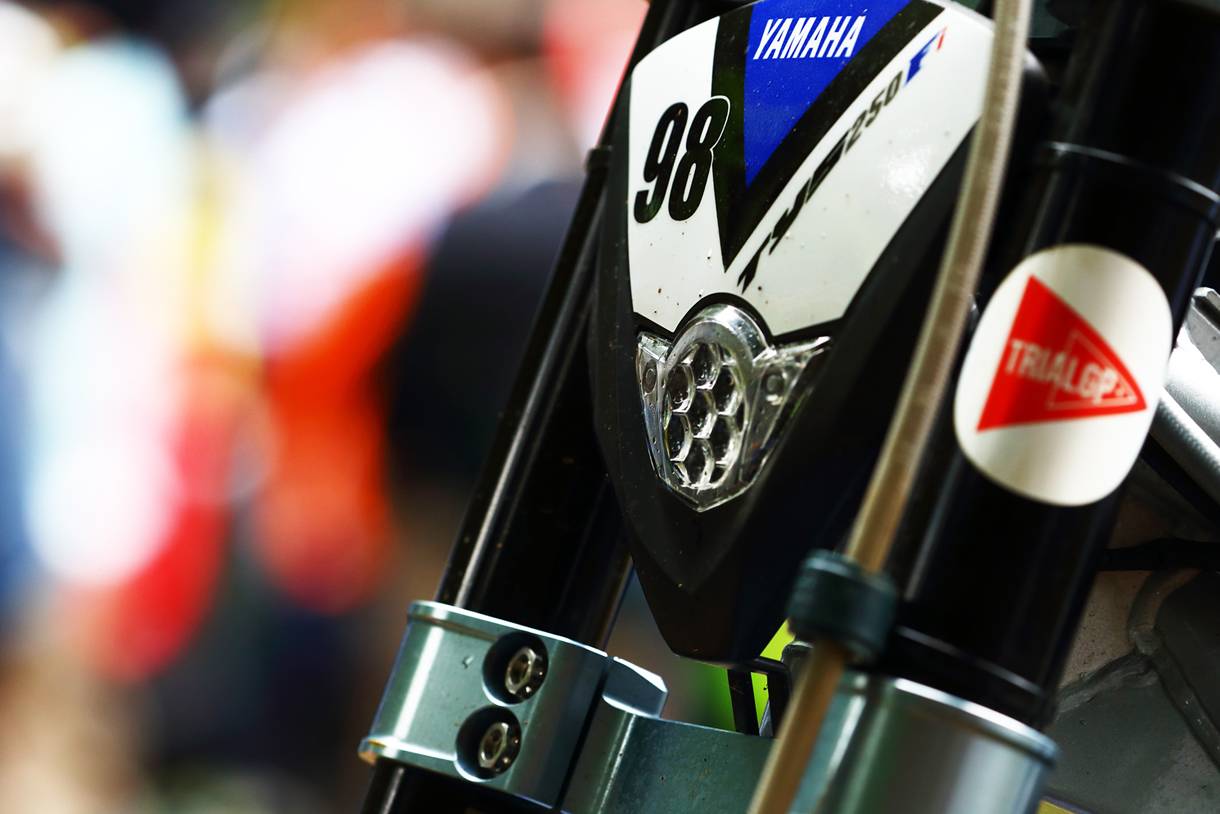 The qualifying format was a one-shot run at a single section and rain had turned the conditions muddy, making things even more challenging. The key would be razor-sharp focus and machine performance in order to avoid point deductions as much as possible. But if two riders had the same point totals in the end, qualifying order would be determined by the time in which the section was completed, making speed another priority.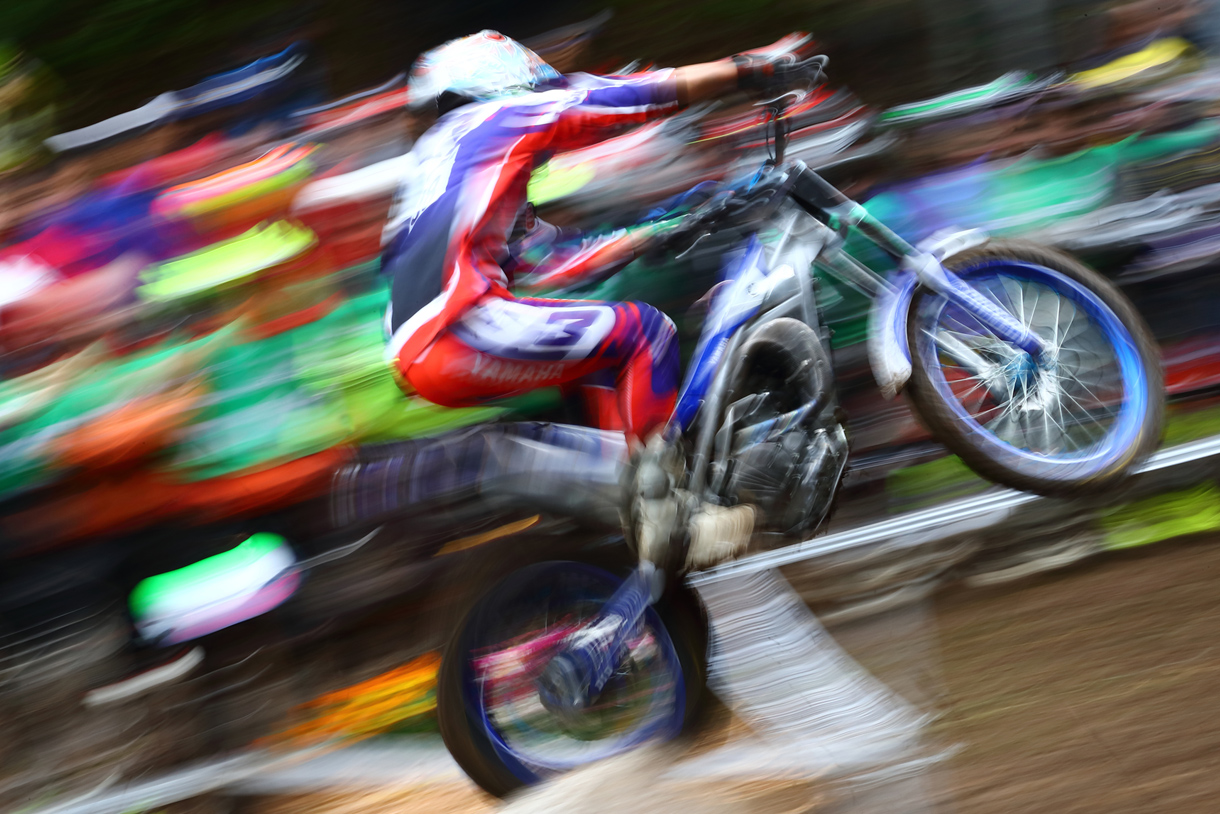 In the TrialGP class' qualifying session run by 21 of the world's top riders, Kuroyama had three points deducted. While 12 other riders had the same result, Kuroyama was second fastest among them, running the section in 40.84 seconds. This qualified him 5th overall and made him the highest-placed Japanese rider for the event, even over Honda's Takahisa Fujinami, who was 3rd in the world championship. Of the riders that were also deducted three points, the fastest time was 38.69 seconds and the slowest was 58.50 seconds, illustrating that Kuroyama's riding was both smooth and fast.



Day 1: Overcoming Bad Luck to Finish 11th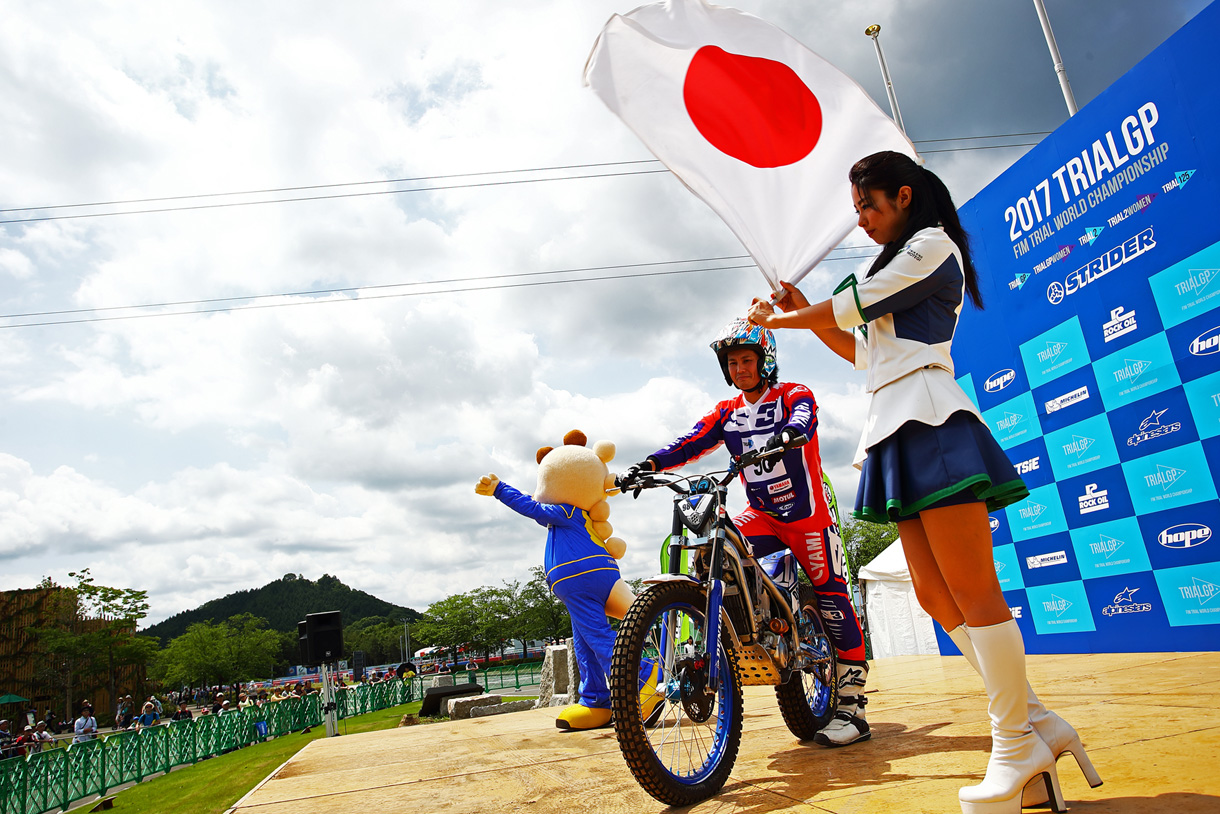 Each day of the event ran for five hours as each rider navigated two laps of the 15 sections. At the end of Day 1, Kuroyama was in 9th after his first lap, and suffered a few more deductions on lap 2 to find himself in 11th. With heavy mud caked on top of the rocks after the rain, the conditions were extremely slippery and several riders had difficulties, including Kuroyama. He was deducted five points in 9 of the 15 sections on the first lap, and again in 8 of 15 sections on the second lap, somewhat more than the rest. But most significantly, right from the start Kuroyama fell off a large rock in the first section of lap 1, injuring his left pinky finger and requiring four stitches. But even so, he was the highest-placed All Japan rider in 11th. "I could have aimed a little higher than where I ended up," Kuroyama remarked as he made preparations for Day 2. "Tomorrow I'll be shooting for the higher positions and I'll give it my best."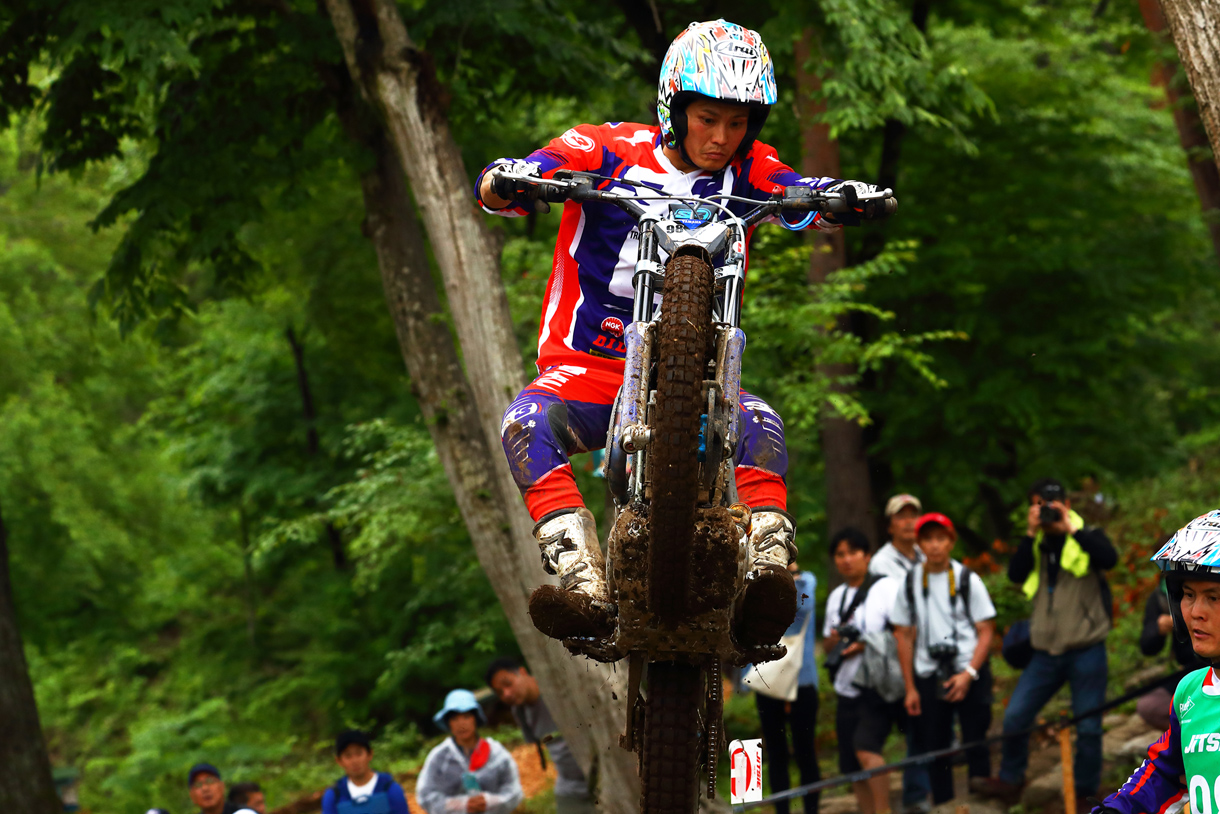 Day 2: Tied for 5th After Lap 1, but Finishing 10th After a Tricky Lap 2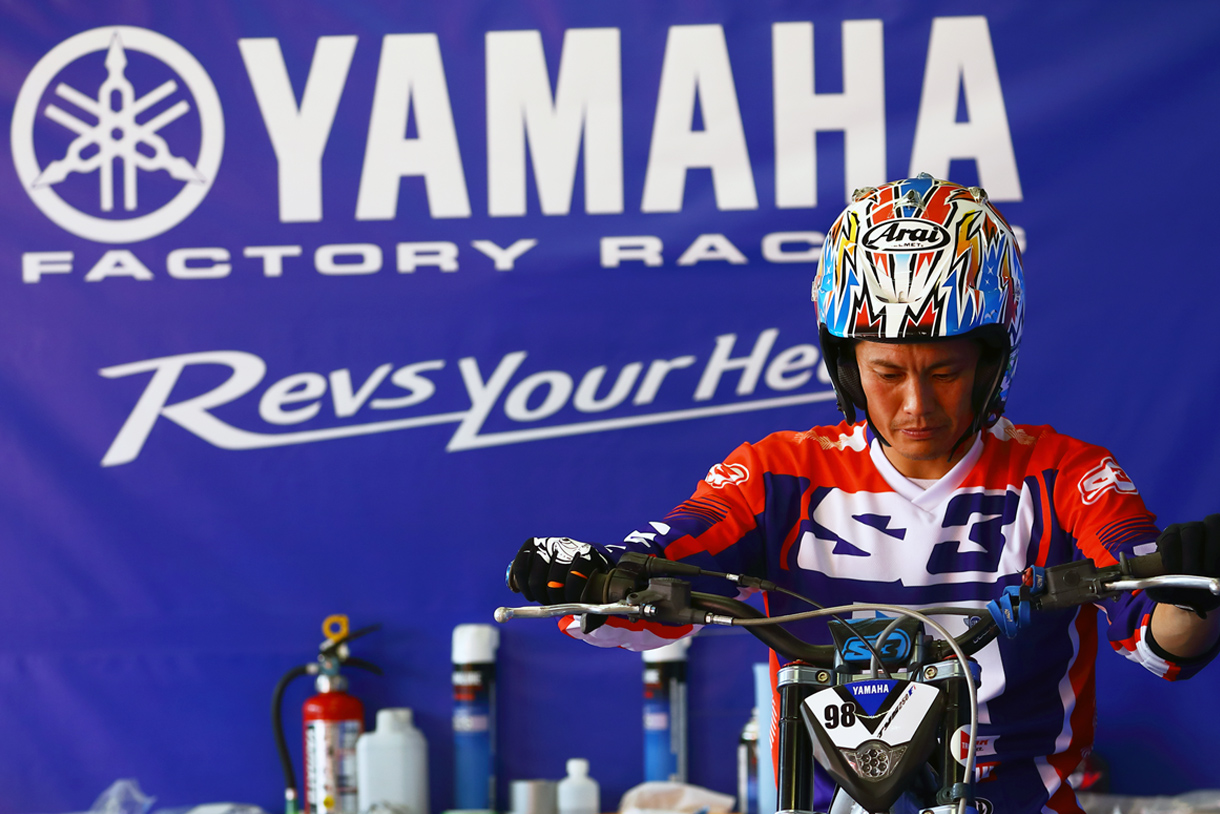 On Day 2, Kuroyama cut out a portion of his left-hand glove to allow his injured pinky finger—wrapped in bandages—as much range of motion as possible.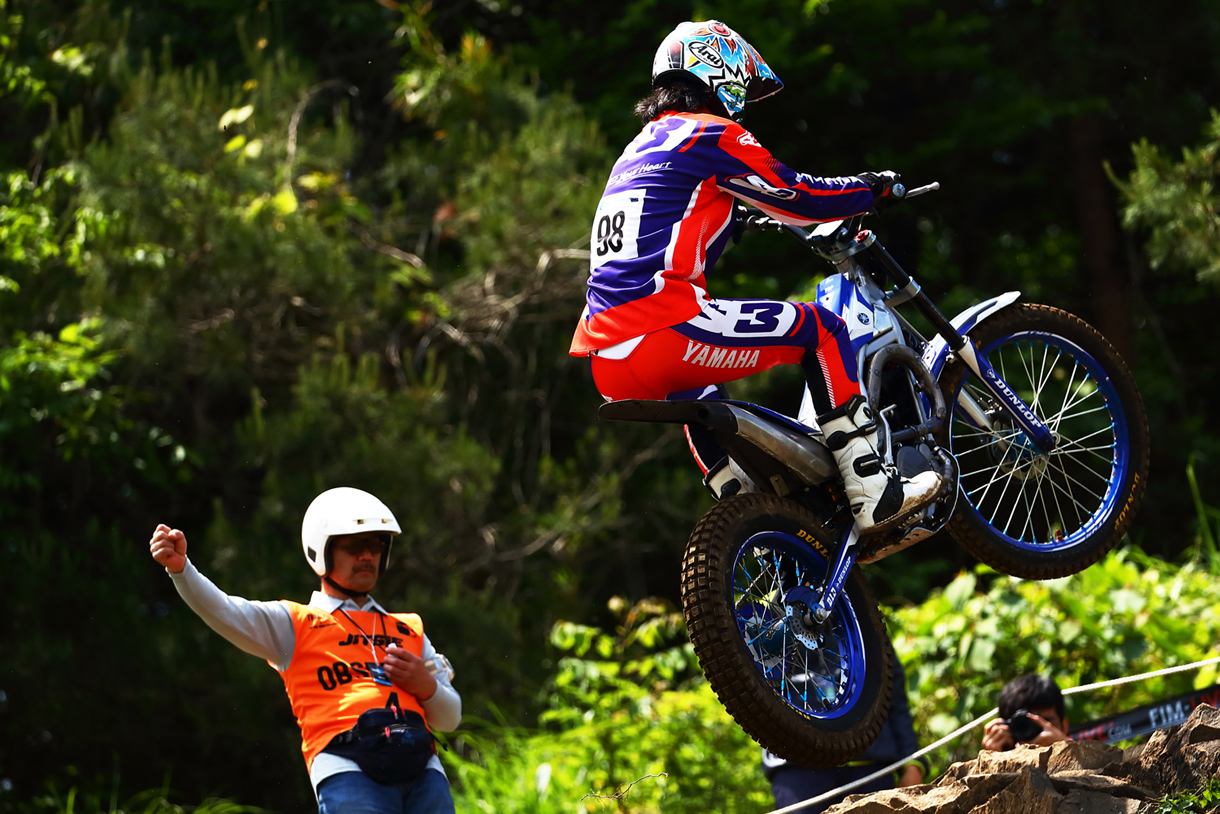 Even with his hand in less-than-ideal condition, Kuroyama showed why he is one of Japan's top trials riders. On lap 1, he came through with eight clean sections—over half—and was deducted a single point in three sections for putting his foot down once. He limited scores of -5 to only three sections, and was deducted three points in only one section for putting his foot down more than three times. In short, Kuroyama was riding beautifully and in good form. And it made an impact on the fans, with many exclaiming, "Kuroyama is really on it today!"

After the first lap the rankings showed Kuroyama as 6th overall with 21 point deductions. He was tied with the rider in 5th, but a lower number of clean sections (by two) saw him placed 6th. The gap between Kuroyama and 4th-placed Fujinami (-20) was just a single point. Not only that, but 3rd-placed Albert Cabestany (-16) and 2nd-placed Adam Raga (-14) were well within striking distance. For the nearly 10,000 spectators in attendance, expectations were ramping up for a big lap 2 push from Kuroyama.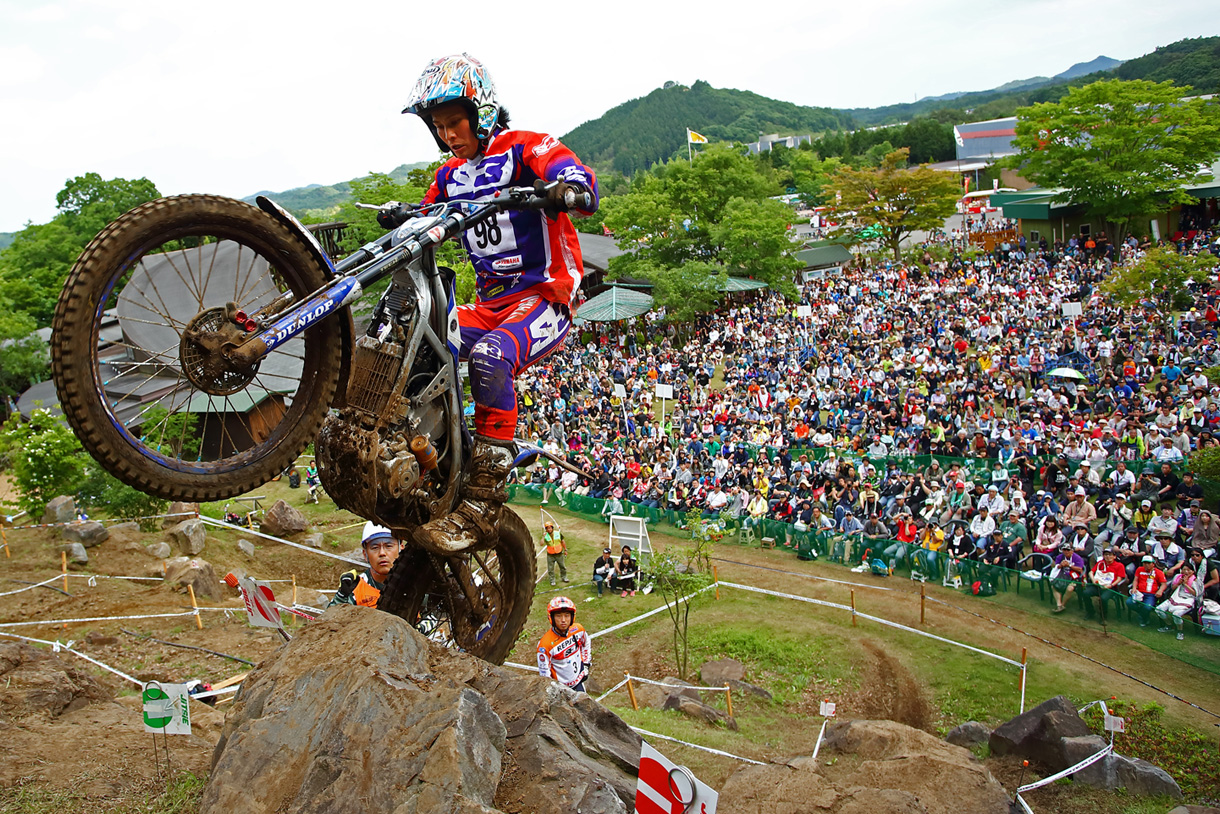 But unfortunately, the course had dried out more, providing a boost to the contingent of Spanish riders who do well in the dry. Also, in All Japan competition it is legal to pause midway through a section, but a mid-section stop in the Trial World Championship will result in a five-point deduction due to the series' "no-stop rule." World Championship riders, who are used to the rule and have trained their bodies and refined their techniques to comply with it, began to show their true strength. Meanwhile, Kuroyama had an unexpected failure in the fourth section, one he had made a clean run through before. From that point he was docked three and five points several times and ended Day 2 in 10th overall. Even so, he improved his position by one from the previous day while riding with an injured finger, putting himself among the top 10 in the world in the new machine's first foray in the Trial World Championship.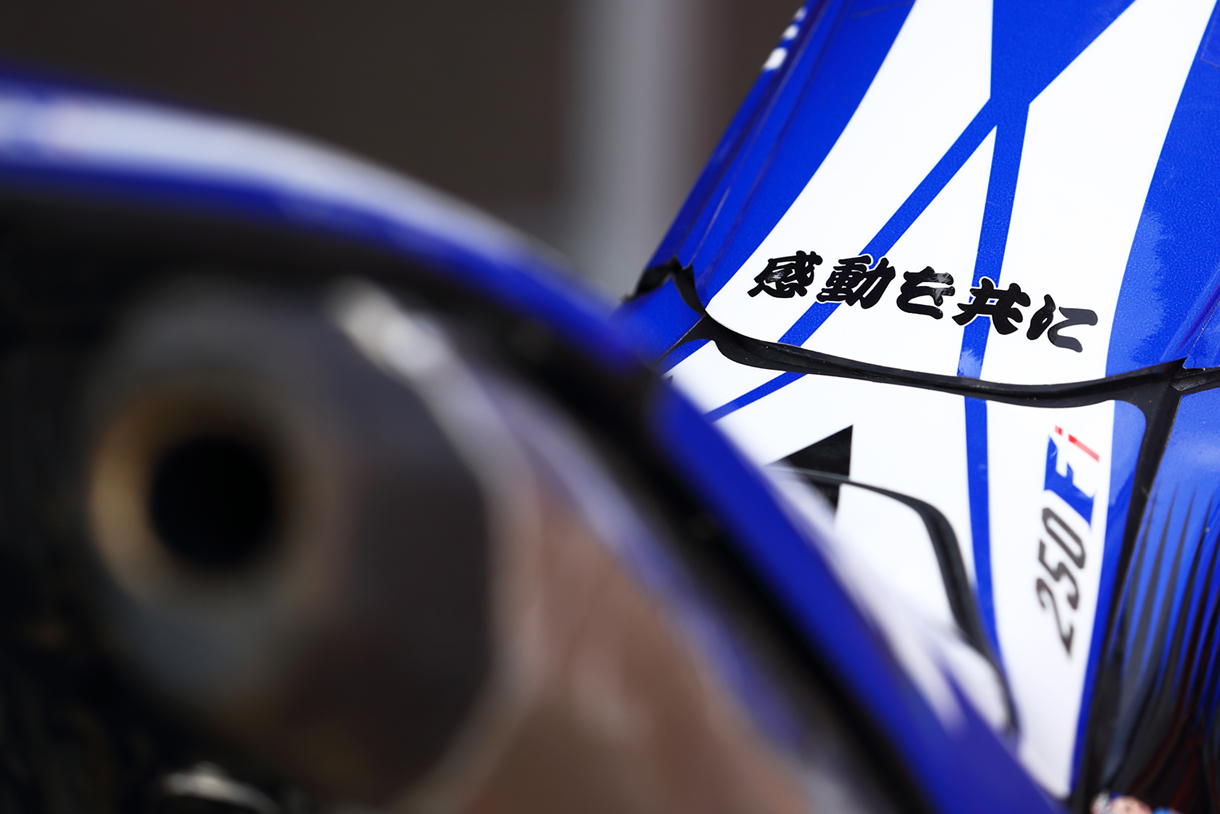 RACE DATA
Event: 2017 FIM Trial World Championship, TrialGP Japan
Date: May 26–28, 2017
Location: Twin Ring Motegi, Tochigi Prefecture, Japan
Spectators: Day 1: 6,700; Day 2: 9,500
Air temperature: Day 1: 19 °C; Day 2: 24 °C
Weather conditions: Day 1: Cloudy; Day 2: Sunny
Event schedule: 15 sections x 2 laps
Event duration: 5 hours



Day 1 Results
| Position | Rider | Machine | Total Reductions |
| --- | --- | --- | --- |
| 1 | Toni Bou | Honda | 48 |
| 2 | James Dabill | GasGas | 72 |
| 3 | Takahisa Fujinami | Honda | 74 |
| 4 | Jeroni Fajardo | Vertigo | 75 |
| 5 | Adam Raga | TRRS | 77 |
| 6 | Jaime Busto | Honda | 90 |
| 11 | Kenichi Kuroyama | Yamaha | 103 |
Day 2 Results
| Position | Rider | Machine | Total Reductions |
| --- | --- | --- | --- |
| 1 | Toni Bou | Honda | 22 |
| 2 | Adam Raga | TRRS | 24 |
| 3 | Albert Cabestany | Sherco | 30 |
| 4 | Jeroni Fajardo | Vertigo | 33 |
| 5 | Takahisa Fujinami | Honda | 35 |
| 6 | Jaime Busto | Honda | 35 |
| 10 | Kenichi Kuroyama | Yamaha | 58 |
COMMENT
Yamaha Factory Racing Team

Kenichi Kuroyama (11th/10th)
"We qualified 5th. It was a one-off attack on a single section, so I know it doesn't represent my ability across a full course, but that let us start out 5th from the back for the event. I got to see the best riders in the world like Takahisa Fujinami go through the sections right before my eyes, so watching them ride was a great reference for me. But despite that, I hurt my finger on the first day and had some other mishaps, so it was an unacceptable result I was not only completely disappointed with, but also a frustrating and discouraging one that only added stress. On Day 2, I felt great on my first lap and I was riding like normal. My point reduction totals were close to 2nd and 3rd, so I started to dream a little of a top-notch result and attacked the course to try and improve my position, even if just by a little bit. But that tired me out and was part of what caused me to finish in 10th. It's disappointing, but it was a really fun and exciting two-day event. Next time out I'll be trying my hardest in the All Japan Championship."


Team Manager Haruo Kimura
"The feeling we had was good. At one point on Day 2 we were 6th and we had the possibility to aim even higher. I think we showed that Kuroyama and the new machine can run at the world level. I think this sensation gave us a big boost toward our main goal this season of taking back the All Japan title. Of course, we can't be totally satisfied, but day by day we're improving the machine and getting ready for Round 4 in Chugoku."