Detail
Yamaha press releases on our motor sports racing activities
Yamaha Hit 500th Grand Prix Racing Victory Milestone
May 22, 2017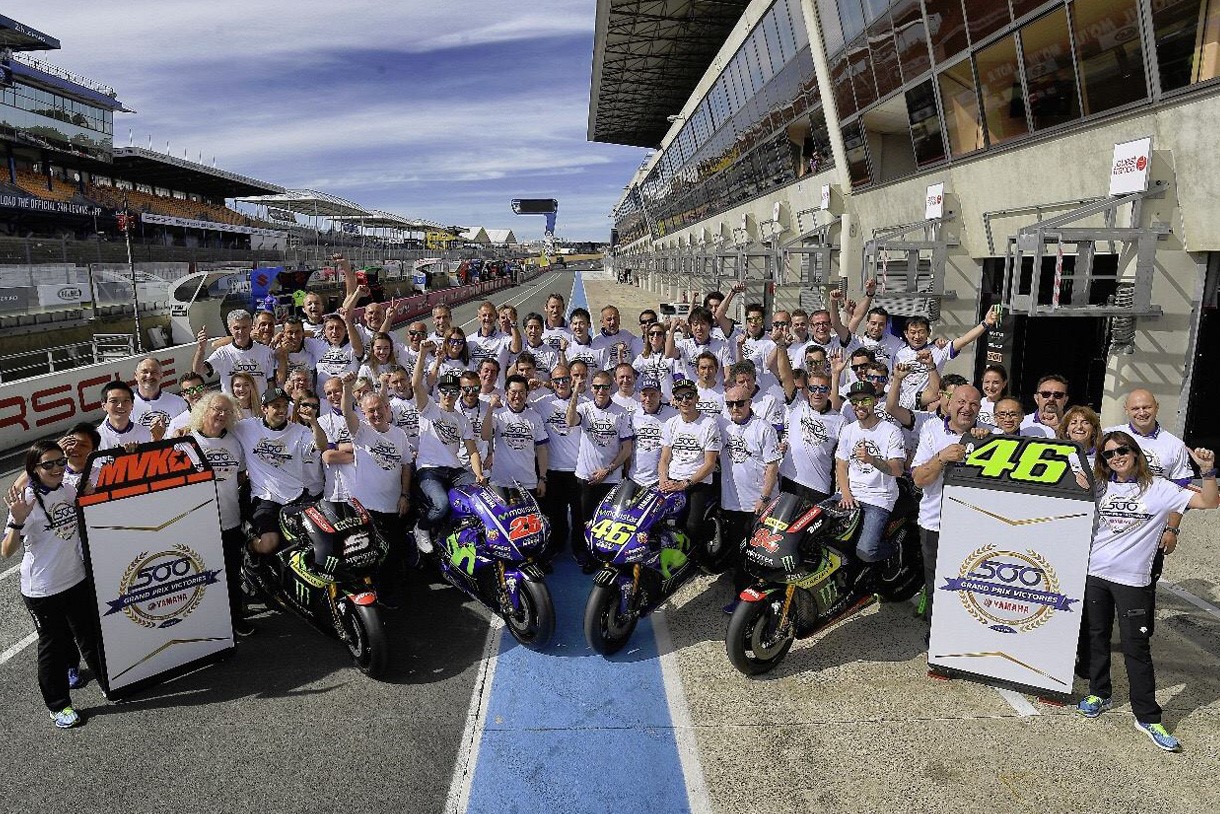 Yamaha is proud to celebrate a momentous landmark in its successful motorcycle racing history, having secured its 500th race win at the Le Mans Bugatti Grand Prix race circuit in France.

The Yamaha Factory Racing Team is known as one of the most successful teams in Grand Prix racing and it has further underlined its reputation today. Maverick Viñales rode a brilliant race at the Le Mans Bugatti Grand Prix race circuit in France, and sealed the 500th Grand Prix win for Yamaha.

The Fédération Internationale de Motocyclisme (FIM, the global governing body of motorcycle racing) has officially declared that, according to their statistical records, Yamaha has enjoyed victories in the 125cc (47 wins), 250cc (165 wins), 350cc (63 wins), 500cc (120 wins) and MotoGP class (105 wins), adding up to a sensational 500 Grand Prix wins in total.

Out of all Yamaha riders, current MotoGP class racer Valentino Rossi is the biggest achiever. His love story with the YZR-M1 has been going strong for many years and has resulted in 55 wins to date. Teammate Viñales has only been competing as part of the Movistar Yamaha MotoGP Team for five races, but has established an impressive 60% victory rate on the Yamaha, thanks to his wins in Qatar, Argentina and France.

Other Grand Prix racing stars on Yamaha's list of victors are Jorge Lorenzo (44 wins), Phil Read (39 wins), Eddie Lawson (26 wins), Wayne Rainey (24 wins), Kenny Roberts Sr. (24 wins), Bill Ivy (21 wins), Carlos Lavado (19 wins), Luca Cadalora (13 wins), Giacomo Agostini (12 wins) and many more.

To give an overview of the magnitude of the effort put in by all its Grand Prix riders, Yamaha has created a micro website, which features a special 500th victory video, an infograph, some of the best historical photographs of Yamaha's 56-year Grand Prix racing run, as well as overviews of all the victories, riders and bikes that made this massive achievement possible.

To create an overview of the magnitude of effort put in by all its Grand Prix riders, Yamaha has created a micro website (www.yamahamotogp.com/500-victories), which features a special 500th victory video, an infograph, some of the best historical photographs of Yamaha's 56-year Grand Prix racing run, as well as overviews of all the victories, riders and bikes that made this massive achievement possible.
Hiroyuki Yanagi
Yamaha Motor Co., Ltd. President
"Upon achieving 500 victories in the World Championship, I highly appreciate the continued support for our racing activities and want to thank our Yamaha customers, sponsors and suppliers, and the Yamaha fans all over the world. In 1955, from the very beginning of our company, we as Yamaha have always been committed to racing and we took on the new challenge of the Grand Prix World Championship in 1961. The young company's employees shared the conviction of the Yamaha founder - "It isn't a product if it isn't world-class". The first bike made its debut on the world Grand Prix stage just six years after Yamaha's establishment. Fumio Ito (250cc class) brought the first victory at the Belgian Grand Prix (Spa-Francorchamps) in 1963, Yamaha's first step towards the 500 victories milestone. For the half century that we have been racing in the premier class under the name Yamaha Factory Racing, we pay tribute to all our riders, who fought and still fight for victories, as well as our partners and the organisers, who are involved in racing, and also the highly skilled Yamaha engineers. We see this milestone as a starting point for pursuing further victories and assiduously continuing development. As the Kando* creating company, we aim to realise "Revs your Heart". I ask for your continued engagement and support in these endeavours."
Kouichi Tsuji
General Manager Motorsports Division & Yamaha Motor Co., Ltd.
"First of all, I am deeply appreciative of our predecessors who have contributed to Yamaha's history. In 1961, Yamaha joined the World Championship and achieved its first victory in the 250cc class in 1963, which was the first step on the road to 500 victories. For over 56 years, Yamaha Motor has kept developing in order to win races. We believe that Yamaha sends out machinery into the world to set records and create lasting memories with our riders. We also launch new technology and use the feedback from the race track for use in our road products. Examples are Yamaha's deltabox frame and the crossplane crankshaft. In fact, our customers around the world can enjoy Yamaha racing technology and feel the essence of motorsports at the heart of their own machinery. The 500th victory is a big milestone, but it's just one of many. Yamaha will continue to provide exciting races through our technology and achieve more victories.."
Lin Jarvis
Managing Director Yamaha Motor Racing Srl
"Reaching a monumental milestone, such as 500 GP victories, makes one stop for a moment in time to put things into perspective. When you know how much effort our team currently puts into getting one single GP victory, then it is almost impossible to comprehend how much energy, effort, blood, sweat and tears have been exerted over the years to achieve 500 victories. At the end of the day, although this is a technological sport, the results and every victory are only achieved by the qualities and energies and above all teamwork of all the people involved. Every single person's contribution plays an important part in every victory. Our riders, technicians, mechanics, engineers, designers, office staff, hospitality staff, riders' support staff, PR team, suppliers, technical partners, sponsors and management, all play a vital role. I can say that I am proud to have been personally involved in achieving this milestone and I would like to congratulate all of the riders and every single person that has played a part in every single victory."
Valentino Rossi
Movistar Yamaha MotoGP Rider
"It is really a great honour for me to be the top scorer of Yamaha's 500 Grand Prix wins achievement. I have contributed with 55 victories and I'm very happy for this. I remember many of these moments and it's great to be able to continue to ride a Yamaha after so many years. Being a Yamaha rider is always special, because you're not only riding an incredible bike, but also you're also part of a special team. It was a pity I didn't stand on the podium today to celebrate the occasion, but I still have several races to do with my Yamaha M1 and I hope to further increase my number of wins."
Maverick Viñales
Movistar Yamaha MotoGP Rider
"The 500th Grand Prix victory for Yamaha is really nice, we did an incredible job this weekend and being a part of a big milestone such as this is always really nice and even more so when writing history with Yamaha. I'm so pleased and really happy to be a part of the 'Yamaha family'."
Phil Read (39 wins with Yamaha)
"My first invitation by Yamaha to Japan was very exciting and it was amazing for me to race in the first Suzuka GP. When I returned to Yamaha's base at Hamamatsu after this event to recover from days of testing and the race, I was later invited to ride their factory bikes in the 1964 season, but only five GP's would be factory supported. The early years weren't easy and I feel that, with more support, I would have had much more to give to Yamaha, but I am very happy to have contributed to gaining Yamaha's 500th GP win thanks to my victories in the 125 and 250 classes. Yamaha GP team became the "Happy Team" in later years, especially now, as Yamaha Motor Racing have become a very organised team under the management of Lin Jarvis and his admin team."
Wayne Rainey (24 wins with Yamaha)
"The highlights of my time with Yamaha are obviously my three World Championships. I raced six years of Grand Prix with them and I was on the podium 64 times in just over 80 races so we had a lot of success together. Yamaha's DNA is racing. I won 24 races with Yamaha and I can say that every time I raced with them they were all in. We squeezed every bit of performance out of the bike, out of myself and out of the team. Yamaha was as committed to the project as I was. We couldn't have accomplished all that we did without each other. We were a great team. Yamaha has been an easy fit for me because they are a great company and I've always felt welcome there. When I look at my link of the chain that is Yamaha's 500 wins, I know what I contributed to it and it's amazing to think that Yamaha has been there for all 500 of those. It's very special for me to be a part of that, because their commitment was to win and to give myself and all these other riders the opportunity to win. Being a Grand Prix winner is the ultimate for a road racer and to have 500 of those is amazing. I'm very honoured to be a part of that."
Kenny Roberts (24 wins with Yamaha)
"In 1978 when I didn't ride for the factory, I won the World Championship and then the Japanese manufacturer said: 'No, he is riding for me!'. So I went to Japan in February, but didn't sign a contract immediately. I went out and tested, broke my back, ruptured my spleen, broke my left collarbone and they didn't know at the time whether I would live or ever race again. I lay in hospital for three weeks with tubes everywhere and I thought they were not going to sign the contract with me, but Mr. Hada, who was the head of all racing and legendary at the time, walked in the hospital one day and said 'Come on, son, we have a contract to sign!'. That's Yamaha, it's a big Japanese family. The work ethic of the Yamaha employees, which I noticed being an American, was awesome. Yamaha is the most western thinking company in the motorcycle business and that's why they are the most winning motorcycle company in the motorcycle business. I will always consider myself part of the Yamaha family, it was one of the best times of my life and I'm still enjoying it. As far as contributing to the races, I think that's probably secondary to being part of the Yamaha family, but I'm very grateful to be mentioned with the current stars and all the people before me. They are all great racers, it's a big honour for me, I can't thank Yamaha enough."
Carlos Lavado (19 wins with Yamaha)
"Congratulations to Yamaha for its 500th victory in Grand Prix racing. I am very proud and honoured that I raced 12 years with Yamaha in my 15-year long career. I would like to thank Yamaha for all they gave me and for what they keep on giving me today. My 19 victories are just 'a drop' in the 'sea of victories' they have achieved, but I'm really flattered that my name is on the list of great champions that have allowed Yamaha to achieve this stunning result. I really want to congratulate all the people who work in Yamaha's racing department and I wish them 500 more victories, which they deserve for their commitment, efforts and humanity."
Luca Cadalora (13 wins with Yamaha)
"Being amongst the riders who've won races with Yamaha in the World Championship is a great satisfaction. Although I also raced and won with other manufacturers, I have always felt to be a 'Yamaha rider', because I have always felt 'at home' with them, especially from a human point of view. Being 'in the same press release' with Rainey and Roberts: it's a source of great pride. My first victory in 250cc at the Nürburgring in mixed weather conditions and the victory at Suzuka in 1990 are the best memories I have of my career with Yamaha. All other victories in 250cc, for instance at Laguna Seca in 1994, where I was the first non-American rider to win there, are still in my mind. What really makes Yamaha different is their philosophy: they always give the rider the best bike for him, they make it for him; this is something that you don't find anywhere else. Now that I am in the Factory Team in a different role, working with Valentino, the rider who has won the most victories for Yamaha, this gives me a completely different feeling of pride, although just as strong as when I was a rider."
Giacomo Agostini (12 wins with Yamaha)
"I have beautiful memories of my years with Yamaha. When I left MV Agusta and Italy in 1974 and moved to Yamaha I had some concerns, but after my trip to Japan to meet the management and the engineers, I realised I had found a new family. I was pampered and I had lots of attention paid to me. We prepared the bike together, especially for the Daytona 200 Miles, that I won on my debut. Being a Yamaha rider gave me great pride as it's one of the biggest and most prestigious manufacturers in the world, capable of developing pioneering technologies. With Yamaha I won two World Championships and I am happy and proud that I was the first rider to deliver a title in the premier class. 500 victories is a stunning achievement and that's the result of an incredible job, technology, and professional determination. Never forget: you are there to win!"
Notes
* Kando is a Japanese word for the simultaneous feelings of deep satisfaction and intense excitement that we experience when we encounter something of exceptional value.