Detail
Yamaha press releases on our motor sports racing activities
Creating Heroes to Take on the World to the United Cheers of Asia Yamaha's Challenge (Part 2)
March 28, 2017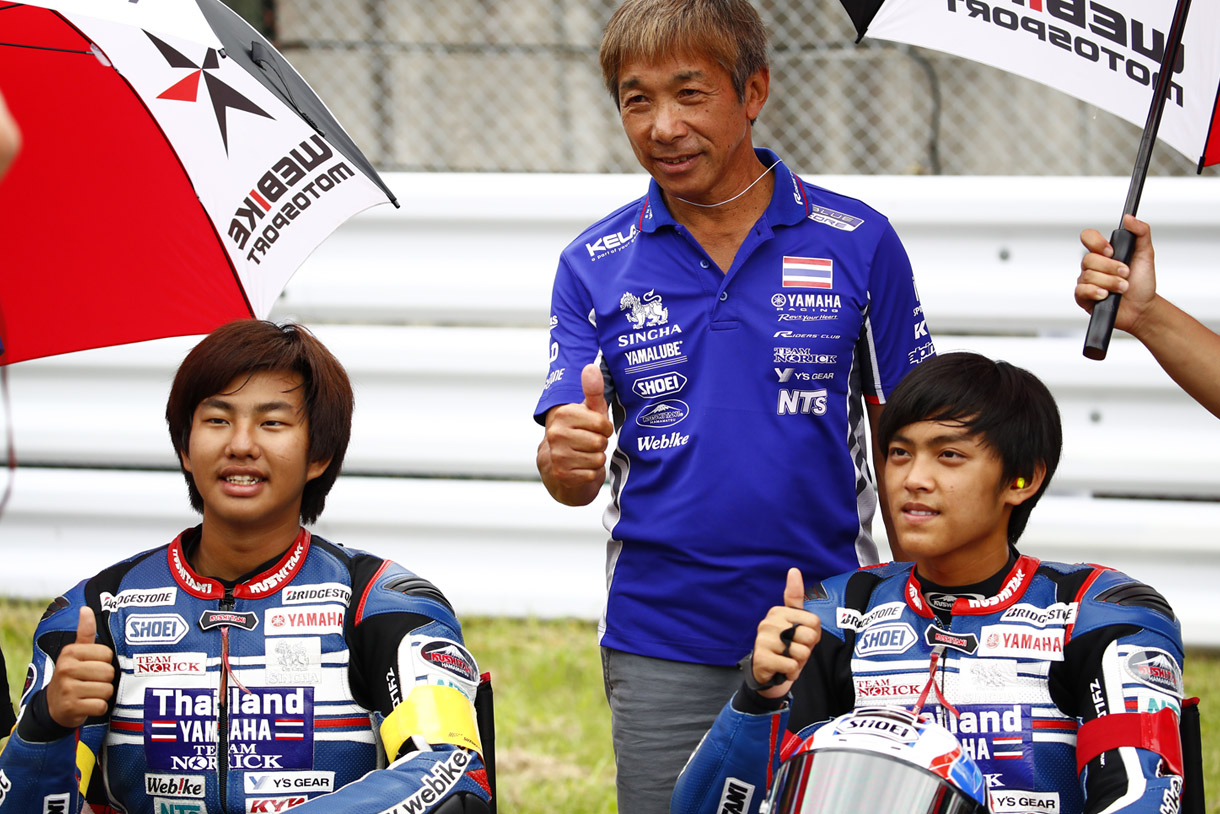 "I was surprised but also excited. I also felt the pressure of knowing that there were some big expectations on our shoulders now."

"But even with all that, the thing I was happiest about was that I could clearly see my target, both for the near future and for my life. I set off from Thailand absolutely determined to turn this chance into something real."

With that, Peerapong Boonlert and Keminth Kubo came to Japan with one goal: become MotoGP riders. At the same time, their arrival marked the beginning of Thai Yamaha Motor Co., Ltd. (TYM)'s own challenge: produce MotoGP riders.

To become a MotoGP rider today, there are a number of relatively conventional routes to take—including a few outside norm, of course. The "standard course" is to get good results in your mid-teens racing in a series like one of the Cup championships or the FIM CEV Moto3 Junior World Championship organized by Dorna Sports (the company that runs and manages the MotoGP World Championship), then making your way into a Moto3 or Moto2 team. If you get good results once again and are seen as possessing the right disposition, you have a chance of being selected to ride for a MotoGP team. Then once you're in MotoGP, you need to be competitive by the time you reach your early 20s; Maverick Viñales of the Movistar Yamaha MotoGP team is a good example of this flow.

Team Manager Mitsuo Abe said, "The environment in and path to GPs has changed a lot since Norifumi (his son, the late Norifumi "Norick" Abe) made his debut. But Norifumi was 18 when he won the All Japan title and 19 when he went to GPs, so the ages aren't very different compared to now. Both Peerapong and Keminth are in their mid-teens so they can't take their time and need to start moving up the ranks. But, there isn't enough time for them to start their path on small-displacement racebikes, so our target is Moto2. That's why we chose local ST600 class championships as our platform to begin their training."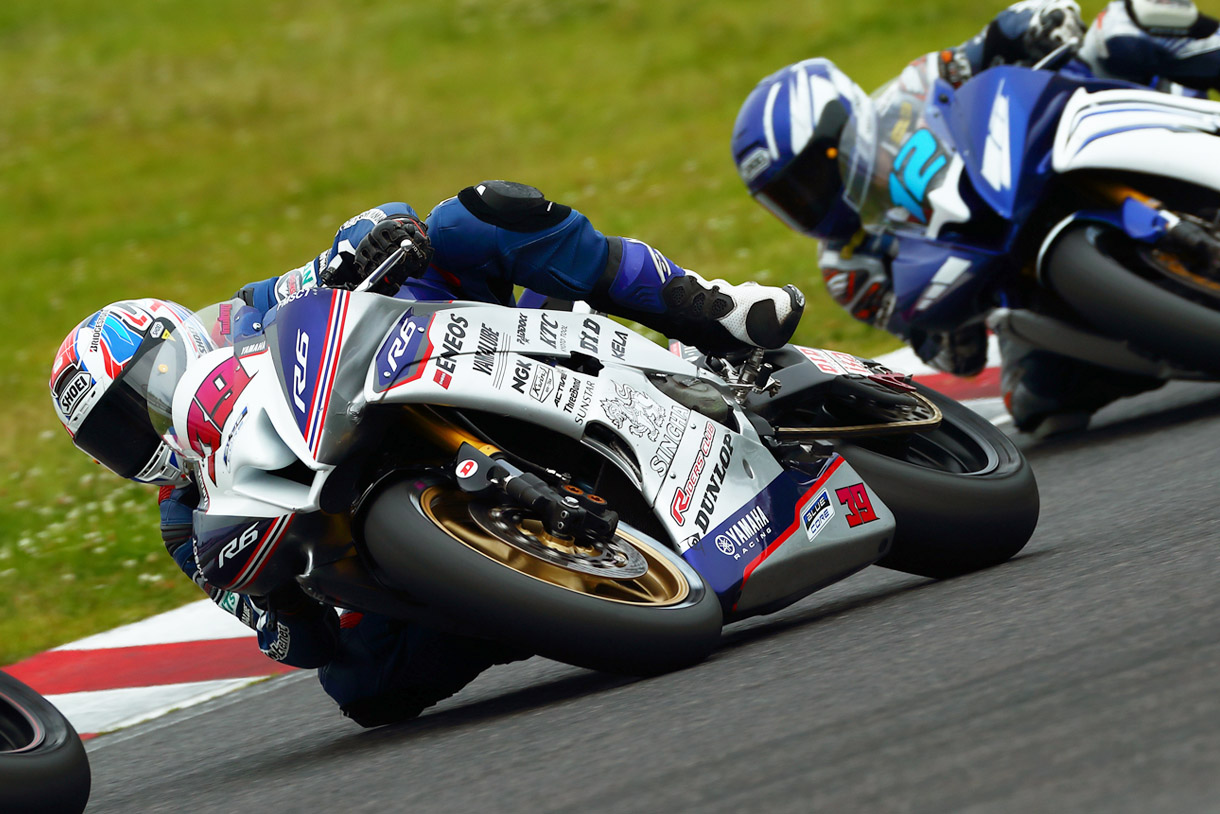 During the off-time between races, Team Manager Abe put together a training plan for the pair that had them working hard six days of the week. Abe's passion for the project was evident: the two riders spent time on the track of course, but the training was diverse, including the dirt, supermotard and motocross riding that built Norick's own skills, as well as time exercising in the gym.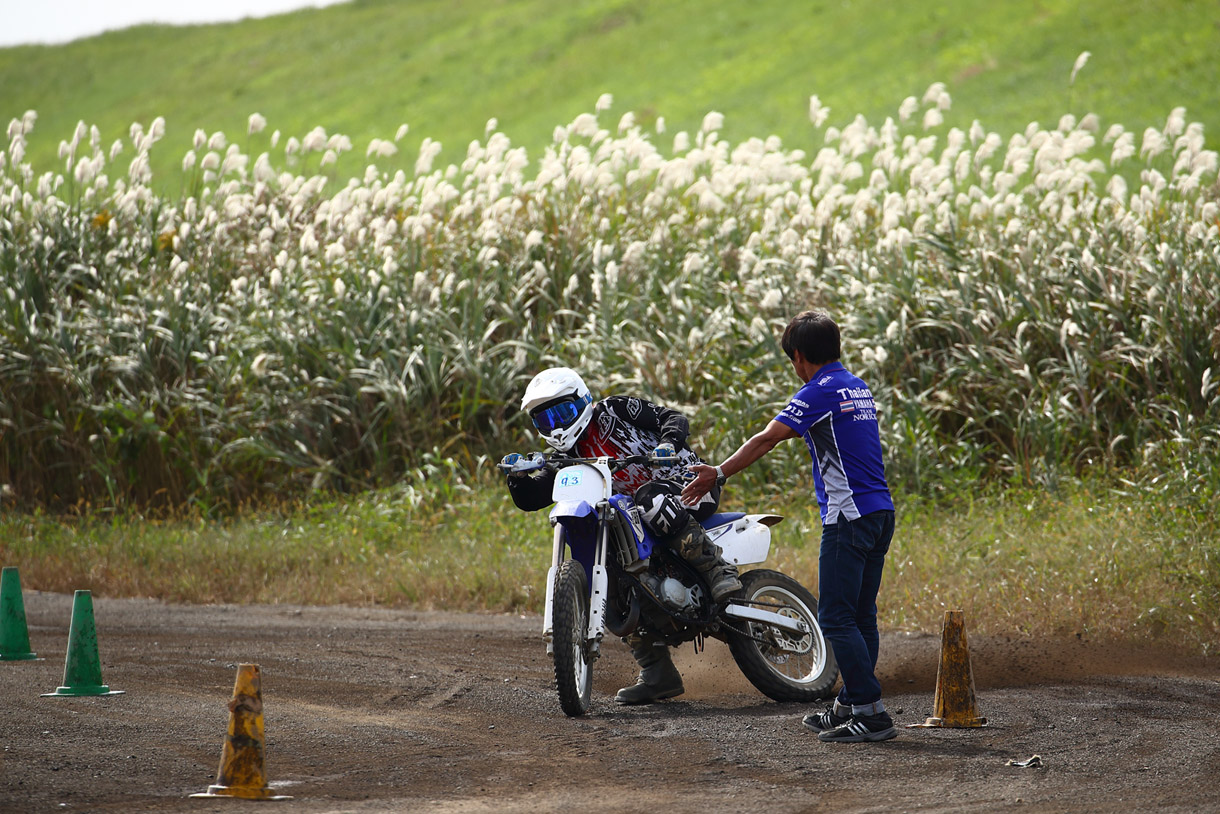 Peerapong spoke about his situation shortly after he arrived in Japan: "In Thailand, I never had nearly as much time to spend riding a bike as I do here. I did my best to keep up with the training, but to be honest it was really hard at first. I also didn't have any friends here and I don't understand Japanese, so I couldn't even go out anywhere to take a breather, and I started to get homesick." Even so, Abe praised their efforts. "No matter what we worked on, Keminth couldn't stay focused for long periods of time. I know it's partly because he's young, but he lacked concentration and would often give up too quickly. Peerapong was more diligent deep down and kept working hard so he made faster progress. He'd had previous ARRC experience too, and he slowly began to leave Keminth behind. That lit a fire under Keminth and inspired him to work harder. So of course, then Peerapong also got fired up. They developed a great working partnership where they both keep pushing each other."

Though Abe gave the two his stamp of approval as riders, off the track, "They're little brats!" he says with a laugh. "I know it's because they're young, but they need to work more on their manners and sense of gratitude. At first, they also had the misunderstanding that the people around them would do anything for them. I also talked to them about it, but I think TYM really set them straight in that regard."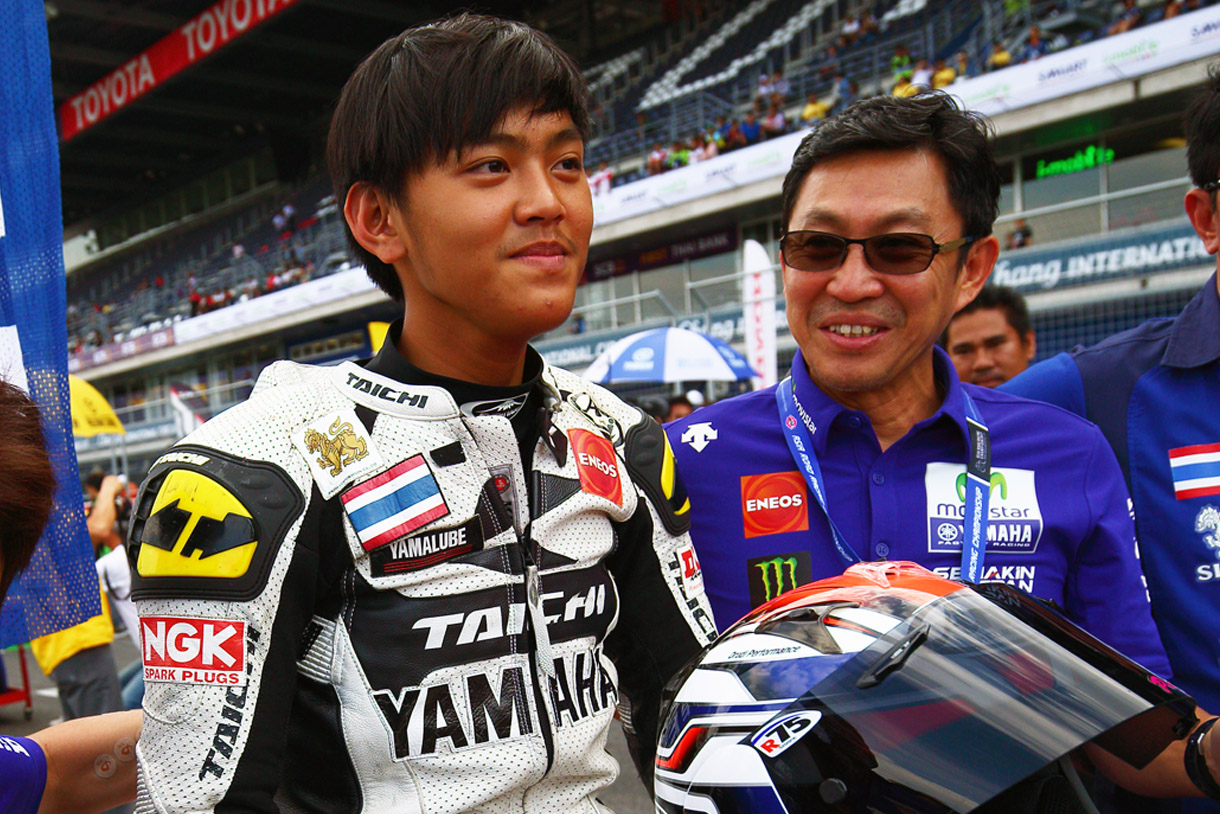 TYM knew that for riders who might someday become local heroes and the face of TYM as well as people young Asian riders might look up to, personal development off the racetrack would be very important. In particular, Theerapong Opaskornkul, the head of the Yamaha Thailand Racing Team, took every opportunity to speak with them, saying, "You need to understand that if you don't have a character that inspires respect and pushes people to want to cooperate, help you out and help you win, then it doesn't matter how fast you are—you won't have a future as a racer. Racing is a team effort and it only comes together with everybody working together, like the reps from the manufacturer, the team staff, the sponsors and the interpreters. You can't race by yourself. I want you to understand and remember that well."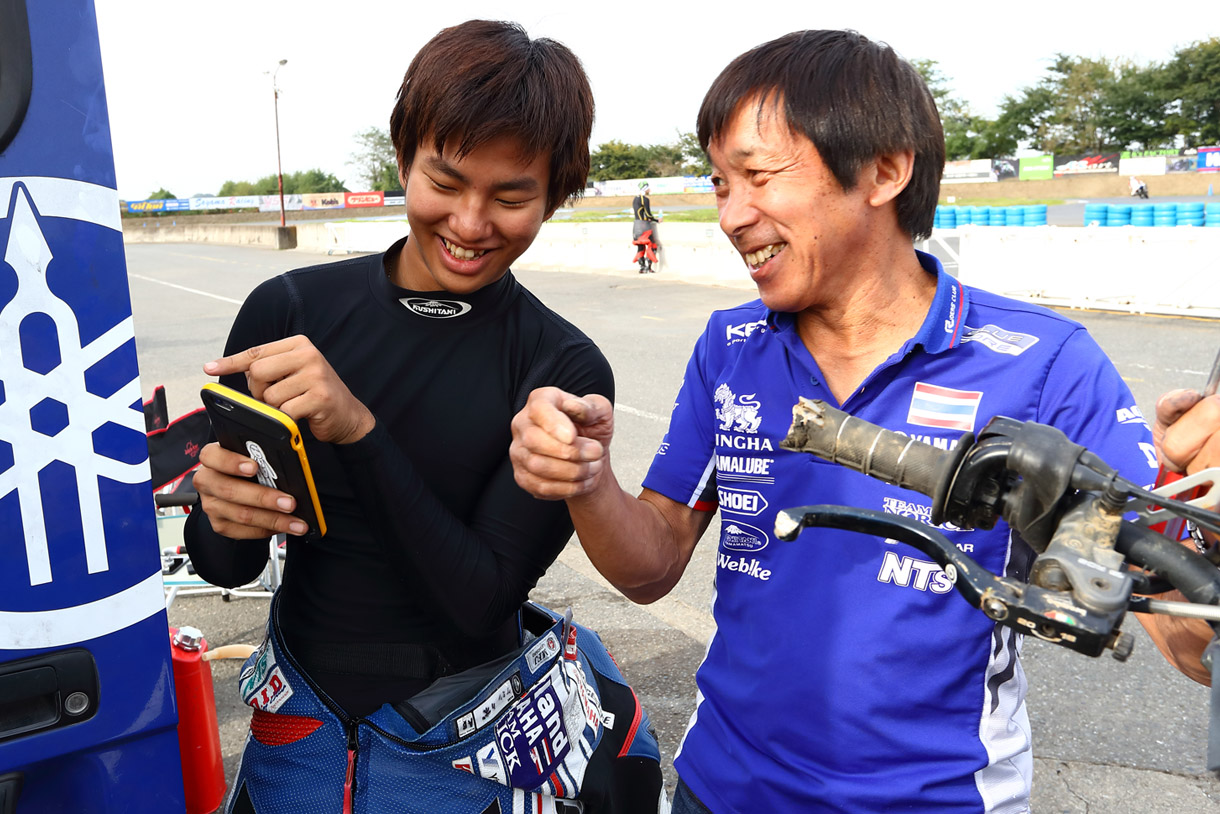 Thus, the two began a gradual transition, both as riders and as people. They took wins in local championships from the beginning of the season, steadily honing their skills while developed deeper bonds with Abe, the Yamaha Thailand Team Norick staff and the others around them.

Then in the middle of the season, the two riders took on the Suzuka 4 Hours Endurance Race held in tandem with the famous Suzuka 8 Hours. A great number of young Japanese riders participate to test their mettle with hopes of stepping up from local championships to the All Japan Road Race Championship, making it the perfect opportunity for Peerapong and Keminth to gauge their skills. Not only that, but it would be the best stage on which to test their bonds as teammates and their bonds with Abe and the team staff.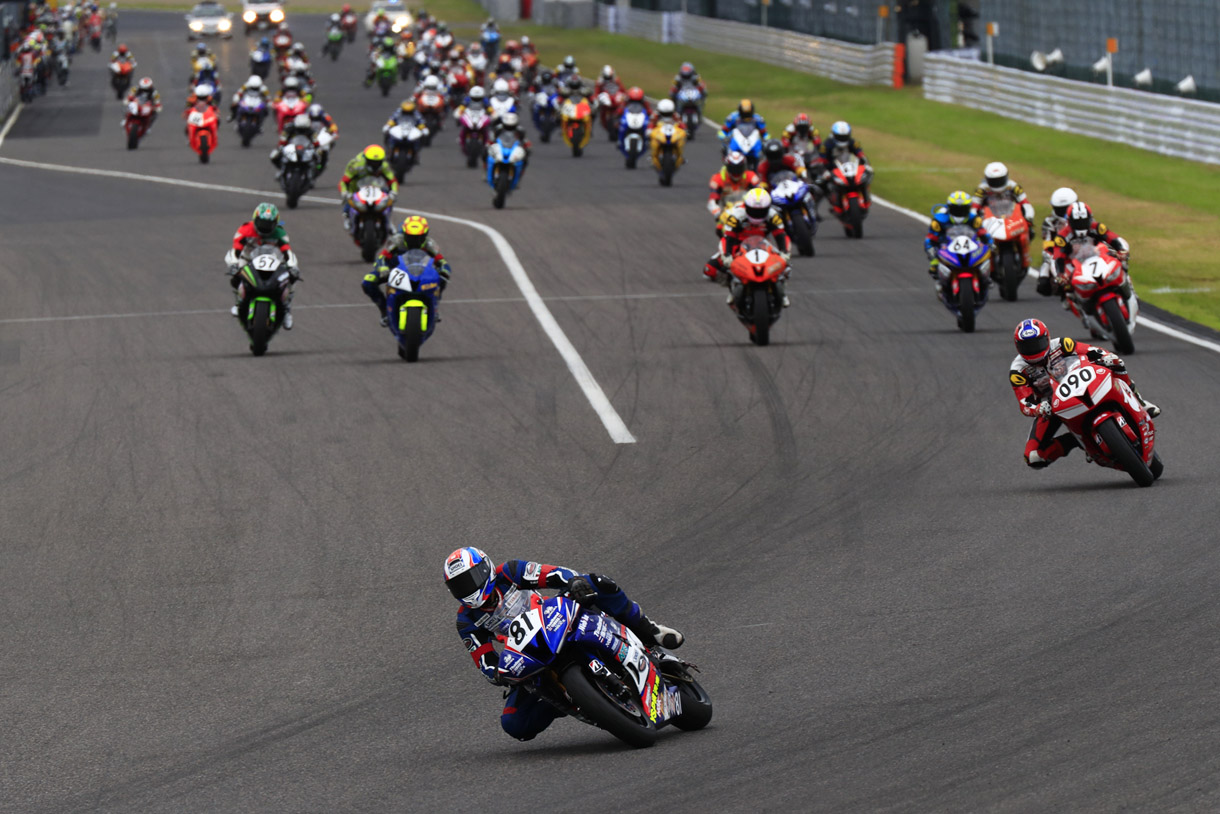 Looking at just the results, it was all over with one crash and a subsequent withdrawal from the race. However, it was a well-executed effort. Keminth maintained their position while Peerapong set fast lap times. Until the crash, the team was running at the front. Peerapong reflected on the race: "All I felt was that I had to stay at the front and ended up pushing too hard. But I learned a lot. It gave me a lot to think about regarding how to run a race in general, like tires and race pace but especially how important the team is and my relationship with them." Following that however, his injuries forced him to return home.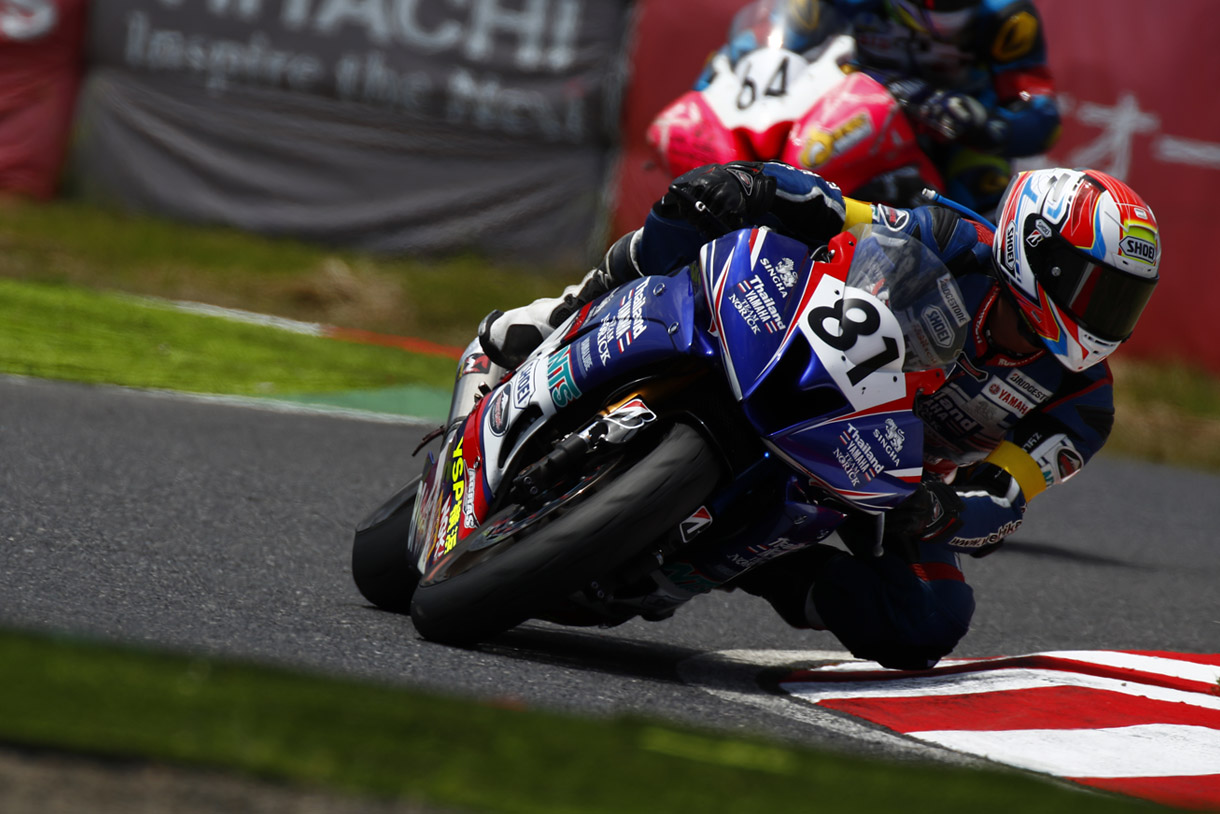 Meanwhile, Keminth looked back on the race saying, "The result was unfortunate but it was a great experience." "Keminth thought he had made good progress in his growth as a rider, so I'm sure that made it even worse," says Abe. "But it was a great lesson for him. It was right when everything we had been working on before summer came together, and I felt it would cause him to change for the better somehow."

In autumn, Keminth broke out of his shell just as Abe predicted.

He won a race at Suzuka Circuit in a round of the local championship that was his main field of competition. What's more, the final race of the season at Twin Ring Motegi was his best yet. "The championship was on the line, so there was a ton of pressure and my heart was pounding out of my chest right until the race started," he says with a smile. "But Abe-san and everyone on the team helped me overcome it and we took the title. MotoGP is still a long way away, but the win was a big step forward for me."

With the season was over, Abe had to make a decision about next year. " was just the first stage of the project and I had to make our next rider selection. Of course, it was a tough decision to make, but in the end I decided to keep Keminth in the team. He may not realize it himself yet, but he's got a lot of potential. Working in his favor are his curiosity, spirit of challenge, adaptability and a little bit of luck too."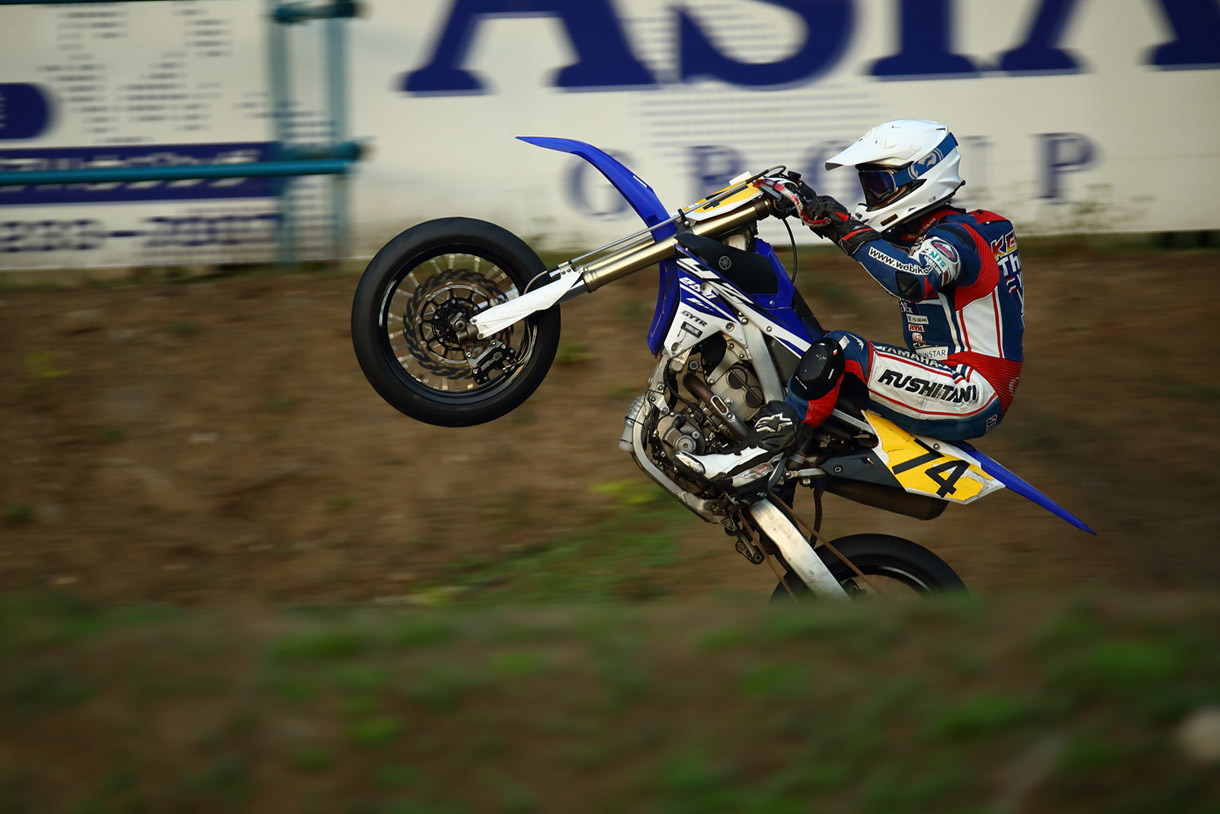 "No matter the track, no matter the machine, Keminth rides to his absolute maximum every time he's out to find the limit, going in too hot and off the course over and over again," continues Abe. "Norifumi was the same way. Always wanting to push limits is a vital character trait." He adds that Keminth's short attention span has disappeared leaving in its place the ability to concentrate for long periods on what he's doing. "He can fully enjoy it now, both the riding and improving his lap times." He also has adaptability, meaning the ability to take advice and make the necessary adjustments. And lastly, he also has luck. "He's lucky to be able to train in Japan, lucky to not get injured and lucky to win a championship. These are all requirements to become a top rider."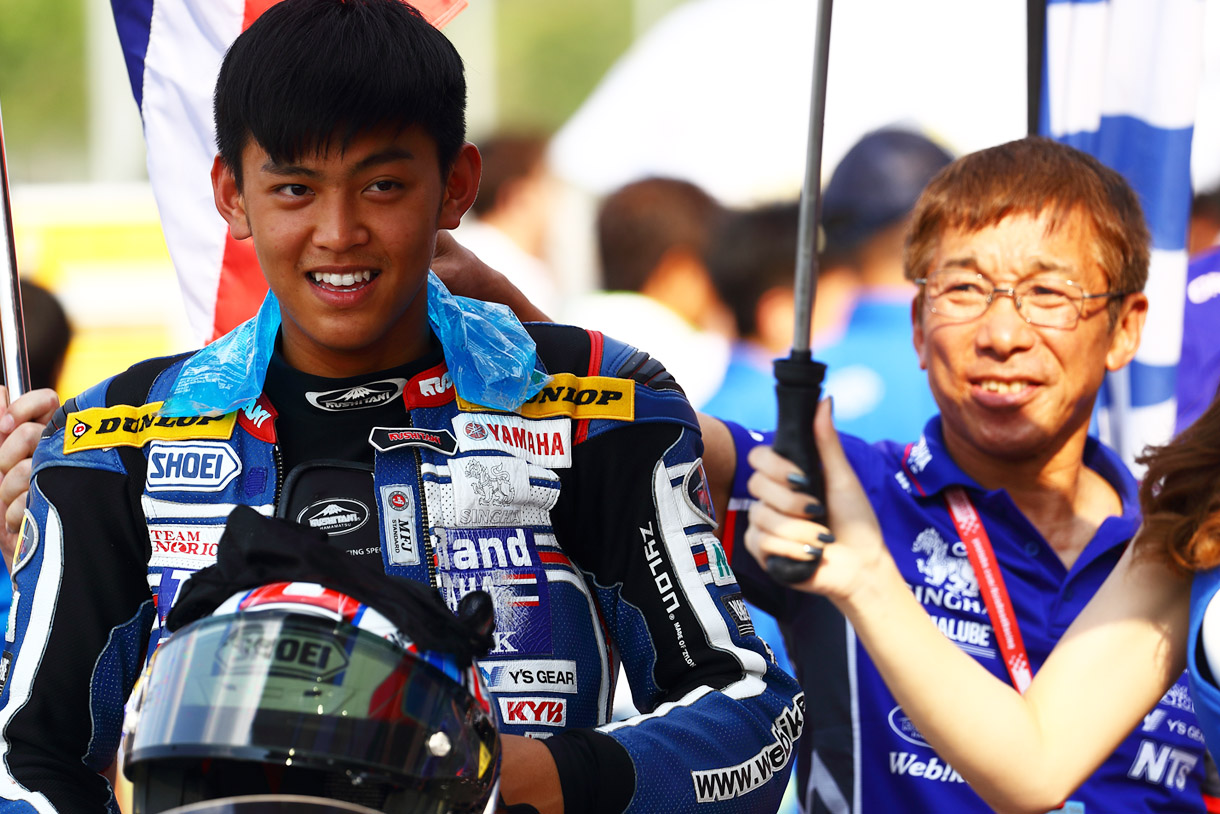 Abe's decision meant that Peerapong would return to the AP250 class in the ARRC to mount another challenge. "I'm disappointed to leave Japan, but I'll give my all to win the AP250 title. I've got to make a fresh start from this point on. And I'll keep aiming for Moto3!" he enthused.

Keminth will step up to the All Japan Championship and is set to contest the J-GP2 class, which runs with machines based on production 600cc motorcycles but with custom frames. This class was chosen for no other reason than the fact that Keminth's target is to enter Moto2 in a few years' time.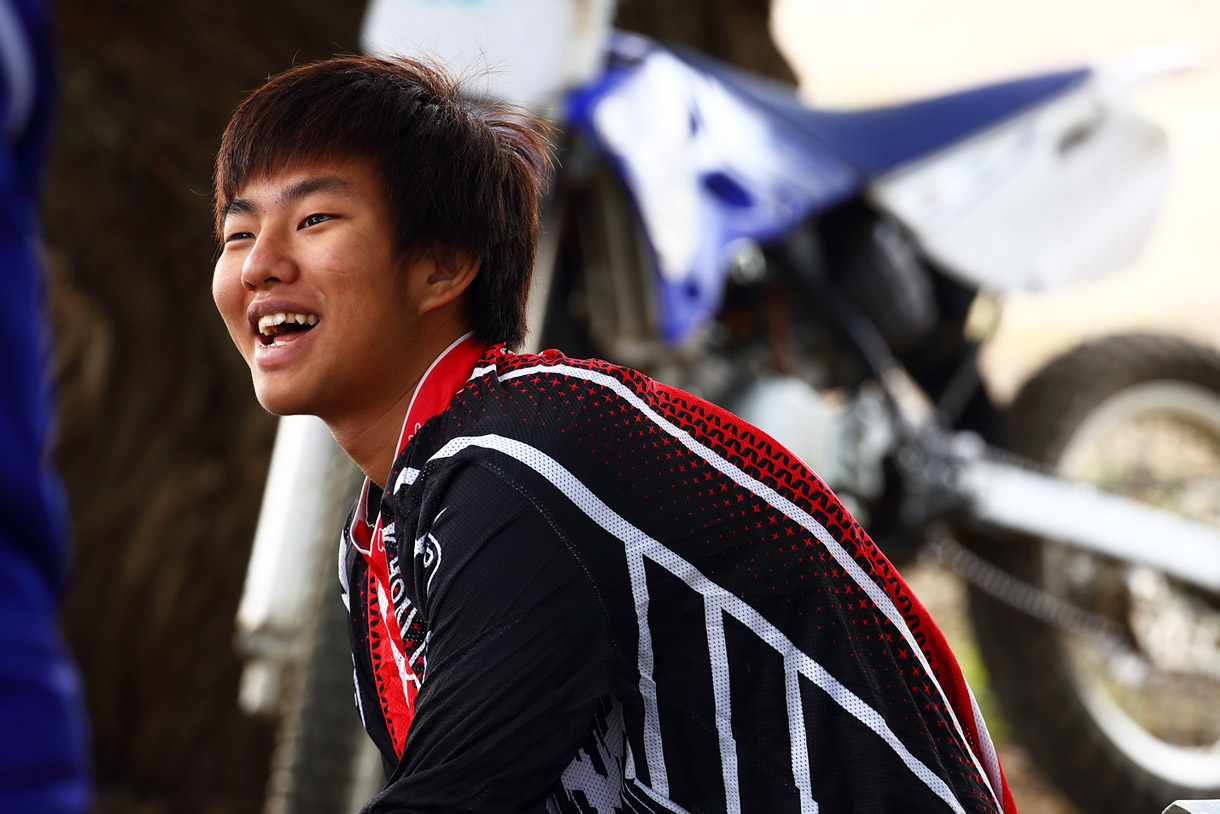 Speaking about the upcoming season, Keminth said, "When I first came to Japan I was lacking in every area, riding skills, physical fitness and my mentality. But, I changed things bit by bit. For example, I lost 10 kilos and I won a championship too. My target now is Decha [Kraisart]. He's the most successful Thai rider in Asia and if I want to be riding in Moto2 in a few years, I have to surpass him. I'm so grateful to TYM and Abe-san. I need to grow even more in 2017 so I can live up to their expectations."

After one year of the project, Abe shares his thoughts: "It was hectic, but more than that it was fun. Their growth energized them and at the same time produced gave them self-confidence. They still have a long way to go and it will only get harder from here, but I know those two can do it."

TYM's campaign in racing is always about taking on challenges, and as Yamaha deepens its coordination with subsidiaries like TYM and others across Asia and other areas, we are determined to continue to supporting their challenge.

The long winter break is almost over, and with it the curtain will be raised on a new season.
Creating Heroes to Take on the World to the United Cheers of Asia
This short documentary covers Keminth Kubo and Peerapong Boonlert as they train as racers in Japan and enter the 2016 Suzuka 4 Hours.