Detail
Yamaha press releases on our motor sports racing activities
Five Yamaha Riders Meet 150 Fans at
Yamaha MotoGP Fan Meeting 2016 in Tokyo
October 13, 2016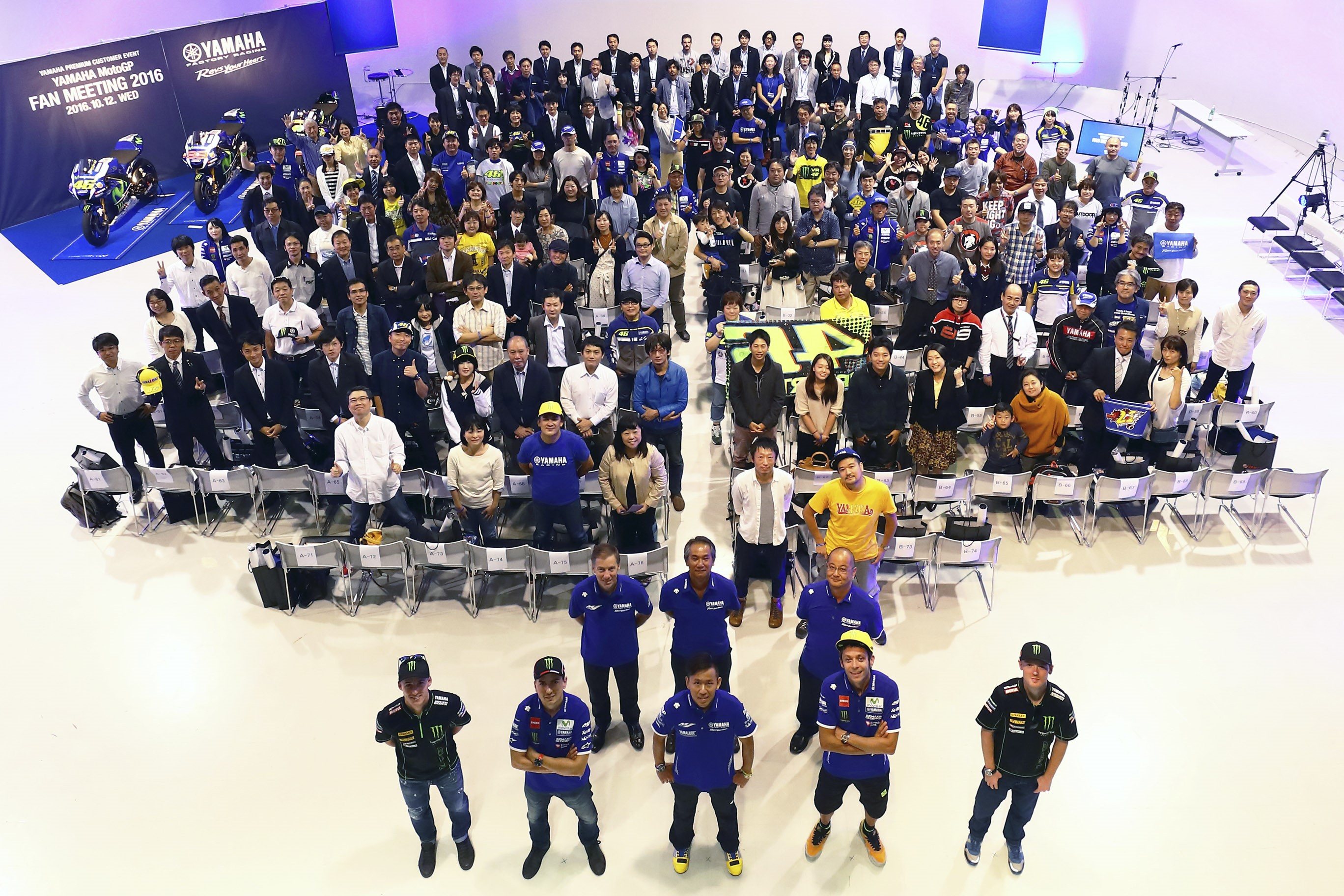 Yamaha Motor Co., Ltd. held the Yamaha MotoGP Fan Meeting 2016 at the Star Rise Tower in Tokyo on October 12, 2016, where the sponsoring companies of Yamaha's racing teams invited some of their most valued customers to attend.

The stars of the event were the Movistar Yamaha MotoGP team's Jorge Lorenzo and Valentino Rossi, Monster Yamaha Tech 3's Pol Espargaró and Bradley Smith, and the Yamalube Yamaha Factory Racing team's Katsuyuki Nakasuga, bringing together all the Yamaha riders that will contest the MotoGP race at this weekend's Grand Prix of Japan. The 150 fans in attendance enjoyed a Q&A session with the riders, a drawing to win autographed presents from them, commemorative photos and more. The riders expressed their thanks for the fans' support before pledging to do their best at the race this weekend.

Last year, 85,000 fans gathered over the course of the three days of the Grand Prix of Japan, making it one of the most popular motorsports events in Japan alongside the Suzuka 8 Hours. Yamaha considers all of its activities involving the Grand Prix of Japan—including this fan meeting—an important part of energizing the domestic market. In the race weekend that starts from October 14, Yamaha and its five riders will be putting forth the greatest possible effort to widely communicate the appeal of motorcycles and motorsports across Japan.
Movistar Yamaha MotoGP
Jorge Lorenzo
"I'm very glad to be here with you. Thank you for coming. I'm happy to see so many passionate fans here. We want to show you the best race possible at the Japan GP, so please cheer for Yamaha and for us Yamaha riders at the race."
Valentino Rossi
"Every year, coming to Japan is really special for me. It's always a great pleasure and this time especially, getting to meet so many fans at this event is wonderful. We're waiting for you this weekend in Motegi. We hope you will support all the Yamaha riders, and together we will try to do the best race. Please cheer for us this weekend!"
Monster Yamaha Tech 3
Bradley Smith
"It's nice to be here. Thank you very much for coming. It's great to see so many Yamaha fans and to be here with all the Yamaha riders. I'm really glad I could take part in this event. I'm looking forward to Motegi this weekend and to meeting all the Yamaha fans there. I'll see you at Motegi!"
Pol Espargaró
"It's always a pleasure to come to Japan, and today at this event being able to meet all the Yamaha fans is even more of a pleasure. This time it's MotoGP, but we hope to ride and have the same feeling we had this summer at Suzuka. Thanks very much for coming and keep cheering for Yamaha!"
Yamalube Yamaha Factory Racing
Katsuyuki Nakasuga
"I'm really grateful that so many fans came to support us today. I'm so happy I have the chance to take part in the Japan GP, and I'm looking forward to experiencing the high level of MotoGP riders firsthand. Also, I want to absorb as much as I can so that this can help me improve my skills as a rider. I hope you're looking forward to seeing what Yamaha can do this weekend!"