Detail
Yamaha press releases on our motor sports racing activities
2016 Asia Road Racing Championship Asia Production 250 Class
Thailand's Apiwat Wongthananon Takes 8th Race Win and Season Title
October 3, 2016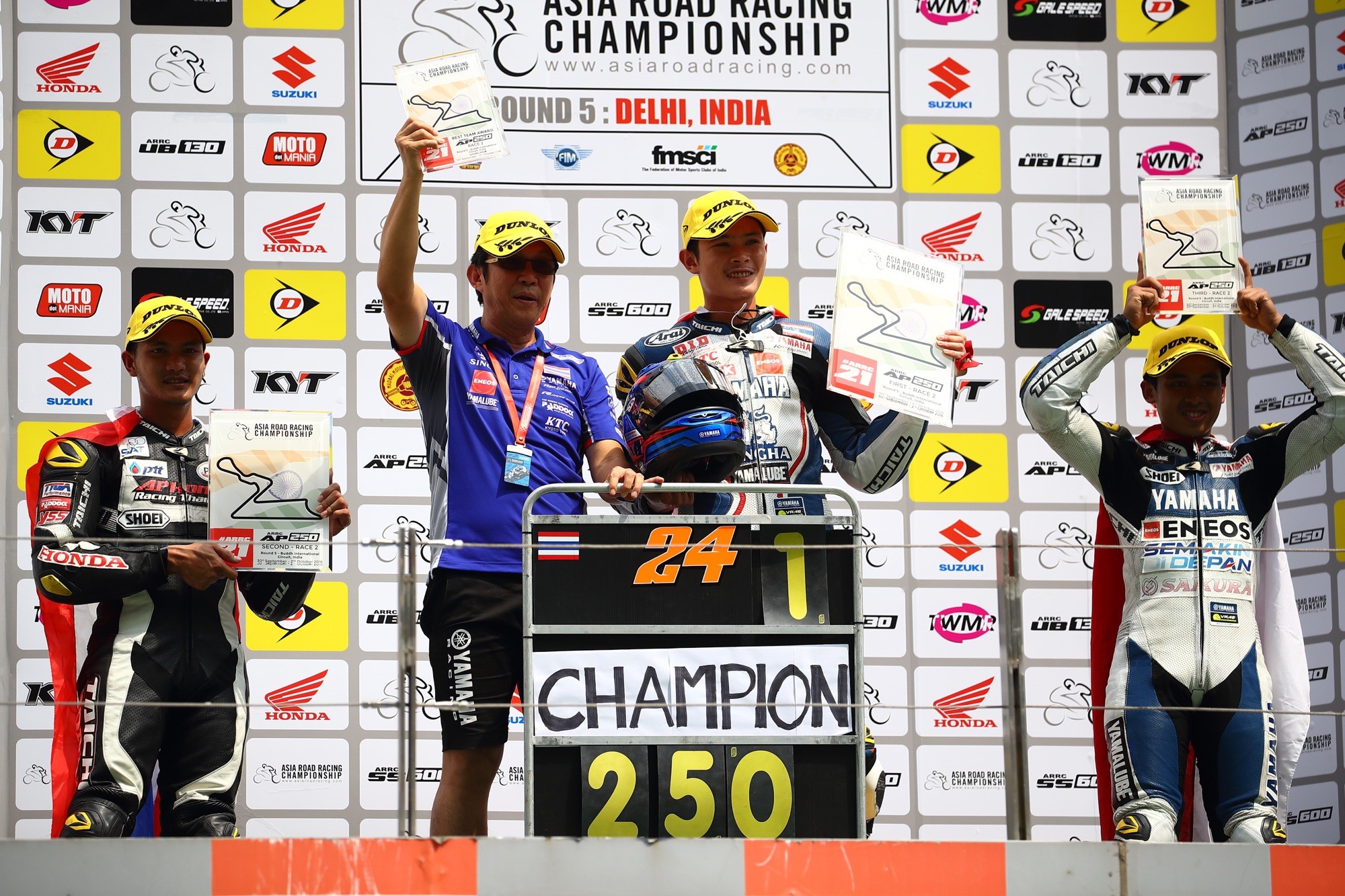 From October 1 to 2, the Asia Road Racing Championship (ARRC) held Round 5 of the 2016 season at the Buddh International Circuit in India. Riding in the Asia Production 250 class on a YZF-R25 for the Yamaha Thailand Racing Team, Apiwat Wongthananon took his eighth win of the season in the second race and secured the championship title ahead of the final round.

Wongthananon joined the Yamaha Thailand Racing Team this season, and guided his YZF-R25 to three straight race wins in the first two rounds before notching up another double win at Round 3 in Japan. He has shown overwhelming speed and skill in the AP250 class made up of Asia's top young talent.

In preparation for this round, Wongthananon took part in the second edition of "The Master Camp," a program run by Yamaha Motor together with Valentino Ross's VR46 Riders Academy to help train and develop young riding talent. Wongthananon came to the round in India after five days of intense training in Italy, and after winning a free-for-all battle in Race 1, he was able to put one hand on the championship trophy. He got the holeshot in Race 2 and controlled the race from the front, eventually taking his eighth victory of the season and claiming the AP250 class championship title in the process.

In 2015, Yamaha took the introduction of the AP250 class as an opportunity to form a vital part of its structure for a step-up program and to promote the popularity of racing in the region, and began contesting the championship by collaborating with its local subsidiaries in countries throughout Asia. Yamaha missed out on the title last year, but with the continuous improvement of the YZF-R25 this season, rider training conducted at The Master Camp, advisors being sent to work with young riders and stronger support from each country, there has been much progress made with both the riders and the teams. This progress is clear with the numerous strong results from Yamaha teams right from the opening round. Going forward, Yamaha will continue its strong partnership with its local subsidiaries in the region to develop heirs to the Yamaha racing spirit.
Apiwat Wongthananon
"I'm really happy to win the championship. I've been waiting a very long time for this day, ever since I started racing. I'm grateful from the bottom of my heart to Yamaha, all of my sponsors and all the people who have supported me. I barely missed out on the title last year, so I wanted to win it this year no matter what. I've finally done it, so I couldn't be happier."
Apiwat Wongthananon's 2016 ARRC AP250 Season Results (as of Rd. 5)

| Date | Round | Race Result |
| --- | --- | --- |
| April 1–2 | Rd. 1 Malaysia | 1st / 1st |
| May 7–8 | Rd. 2 Thailand | 1st / 5th |
| June 4–5 | Rd. 3 Japan | 1st / 1st |
| August 6–7 | Rd. 4 Indonesia | 6th / 1st |
| October 1–2 | Rd. 5 India | 1st / 1st |