Detail
Yamaha press releases on our motor sports racing activities
Yamaha Holds Suzuka 8 Hours Media Conference
Teams Pledge to Repeat Victory Under the "Be the Fastest Challenger" Slogan
July 27, 2016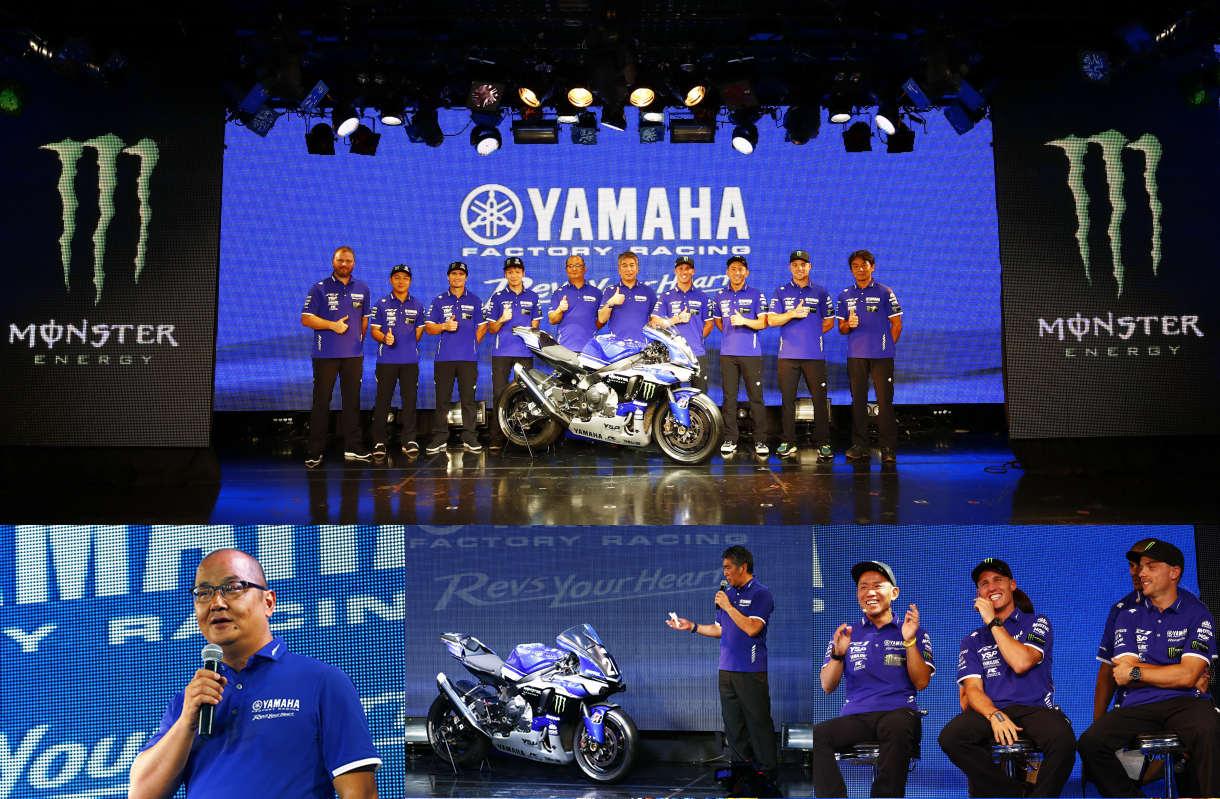 Yamaha Motor Co., Ltd. held its Suzuka 8 Hours Media Conference on July 26, 2016 in Tokyo. The riders and team managers of the Yamaha Factory Racing Team and the YART Yamaha Official EWC Team, and representatives of Monster Energy—the main sponsor for both teams—and other sponsors gathered for the event, pledging to do their utmost to take another win at this year's Suzuka 8 Hours.

The conference began with Toshiya Kawano, General Manager of the Motor Sports Strategy Division, taking the stage to address the attendees. Looking back on last year's event in which Yamaha took its first Suzuka win in 19 years, Kawano said, "To avoid becoming complacent from our win last year, our slogan for this year's race is to 'Be the fastest challenger.' Under this slogan, we will field two factory teams this year, and both teams have demonstrated that they are potential winners. We're counting on your support!"

Following this, Kouichi Tsuji, General Manager of the Motor Sports Development Division, explained the further developments made to the YZF-R1 base machine, a key factor in achieving a second consecutive win, and expressed the team's determination: "The machine has surpassed all of its development targets and is in perfect shape heading into the event. We'll give our very best to put on a strong display and bring Kando* to all the Yamaha fans and racing fans worldwide."

Finally, when the riders and managers of both teams came out on stage, Katsuyuki Nakasuga, the Yamaha Factory Racing Team's lead rider, expressed the team's main goal: "There's pressure on us this year, but we won't forget that we're still challengers. Together with all of our fans and sponsors, we'll be going for a second straight win." His comments brought the conference to a close.

The teams will now pack up and head for Suzuka Circuit and prepare for the main event set to begin July 28th.

*Kando is a Japanese word for the simultaneous feelings of deep satisfaction and intense excitement that we experience when we encounter something of exceptional value.