Detail
Yamaha press releases on our motor sports racing activities
Valentino Rossi Scampers up Legendary 1.16 Mile
Hill Climb on Yamaha YZR-M1
2015 Goodwood Festival of Speed
June 29, 2015
WEST SUSSEX, UK and IWATA, Japan – Yamaha Motor Co., Ltd. (Tokyo: 7272) and Movistar Yamaha MotoGP rider Valentino Rossi participated for the first time in the 2015 Goodwood Festival of Speed (held on June 28 in Goodwood, Britain) at the invitation of event organizer Lord March.

The company, which is celebrating its 60th year, made a purpose-built garage at the venue for its exhibit of successive generations of racing machines that trace the history of the Yamaha racing spirit. Bikes that attracted attention from long-standing European fans included a mix of new and historic bikes: the latest-model YZR-M1 (2015), and factory racers RD56 (1965) and YZR500 (0W23) (1975) ridden by star riders Phil Read and Giacomo Agostini when they excited fans throughout the '60s and '70s as they dominated world championships.
Rossi, who recently achieved the first place at the Dutch GP, 8th round of the 2015 MotoGP World Championship, showed no signs of lingering fatigue as he flew up the hill climb event on a YZR-M1 in the company's 60th anniversary colors, as well as performing in the four-wheeled racing machine demonstration.

Participation in this year's Goodwood Festival of Speed represented an important opportunity for Yamaha Motor to write a new page in its 60-year corporate and racing history, as well as to embody the company's corporate mission of 'Kando* creation' and its brand slogan 'Revs your Heart'.
*Kando is a Japanese word for the simultaneous feelings of deep satisfaction and intense excitement that we experience when we encounter something of exceptional value.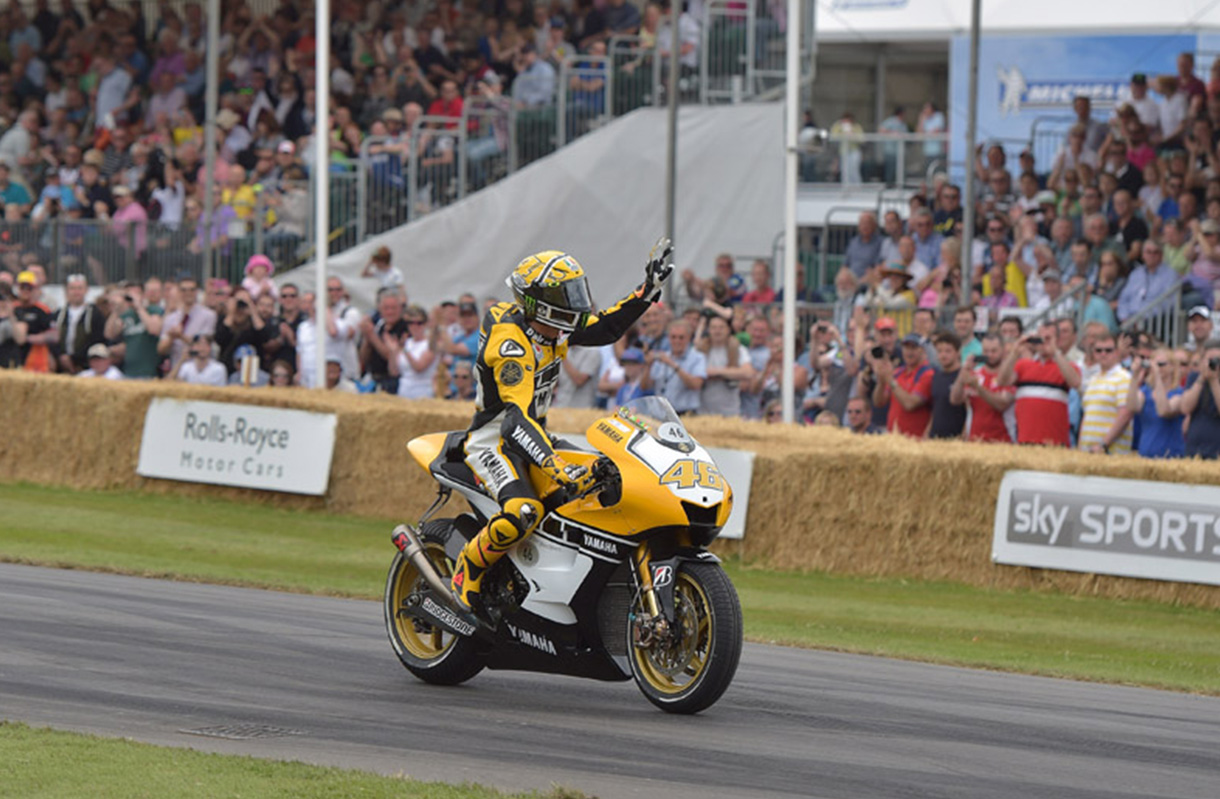 Valentino Rossi
"It's been an incredible weekend. I was barely off the podium before immediately heading to the United Kingdom, but I'm very happy that I got to attend the Festival of Speed at Goodwood. It has been a real pleasure! I knew about the event because I saw videos of it, but I had never been there before and it's even more impressive than I imagined. It is a very large venue and there were many fans but also lots of famous riders, drivers and other VIPs which gave it a great atmosphere, especially when I rode my Yamaha YZR-M1 up and down the hill. I revealed my bike's special Yamaha Motor 60th anniversary livery earlier this morning together with Giacomo and Kenny. For Yamaha Motor to be a part of motorsport history for so long and to have achieved so many accomplishments is very special and something to be proud of. At the end of the day I also got to drive a historic Le Mans car and also a rally car, which was great fun as well. I want to say a big thank you to Lord March for inviting and hosting me at this year's event. I had a great time and made memories I will never forget!"
Takaaki Kimura - Executive Vice President, Yamaha Motor Co., Ltd.
"We now get to celebrate Yamaha's 60th year, after celebrating Yamaha Motor Co., Ltd.'s 50th anniversary at Laguna Seca ten years ago. Over these years we have always strived to bring every Yamaha rider - professional or recreational - the feeling of Kando, a Japanese word for the simultaneous feelings of deep satisfaction and intense excitement that we experience when we encounter something of exceptional value. This year we experienced something truly special; to see Yamaha participate in this year's edition of the 'Festival of Speed' at Goodwood and being able to share our 60th anniversary celebrations with thousands of fans is a unique experience. Their enthusiasm for our work and sport is one of the driving forces behind our company's racing efforts. The special livery reflects Yamaha racing's DNA and its successful history. Seeing the spectators cheer as Valentino rode on a yellow Yamaha YZR-M1 MotoGP bike once again was a magical moment, and I'm sure it has left a lasting impression on everyone."
Lin Jarvis - Managing Director, Yamaha Motor Racing
"It's been really an enormous pleasure for us to be here and a wonderful new experience for all of us, attending the Goodwood Festival of Speed for the first time. We have come here straight from a highly successful race in Assen, to this incredible atmosphere, which is one of the most famous motoring and motorsports events in the world. For us it's the first time together with Valentino and to be able to celebrate our 60th anniversary here together with our top management from Yamaha Japan and Yamaha Europe has been something very special. To see this amazing yellow, black and white color scheme again has brought back many emotions: racing has been such a rich part of our company's history. It has been 60 years since the company began racing in 1955 and I think the crowd had a wonderful opportunity today to see Valentino relaxed, entertaining and in true Yamaha colors. In recent years the reason why we have been unable to attend is because the Assen event traditionally clashes with the Festival of Speed, but on this occasion Lord March made special arrangements to facilitate our coming to this event so it was a true pleasure and memorable experience to be here. A great thanks to Lord March and the organisation of Goodwood for inviting us, for hosting us today and for giving such a great experience to be here with the very best of the motoring and motorcycle world."
Goodwood Festival of Speed
Avid racing enthusiast Lord March, who serves as event organizer, established the motorsports event on the Goodwood Estate located in Britain's West Sussex in 1993. This is the one of the world's largest motorsports festival attended by tens of thousands of motorsports fans annually. The Goodwood House venue has compiled a great motorsports history, with annual figures of over 600 four- and two-wheelers gathering at the event, and legendary riders and celebrities participating each year.