Detail
Yamaha press releases on our motor sports racing activities
Yamaha's Major Racing Team Structure in 2015
February 6, 2015
SEPANG, MALAYSIA and IWATA, JAPAN, February 5, 2015 – Yamaha Motor announced today that its factory teams will compete in the MotoGP World Championship, MXGP World Championship with the aim to clinch championship titles.
In the MotoGP World Championship, Valentino Rossi (ranked 2nd last year) and Jorge Lorenzo (ranked 3rd last year) will ride for Movistar Yamaha MotoGP, Yamaha Motor's factory team. Pol Espargaró (ranked 6th last year) and Bradley Smith (ranked 8th last year) will ride for Yamaha Motor's satellite team Monster Yamaha Tech3. Both teams will race Yamaha Motor's 2015 version of the YZR-M1, which has clinched 6 world championships so far. The aim of this season is the triple crown of rider, team, and constructor titles.
In the MXGP World Championship, YAMAHA FACTORY RACING YAMALUBE will participate in the elite MXGP class with the YZ450FM and riders Jeremy Van Horebeek, ranked 2nd last year, and Romain Febvre, who is stepping up from MX2 class and joining our team from this season.

2015 marks the 60th year since the founding of Yamaha Motor in July 1955, as well as the company's involvement in motorsport since its participation in the third Mt. Fuji Ascent Race in 1955. Yamaha Motor's basic racing direction is as follows:
1) Branding - increasing the value of the Yamaha brand;
2) Technical Feedback - transferring the technologies gained through motorsports to production models; and
3) Promotional Activities - growing interest in race participation and spectatorship worldwide. In addition to racing activities in world championships, Yamaha Motor will also launch its racing campaign including our factory team in the All Japan Championships as well as our participation in the Asia Road Racing Championship. In order to share Kando* with the world based on the direction outlined above, Yamaha Motor will continue to roll out its racing activities strategically.
*Kando is a Japanese word for the simultaneous feelings of deep satisfaction and intense excitement that we experience when we encounter something of exceptional value.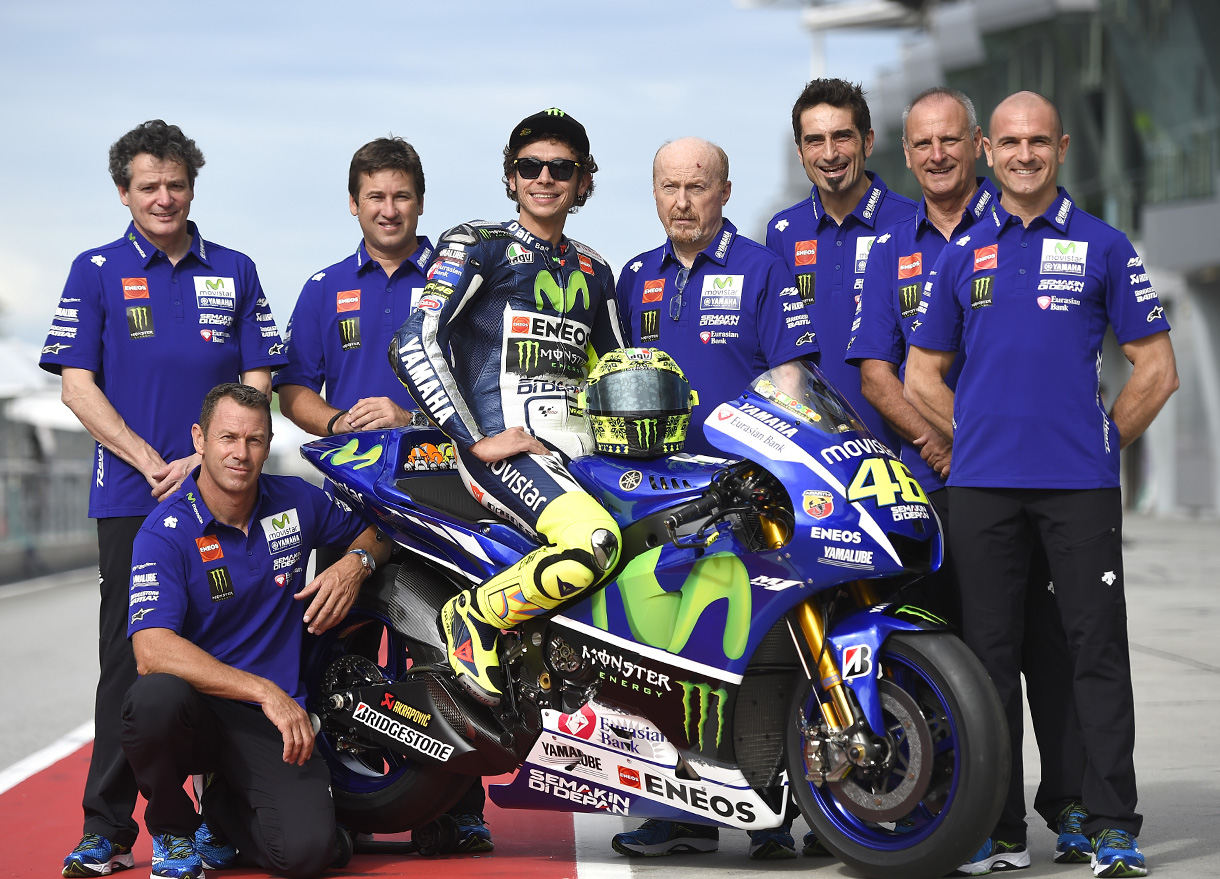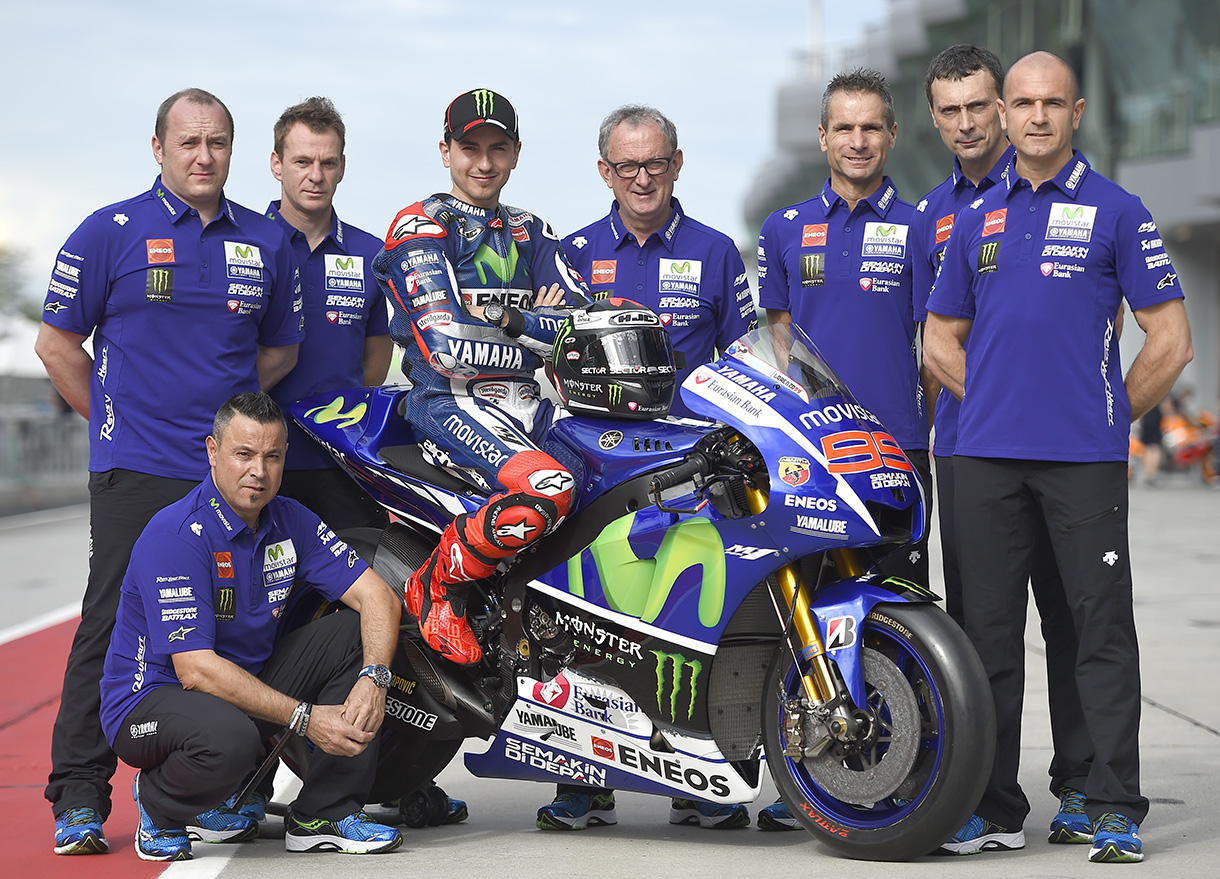 Major Yamaha Teams, 2015
Road Racing Category
Racer Profile
International Team Road Racing Category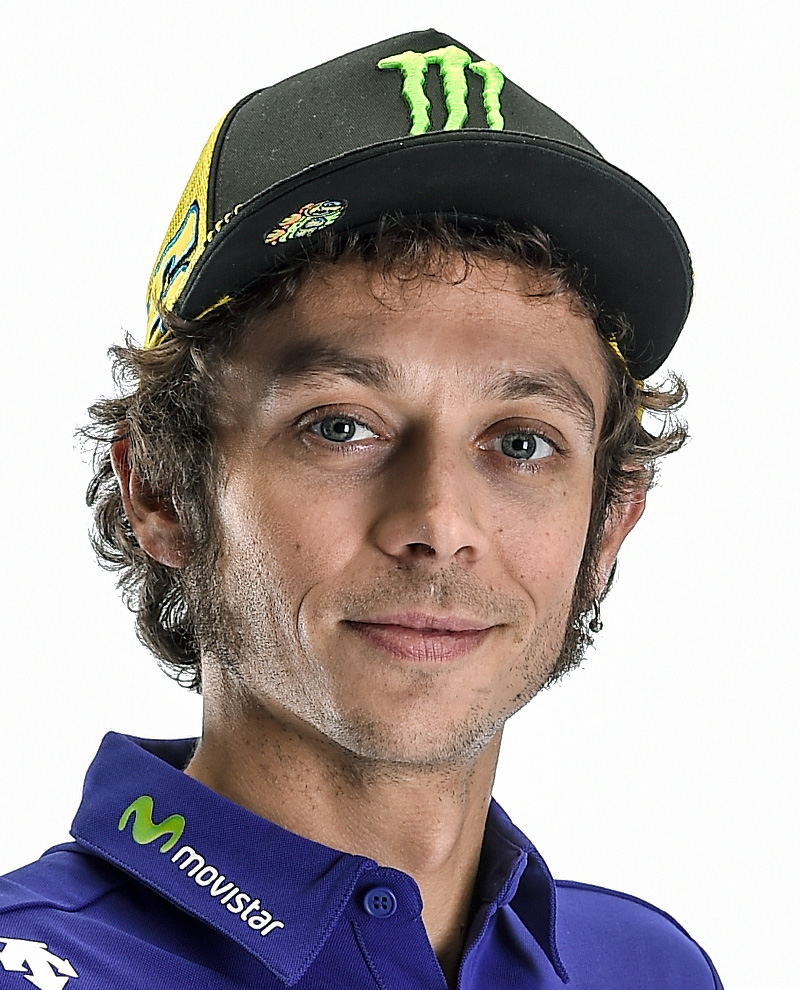 Valentino Rossi
| | |
| --- | --- |
| Nationality | Italian |
| Born | Feb. 16, 1979 |
| Racing team | Movistar Yamaha MotoGP |
| | |
| --- | --- |
| 1996 | 9th in MotoGP World Championship 125cc class |
| 1997 | MotoGP World Champion, 125cc class |
| 1998 | 2nd in MotoGP World Championship 250cc class |
| 1999 | MotoGP World Champion, 250cc class |
| 2000 | 2nd in MotoGP World Championship 500cc class |
| 2001 | MotoGP World Champion, 500cc class |
| 2002 | MotoGP World Champion |
| 2003 | MotoGP World Champion |
| 2004 | MotoGP World Champion |
| 2005 | MotoGP World Champion |
| 2006 | 2nd in MotoGP World Championship |
| 2007 | 3rd in MotoGP World Championship |
| 2008 | MotoGP World Champion |
| 2009 | MotoGP World Champion |
| 2010 | 3rd in MotoGP World Championship |
| 2011 | 7th in MotoGP World Championship |
| 2012 | 6th in MotoGP World Championship |
| 2013 | 4th in MotoGP World Championship |
| 2014 | 2nd in MotoGP World Championship |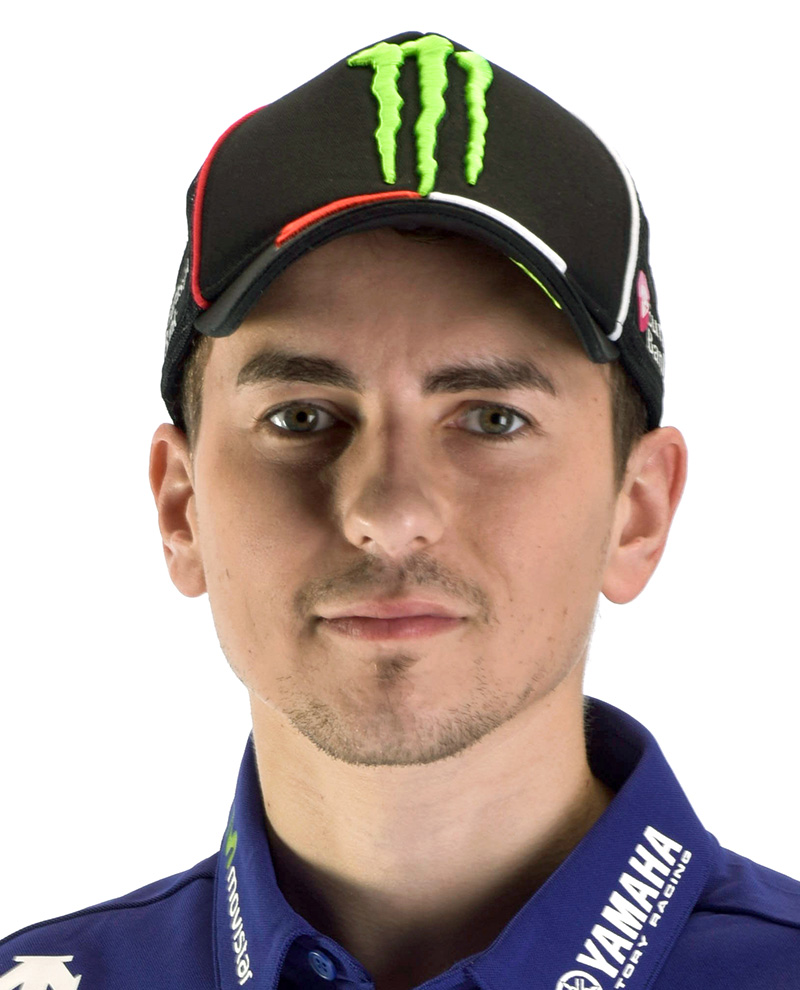 Jorge Lorenzo
| | |
| --- | --- |
| Nationality | Spanish |
| Born | May 4, 1987 |
| Racing team | Movistar Yamaha MotoGP |
| | |
| --- | --- |
| 2002 | 21st in MotoGP World Championship 125cc class |
| 2003 | 12th in MotoGP World Championship 125cc class |
| 2004 | 4th in MotoGP World Championship 125cc class |
| 2005 | 5th in MotoGP World Championship 250cc class |
| 2006 | MotoGP World Champion, 250cc class |
| 2007 | MotoGP World Champion, 250cc class |
| 2008 | 4th in MotoGP World Championship |
| 2009 | 2nd in MotoGP World Championship |
| 2010 | MotoGP World Champion |
| 2011 | 2nd in MotoGP World Championship |
| 2012 | MotoGP World Champion |
| 2013 | 2nd in MotoGP World Championship |
| 2014 | 3rd in MotoGP World Championship |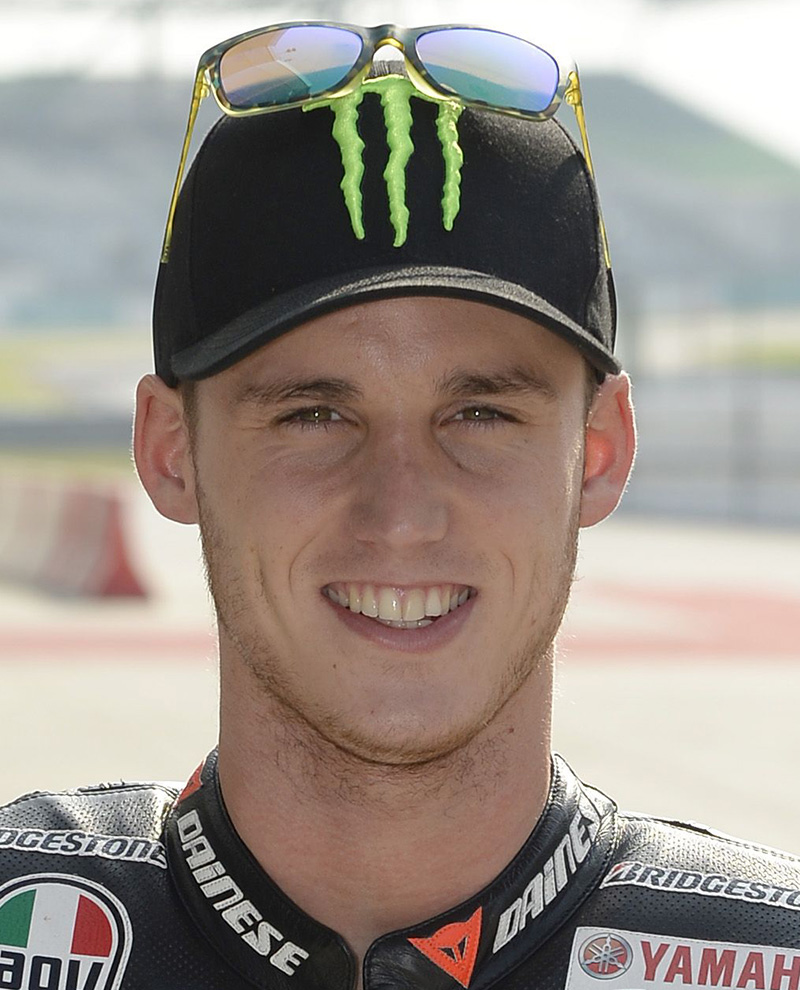 Pol Espargaro
| | |
| --- | --- |
| Nationality | Spanish |
| Born | June 10, 1991 |
| Racing team | Monster Yamaha Tech 3 |
| | |
| --- | --- |
| 2006 | 20th in MotoGP World Championship 125cc class |
| 2007 | 9th in MotoGP World Championship 125cc class |
| 2008 | 9th in MotoGP World Championship 125cc class |
| 2009 | 4th in MotoGP World Championship 125cc class |
| 2010 | 3rd in MotoGP World Championship 125cc class |
| 2011 | 13th in Moto2 World Championship |
| 2012 | 2nd in Moto2 World Championship |
| 2013 | Moto2 World Champion |
| 2014 | 6th in MotoGP World Championship |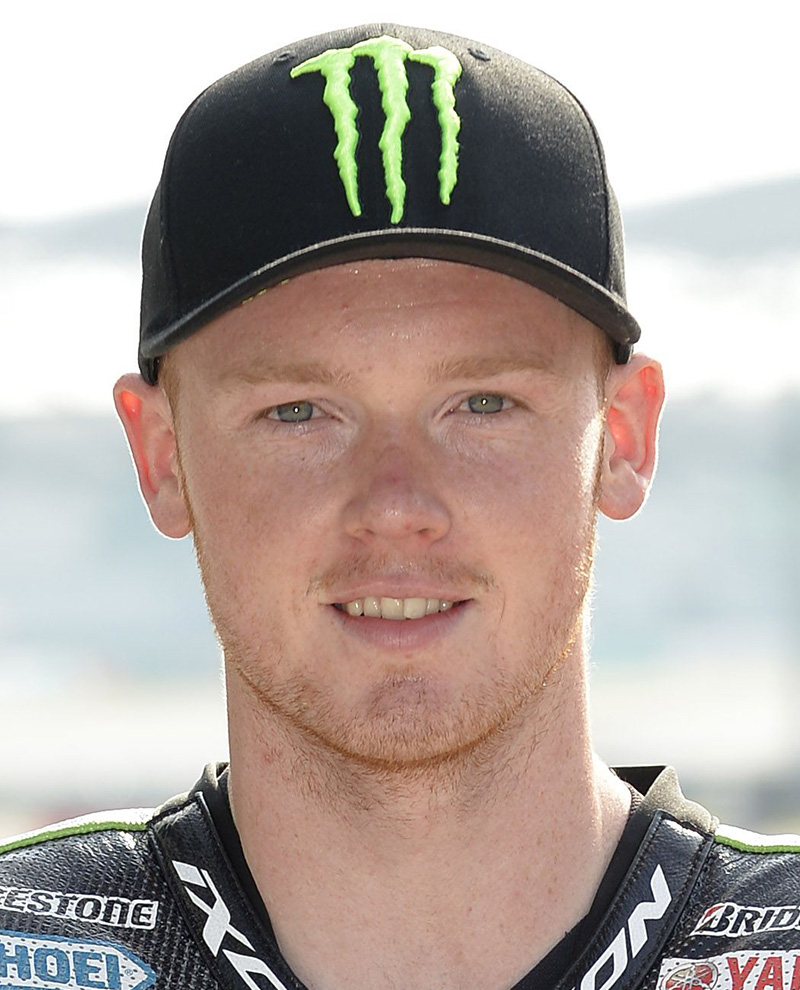 Bradley Smith
| | |
| --- | --- |
| Nationality | British |
| Born | Nov. 28, 1990 |
| Racing team | Monster Yamaha Tech 3 |
| | |
| --- | --- |
| 2006 | 19th in MotoGP World Championship 125cc class |
| 2007 | 10th in MotoGP World Championship 125cc class |
| 2008 | 6th in MotoGP World Championship 125cc class |
| 2009 | 2nd in MotoGP World Championship 125cc class |
| 2010 | 4th in MotoGP World Championship 125cc class |
| 2011 | 7th in Moto2 World Championship |
| 2012 | 9th in Moto2 World Championship |
| 2013 | 10th in MotoGP World Championship |
| 2014 | 8th in MotoGP World Championship |
International Team Motocross Category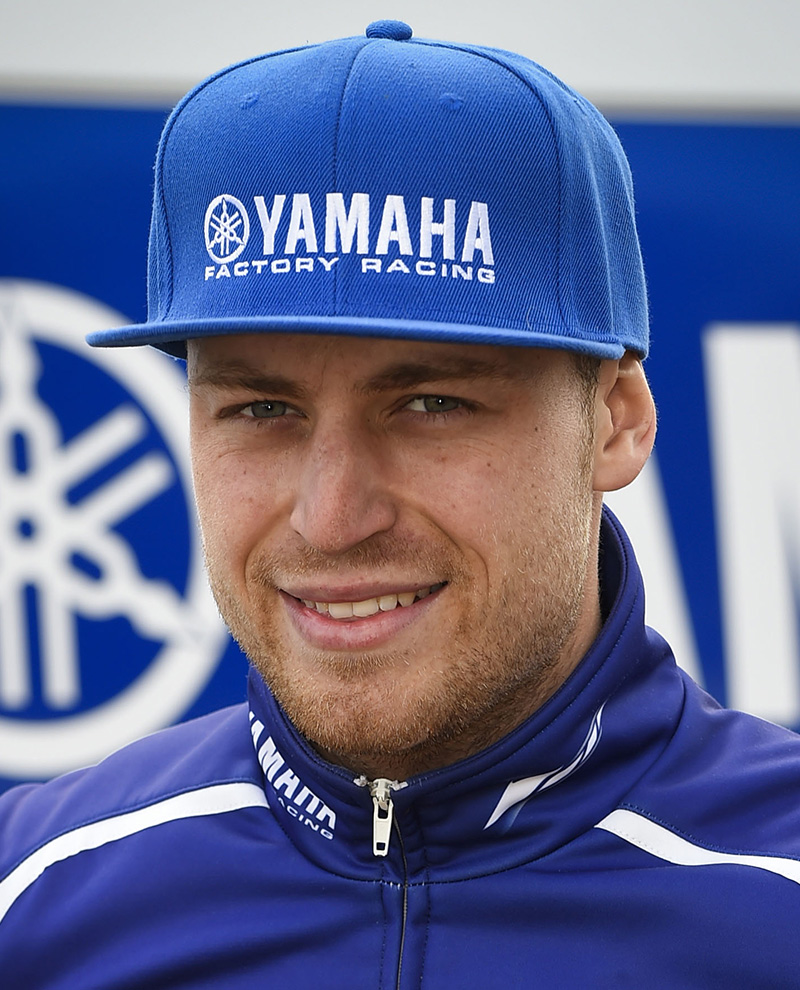 Jeremy Van Horebeek
| | |
| --- | --- |
| Nationality | Belgian |
| Born | Nov. 28, 1989 |
| Racing team | Monster Energy Yamaha Factory MXGP Team |
| | |
| --- | --- |
| 2007 | 16th in MX2 World Championship |
| 2008 | 8th in MX2 World Championship |
| 2009 | 11th in MX2 World Championship |
| 2010 | 9th in MX2 World Championship |
| 2011 | 17th in MX2 World Championship |
| 2012 | 3rd in MX2 World Championship |
| 2013 | 7th in MX1 World Championship |
| 2014 | 2nd in MXGP World Championship |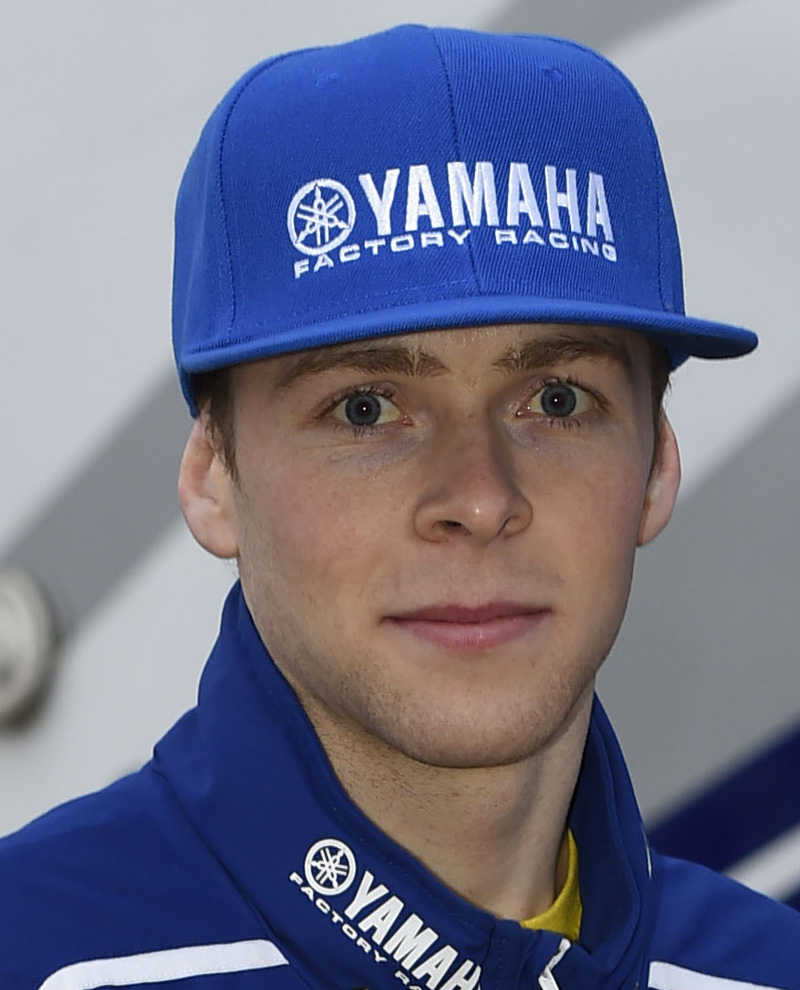 Romain Febvre
| | |
| --- | --- |
| Nationality | French |
| Born | December 31, 1991 |
| Racing team | Monster Energy Yamaha Factory MXGP Team |
| | |
| --- | --- |
| 2012 | 13th in MX2 World Championship |
| 2013 | 12th in MX2 World Championship |
| 2014 | 3rd in MX2 World Championship |